A guide to finding the best drafting outsourcing company
Last updated: October 3, 2022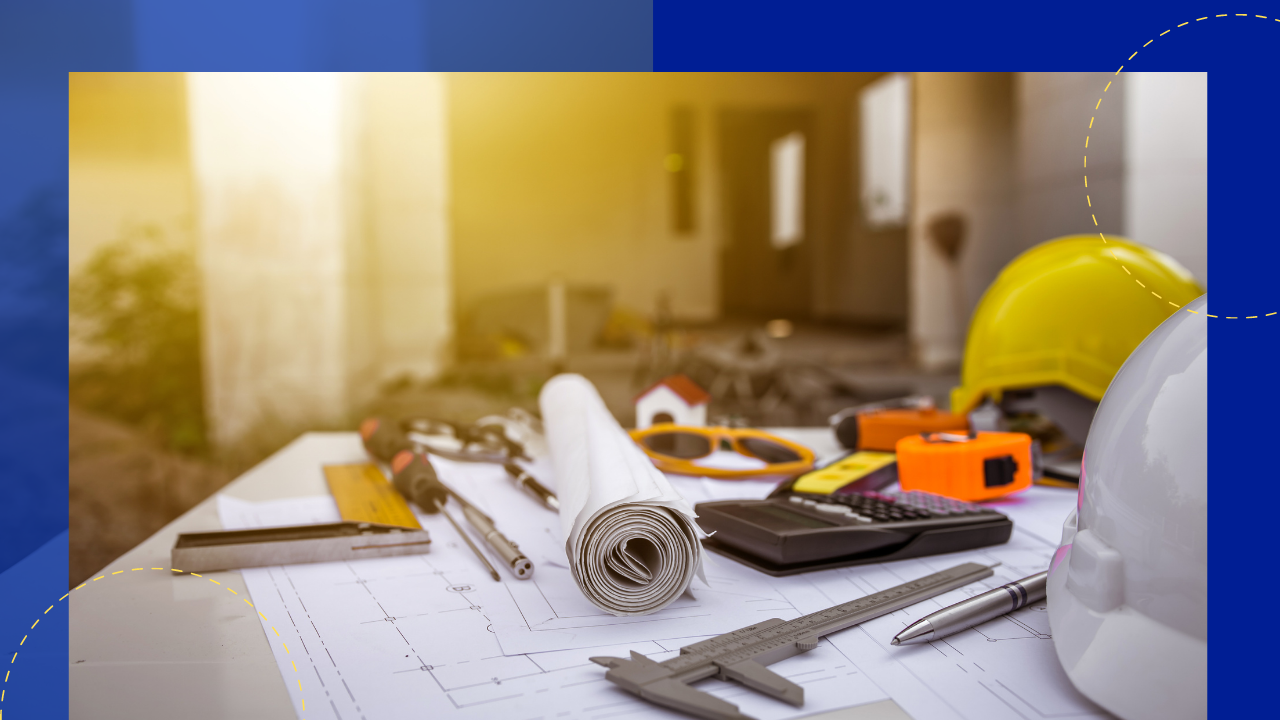 There is a certain charm to buildings that tower over the city streets nowadays. These infrastructures are drawn and planned by hand—often by drafters.
Drafting outsourcing companies are a hotspot for these professionals. They work day-in and day-out for clients who trust them with their vision and well-thought-out plans.
If you're looking for drafting services to turn your architectural vision into reality, here's all you need to know about different drafting services and tips for finding the best drafting outsourcing provider.
What is drafting?
Drafting is a practice that allows architects and engineers to visualize their upcoming projects. Also known as technical drawings, these are important to any projects that require modeling and construction.
For trained eyes, drafts are littered with important numbers, specifications, and other details that will be necessary for the outcome.
There are different types of drafting that computer-assisted drafting or CAD outsourcing firms offer to their clients.
Different kinds of drafting
Traditionally speaking, these kinds of drafts are made with a pencil and paper. But with the advancement of technology, these are now done via CAD to make the process more efficient and streamlined.
However, there will be times when the output needs to be drawn by hand. This is one of the reasons why drafters have to keep practicing their skills.
Architectural drafting
Architectural drawings serve as the vision for rooms, floors, the building's façade, and the inner and outer workings of the proposed outcome.
This draft is one of the many design plans that drafting outsourcing companies send out to their clients. Once they give it a go signal, then draftsmen can start working on the smaller details.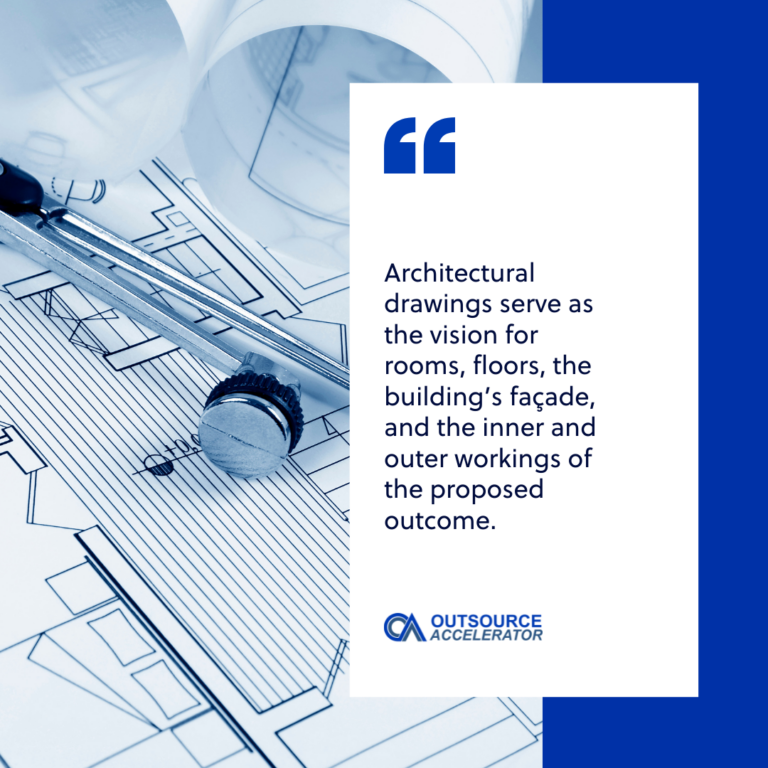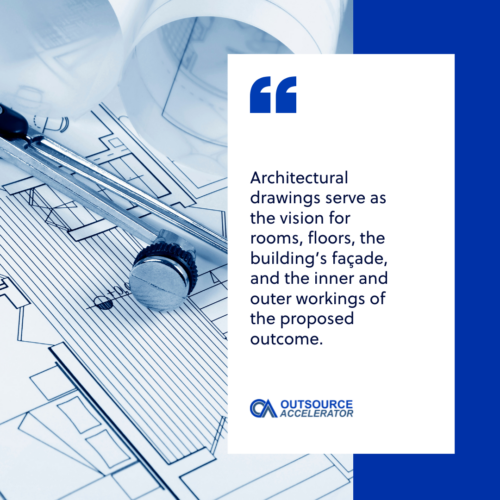 Electrical drafting 
This is one of the more meticulous technical drawings as it works with the internal details of appliances, devices, and other components.
Electrical diagrams are used to represent wirings, boards, switches, and outlets for a location.
Interior drafting
For most draftsmen, this is the part where they can get creative. Interior designs are diagrams in which styles are starting to be developed as a visualization of the project outcome.
Interior designers often need these diagrams to help them navigate the spaces they've been assigned to.
Furniture drafting
As expected, one can't start making a furniture design without diagrams or any details. Furniture draftings are handy when it comes to envisioning a piece of furniture—be it a chair, a wardrobe, or a table.
Most craftsmen can draw their own designs, but some clients already have one in mind.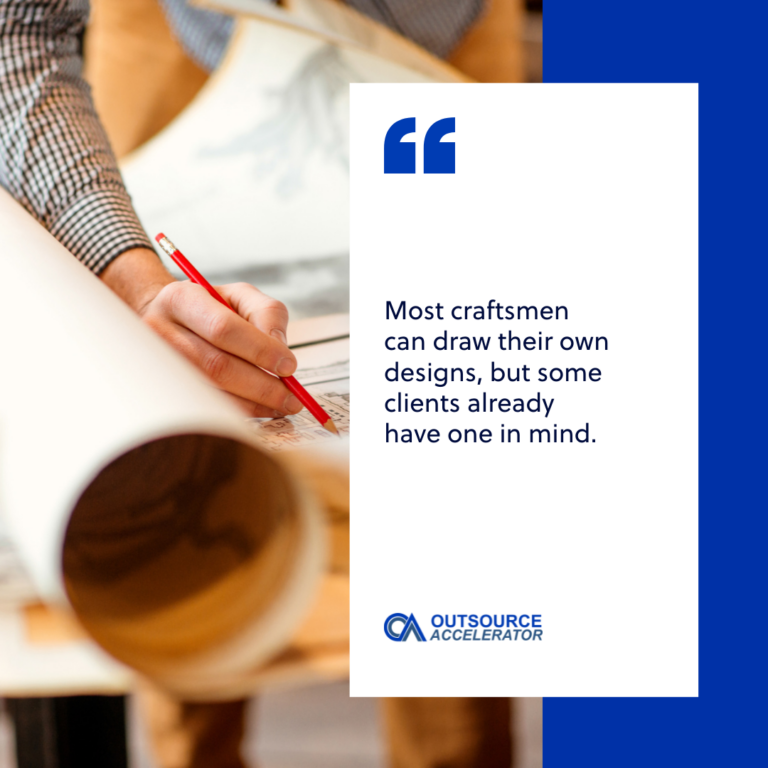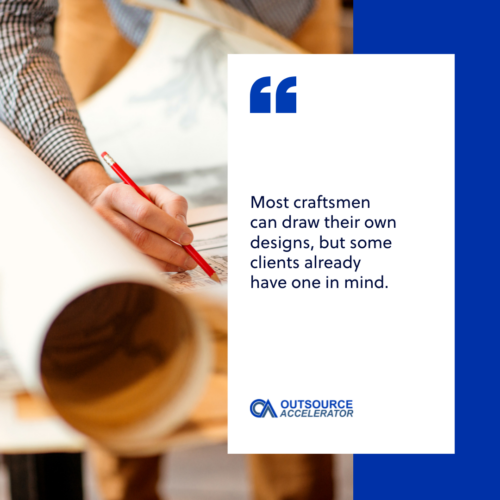 Woodwork drafting
Also known as millwork technical drawing, it's a very specific subset of architectural illustration. It refers to the inner workings of doors, windows, banisters, railings, and more. 
While it's a small scale compared to what we've listed so far, it's an important part of projects too. Can you imagine a room without a functioning entrance and exit?
Construction and infrastructural drafting
Construction and infrastructural diagrams are a bit different from architectural drawings. This kind of draft pertains to bridges, roads, towers, dams, and more of those colossal projects.
Drafting outsourcing companies often do these alongside smaller projects for variety.
What is a drafting outsourcing company?
Just like any other agency out there, a drafting outsourcing firm helps its clients meet deadlines by delegating work to professionals for a low cost — in comparison to hiring an in-house drafting firm, that is.
Any good contractor should be able to provide you with the drafting service you need.
Your go-to checklist for finding a drafting outsourcing firm
Before conducting any business-to-business (B2B) projects with a drafting outsourcing provider, here are some things that you should consider.
Their background and expertise
Like any other partnerships out there, you have to ensure that the drafting outsourcing company is able to provide the service you're looking for.  
Different firms have different expertise when it comes to drafting. And when it comes to technical drawing, there are unique niches within the practice.
Their processes and turnaround time
As a partner in business, you have to ensure that the outsourced team under your supervision works as effectively and efficiently as possible.
Turnaround times can be as flexible or as rigid as the client prefers, given that deadlines are met.
Budgetary concerns
Before going into any major decisions, consider your budget and the project's scope and limitations. This is to ensure that things will be as hassle-free as possible moving forward.
In some cases, projects get delayed—or worse, canceled—due to budget constraints.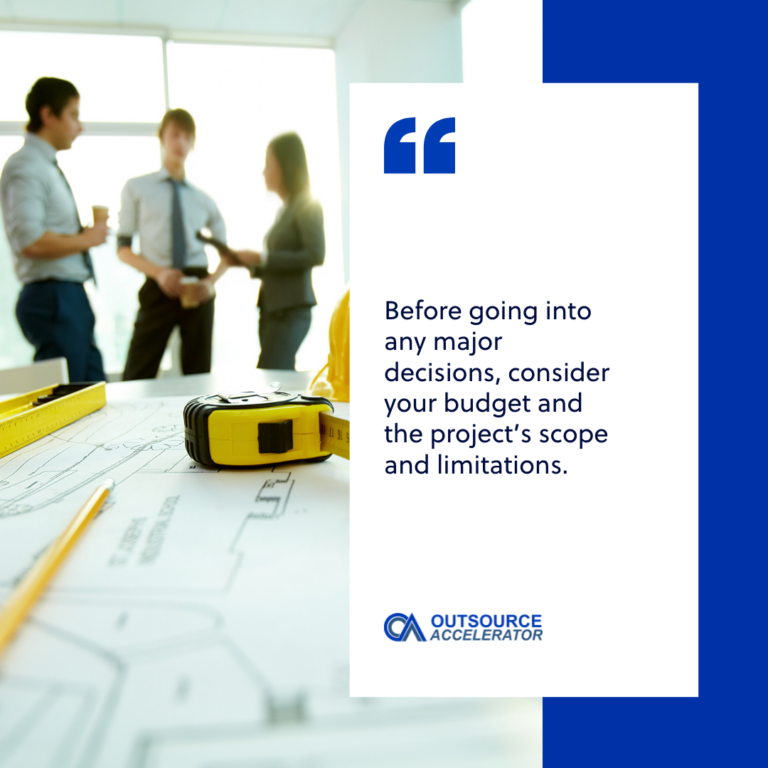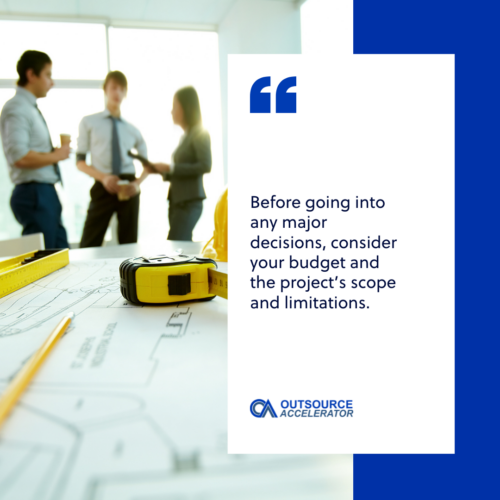 Their company culture
Make sure that you're partnering with a company that complements your mission and vision. Company culture and communication concepts are two of the most important facets of a healthy work environment.
The top reason you should outsource drafting services
If you have been looking for opportunities to open up your doors to new talents, try outsourcing.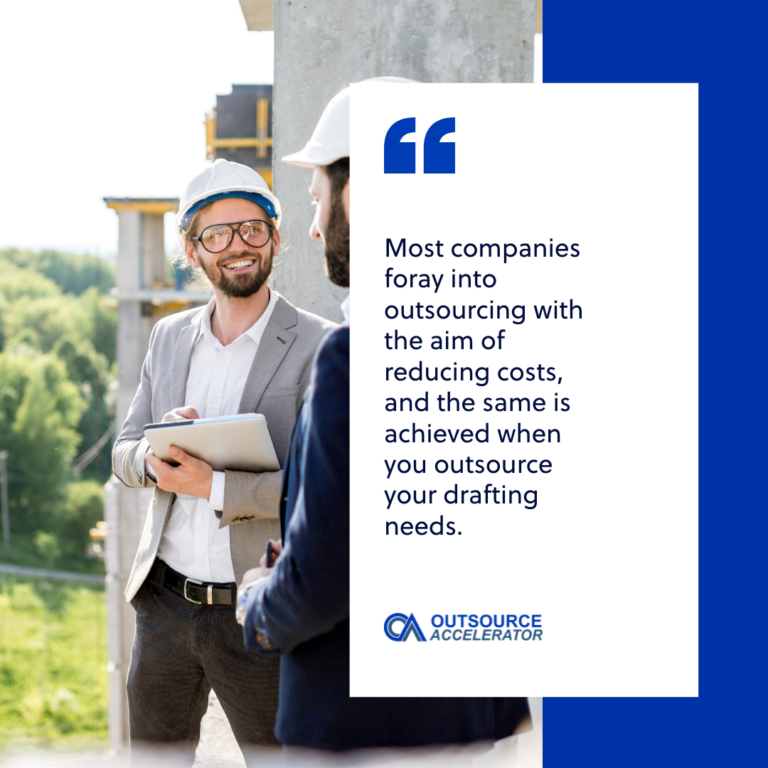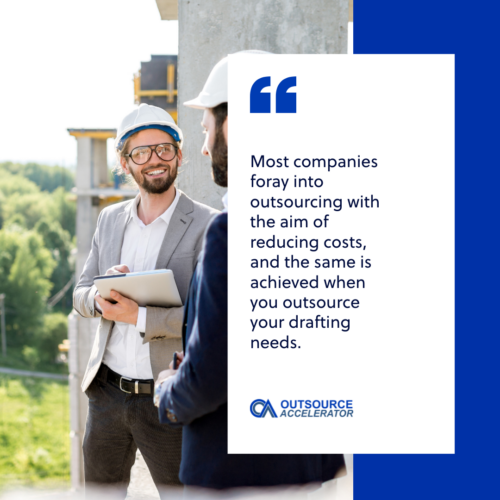 Most companies foray into outsourcing with the aim of reducing costs, and the same is achieved when you outsource your drafting needs. 
Not only will you save on the cost and resources needed to put together your own team or to scour for the best contractors. You may also gain access to the best talents not immediately available in your local area.