Types of distribution channels used by businesses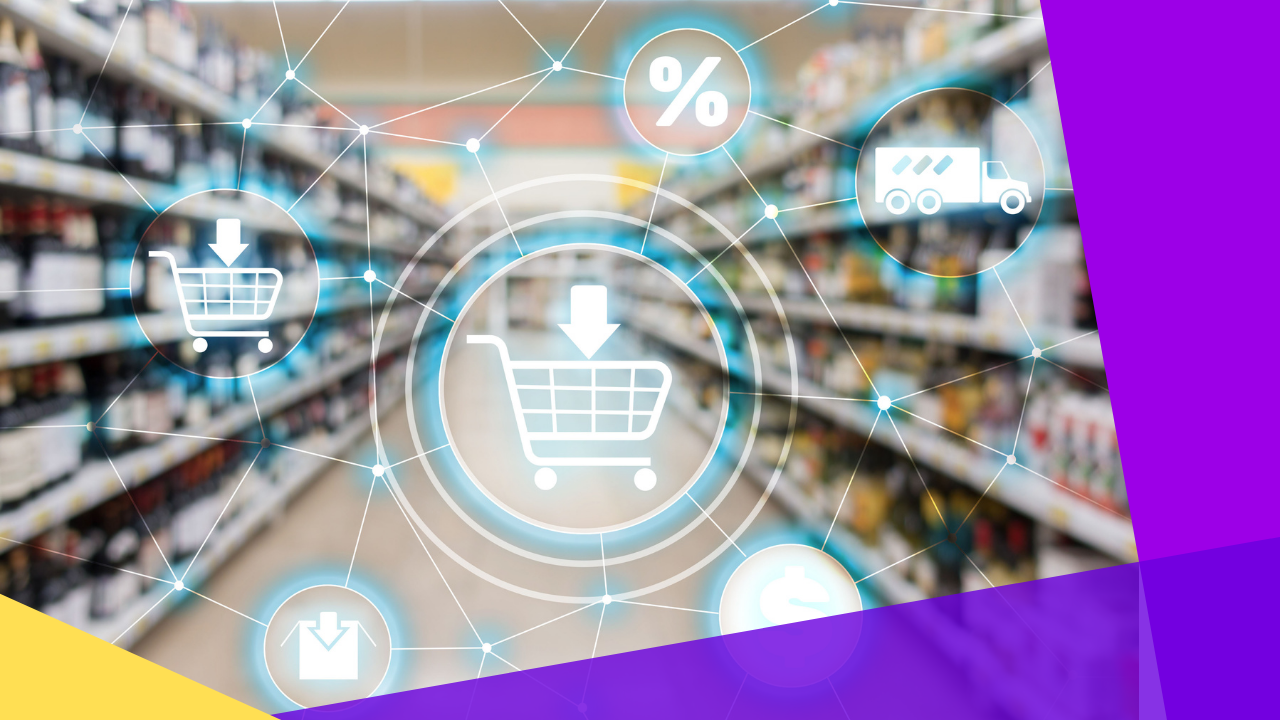 Most products and services go through multiple distribution channels before consumers can use them. Increasing the number of ways a consumer can receive goods can also increase the company's sales and profits. 
There are several types, formats, and levels of distribution channels. Companies can also partner with intermediaries who can assist in selling their services.
To help you decide which channel is right for your organization, this article will discuss the main things you need to know about distribution channels.
What is a distribution channel?
A distribution channel is a flow that a product or service goes through from the manufacturer to the end-user. It can be a short or long process depending on the number of intermediaries that are needed to deliver the purchased goods.
Conversely, a distribution channel also describes how money flows back from the buyers to the producer or original point of sale.
Choosing and keeping track of distribution channels is crucial in managing supply chains. For manufacturers, channels are important because it allows consumers to access the products or services easily. 
As they directly impact a company's sales, it is necessary to make distribution channels as efficient and effective as possible.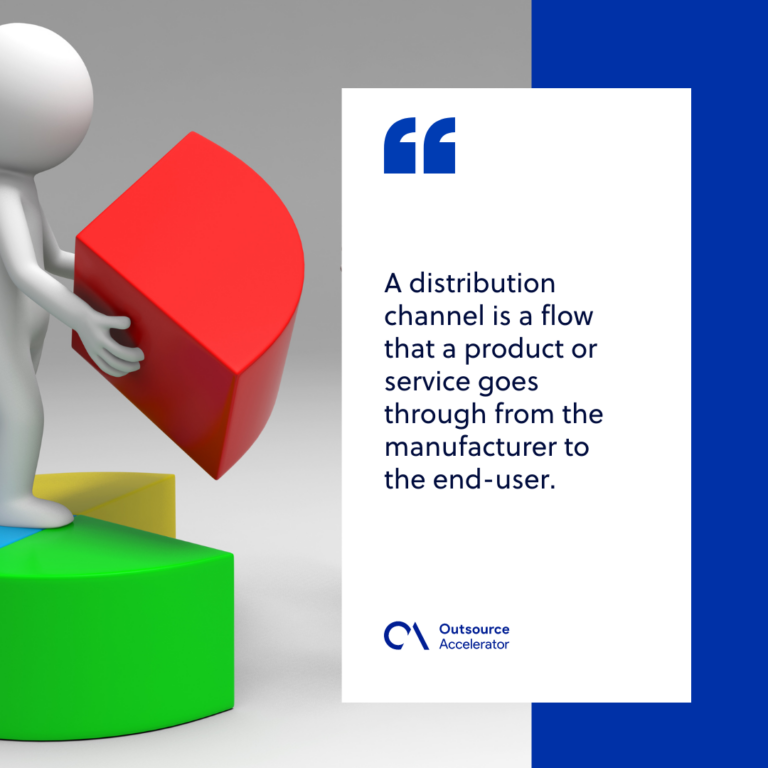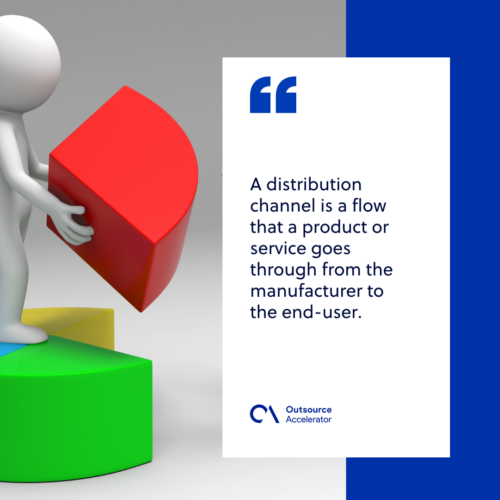 Role of distribution channel in a business
One of the main goals of a manufacturer is to release their products or services to the market and make them available for consumers. This can happen through creating an accessible distribution channel from the company to the clients.
Developing an easy and efficient distribution process from warehouse to customer can make a huge difference in how your business is viewed by the public. 
The quicker the product is delivered to the customer, the happier they are. On the other hand, if the goods are processed and given at a slow pace to the buyer, the more unsatisfied they can be.
The most ideal distribution process is set up in a way that limits the stops the product needs to go through before it reaches the final consumer.
In addition, a company that does not collaborate with the best intermediaries for product distribution usually encounters multiple problems — including stockouts.
Main distribution channel types
Distribution channels can either be long or short, single or mixed. The length of the channel could have any number of inter­mediaries between producers and consumers.
There are three types of distribution channels. Each type relies on the number of vendors used to distribute the goods and services.
Direct distribution
Direct distribution channels allow consumers to make purchases from the original manufacturer. This type does not make use of intermediaries to reach their customers.
Since the responsibility of delivery only falls to the manufacturer, this distribution channel generally makes it impossible to have a high number of clients. However, lower prices are possible as there are no commissions to hand out to middlemen.
This channel is also known as the shortest form of distribution. The manufacturer makes the most profit from the sale in this scenario as there are no other vendors.
Examples of products sold under direct distribution are perishables and luxury goods. Manufacturers who open retail shops to sell directly to consumers can also be classified in this distribution channel.
Indirect distribution
Indirect distribution utilizes multiple intermediaries before the product is handed to the consumer. This is typical for products that are sold in traditional brick-and-mortar stores.
Because there are other vendors involved in this model, it is possible to sell larger volumes to a range of customers. However, products also tend to have higher prices due to intermediary commissions.
Indirect distribution channels can be categorized further into three types. These are:
A

one-level channel

is where a product comes from a producer to a retailer and then to the end buyer. 

A

two-level channel

is where wholesalers buy manufactured products in bulk and divide them into small packages for retailers. The retailers are then responsible for reselling the goods to the end buyers. 

A

three-level channel

is where specific merchandise flows from the producer to agents to wholesalers. The agents then receive a commission for distributing the goods in a particular area. 
Hybrid distribution
A hybrid distribution channel is a mix of direct and indirect channels. In this model, the manufacturer partners with intermediaries, but also takes control in reaching customers.
Also called a multi-channel distribution system, a hybrid model is where organizations design or set up two or more marketing channels to reach more customers.
Through this method, the producer can sell directly to a consumer segment using their marketing efforts while they reach out to another target group through retailers.
Hybrid channels are generally used by companies with large and complex markets. With each distribution channel, the business can boost its sales and market coverage. 
They can also have the opportunity to customize their products and services according to the needs of their diverse consumer base.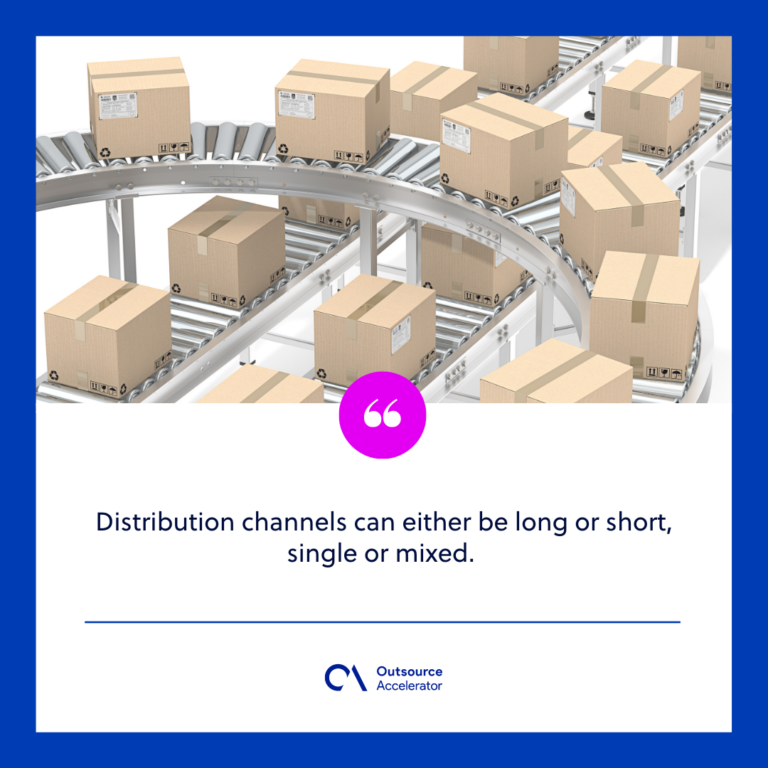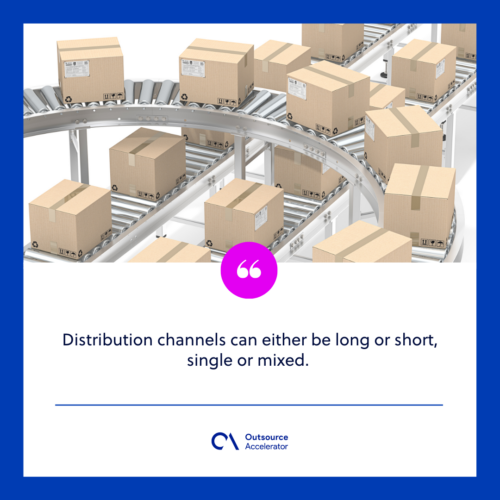 Key intermediaries in a distribution channel
Producers and buyers are normally linked by intermediaries. They put buyers and sellers together and act as middlemen or go-betweens in processing the purchase. 
Intermediaries are important because they have the skill, knowledge, experience, and network that sellers may not have. 
Simply put, intermediaries help companies make their products and services accessible to the end-user. 
Here is a list of four groups of intermediaries. 
Agents
Agents are hired to sell a company's products and services to final consumers. They can be individuals or companies that act as an extension of the manufacturer. 
An agent's main job is to represent the business while selling products to buyers. Because of this, the relationship between agents and companies is usually personal and lasts for a long time.
Agents make their profits through fees or commissions for each product that they sell.
Wholesalers
Wholesalers buy and resell products to retailers. They buy goods in bulk, store the products in their warehouses, and storage places until the time comes to resell them to users. 
This type of intermediary does not sell small quantities directly to customers – with a few exceptions in wholesale supermarkets. Because this method involves large quantities, the products can be availed at a lower price than usual.
In contrast to agents, wholesalers own the merchandise that they sell. They also rarely sell to the final user. Rather, they resell their purchased goods to other intermediaries such as retailers.
Distributors
Distributors are intermediaries that trade, stockpiles, and provide technical support to retailers and wholesalers. Their operations are focused on specific regions.
Just like wholesalers, distributors buy products from the manufacturer, store them, and sell it off to retailers and other intermediaries. However, the key difference between the two is that distributors exclusively ally themselves with companies. 
For example, direct distributors of Apple products will not distribute Samsung products and vice versa. This way, distributors can maintain a closer and more long-term relationship with manufacturers than wholesalers do.
Retailers
Retailers are frequently companies or individuals that have full sales rights of the product that they have obtained from either the original producer or other intermediaries. These include supermarkets, pharmacies, restaurants, and bars. 
They usually come in a variety of shapes and sizes – from corner grocery stores to supermarket chains. Retailers earn profits by buying products from market intermediaries and selling them directly to customers at a higher price than the original.
The internet as a modern-day distribution channel 
For a couple of years now, the internet has been considered as another intermediary of the distribution channel. Manufacturers and producers can now use online marketplaces to reach their customers and sell their goods. 
Because it is widely used, it makes it easy for sellers to create a catalog of their different products and services. Once the end-buyer has access to a business' website, they can easily view and order the products that they want to avail.
Online transactions also make time insignificant. Because websites are always open, anyone can sell and purchase goods through the web regardless of the time.
In addition, the internet helps manufacturers deliver products from another location to the other side of the world without problems. Suppliers can now deliver anywhere, making location and distance irrelevant between business transactions.
Due to these reasons, and the ease of doing business online, the e-commerce industry continues to grow tremendously all over the globe.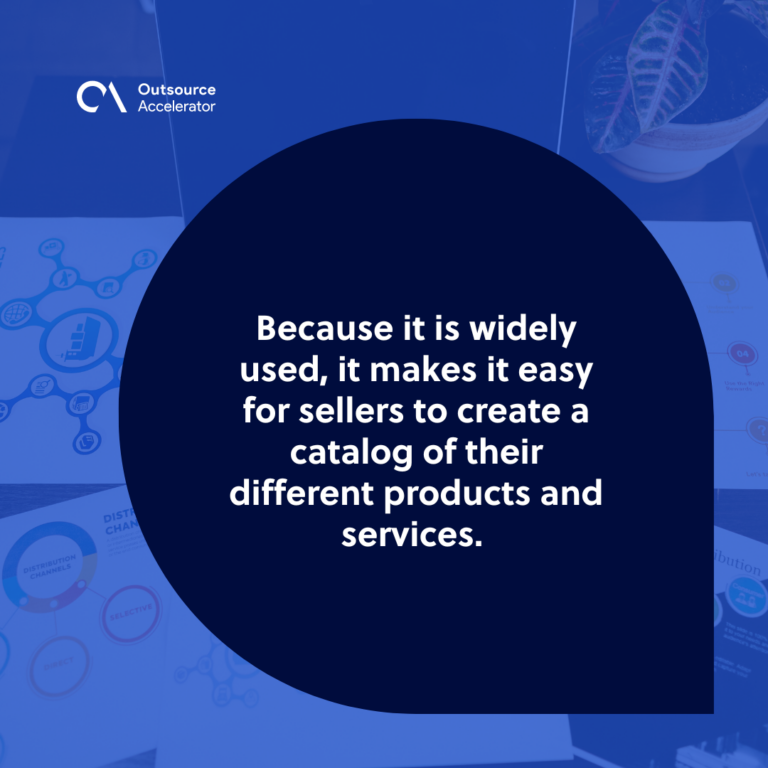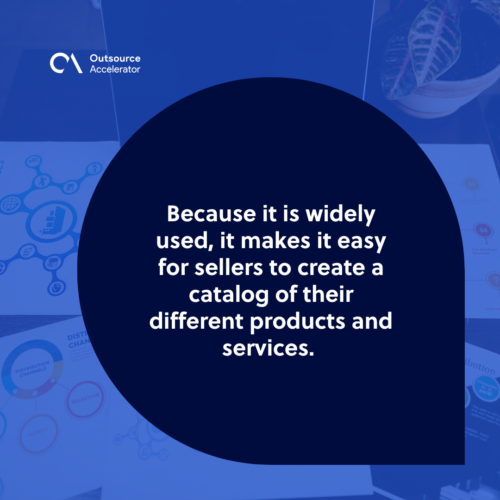 How to effectively manage your distribution channel?
Distribution channels differ depending on the manufacturer's product and their sales targets. It is why it is crucial to pick the right distribution path for your business.
Managing a company's distribution is usually the responsibility of the marketing department.
If you are a marketing employee, then it is essential to monitor your company's Key Performance Indicators (KPIs). Perform regular report assessments with different metrics and indicators that are related to your distribution process.
Track your company's sales indicators. Carefully analyze the performance of each channel that your organization uses. In addition, carry out satisfaction surveys with your customers. 
Reaching out to your clients will let you determine whether your process is effective or if customers are dissatisfied with the selection and availability of your goods in the market.