Here's how to resolve and avoid a disputed invoice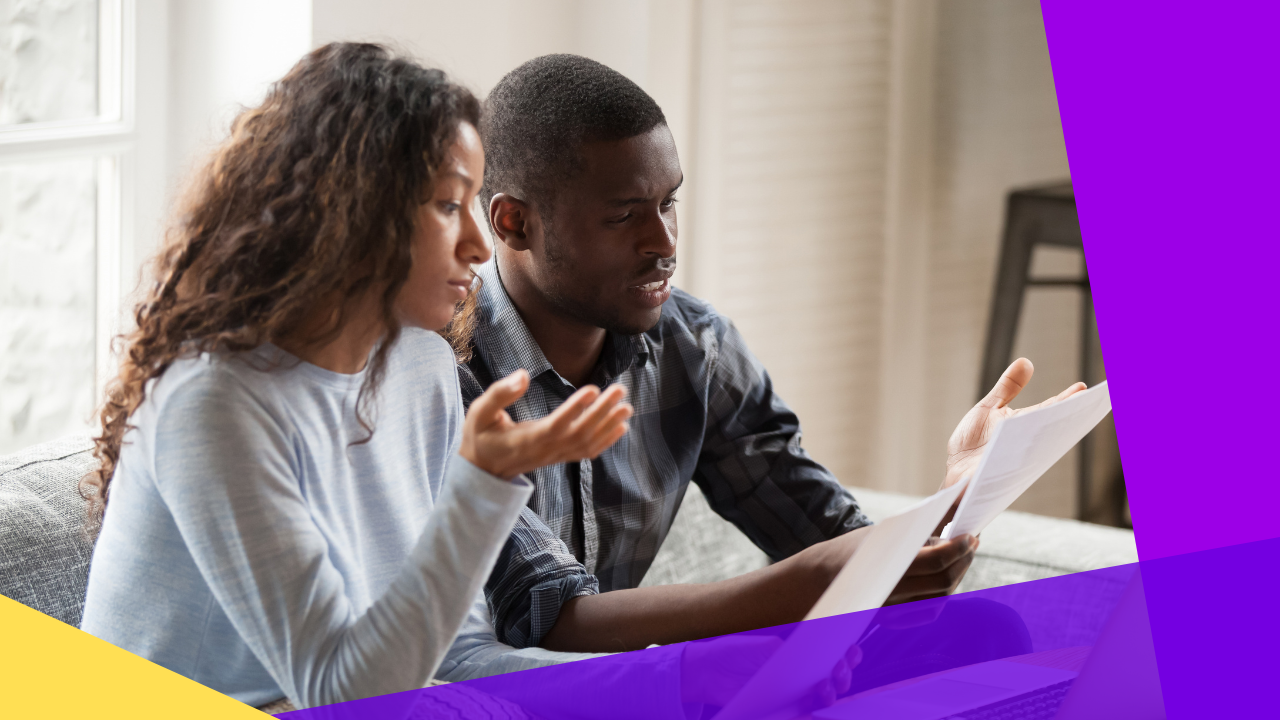 In the world of business, transactions flow like a river. Yet one element can often create ripples of uncertainty and friction – the disputed invoice. 
Dealing with a disputed invoice can be a frustrating and time-consuming challenge. 
This seemingly routine financial document can disrupt the smoothest of business operations, strain client relationships, and even lead to legal disputes if mishandled. 
This article digs into the complexities of disputed invoices, explores common causes, and provides tips on navigating and resolving these issues effectively. 
What is a disputed invoice?  
A disputed invoice is a situation where a billing document has been challenged. 
Recipients may dispute an invoice due to perceived discrepancies, errors, or disagreements regarding any factors stated in the invoice. 
A disputed invoice frequently requires a resolution process to address the concerns and reach a mutually agreeable solution between the parties involved. 
The normal payment process is halted while the disputed invoice is resolved.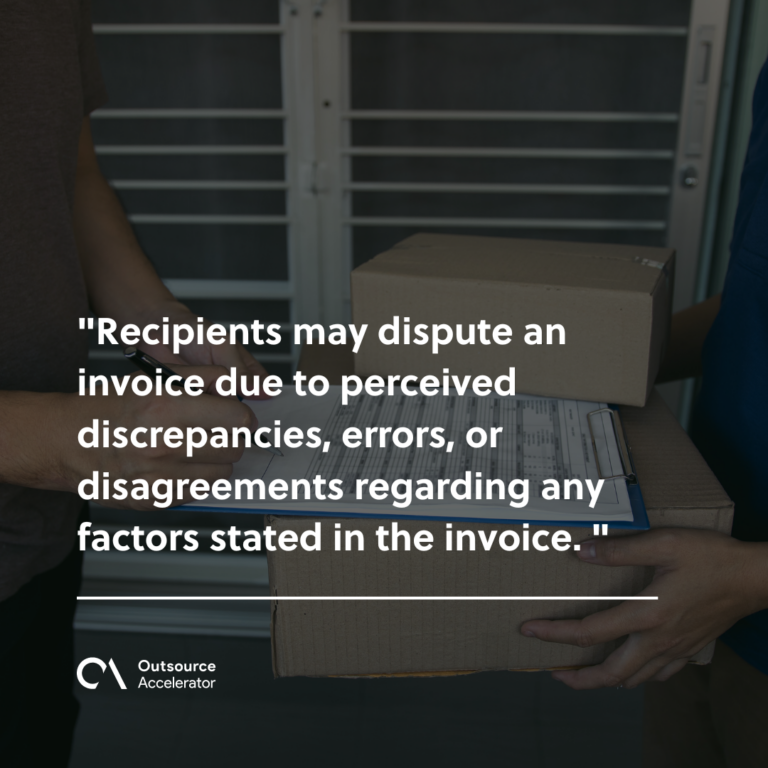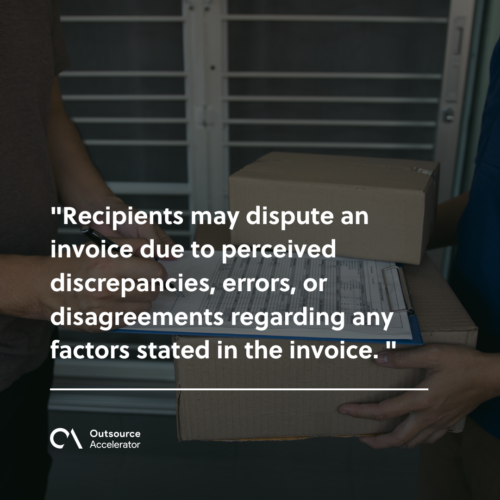 Reasons for a disputed invoice
There can be various reasons for a disputed invoice. Addressing these issues promptly and professionally is essential to maintaining fairness and positive business relationships. 
Some common reasons for a disputed invoice include:

Inaccurate billing
The customer may notice errors or discrepancies in the invoice. These may be incorrect pricing, quantities, or applied discounts. 
These discrepancies can result from human error, faulty systems, or miscommunications. 
Delivery disputes 
A customer may dispute the invoice if they did not receive the expected goods or services or if the quality falls short of what's promised. Customers may argue that a failure to meet timelines affects the value of the goods. 
Contractual disputes 
A disputed invoice may arise if there is a disagreement over the terms and conditions outlined in the contract between the business and the customer. 
These may include disputes over payment terms, warranties, delivery dates, or any other contractual obligations. 
Communication breakdown
In some cases, a disputed invoice can stem from simple miscommunications or misunderstandings. This could be due to unclear or inconsistent communication, resulting in conflicting expectations or incorrect assumptions regarding billing. 
Customer financial issues 
In some cases, customers may dispute an invoice due to their own financial difficulties. They may have cash flow problems, a disputed credit card charge, or discrepancies in payment terms. 
7 steps to resolve a disputed invoice
Resolving a disputed invoice requires a systematic and diplomatic approach. The key is to conduct the situation with professionalism and a genuine desire to find a fair solution. 
Here are the steps you can take to resolve a disputed invoice: 
1. Initiate communication 
Begin by properly initiating a respectful and open line of communication with the customer. Encourage them to provide additional information that supports their claims. 
Be empathetic and demonstrate your willingness to understand their perspectives. 
2. Investigate 
Thoroughly examine the details of the dispute. Review all relevant documentation, including the original contract, order forms, delivery receipts, and any related communication. 
If needed, consult with colleagues or other departments involved in the transaction. 
3. Clarify thoroughly 
Clearly and transparently explain the charges and details included in the invoice. This is especially important if the disputed invoice arose from miscommunications. 
Ensure that both parties have a common understanding of the issue and its resolution.
4. Offer solutions
Propose appropriate solutions or compromises based on the investigation and understanding of the customer's concerns. 
This could involve adjusting the invoice, providing additional evidence or documentation, offering a discount, or accommodating any legitimate issues raised.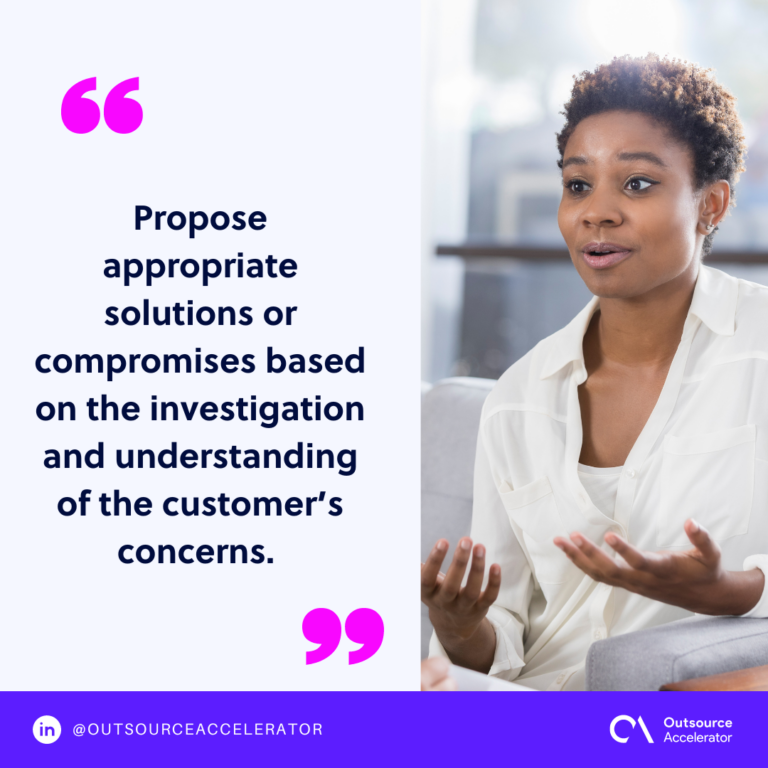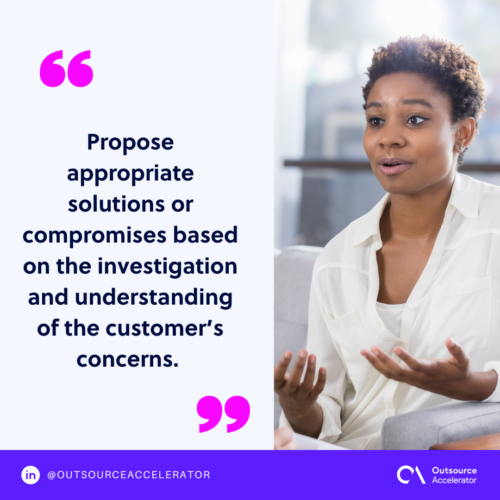 5. Negotiate a resolution 
Work collaboratively and negotiate with the customer to find a mutually agreeable resolution. Be open to listening to their suggestions and find common ground wherever possible. 
Aim for a fair and equitable outcome that preserves the customer relationship while maintaining the financial integrity of your business. 
6. Document 
Once an agreement is reached, make sure to maintain detailed records of all related communication. Ensure both parties have a clear understanding of the agreed-upon terms. 
This will help prevent or minimize any future disputes, as well as serve as a reference point if necessary. 
7. Follow-up
Finally, follow up with the customer to ensure their satisfaction and verify that the disputed invoice has been successfully resolved. 
If necessary, confirm the payment arrangements and address any outstanding concerns. 
Avoiding a disputed invoice
Preventing disputed invoices is preferable to resolving them after the fact. This way, you can better maintain smooth business operations and positive client relationships. 
Here's how you can avoid a disputed invoice:
Regular communication 
Maintain open lines of communication with your customers throughout the entire project or service period. This allows for timely clarification of any questions, concerns, or changes in expectations. 
Remember to provide updates on progress, timelines, and any potential delays.  
Accurate invoicing 
Double-check all invoices for accuracy before sending them to clients. Verify that all charges, quantities, and prices match the agreed-upon terms. 
Use invoicing software and a standardized process to minimize errors and inconsistencies. 
Clear and detailed contracts 
Establish clear and comprehensive contracts or agreements. You should outline all terms, conditions, services, and payment. 
Both parties should be able to thoroughly understand and agree on the terms before commencing work. 
Transparent billing 
Provide itemized invoices that clearly break down the charges and services provided. This helps customers understand what they are being billed for and reduces the likelihood of surprises or confusion. 
It's also best to avoid hidden fees or unexpected expenses.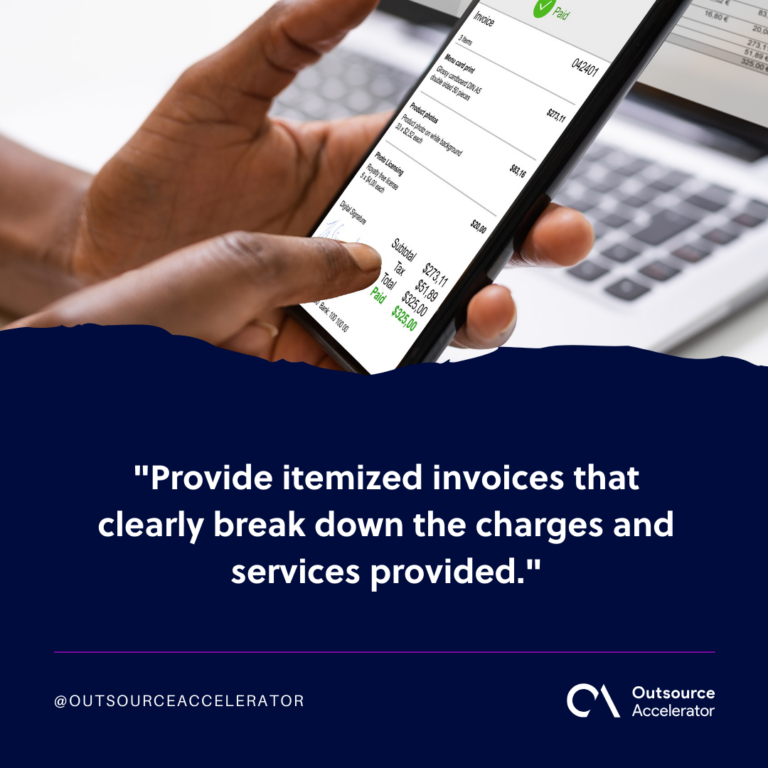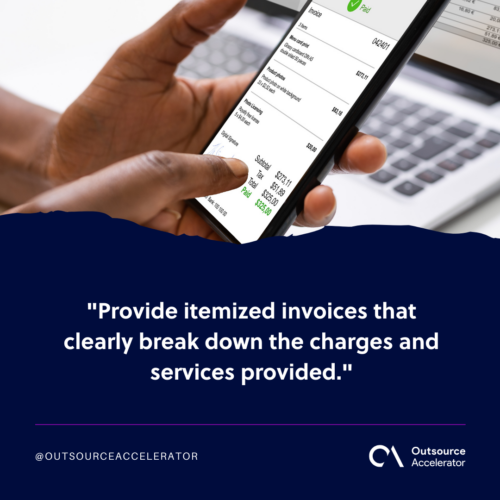 Delivery and quality assurance 
Send invoices promptly and consistently according to the planned schedule. Implement quality control measures to ensure the products meet or exceed standards. 
By fulfilling your obligations promptly and providing high-quality work, you reduce the chances of a disputed invoice based on delivery or quality concerns.   
Implementing these proactive measures lets you minimize the risk of disputed invoices and establish a strong foundation of trust with your customers.