Pros and cons of a digital document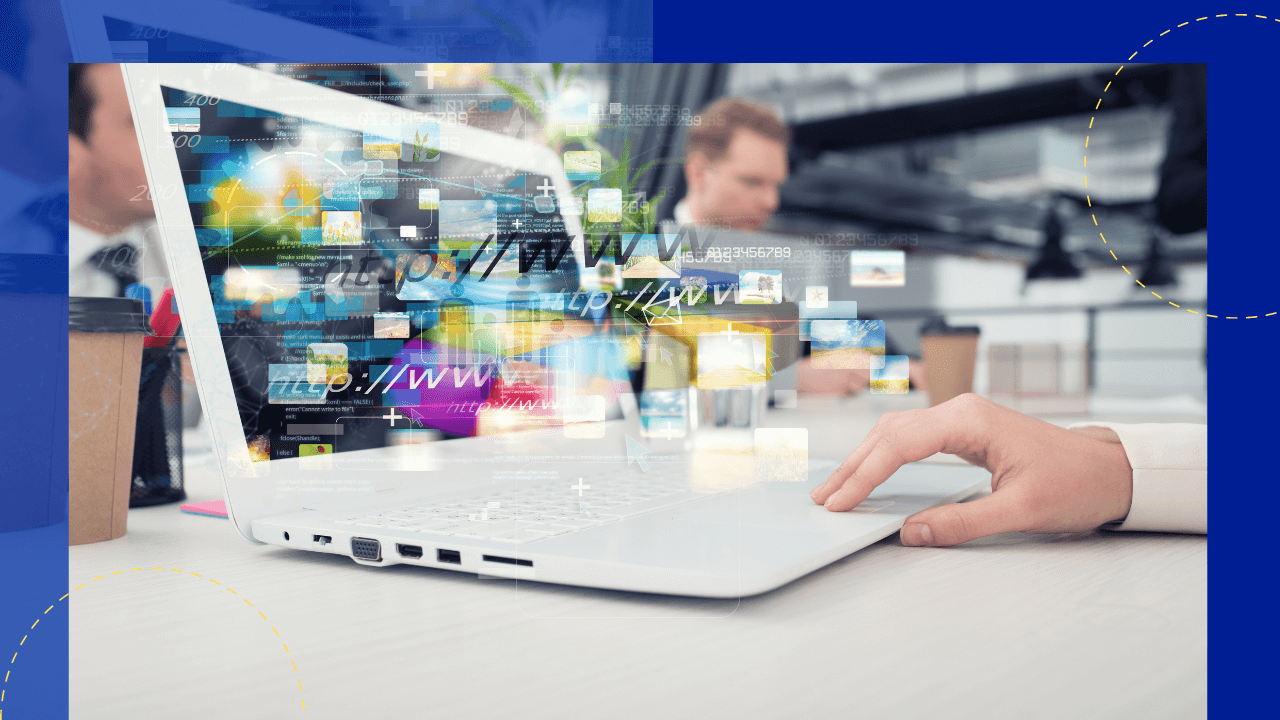 The way we create, share, and store documents has undergone a significant transformation. Gone are the days of overflowing file cabinets and piles of paperwork. 
With the rise of digitalization, the digital document has become an essential aspect of modern business operations. They are more efficient and eco-friendly than traditional paper-based documents and are easier to store, share, and organize. 
In this article, we'll explore the world of digital documents and how they've revolutionized how we work and collaborate. 
What is a digital document?
A digital document is an electronic file that contains any information (including text, audio, images, and videos) in a structured format. It is designed to be accessed via devices like computers, smartphones, and tablets. 
A digital document comes in a wide range of formats, each tailored to specific purposes. Common digital document formats include:

Portable Document Format (PDF)

Microsoft Word Document (DOCX)

Microsoft Excel Spreadsheet (XLSX)

Microsoft PowerPoint Presentation (PPTX)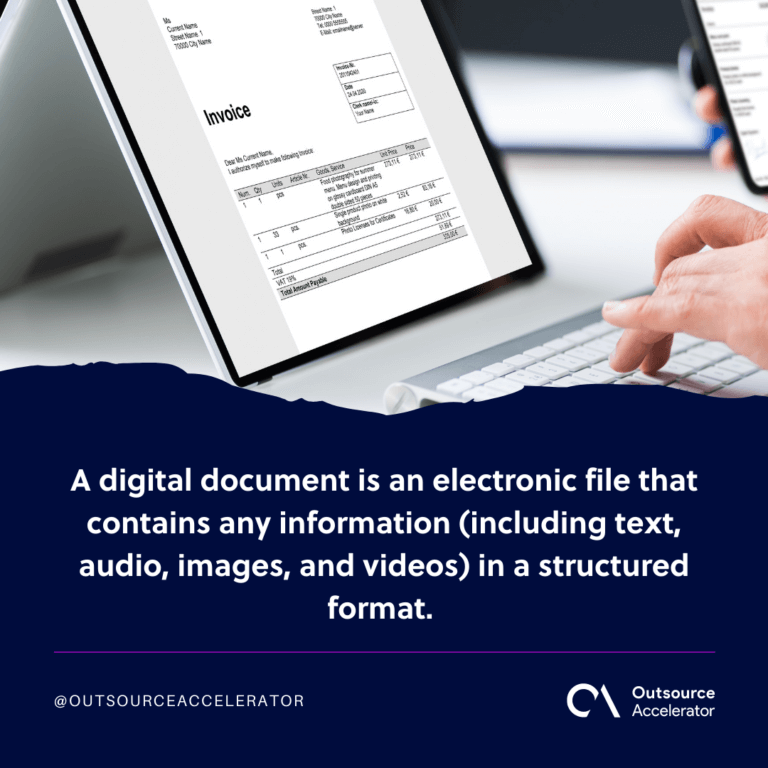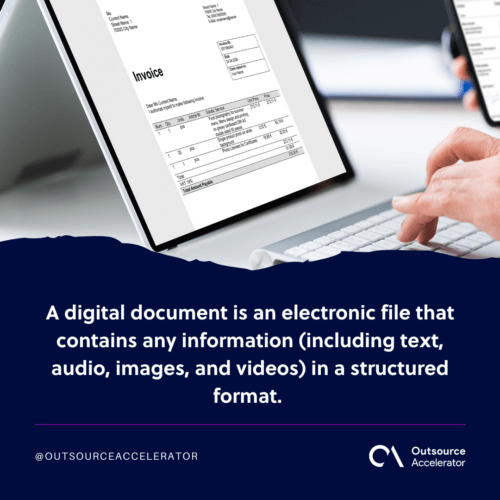 Examples of digital documents 
There are many different examples of digital documents. These demonstrate the diverse range of digital documents used in various contexts, from personal use to business, education, and communication.
Resume

– A digital document used to showcase an individual's educational background, work experience, skills, and accomplishments when applying for a job.

Business report

– A formal document presenting information and analysis on a specific business topic or project

E-book

– It is a digital book available in formats like PDF, EPUB, or Kindle, which can be read on electronic devices like e-readers, tablets, or smartphones.

Spreadsheet

– A digital document created using software like Microsoft Excel or Google Sheets, used for organizing, analyzing, and manipulating data in a tabular form.

Invoice

–

A digital document sent by a seller to a buyer detailing the products or services, associated costs, and payment information.

Presentation

– This is  used to deliver information or ideas using slides, often created using software like Microsoft PowerPoint or Google Slides.

Newsletter

– Newsletters are distributed periodically to subscribers, providing updates, news, or information on a specific topic.

User manual

– A user manual provides instructions and guidance on how to use a product, software, or system.

Whitepaper

– This type of digital document presents a detailed analysis, research findings, or technical information on a specific topic or technology.

Contract

– A legally binding digital document that outlines the terms and conditions of an agreement between two or more parties.

Webpage

–

A digital document displayed online, created using HTML, containing text, images, multimedia, and hyperlinks.

Receipt

– Receipts confirm the purchase of goods or services, typically provided to customers after a transaction.

Press release

– A digital document used by organizations to announce news, events, or new product launches to the media and the public.

Survey form

– This form is used to gather feedback and opinions from respondents on various topics.
Difference between a digital document and an electronic document
While the terms "digital document" and "electronic document" are often used synonymously, there are real differences between the two.
The table below shows the distinctions between both terms:
| | | |
| --- | --- | --- |
| | Digital document | Electronic document |
| Nature and medium  | A broad term referring to any file or information stored or accessed in a digital format | Specifically refers to text-based documents or files that are created, edited, and stored electronically  |
| Content and representation | Contains various types of data and support different media elements  | Primarily focused on textual content and presents information in a written form |
| Applications and usage  | Used in a broad context, covering everything from multimedia presentations and interactive e-books to spreadsheets, databases, and audiovisual content | Commonly used for business, academic, and administrative purposes |
| Versatility | Has a higher level of versatility due to the inclusion of various media formats | More focused on conveying textual information |
| Perception | The term encompasses both electronic and multimedia-rich files  | The term evokes a more traditional, text-based file format |
Challenges of using a digital document
While digital documents offer numerous advantages, they also come with their fair share of challenges. 
Some of the common drawbacks of using a digital document include:
Compatibility issues 
A digital document can only be read using its compatible application or software. 
Different operating systems and devices have different ways of storing files, making accessing and transferring documents from one device to another difficult. 
Security concerns
Security issues are a significant concern for digital documents. They are much easier to steal than physical ones, and distributed sensitive information can heavily damage a company's reputation. 
Data loss and corruption
If a file isn't stored in the right format or location, it can become inaccessible and unusable. Even an up-to-date backup may be insufficient to recover from data loss and corruption. You'll require special software tools to restore them.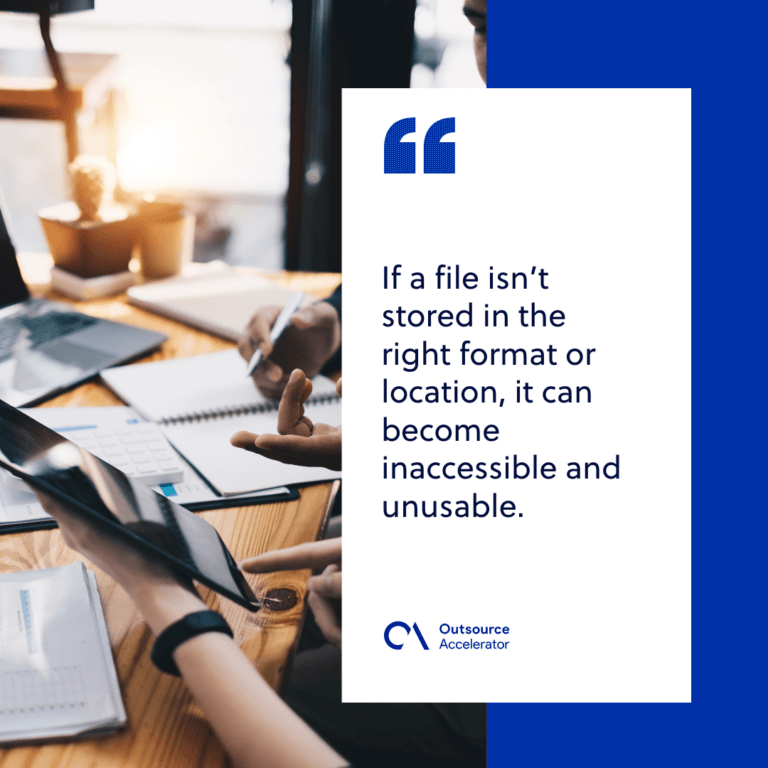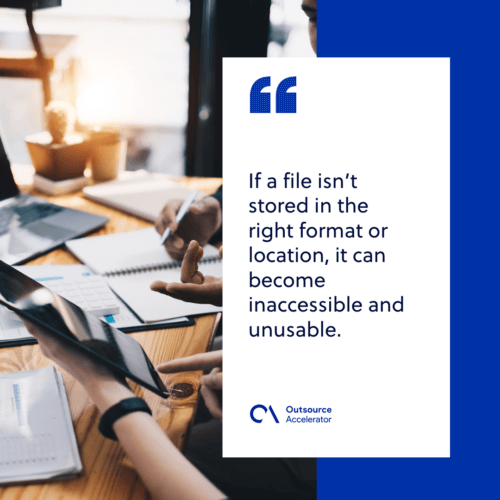 Digital archiving and preservation
Technology changes rapidly. You should be able to keep up your digital documents with these changes; otherwise, you'll lose access to them.  
Continuous transition to new technologies also comes with new learning curves to traverse. 
File size and bandwidth limitations
A digital document is often much larger than its print counterpart, sometimes making it difficult to store and share. 
Compressing the files can partially solve this, but doing so can result in losing quality or functionality. You must ensure enough storage space and bandwidth when handling digital documents. 
Costs of tools and software
Companies may have to invest in new tools and software to create digital documents. These costs include:

Hardware costs 

Software license costs 

Online storage costs 
Dependency on technology
A digital document is only as good as the device used to open it. If the device or the internet becomes unavailable, you'll be unable to access the file or perform essential tasks. 
Benefits of a digital document solution
Using digital documents offers numerous benefits, making them a preferred choice over traditional paper-based records. 
Here are some of the key advantages of using a digital document:
Enhanced accessibility
A digital document allows users access from any location, at any time, and on any device. This lets people work where they're most comfortable and productive. 
Efficient document management 
A digital document is more efficient to use and navigate. You don't have to search through piles of paper as everything is stored in one place. You can even organize it within your own database.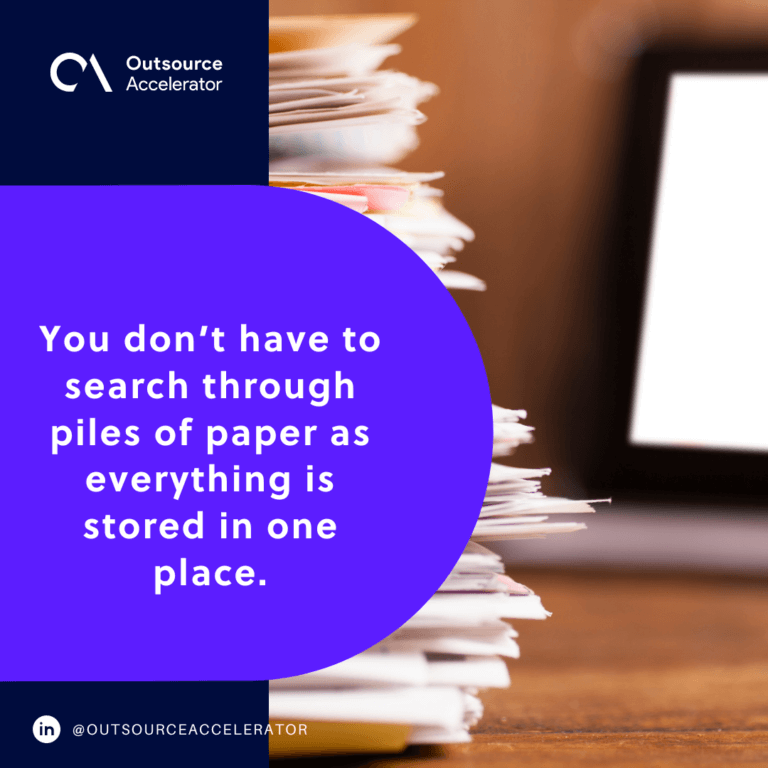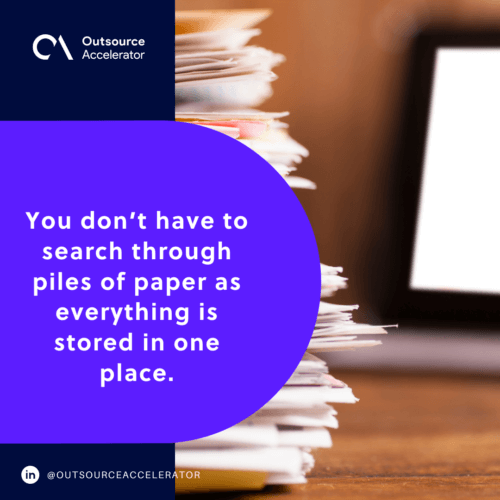 Collaboration and sharing
Multiple people can work on a digital document simultaneously with real-time feedback. Oftentimes teams also use built-in collaboration tools and version control systems. 
Environmental benefits  
Digitalization eliminates the need for paper and printing, thus reducing waste and lowering energy consumption. This also minimizes the amount of space needed for storage. 
Multimedia integration
A digital document holds more than text. You can include images, graphics, and other multimedia elements in your files. 
This allows you to create a more engaging and interactive experience for your audience. 
Data analysis and insights
A digital document solution provides detailed reporting on all your documents, giving you more insight through data analysis. This is especially beneficial if you want to improve customer service or enhance product lines. 
Backup and disaster recovery
A digital document can be easily backed up for quick retrieval in the case of an emergency. With everything online, you won't need to worry if something happens to your physical computer.