Development roadmap: All you need to know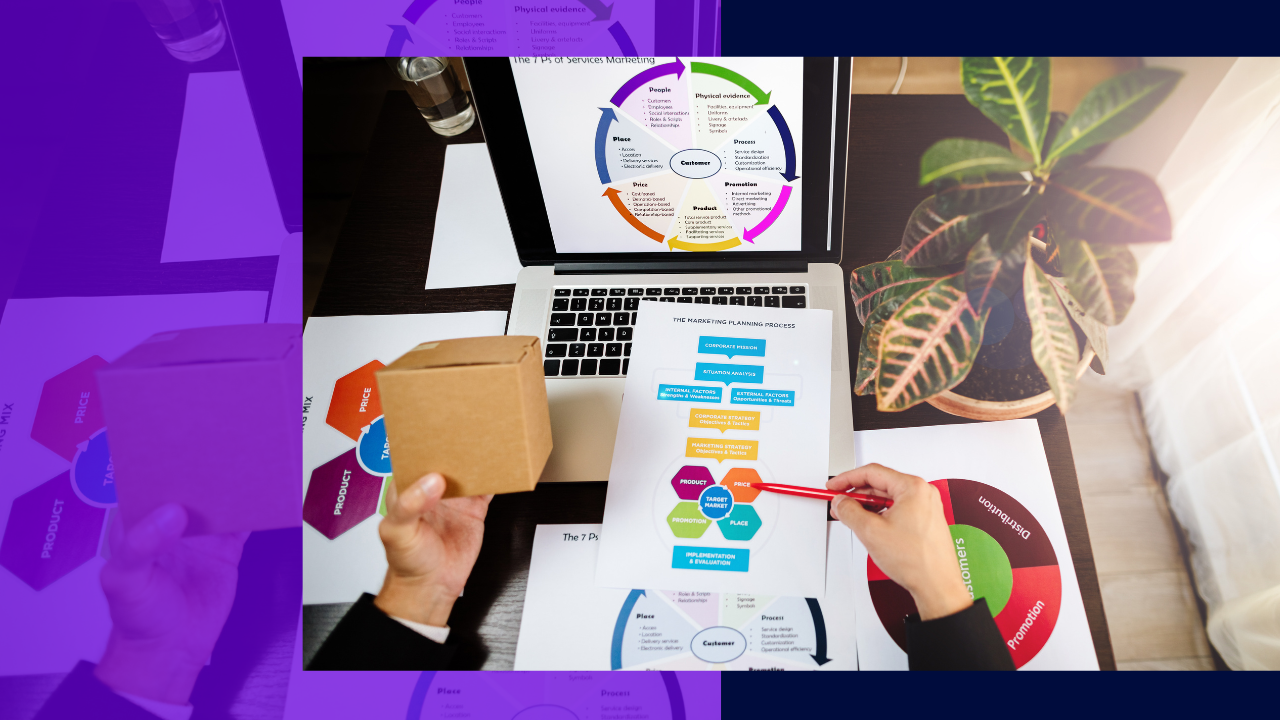 Developing a new product – or adding new features to existing ones – can be a tricky task.
Product developers need to consider a lot of factors before proceeding with the development process.
These factors may include the viability of their product, the time it will take to develop, and the anticipated target market.[1]
Having a development roadmap to rely on helps product developers keep a straight path toward building a new product or feature.
What is a development roadmap?
A development roadmap is a tool used to plan and prioritize the features you're going to develop for your product.
It helps you manage expectations about what will be delivered and when, and it helps you gather support from stakeholders.
It is a tool that helps you plan out your product's future. A good development roadmap should be:
Easy to read and understand

Flexible enough to change as you learn more about your users and business

Shared with the whole team (not just marketing)
A development roadmap helps everyone in your team work together towards a common goal, stay focused, and keep things moving forward.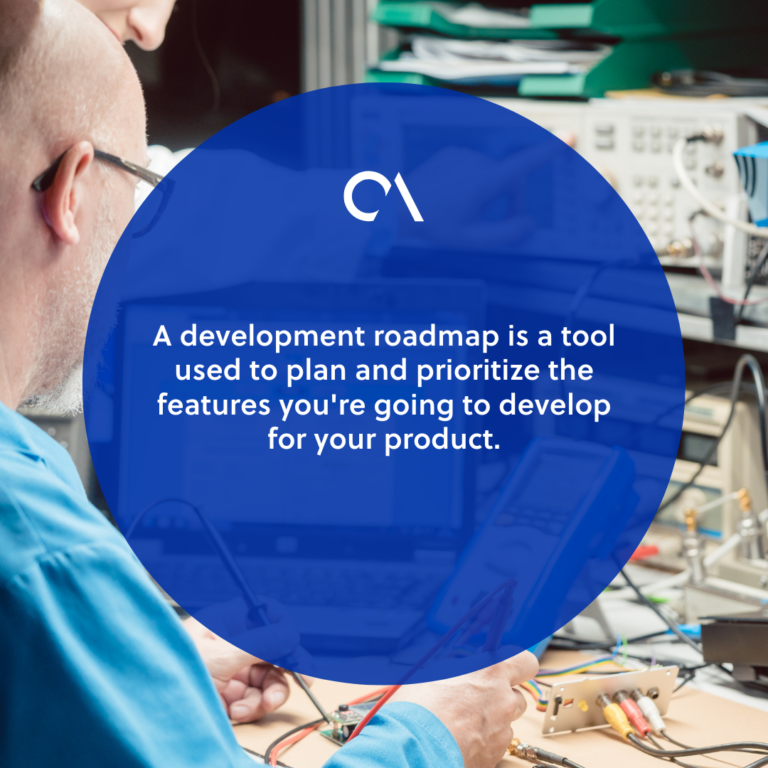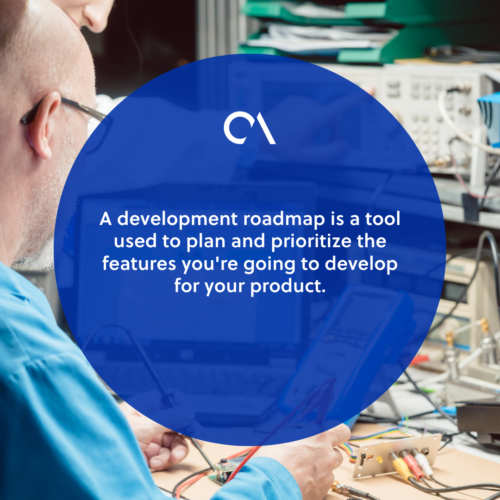 In essence, a development roadmap is a high-level plan for your product – it helps give you a sense of which direction your product is heading.
A great development roadmap makes your product better in various ways.
For one, it helps your whole team work towards a common goal while staying focused on what they're building. It also provides guidance for the future of your product.
This reduces uncertainty about what's coming next so you can prioritize what's most at the moment.
Advantages of having a development roadmap
Utilizing a development roadmap when creating a new product or features can help make the process more efficient.
Below are some benefits you'll gain from using a development roadmap:
Stay focused
It can be difficult for teams to stay on track, especially when the work is creative in nature.
A good roadmap will help you prioritize tasks so your team can stay motivated and productive.
It also helps your team take a one-step-at-a-time approach instead of being all over the place in the product development process.
Communicate more effectively with stakeholders
Having a clear plan will help stakeholders understand what they're getting from their investment in your product.
A development roadmap gives your business's stakeholders a clear overview of your team's progress.
It also gives them confidence that their money isn't wasted. If something goes wrong, they'll know exactly where to point fingers.
Manage internal and external expectations 
A development roadmap shows everyone – including yourself – what needs to happen next in order to get closer to meeting those goals.
Unexpected changes or delays are inevitable. When these things happen, having a development roadmap lets you go forward from that point on without much hassle.
Having an established plan of how to proceed prevents your team members from being overwhelmed or feeling out of control.
How to create your own development roadmap
The success of the product you're developing can be shaped by the development roadmap you've created and followed.
Thus, knowing how to create an effective development roadmap is essential to ensuring the success of your product.
Below are five steps you can take to create a product development roadmap that will surely guide you to success.
1. Define your product's purpose
Your product should be able to answer the "why" of its existence.
You could have a clear idea of what you're building, its features, and its market. However, you still need to figure out why people need your product and why the market will be all the better because of your product.
Having a clear understanding of your product's "why" lets all team members work towards a common goal.
These questions can help you define your product's "why":
Why do you need to develop this product?

How will you and your customers benefit from this product at this time?

How will the development of this product help your customers?
2. Know your objectives and key results (OKRs)
Adopting OKRs into your product development process can help you better define your goals and strategy.
OKRs will help your team come up with a plan that aligns with your general mission.
Objectives serve as your mission statement that fits within a specific timeframe. This helps your team better understand your goals and define the steps needed to achieve them.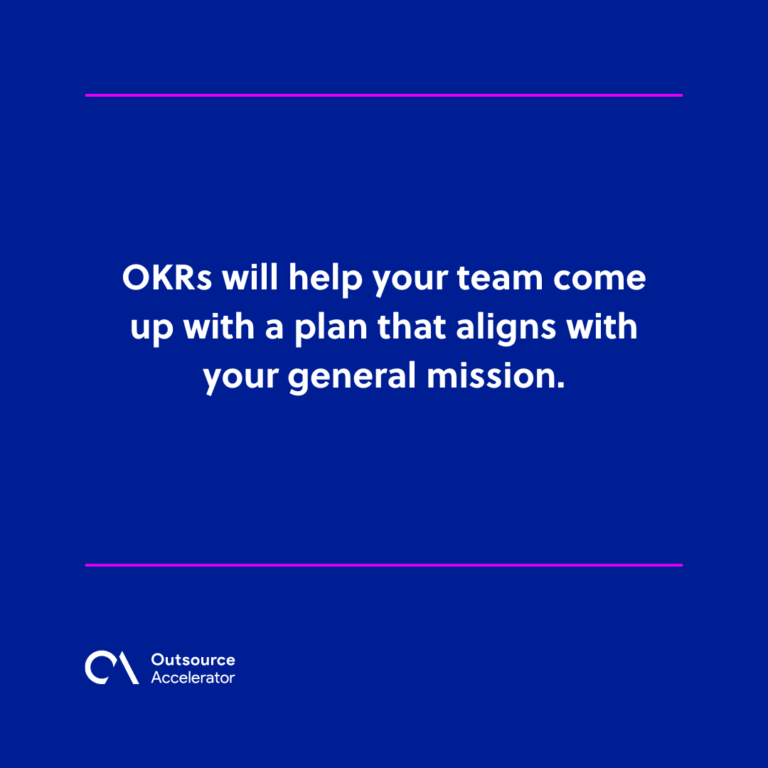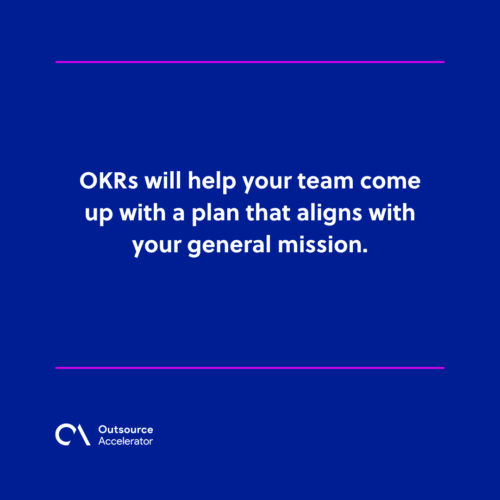 Key results are the quantification of your objectives.
For example, if you have the objective "improve the website user's experience," your key objectives can include "reduce user signup time by 40%."
3. Build your team, brainstorm, and review your ideas
When building your development team, it's important to remember that the best development roadmaps include cross-functional teams.[2]
Say that you're building a mobile application. If you only include the software development team as part of your product roadmap, your application will most likely fail.
Remember that  there are four primary audiences when presenting and discussing your product's key features:
Leadership.

This may include board members who ensure that your product aligns with the company's goals and vision.

Tech team.

These are the technical experts who will turn your product ideas into reality.

Marketing team.

These specialists will help you come up with the best strategies to market your product to its intended audience.

Sales team.

These are the sales managers who need to understand your product's "why" so they can better sell it to your customers.
4. Determine your product's key features
After creating your product development roadmap team, you can move on to determining key features that will support your strategy.
This is a research-heavy step that can often take a lot longer to define than the previous steps.
In this step, you'll need to answer questions such as:
What's the present market situation?

Why would your product work?

What actions are your competition taking?

Are there any new and similar products?
Answering these questions will help you identify the features your product will need to stand out in the market.
5. Product testing, beta release, and final product release
The final step is testing the waters before fully releasing your product in the market.
This step lets you see which of your product's features work and which ones don't. Doing so helps you avoid releasing a product that will ultimately be a failure.
Product testing involves having a small group of people from your target market beta-test your product.
You'll then use their feedback to make improvements to your product and let them test it again, repeating it if necessary.
You can start your initial testing – the alpha test – with a small group of users before proceeding with a larger beta-testing group in a real-life setting.
Why businesses need a development roadmap
Having a development roadmap helps businesses in various ways:
It helps them keep track of their progress.

It keeps them from straying too far from their goals.

It serves as a guidepost when their teams face inevitable setbacks.
A development roadmap also helps businesses anticipate potential problems their product may face and come up with solutions beforehand.
References:
[1] target market. Çinar, K. et al. (2020). "The role of market segmentation and target marketing strategies to increase occupancy rates and sales opportunities of hotel enterprises." Strategic Innovative Marketing and Tourism, pp. 521-528. https://doi.org/10.1007/978-3-030-36126-6_58
[2] cross-functional teams. Costa, A.C. et al. (2018). "Trust in work teams: An integrative review, multilevel model, and future directions." Journal of Organizational Behavior, 39(2) pp. 169-184. https://doi.org/10.1002/job.2213