Everything you need to know about proof of concept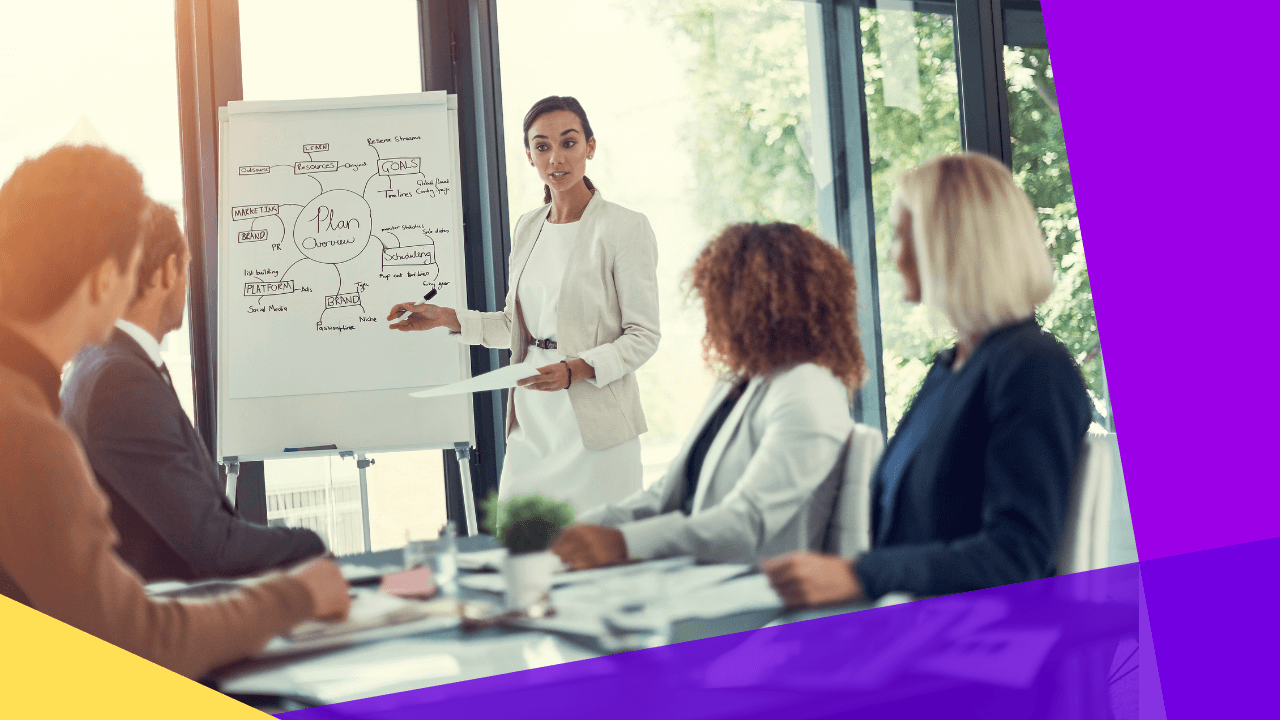 Fresh ideas set the foundation for a company's future goals. But before putting an idea into work, it must undergo a well-constructed quality assurance strategy. 
It is not easy to persuade people to embrace an idea or a project. Investors want proof that the new product and its business plan have a good potential to succeed.
In this case, proof-of-concept projects are beneficial because they serve as tests that may be evaluated before real work on a project begins. It also helps you fine-tune your idea by demonstrating how the concept will fit into the larger market.
What does proof of concept (POC) mean?
A proof of concept (POC) is a representation of a product concept and its feasibility. Also called a proof of principle, it includes a vision about a particular product or service along with a demonstration of its business potential.
Proof of concept aims to verify that an idea or theory has real potential by putting it into practice. POCs do not provide outputs because their primary concern is whether or not the project is feasible.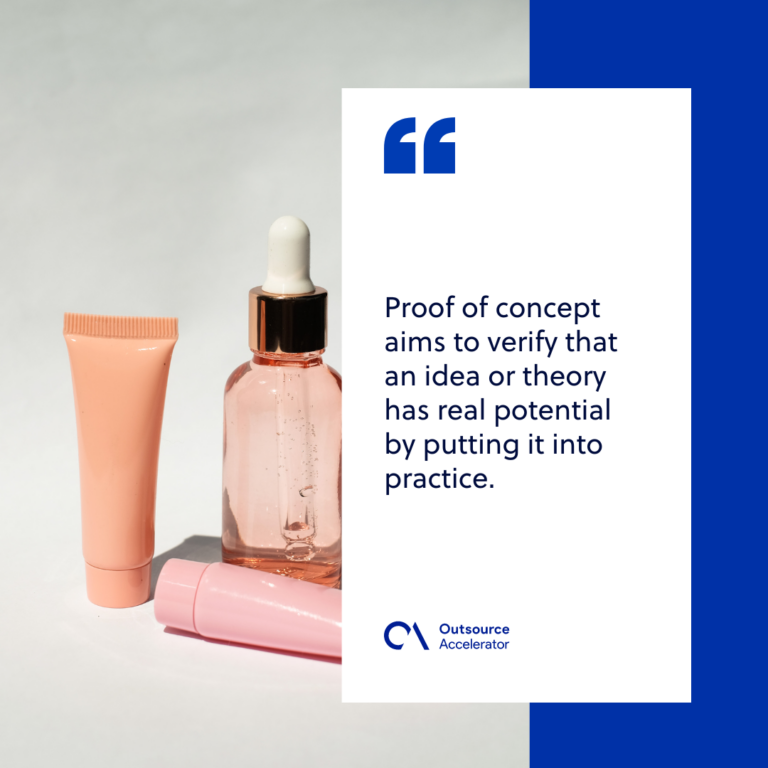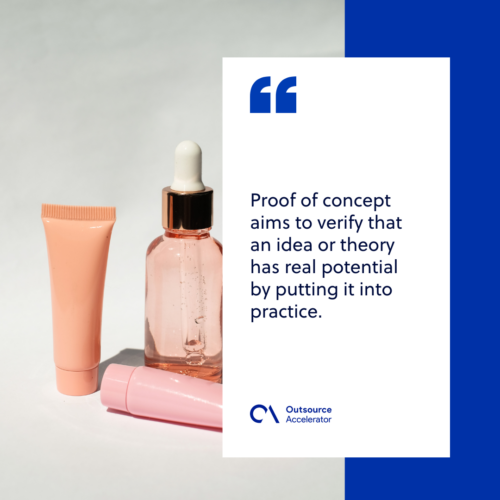 Purpose of proof of concept
A proof of concept is a procedure used to establish whether an idea can be implemented in the market. It is a necessary practice to attract potential investors and customers in general. 
Here are the advantages you can acquire from POC:
Setting up for commercial success
It takes a long time and costs a lot of money to create a new product. POCs lay out the complete process in advance, which prepares the company ahead of the launch and results in opportunities for commercial success.
Identifying challenges before they arise
A proof of concept allows project managers to identify potential risks before moving forward with product implementation. Instead of finding out about these issues during or after the product launch, managers can anticipate them early and organize their initiatives accordingly. 
Ensuring a successful business pitch
Project managers pitch their business ideas to investors to acquire funds. To create a strong pitch, they must demonstrate that the investment will be worthwhile.
In this case, POCs act as solid evidence that the new product can compete in the market. A solid business plan and risk management strategy can easily persuade stakeholders to pursue the investment.
How to establish proof of concept for consumer products
A proof of concept is essential in the development process. It is a decisive point before developing and launching a product. 
Here are some tips on how to execute your proof of concept well:
Involve customers in product development
It's normal to seek out customer feedback once a product is out in the market. However, their insights are equally important in the development process. The end-user, rather than the developer, can better foresee the use of a product. 
Involving clients in the design process is critical for creating a successful new product. This involvement facilitates a design that fulfills consumer needs, develops customer relationships, and boosts loyalty.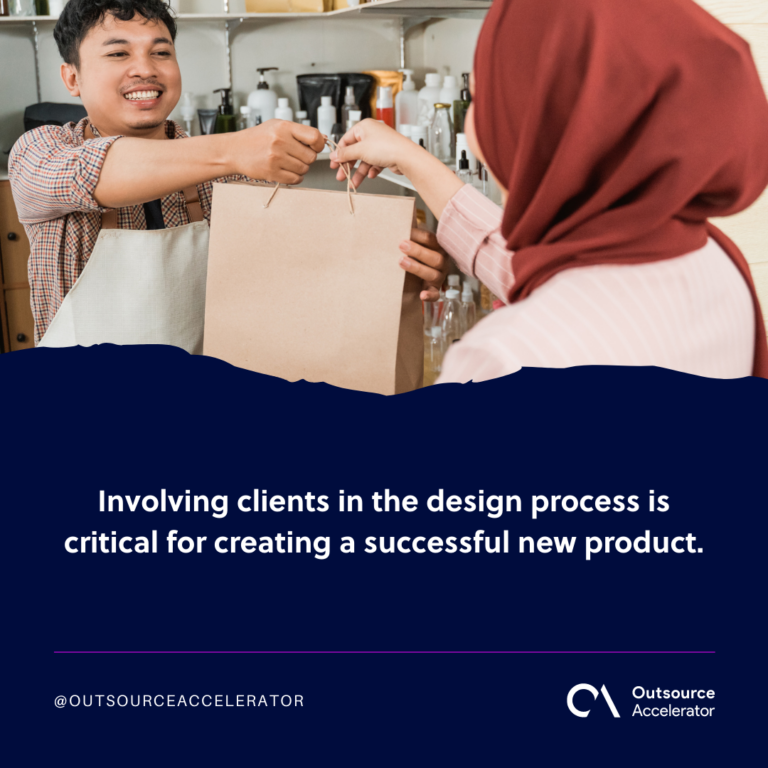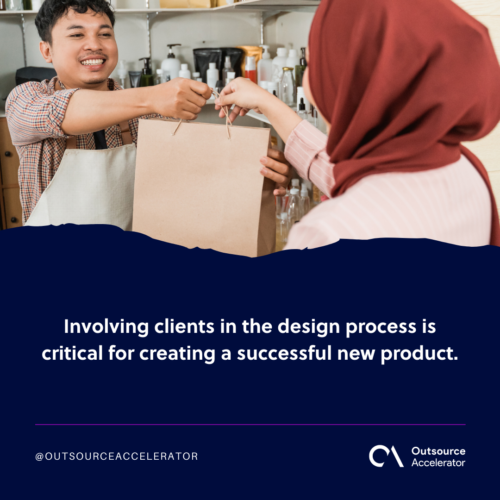 Show why you need the product
The primary goal of any new product is to benefit the consumer. It's important to remember that even impulse purchases offer value for the consumer.
Instead of emphasizing the product's qualities, focus on the benefits they provide.
When presenting proof of concept, describe the target market and their concerns. The POC must reveal if the product can supply the needs of consumers. 
Come up with creative solutions
Once you've identified the customer's pain points, come up with creative solutions. These solutions should be viable and within the company's capabilities.
The team should weigh the pros and cons of each option proposed. Consider the account issues such as expected costs, timelines, required technologies, operational capacity, and competition.
Develop and evaluate a prototype
A crucial part of creating a strong proof of concept for a consumer product is prototyping. Built on the predetermined features and requirements, a prototype puts the idea into action and further tests its viability.
A prototype can be tested by a limited number of users. This makes it possible to refine and test your designs, allowing your company to deliver the right products with confidence.
Present your finalized proof of concept for approval
Finalize your idea with a finished prototype that demonstrates your product's functionalities, features, and advantages. 
The plan should include specifics such as a time frame and cost, as well as success criteria and resources required. Stakeholders are more likely to give their approval for the product's development after reviewing the proof of concept.