Ways to a seamless customer service outsourcing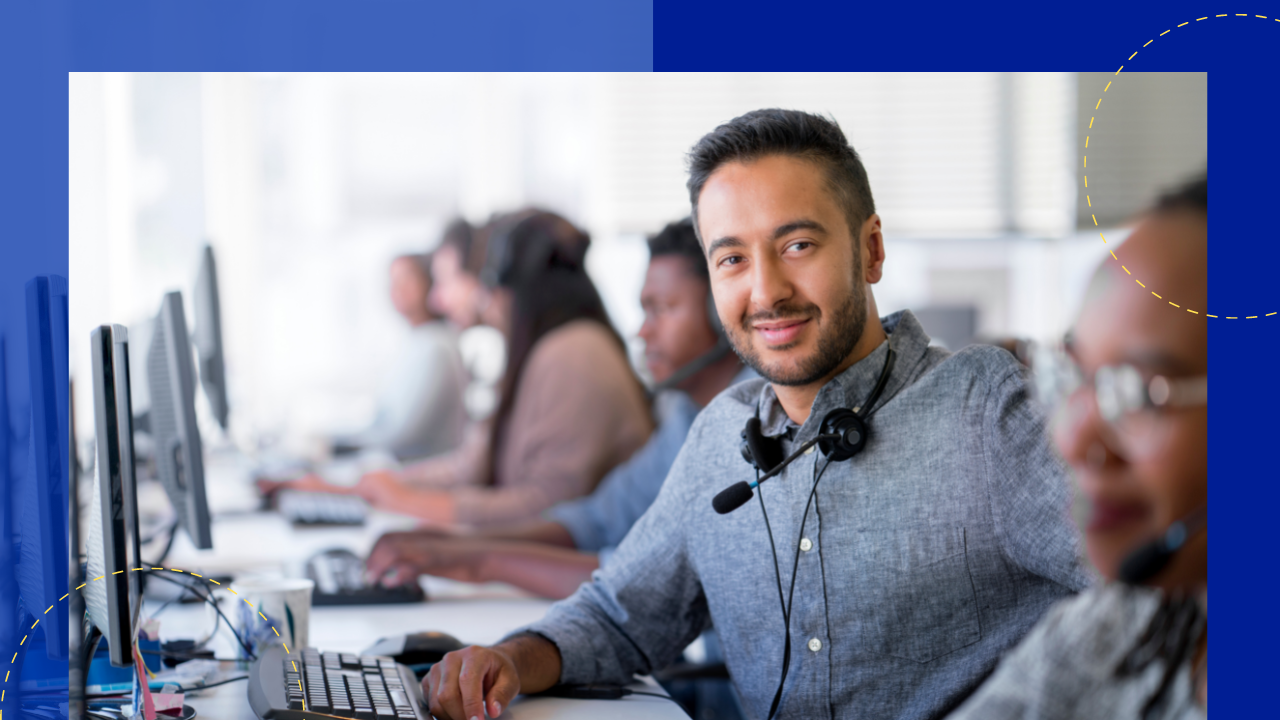 The main goal of every company's customer service department is always to ensure that clients' needs are met and exceeded. It is not unreasonable for customers to feel valued through excellent customer service. 
Yet, many companies are struggling to provide it. The good thing these days is that you can hire an outsourced customer service team to ensure a positive experience in your business.  
What is customer service?
Customer service refers to the process of providing a product or service to a client in an efficient, accessible, cost-effective, and satisfying manner. It is about the interaction of a potential buyer with a representative of your brand. 
An effective customer support team helps create a relationship with patrons that involves trust and builds loyalty in every purchase made. Customer service representatives are trained to know how to deal with customers and understand their needs and wants. 
With great communication skills and in-depth knowledge of the product or service, a customer support agent can easily provide a remarkable service to potential buyers.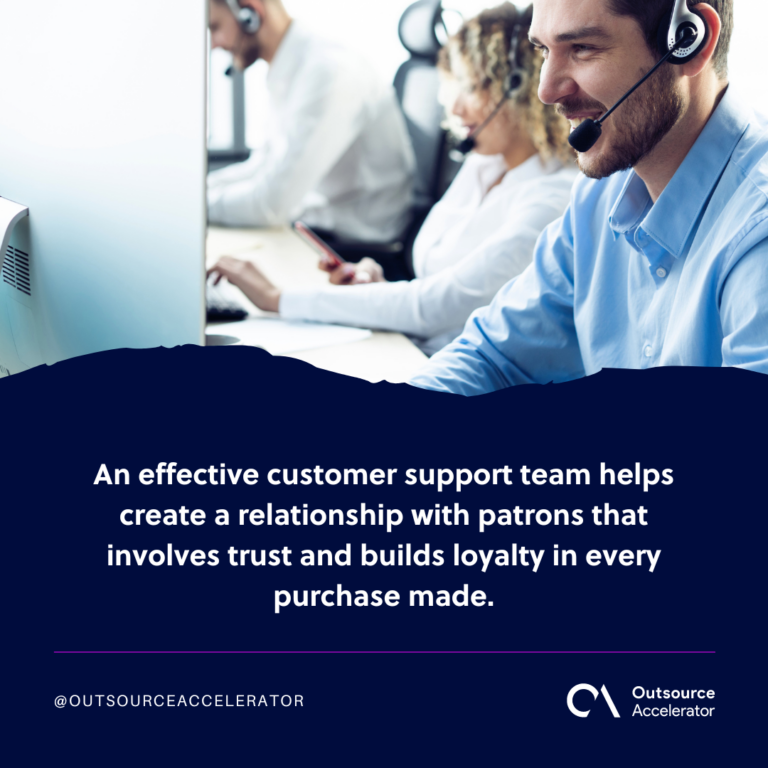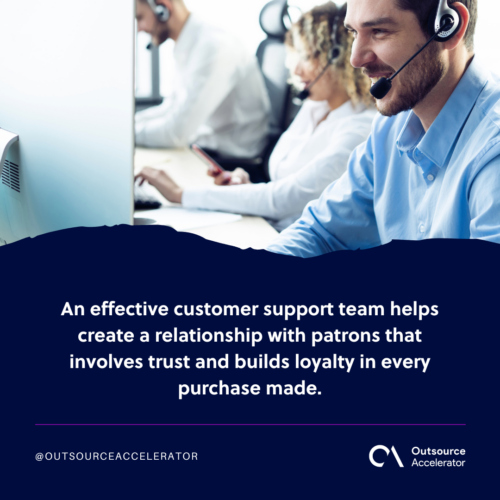 Why outsource your customer service?
Customer service outsourcing is the method of recruiting a third-party service provider to perform your customer care operations. It is usually utilized by businesses who need extra helping hands to prioritize the clients and their concerns. 
Many companies across the world consider outsourcing as a strategic and modern way to improve efficiency and minimize costs. 
Some of the benefits of customer service outsourcing include the following.
Access to top talents.

Outsourced customer service representatives mostly undergo skills training to prepare them in providing outstanding customer care under your brand. 

High customer satisfaction

. The majority of outsourced customer support employees have the right qualities to nurture a relationship with your clients to ensure brand loyalty. 

Cost-efficiency.

BPO firms usually offer affordable rates compared to their domestic counterparts. This allows you to save on recruitment and labor costs, office space,  additional equipment, and other things needed to run a customer service team.

Adaptability.

Offshore companies are usually quick to adapt to new technological developments to service their global clients. The majority of them also regularly upskill and reskill their employees to ensure high-quality service.
How to effectively outsource your customer service role?
Choosing the best service provider that fits your company is important in ensuring the success of your customer care efforts. 
If you are currently deciding on outsourcing your client support functions, here are several tips to effectively outsource your customer service role.
Know your needs
Before partnering with an outsourcing company, you must first have a clear idea of why your company needs an offshore customer service team. You also need to indicate the results that you are expecting to achieve with this move.
You can conduct a SWOT (Strengths, Weaknesses, Opportunities, Threats) analysis to find out the areas in your customer care strategy that needs to improve and if outsourcing is the best option for your organization.
By doing this first-hand, you can easily remove the BPO firms that do not meet your standards. This makes the process of searching for an outsourcing partner quicker and more efficient.
Training and onboarding
To have a seamless transition to an offshore customer service team, you have to at least give some inputs on the training and onboarding process of your representatives. 
Having a structured training and onboarding process for your outsourced customer support team will help them adjust to your operations, learn about your product or service, your values, and your clients.
Culture alignment
Outsourced customer service agents are engaging with clients on your behalf. That is why your BPO partner needs to be aligned with your client's culture and customer experience strategy to avoid churn. 
This is crucial especially if you are offshoring to a country where your representatives may have a culture that is different from your own. 
Communication with the remote team 
Your outsourced staff is an extension of your in-house team, not a separate entity. To keep a stable relationship with them, they should be kept updated about various information relevant to their work. 
It is important to communicate with your remote customer support team regularly. Have ongoing discussions about their tasks, the things that are working or must be improved, areas where they need additional training, among others.
Analysis and feedback
When working with an outsourcing agency, it is important to analyze and monitor your customer service process and make sure they are being followed by the remote team.
It is crucial to routinely check the offshore team's performance so that you can measure the effectiveness of your outsourced customer service staff and provide feedback on their work.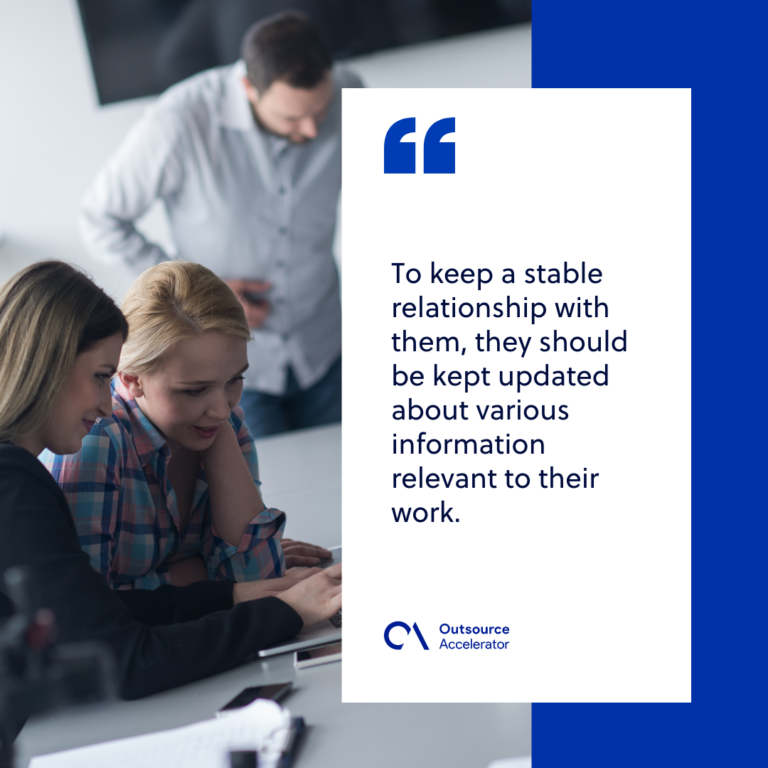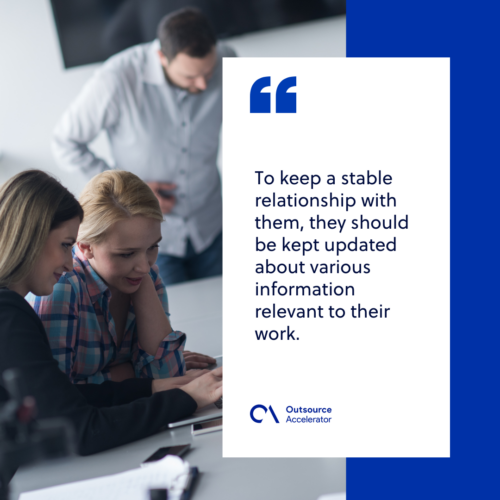 Introducing SixEleven's customer service team
To have a smooth outsourced customer service process, you need to find a trusted company that can offer a wide range of support services to your clients. Engage now with a quality outsourcing firm like SixEleven BPO.
SixEleven's customer support team consists of field experts that are knowledgeable in communicating with clients better. They undergo a tried and tested training program so that you can have a team that is up to speed with your business.
As the first Davao-based solution-oriented contact center, they provide a quality experience for their clients in various fields that include customer support, sales, marketing, data entry, research, and help desk services, among others.
Contact SixEleven now to start your outsourcing journey.