Customer 360: What it is and why it matters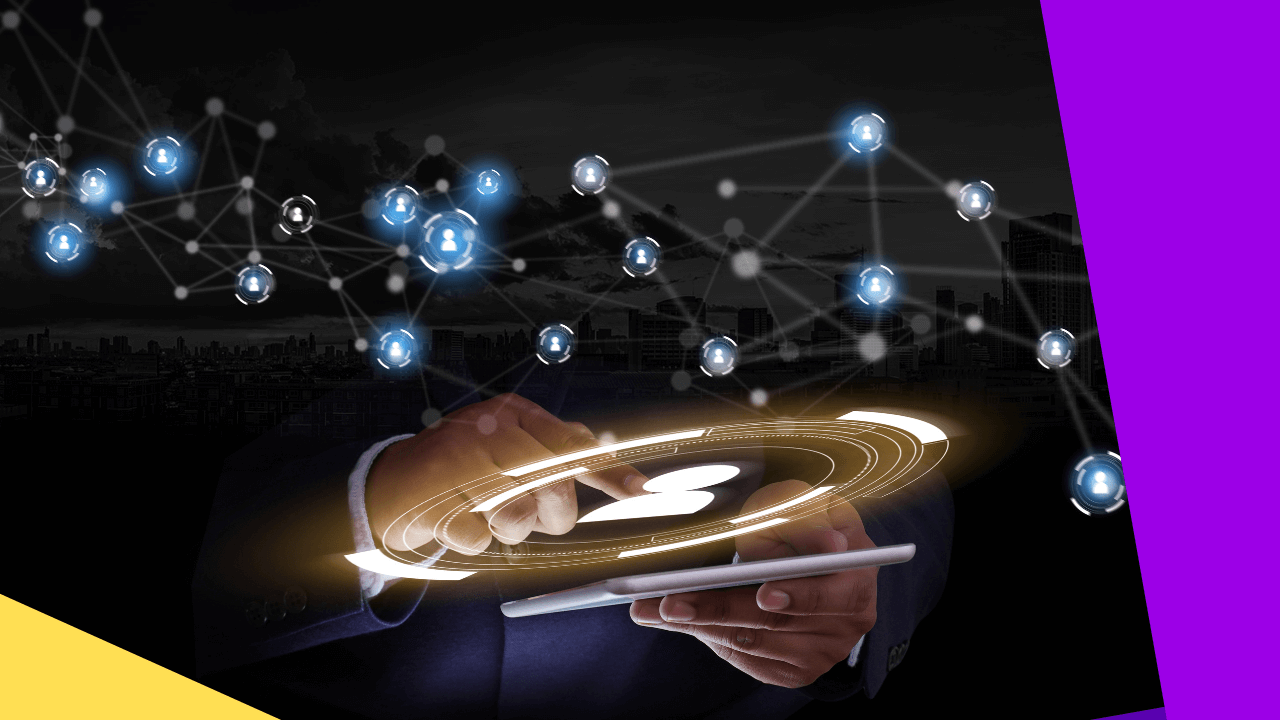 Organizations today look for a competitive edge to understand the key strategy in providing the best customer experience possible. 
Getting a single view of customer behavior is difficult. Thus, modern enterprises are now accumulating exponentially huge volumes of customer data.[1] 
With the ever-evolving data environment, businesses invest in customer 360 solutions to achieve integrated customer data. 
With customer 360, enterprises get a holistic view of the customer journey,[2] which helps the business to foster sustainable growth. 
This article will feature the fundamentals of customer 360, its benefits for businesses, and the common challenges of implementing one. 
Defining customer 360 
Customer 360 refers to a comprehensive collection of customer data. Companies aggregate data to get a unified view of customer data from across all touch points of organizations. 
Gartner's survey report reveals that 82% of enterprise leaders in marketing and IT aspire to achieve a customer 360 solution. 
It has grown in popularity in the business community as it provides integrated datasets containing relevant information about the customer — name, address, contact details, and gender.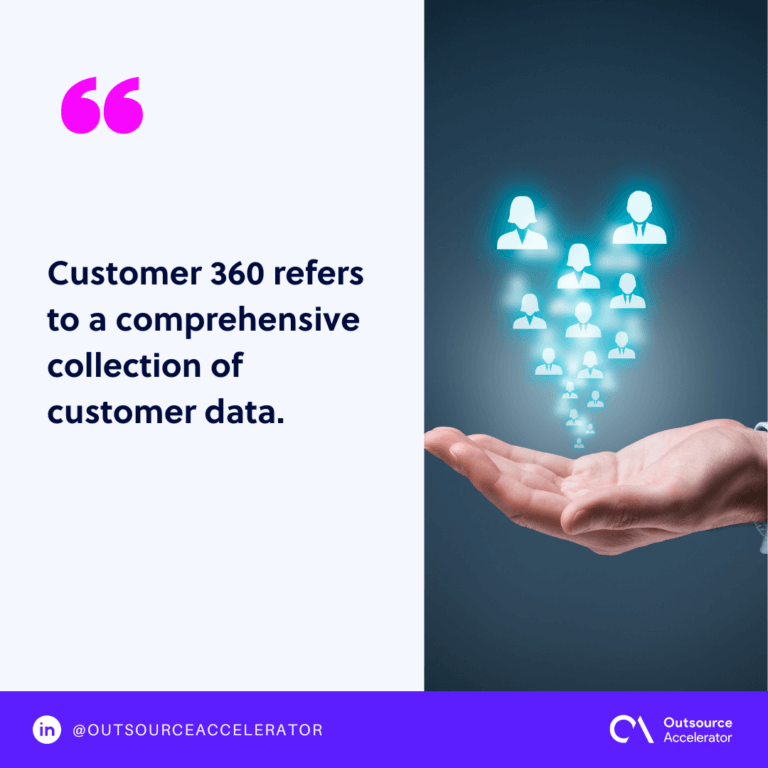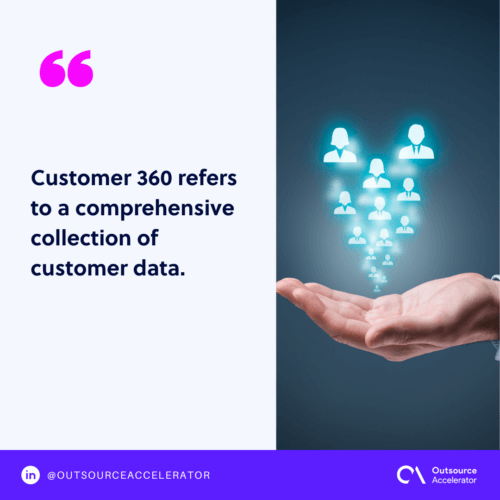 Customer 360 involves customer interaction details such as emails, phone conversations, chats, and website engagement. It also includes customer transaction information like orders, payments, products, and invoices. 
Establishing a customer 360 requires integrating all the apps that contain customer data (e.g. CRM). 
Once connected, companies can build a process where the integration solution absorbs the data from the source systems. This will cleanse, audit, and validate them before filling them into a data warehouse. 
How customer 360 benefits your business 
A comprehensive customer 360 significantly benefits businesses by increasing revenues with better up-selling opportunities. 
The upsides of customer 360 for enterprises include:
Seamless customer service
A seamless customer experience is a big factor in a better customer journey. With customer 360, consumers will have a consistent customer experience regardless of where they interact with the business. 
Prudent enterprises prepare for the possible circumstances when they must jump into action to address some difficulties quickly. 
That being said, customer 360 is essential. Delivering them a more personalized experience ensures their consistent engagement with the brand.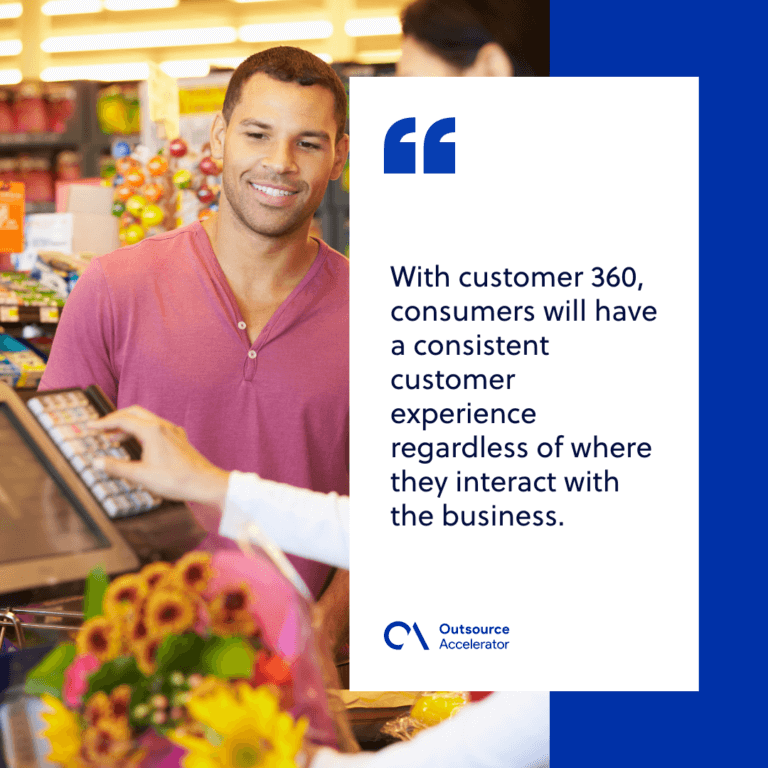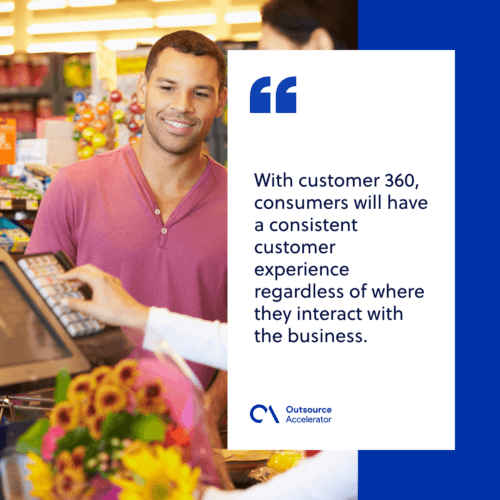 Improvements in predictive analytics 
Prior to the recent COVID-19 pandemic, businesses tend to remain adaptive and innovative when navigating a paradigm in operation. 
With this, businesses use customer 360 to drive predictive analytics. Enterprises predict what the customer needs in the future using the customers' historical data. 
Having access to reliable and valuable information gives businesses a foundation to make predictive analyses. 
An enterprise can learn:
How is it possible for customers to purchase a product or service?

How is it possible for customers to cancel a purchase or return a product?
As such, sales teams are more proactive and act upon opportunities by improving their marketing campaign strategies. 
Create more strategic sales and marketing campaigns 
The implementation of customer 360 enables businesses to create more strategic sales and marketing campaigns. 
With the data available, marketing and sales reps are keen on more strategic approaches. They make extensive marketing campaigns targeting the customers' interests and needs. 
This also allows them to set more specific S.M.A.R.T (Specific, Measurable, Achievable, Relevant, Timely) goals and ensure that the ROI can be justified. 
Improved customer loyalty 
Customer 360 improves customer loyalty. As companies deliver personalized experiences, it is also a great way to establish better customer relationships. 
Investing money in aggregating customer data to get a 360 client view makes it of huge importance in delivering products and customer services. 
With a better understanding of customer behavior to provide them a seamless and personalized experience, it ensures customer loyalty and retention to a brand. 
Common challenges of implementing customer 360
Some companies have difficulty implementing customer 360 in their business. There are some critical challenges these companies face when building this unified view. 
Here are some of the common challenges of implementing customer 360 in business:
Data management 
Data is the heart of customer 360. 
Since customer data comes from a wide array of sources, some of it will be unstructured. This becomes a huge challenge for data analysts as they need to get all data in one place. 
Data exist as purchase records, help tickets, clickthroughs, open email rates, and form entries. Thus, having the right tech in place to aggregate, record, and report data from various sources is necessary. 
Resolving identity is tricky 
When a company implements a customer 360 approach, they will be dealing with large volumes of profiles or records of a single customer from a channel they have interacted with the brand. 
Without the right algorithm and advanced technologies for inputting records together for a single identity, the brand will face difficulties in providing the best service across channels. 
Volume of integrations
Data is bound for constant change. A comprehensive customer 360 deals with a wide range of applications with the data warehouse. 
IT and engineering team expertise are necessary for these integrations. With its complexity, some may lead to a bottleneck and delays in the implementation. 
Applying customer 360 to your operation 
Implementing customer 360 proves to be beneficial for business. It boosts customer retention rates and ultimately increases the bottom line. 
With this in mind, businesses need to know and understand the customer they are serving. This knowledge helps them to deliver a superior customer experience while securing a competitive edge in the market. 
Article References:
[1] Customer data. Peltier, J.W., Zahay, D. and Lehmann, D.R. (2013). Organizational Learning and CRM Success: A Model for Linking Organizational Practices, Customer Data Quality, and Performance. Journal of Interactive Marketing, [online] 27(1), pp.1–13. 
[2] Customer journey. Rosenbaum, M.S., Otalora, M.L. and Ramírez, G.C. (2017). How to create a realistic customer journey map. Business Horizons, [online] 60(1), pp.143–150.