How cross-marketing and outsourcing go hand-in-hand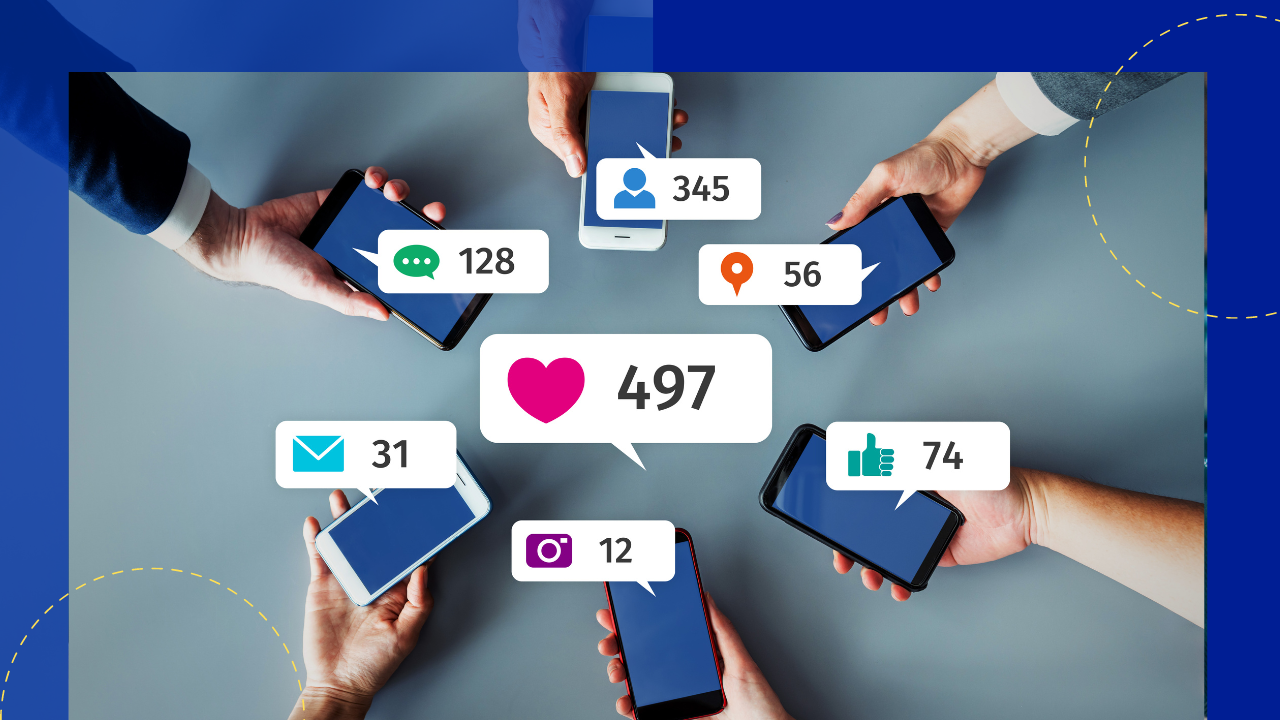 Marketing has evolved and changed throughout the years.
Many practices became obsolete, were discarded, and replaced with newer and more innovative approaches. [1]
There is but one principle that explains why marketers abandon certain approaches and take up new ones – revenue generation.
Simply put, some marketing approaches aren't cost-efficient, making businesses spend more money on marketing than on the revenue they generate.
However, there are a handful of novel marketing approaches that have been proven to be cost-effective and can bring desirable results.
One of these is cross-marketing.
What is cross-marketing?
Cross-marketing is a novel approach to marketing that maximizes its effectiveness by utilizing the advertising platforms of two or more companies.

In this marketing strategy, companies would collaborate with other companies and create a product that can be jointly marketed to their customer bases.
A real-life example of successful cross-marketing is between the fast-food giant McDonald's and the world's leading beverage company, Coca-Cola.
Since 1955, the two companies have enjoyed a highly-beneficial relationship and neither would be where they are today without the other.
Another example of cross-marketing going well is Adidas' partnership with American rapper Kanye West.
In this marketing endeavor, Adidas co-branded Kanye's Yeezy footwear line.
Kanye gained a solid platform where he could build his apparel line, while Adidas benefitted from the rapper's popularity and established following.
In the two examples, cross-marketing between the brands brought in new customers for all brands involved by playing on customer loyalty towards one brand. [2]
It also significantly boosted the brands' awareness and conversion rate.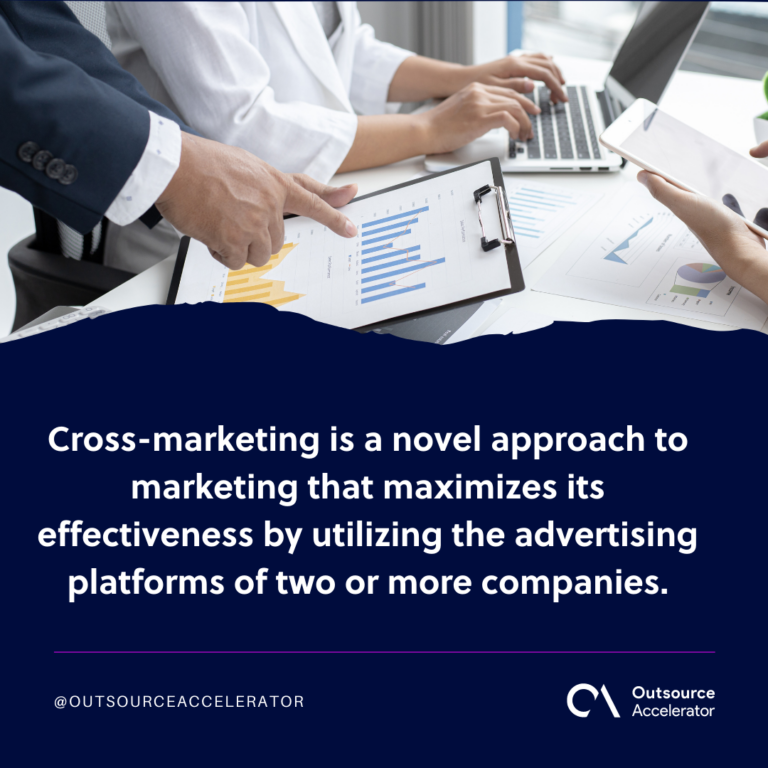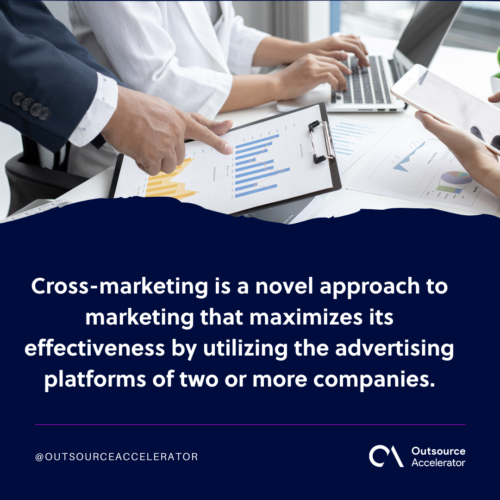 How does cross-marketing work?
Cross-marketing works by having two or more companies share relevant market data.
These data are then analyzed and used to optimize the marketing efforts of another company.
Ultimately, it expands the reach of all companies involved and brings in more revenue by allowing them to reach out to a more diverse and wider set of consumers.
However, before embarking on a cross-marketing campaign, there are steps that businesses must follow in order to be successful.
These steps are:
Set a clear goal
Having clearly defined objectives (ideally, less than three) helps businesses keep their marketing plans focused on achieving these.
It also lets them measure the effectiveness of their cross-marketing efforts and whether it's still beneficial to them.
Conduct a thorough assessment of the target audience
Knowing your intended audience is half the battle in marketing.
The more you know about your target demographic, the better strategy you'll be able to create.
Target audience analysis also helps businesses infiltrate new avenues of potential customers.
Search for possible cross-marketing partners
The key to searching for excellent cross-marketing partners is finding companies with a similar audience, but not so much that your customer bases overlap.
Finding a company with products that complement yours, or vice versa, is yet another way.
This way, you'll have an easier time marketing your joint products but not end up selling to the same customers as before.
Draw up a partnership agreement
Once you've found a company you can partner with, you can proceed with creating a partnership agreement.
The agreement should cover the partnership's length, metrics used to measure success, mutual expectations from all companies involved, etc.
It's advisable to seek the help of legal professionals when crafting partnership agreements, especially when rights and funds are involved.
How do companies benefit from cross-marketing?
Cross-marketing's popularity as an effective marketing approach is largely due to the benefits it gives companies.
These benefits include:

Improved brand reputation and recognition
Businesses that partner with already established and well-known brands gain recognition by association and improve their own reputation.
Access to new market opportunities
Cross-marketing opens doors to potential new customer bases and avenues for marketing.
For example, established brands can partner with newly-emerging ones to reach a niche market they can't sell to before.
Lower advertising costs
Partnering with other businesses for marketing campaigns effectively lessens the expenses for all parties involved.
This presents an opportunity to venture into marketing techniques that would otherwise be too expensive to try in any other circumstance.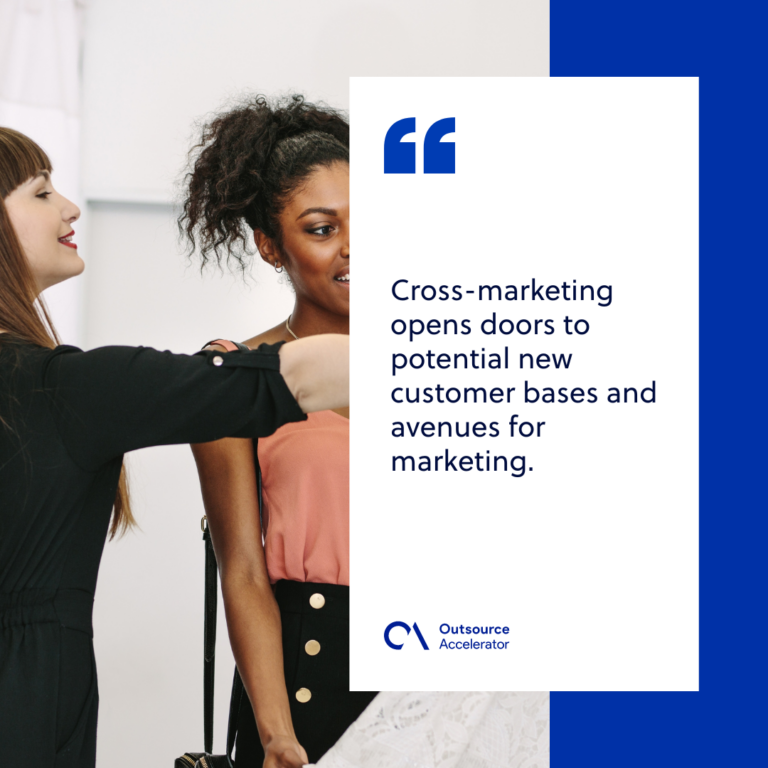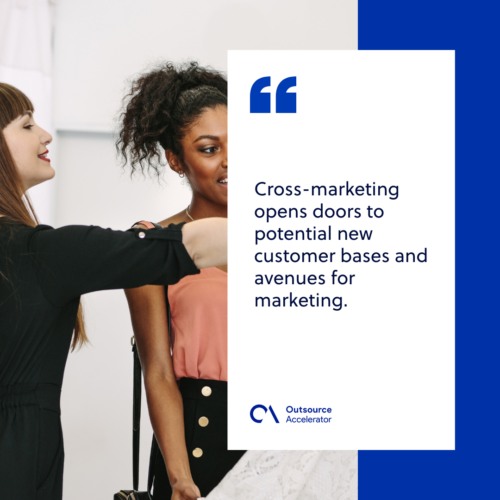 How does outsourcing affect cross-marketing efforts?
While cross-marketing is an effective marketing strategy, that doesn't mean it's easy to pull off.
Managing the logistics of this two-pronged (or sometimes, more) approach can be heavily taxing, both in terms of human and financial resources.
Although the advertising costs can be lowered by splitting the bill between the partner companies, this isn't always the case.
For instance, cross-marketing with charitable organizations often leaves the financial responsibilities to the for-profit company.
In such cases – or even if it weren't the case – outsourcing makes cross-marketing significantly more manageable, both logistically and financially.
Outsourcing firms employ highly skilled and well-experienced marketing professionals who can skillfully execute these campaigns.
Moreover, these marketing experts come at just a fraction of what an in-house marketer costs.
These firms also possess multi- and omnichannel marketing capabilities that can significantly increase the effectiveness of cross-marketing.
References:
[1] …more innovative approaches. Sheth, J. 2021. "New areas of research in marketing strategy, consumer behavior, and marketing analytics: The future is bright," Journal of Marketing Theory and Practice, doi: 10.1080/10696679.2020.1860679
[2] …customer loyalty towards one brand. Alam, M.M.D., Karim, R.A. and Habiba, W. 2021. "The relationship between CRM and customer loyalty: the moderating role of customer trust," International Journal of Bank Marketing, Vol. 39 No. 7, pp. 1248-1272. https://doi.org/10.1108/IJBM-12-2020-0607