CSAT vs. NPS: Ultimate guide to differentiate one from the other
CSAT vs. NPS Ultimate guide to differentiate one from the other
Surveys help determine the pulse of the masses. It determines the shifting preference of the public as well as the factors that explain the occurrence of such a phenomenon. 
The analysis and insights gathered from periodic surveys guide the strategic moves of businesses. This is important for companies to scale better and reformulate any ineffective business models. 
The most common surveys businesses use are customer satisfaction (CSAT) and net promoter score surveys (NPS) to the public. Both surveys attempt to understand consumer happiness and pinpoint the causal variables to help understand why this is so.  
These surveys have both quantifiable and open-ended questions. The goal is to capture concrete evidence quantitatively and qualitatively. 
While these tools measure customer happiness, each has a specific purpose. This article will elucidate CSAT vs. NPS differences, similarities, and functions.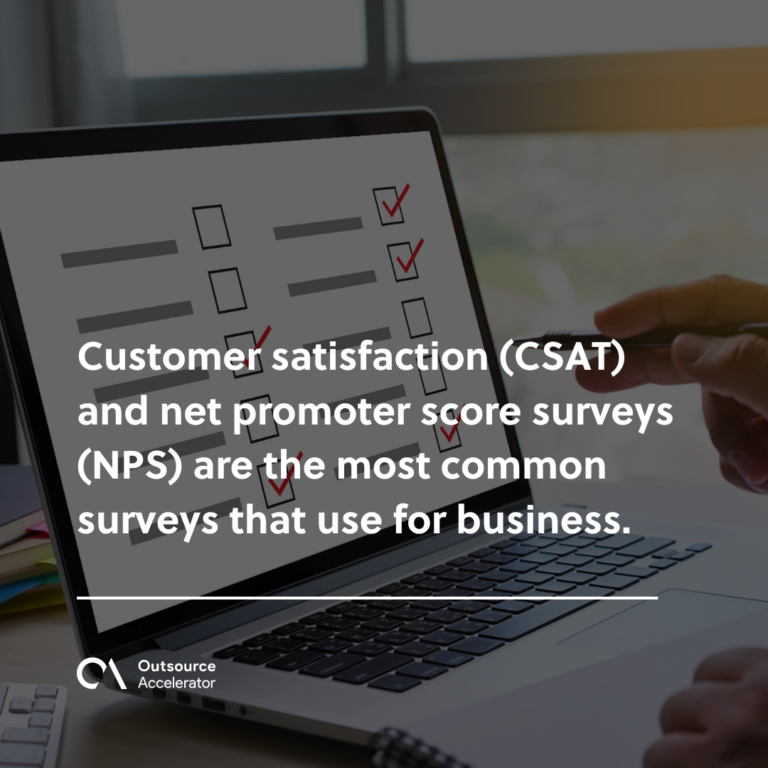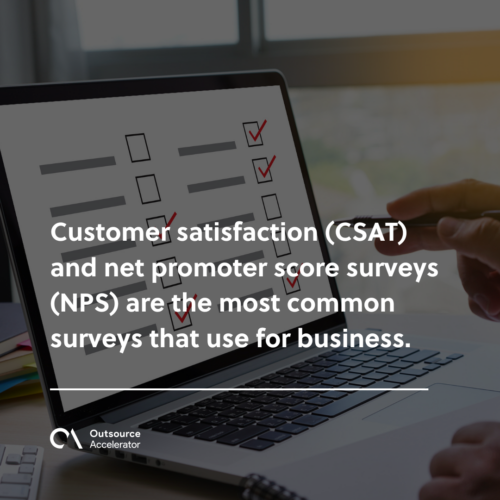 What are CSAT and NPS scores for?
Securing a project or selling a product is not the end of business transactions. It is just the start of the customer journey.
Various factors influence the perception of clients of a brand. In some cases, it is about the product in itself, but more often than not, it is how the company treats the customer. 
These perceptions can make or break a brand. Negative perception means lower income and a bad reputation in the market, while positive ones are patronized and entail brand success. 
CSAT and NPS are tools used to manage these perceptions. The data extracted from these surveys will be used to create new campaigns, product enhancements, and process optimizations. 
Once these new strategies are out, another set of periodic assessments will be conducted. Hence, the CSAT and NPS tools are part of a cycle of constantly improving the customer experience.
Comparing CSAT vs. NPS
While CSAT and NPS are both survey tools, they are different in terms of usage and purpose.
The main delineating feature of CSAT and NPS is that the former measures short-term happiness, while the latter looks at overall satisfaction and customer loyalty. 
Other differences between CSAT and NPs are the following.
Methodologies
CSAT
CSAT usually uses a simple set of open-ended questions rated by respondents on a scale of 1 (very unsatisfied) to 5 (satisfied). 
The average score in a CSAT can be classified under three categories: high, neutral, and low. 
A high score means that customers are delighted with their experience. A neutral score denotes indifference. Specific aspects need to be improved to create a more lasting impression. 
Meanwhile, a low score entails urgency on the part of the management to iron out the flaws in the operations.   
The questions in CSAT aim to assess the respondents' experience at any meaningful touchpoint they had with a brand. Like completing a transaction, renewing subscriptions, or product performance.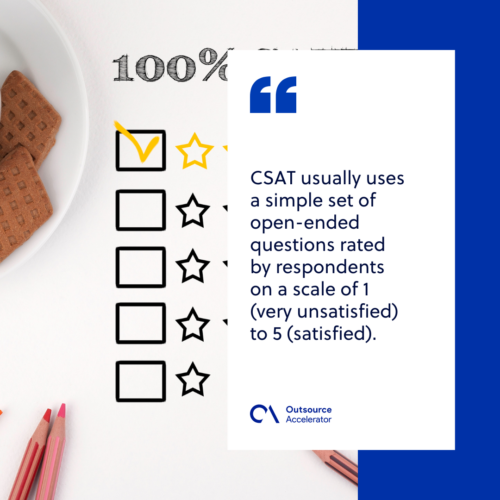 NPS
NPS, on the other hand, looks at the likelihood of customers referring the product or brand to their social circles. 
NPS uses a scale of 0 (most unlikely to endorse) to 10 (highly likely to endorse). This scale serves as the primary measure in scoring the questions in an NPS survey. 
The average score of NPS can be classified under the following types:
Promoters

. These are the customers who picked 9 and 10. These are the loyal ones who are happy and satisfied with the level of service and quality of products they are getting.

Passives

. Passives are indifferent ones who picked 7 to 8. These customers are at risk of switching to a different brand offering the same type of service.

Detractors

. Customers who picked 0 to 6. Some unhappy customers can potentially ruin the reputation of the brand. Reaching out to these detractors is essential to regain their trust.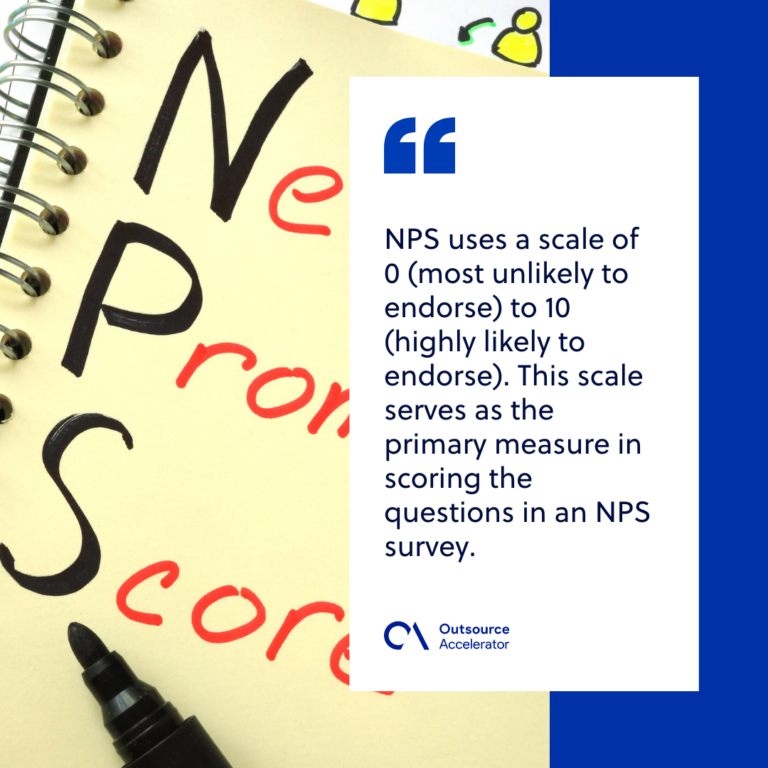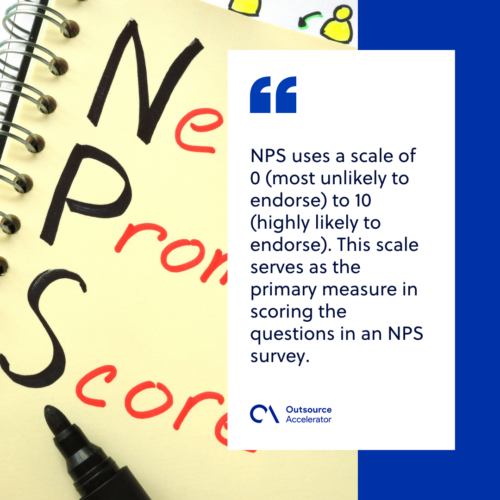 Timing of use
CSAT is ideal for short-term assessment. This is why it should be conducted right after meaningful milestones in the customer journey experience. 
Some of these milestones are:
Resolving an issue

: to evaluate the support team's capabilities.

Finishing a trial period

: to assess the usability of the products.

Closing a sale

: to identify pain points or issues. 
Meanwhile, NPS is ideal for long-term evaluations. This usually comes after monumental events such as
Failed service

: this helps measure if the company's image improved after it. 

Changes in subscription:

customers have a better feel and assess the quality of products and services vis-a-vis competitors. 
Which works as the best metric?
While both are used to improve customer experience and the quality of service provided by companies, CSAT and NPS surveys measure different things.
Nonetheless, NPS and CSAT complement one another. Finding which is the better metric over another is misguided. 
The best metric to use will differ depending on the purpose, goal, and timing. Together, the data yielded from these metrics can help quantify and qualify how to improve enterprises' overall experience. 
After all, the main goal of both metrics is for companies to turn these insights into actions – that is what matters.