Understanding customer analysis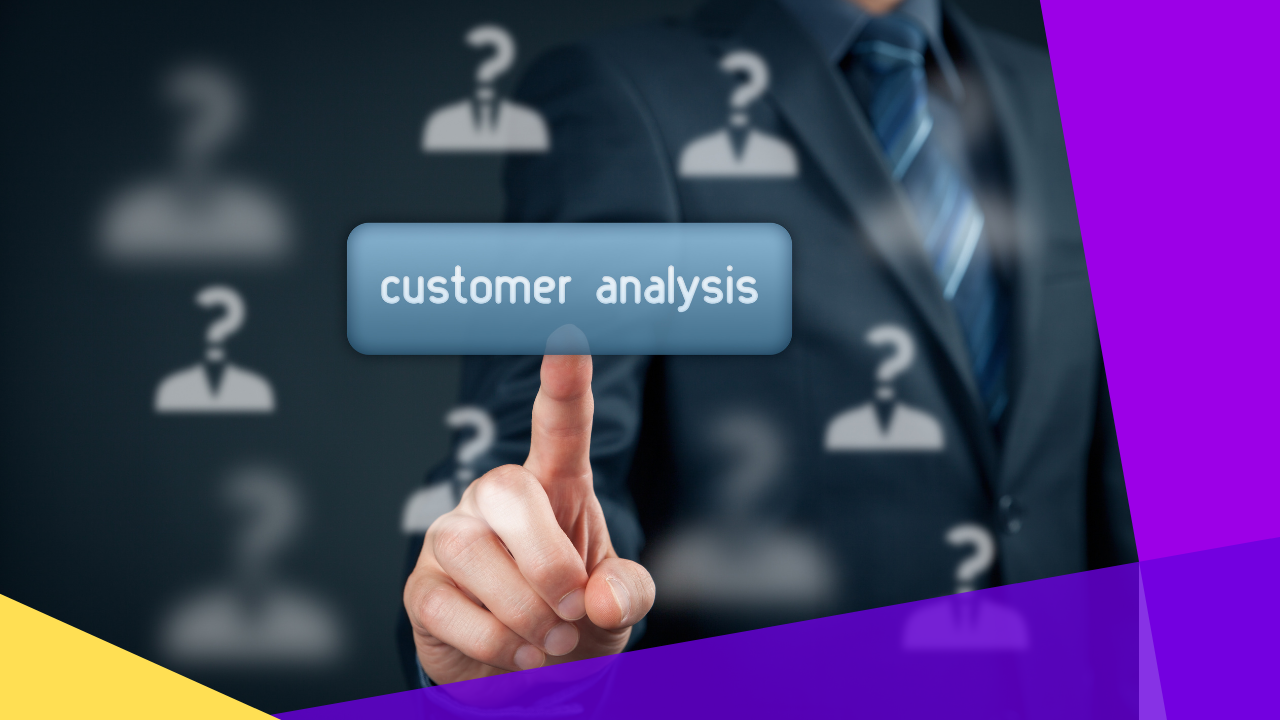 You can only get repeat business from customers who are satisfied with the service provided.
The best customer service generates a fantastic customer experience, especially when your representative gives impressive service that meets the customer's expectations.
Any company activity requires a thorough understanding of the target market. Successful entrepreneurs know what their customers want and how to get it to them in the most efficient way possible.
What is customer analysis?
A customer analysis finds potential customers, determines their needs, and then defines how the product meets those needs.
Customer analysis is a type of research that incorporates qualitative and quantitative methodologies to understand your customer base better.
Customer analysis is divisible into two profiles:
Behavioral profile.

It identifies what makes your product a good fit for a customer's needs.

Demographic profile.

You are describing the demographic characteristics of a customer.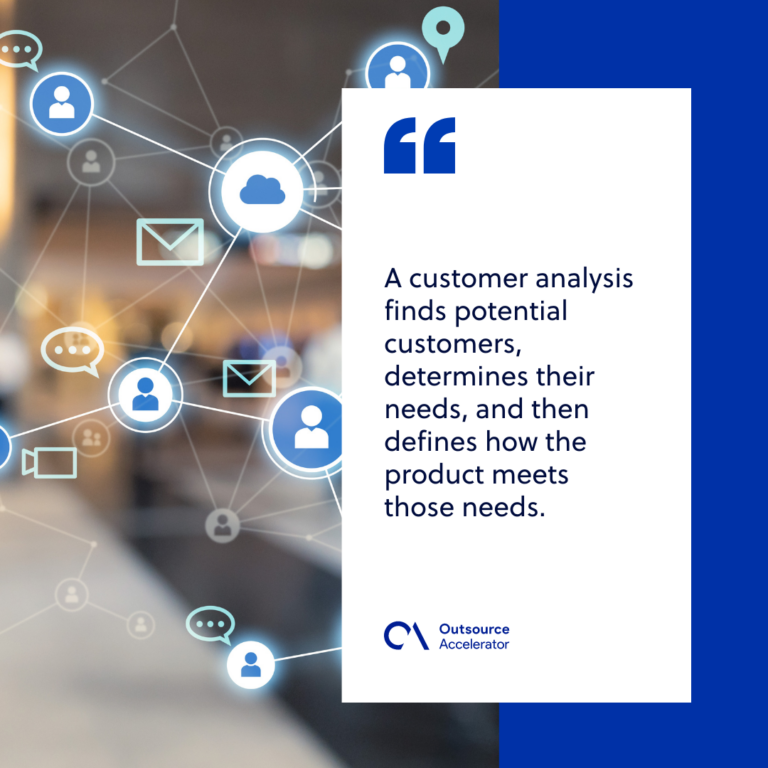 What is the importance of customer analysis?
Customer analysis can help businesses create new product lines that will further increase sales and earnings. With the appropriate kind of study, you can build new products and services that your clients don't even know they want or need by unearthing customer demands. 
Other benefits of creating customer analysis include the following:
Improved customer retention
Analyzing the correct data can improve client retention
Focusing on customer retention is a great place to start if you want your business to be successful. Keeping your current clients happy and loyal is critical to the success of your business and your brand as a whole.
Effectiveness in marketing
Marketing analysis that considers each consumer goes beyond how much money you spent and how many people saw your ads as a result.
You can decrease marketing costs or increase your reach more efficiently. Learn which channels bring in the most valuable clients in terms of order size, retention rate, and profitability.
Revenue increase
The key to improving sales is to understand customer purchase decisions. Analyze your customers to find out what affects sales, both positively and negatively.
The 6W model of customer analysis
According to the 6W customer analysis model, you should know who your existing and potential customers are, as well as what they do with your product. It also states that you should be aware of where, when, and why they buy it.
WHAT:
What is your product or service?
Customers must know how the product works, its unique selling point, and what particular issues it solves.
Describe the features and functionality and make a distinction between your product and those of your competition.
WHO:
Who is the product's primary target market?
Who would avail your product or service? It is a good starting point if you are creating a customer analysis or marketing strategy.
WHY:
Why should customers buy your product or service?
The answer to this question is relative to what would be the advantage of purchasing it. These explanations often fall into one of three types.
The first three goals are to improve the value-to-cost ratio, reduce risk, and get the desired result sooner. Any value proposition must have these three elements at its heart.
WHEN:
When are they likely to make a purchase?
You must think about when your target niche's buyer is most likely to purchase your product. You must identify the circumstances under which the buyer would be in a position to require the offering.
WHERE:
Where can it be useful?
This depends on the location and delivery method. Analyze your customers to find out what affects sales, both positively and negatively.
Customers' location and income could be factors, shipping timeframes, and how customer support contacts are handled.
HOW:
How much does it cost?
This refers to the price of the item or service. They ask this inquiry to see if they're in the proper pitch or not.
At this price point, most reports just provide basic statistics regarding a given industry. Additionally, they'll offer some general background information about the business, such as the size of the market as well as major competitors.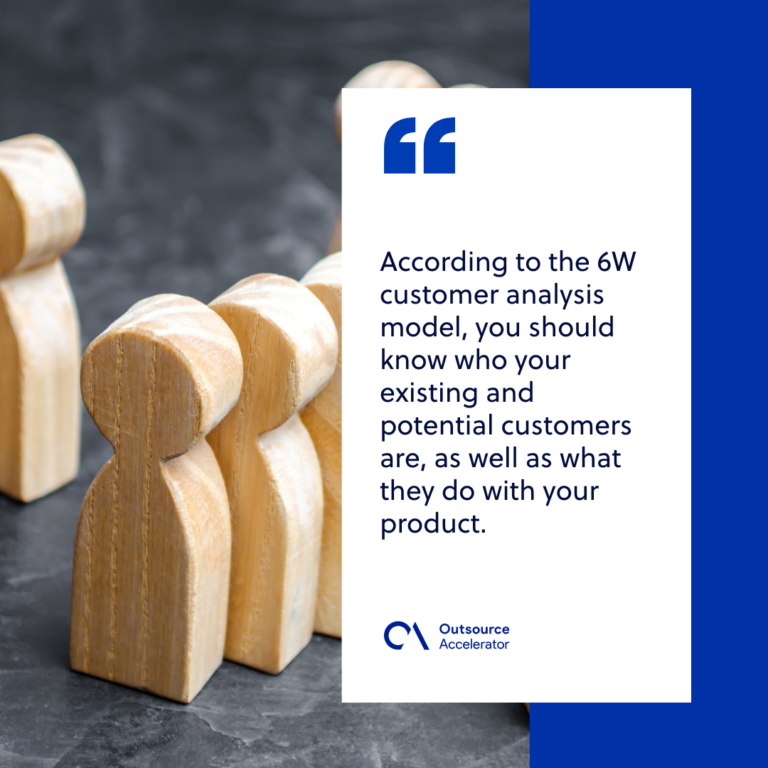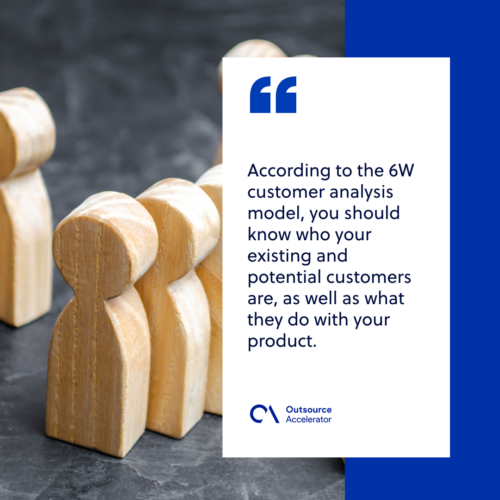 Steps on how to do customer analysis
A customer analysis gives a company precise information on past, current, or potential clients. This type of data is frequently helpful in making business decisions about a particular product or service.
Here are the basic steps on how to create your customer analysis:
Identify your customers and their needs.
Every firm must have a compelling reason for clients to choose them above their competitors when purchasing. Ask for feedback from your customers at each stage of the process to identify their needs.
Determine the purchasing capabilities of your target market.
You can begin to find common qualities of your potential market: Find out what your product or service has to offer and what will compel customers to make a purchase.
Find out what people are buying and spending on your products or services.
Prospects and visitors who become customers are what every business owner dreams of. Recurring business is also desirable because it eliminates the need for sales competition.
Even if there are less expensive options available, you want customers to buy from you. You're aiming for long-term relationships with your clients.