Contract to hire 101: Everything you need to know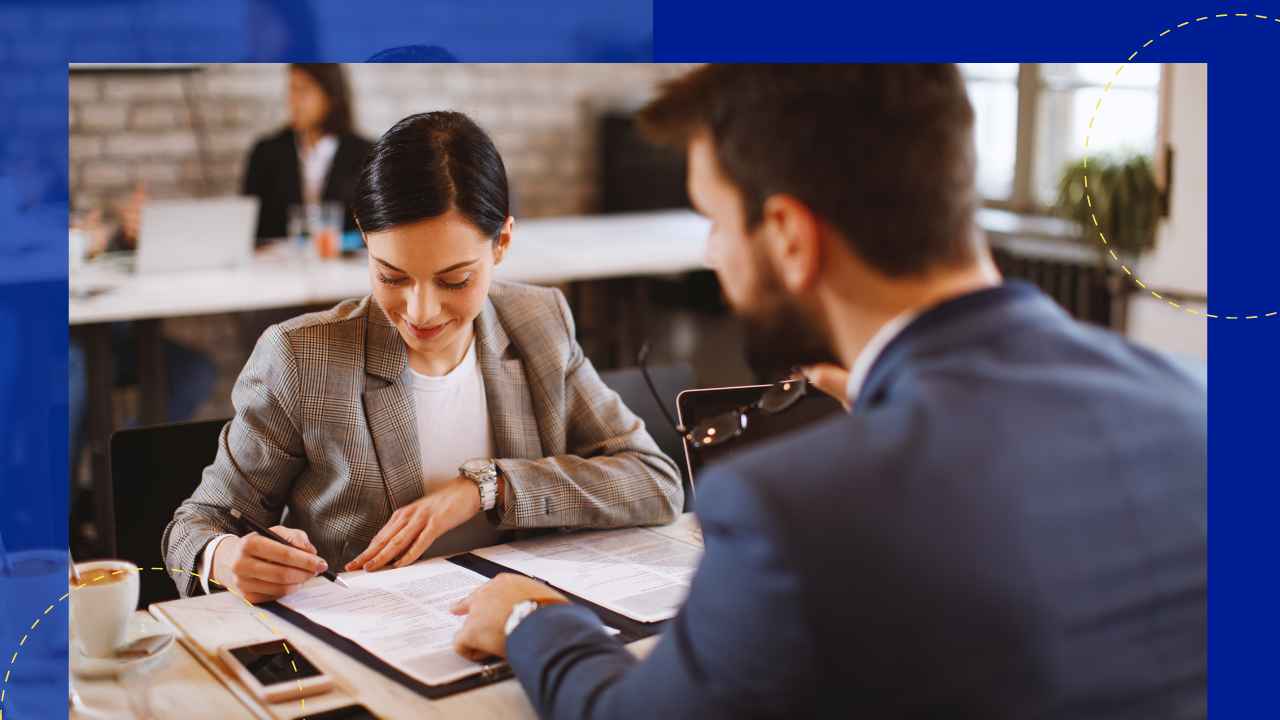 It can be challenging to look for a good hire nowadays.
The quest for the ideal employee can often feel like searching for a needle in a haystack. Small businesses cannot always afford constant bad hires, with the average hire costing 40% of an average employee's salary.
This challenge has led many organizations to explore alternative hiring arrangements. One that has gained significant traction is the "contract to hire" model.
This comprehensive guide will delve into the intricacies of contract to hire employment and what you should know to navigate this staffing approach.
What is contract to hire?
A contract to hire job is a temporary work arrangement where an employer hires a staff for a specific period, typically three to six months
During this time, the employer evaluates the employee's skills, work ethic, and overall organizational fit. If both parties are satisfied, the employee is offered a permanent position.
Compared to traditional hiring, contract to hire employs the help of a staffing agency to look for applicants.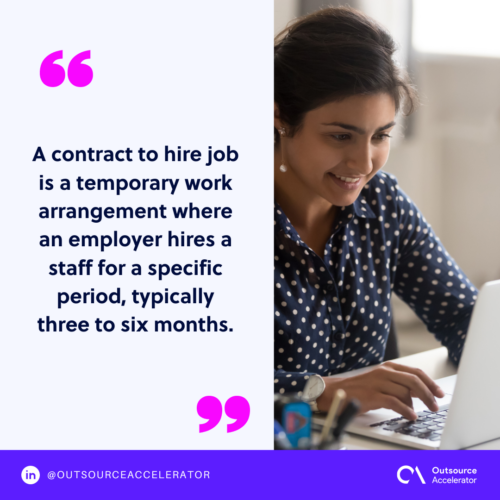 Contract to hire vs. Direct hire
Contract to hire differs from direct hire in terms of how they are employed.
Direct hire involves hiring employees directly through traditional or virtual processes. It allows employers to fully screen, manage, and monitor their staff without additional ties. 
Alternatively, employers implement a probationary period for direct hires as their trial period.
On the other hand, a contract to hire involves a third-party agency recruiting, screening, and hiring an employee. Once a firm decides to hire the staff as a full-time employee, they have to notify the agency to process the transition.
Sourcefit is among many service providers that offer staffing services. In connection with the transition process, this firm can sign an agreement with you before they bring the ideal team aboard your business.
Contract to hire vs. Independent contractor
While contract to hire and independent contractor positions share a timeframe limitation, the nature of the work arrangement sets them apart.
Independent contractors are typically self-employed and perform specific project-based tasks. True to its name, they can be hired directly as a "contractor" for certain projects.
Organizations directly transact with them until the end of their agreement.
In contrast, contract to hire employees work under the employer's supervision with their staffing agency as an initial employer of record (EOR). They adhere to the staffing agency's and the company's policies and procedures.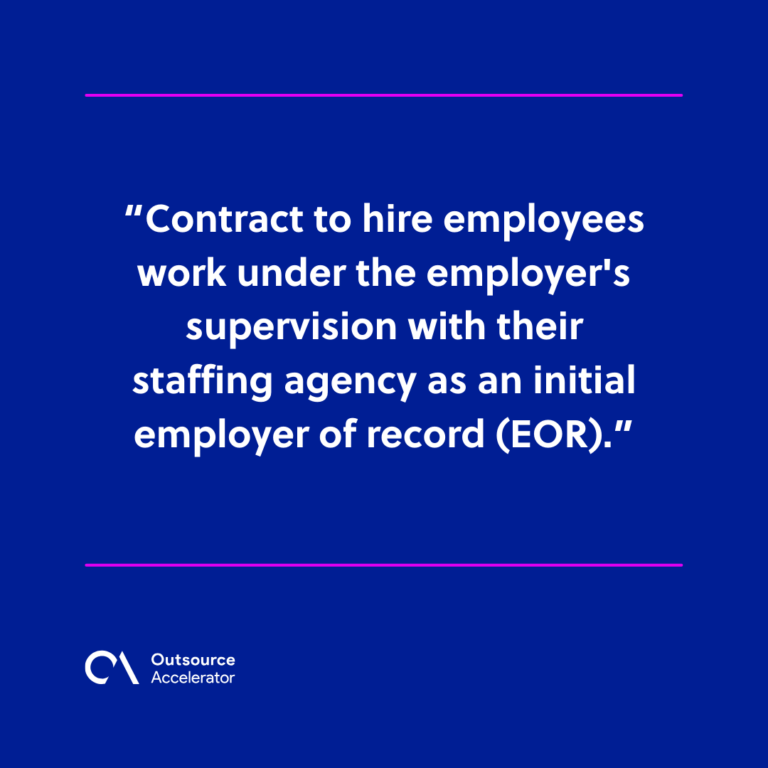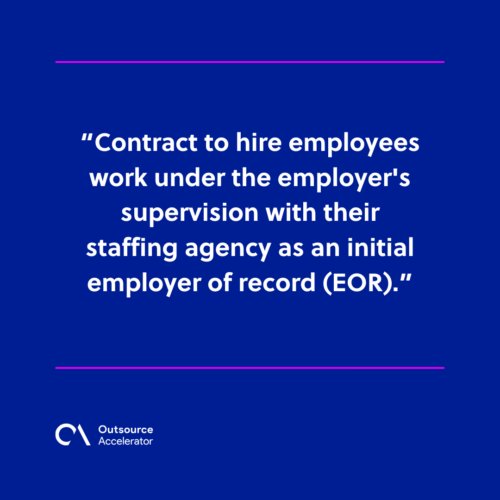 Roles applicable for contract to hire setup
Contract to hire positions are suitable for roles where assessing an individual's skills, work experience, and commitment is crucial.
Some of the roles applicable for this setup include the following:
Software developers

. Companies looking to evaluate developers' technical skills and cultural fit often opt for contract to hire arrangements.

Administrative assistants

. In roles where adaptability and teamwork are crucial, contract to hire allows employers to assess interpersonal skills and job performance before committing to a permanent hire.

Marketing specialists

. Marketing positions often require a specific skill set and a deep understanding of the company's branding. Contract to hire allows employers to ensure the candidate aligns with their marketing goals.
Advantages of having contract-to-hire positions
Contract to hire benefits employers of all sizes and job seekers looking for more flexibility without the risks included in freelancing.
Here are some of these advantages:
Smooth hiring process
Traditional hiring can be lengthy, involving multiple interviews, reference checks, and a fair amount of paperwork.
Contract to hire positions streamline this lengthy hiring process. They allow you to temporarily bring in a candidate to evaluate their skills and cultural fit within your organization.
Risk mitigation
Hiring is always a gamble with the possibility of mismatch or bad hires.
Contract to hire positions help mitigate this risk. By initially employing someone temporarily, you can observe their performance, adaptability, and how they fit into your organization's culture. 
Another thing is you can easily part ways with a staff when you are not satisfied with their performance.
Better staffing suitability
Beyond skills and qualifications, finding the right fit for your team involves having a compatible personality and cultural alignment with your company.
Contract to hire positions allow for a more in-depth assessment of these factors. You can evaluate how a candidate interacts with your team, handles challenges, and aligns with your company's values.
Network expansion
Networking is crucial in today's professional world. Contract to hire positions provide an excellent opportunity to expand your network. 
For employers, it means accessing a broader talent pool and connecting with companies sharing similar visions.
Considerations in implementing contract to hire positions
While contract to hire positions provide numerous benefits, careful planning, and execution are crucial to ensure a successful implementation.
Here are some key considerations to keep in mind:
Clear end date
Each contract to hire agreement should have a defined end date. Communicating the contract duration avoids misunderstandings and prevents the recruitment process from exceeding the intended period.

Legal obligations
Employers must navigate legal and regulatory requirements when implementing contract to hire positions. These include compliance with taxation laws, minimum wage regulations, benefit eligibility, and adherence to overtime laws.
Seeking legal guidance is recommended to ensure compliance with relevant statutes and regulations.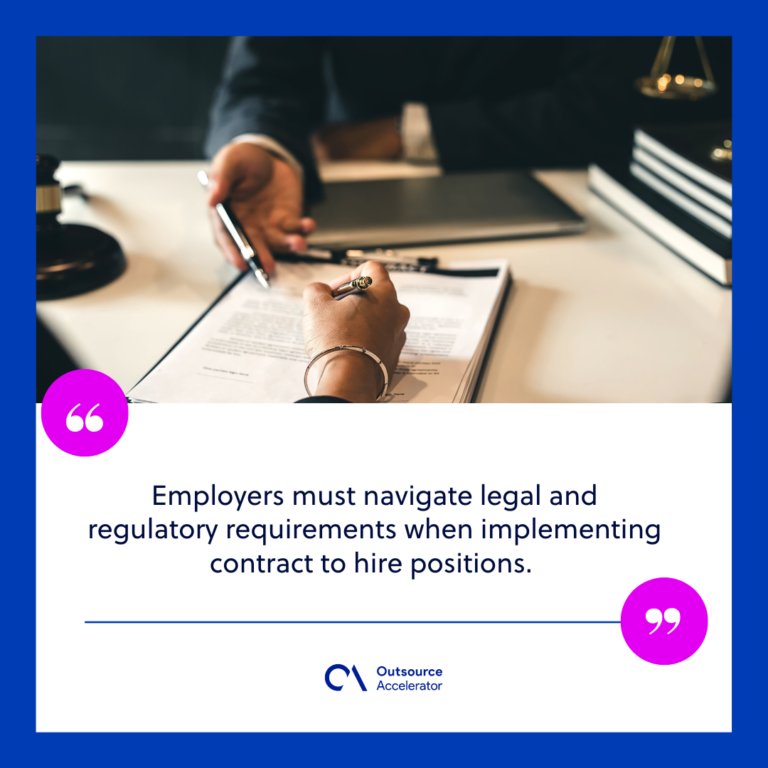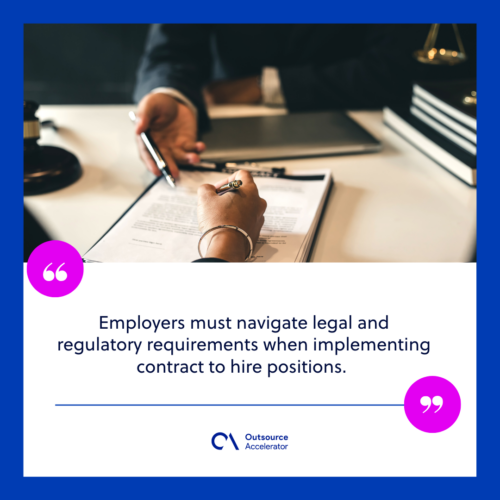 Inclusive company culture
Contract to hire employees should receive the same level of attention, training, and opportunities for advancement as permanent employees.
Companies must foster an inclusive company culture that values the contributions of all employees, including those in temporary positions.
Effective communication
Clear and open communication is essential in contract to hire arrangements. These employees must understand their contractual status and their responsibilities and rights within the organization.
Conversion plan
Employers should have a well-defined plan for transitioning contract to hire employees to permanent staff. This plan should outline the criteria for conversion, the process involved, and any necessary documentation.
A structured conversion plan streamlines the transition, making it seamless and efficient for both parties.