Contract lifecycle management: Why it's important for your business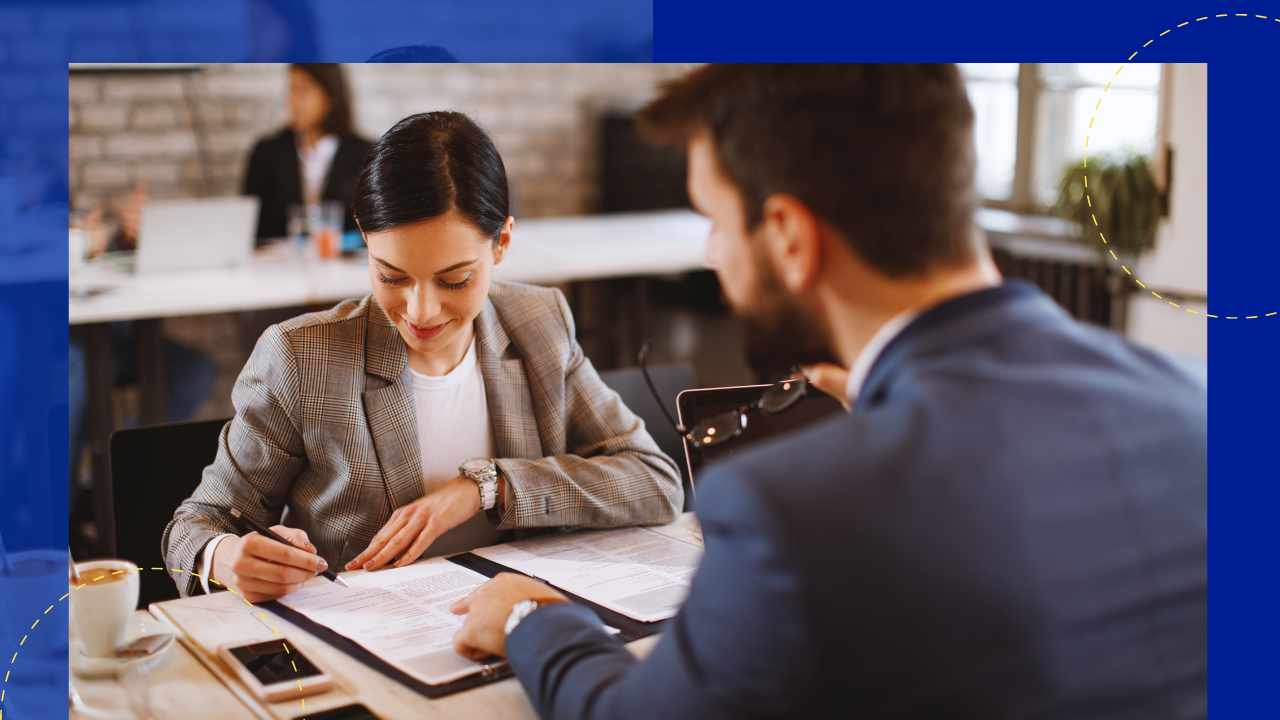 Contracts are essential to any business. They are used to establish agreements with vendors, customers, and employees. Contracts help ensure everyone involved in a business transaction understands their rights and responsibilities. 
However, managing contracts can be a time-consuming and complex process. This is why companies should consider carrying out contract lifecycle management. 
This article will explore contract lifecycle management, its stages, why it's necessary, and best practices for effective contract management.
What is contract lifecycle management?
Contract lifecycle management (CLM) is basically managing contracts — from initiation to execution, renewal, and termination. 
It involves the creation, negotiation, approval, execution, and monitoring of contracts to ensure that they meet the needs of all parties involved.
The primary goal of contract lifecycle management is to streamline the contract management process, reduce risk, and improve compliance.
In addition, it helps businesses to manage their contracts more efficiently, reducing the time and resources needed to manage them manually.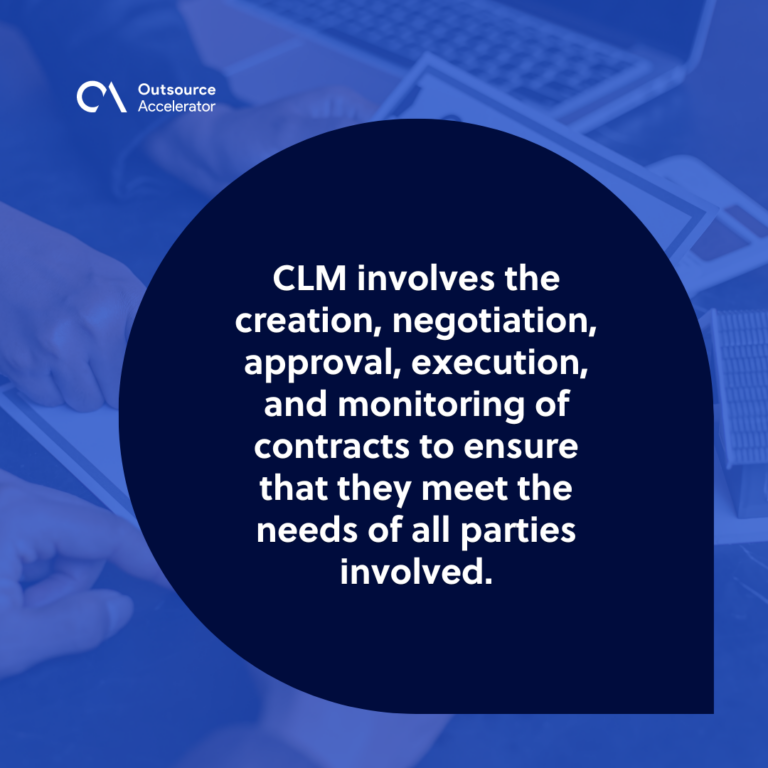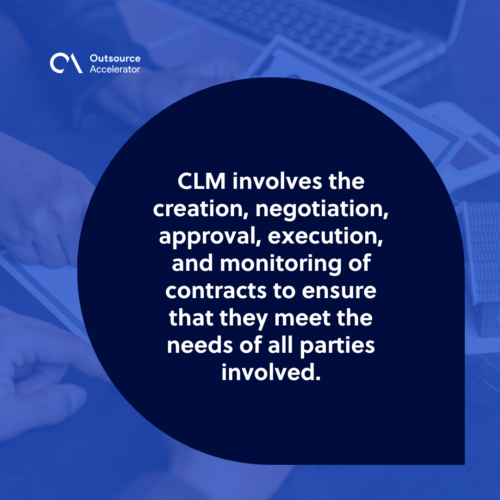 Stages of the contract lifecycle management process
The contract lifecycle management process consists of several stages, each important for ensuring that contracts are managed effectively. These stages include:
Contract planning stage
Planning is the initial stage of the contract lifecycle management process. This step is where an organization identifies the need for a contract and determines the requirements and objectives of the contract. 
A request for a contract initiates this stage. At this point, factors such as business objectives, identifying the stakeholders, and defining the contract's scope are considered and settled. 
This first step is where key stakeholders collaborate to define the roles and responsibilities of the parties involved and establish a timeline for contract execution.
Pre-contract stage
The pre-contract stage involves the creation of a contract document that outlines the terms and conditions of the agreement. 
It includes drafting the contract, reviewing it, and negotiating the terms with the parties involved. This stage is also where any legal, financial, or operational considerations are addressed.
Oftentimes, the negotiation part of this step is the longest and most challenging in the entire contract lifecycle management process. It involves obtaining the necessary signatures and approvals to make the contract legally binding.
Implementation stage
Once the contract has been approved, it is executed, and the terms of the contract are put into action. This portion involves ensuring that all parties are fulfilling their obligations and that the contract is being implemented as intended.
Key activities for this step may include conducting due diligence and ensuring compliance with regulatory requirements.
Handover stage
The handover stage marks the transition from contract execution to performance. It involves transferring responsibilities and resources from the implementation team to the operations teams or relevant stakeholders. 
By this time, the operations team should have a deep understanding of the terms of the contract and is prepared to manage it effectively.
This phase may include organizing kick-off meetings and communicating key details. It also ensures a smooth transition to the actual implementation part of the contract lifecycle management process. 
A proper contract handover sets the stage for successful contract performance and lays the foundation for ongoing contract lifecycle management.
Post-contract stage
The post-contract stage is where the performance of the contract is monitored while ensuring that all parties are meeting their obligations. 
This part involves reviewing and evaluating the contract periodically to identify areas for improvement and to ensure that the contract is still meeting the needs of the business.
At this stage of the contract lifecycle management process, companies:
Measure customer satisfaction (CSAT)

Address any issues or disputes

Document lessons learned
As a result, this level of the process provides valuable insights for future contract management. It helps in decision-making regarding the continuation, modification, or termination of the contract.
Pre-renewal stage
The pre-renewal stage typically occurs when an existing contract approaches its expiration date. It includes reviewing the performance of the contract, identifying areas for improvement, and negotiating the terms of the renewal.
It is crucial for businesses to proactively manage contract renewals to avoid any disruptions in services or products. 
During this level, the contract management team:
Reviews the existing contract

Evaluates performance against agreed-upon metrics

Assesses the need for any changes or amendments
This is where you may involve renegotiating terms, conducting market analysis, and seeking competitive bids to secure the most favorable contract renewal.
Aside from the stages already discussed, there are more contract lifecycle management tasks and processes that are significant to the procedure. Here are other important things to take note of in the CLM process:
Storage and organization
The storage and organization of contracts are additional important aspects of the contract lifecycle management process. You could say that the CLM's success or failure hinges on these concepts because contracts should be properly filed, organized, and found easily when needed.
There is an increase in the popularity of using cloud storage to save and organize contracts. Important documents like that are either edited down the road (despite already being signed) or constantly referenced. 
Companies of all sizes can benefit from using digital tools like cloud storage because it means not needing physical space and resources like paper to store contracts efficiently. Cloud storage also offers encryption and security features that ensure contracts are safely kept.
Tracking and reporting
A great deal of risk falls under tracking and reporting in contract lifecycle management. Those involved in the process need to focus on refining these tasks and ensuring compliance so that nothing slips through the cracks.
This part is where having contract management software can be useful. It makes it easier to track down errors or missing documents. 
A contract management program can allow you to utilize features such as tagging clause usage and taking shared notes. Using such features is a great way to identify problems early on so that your enterprise saves a lot of time, money, and resources upon resolving them.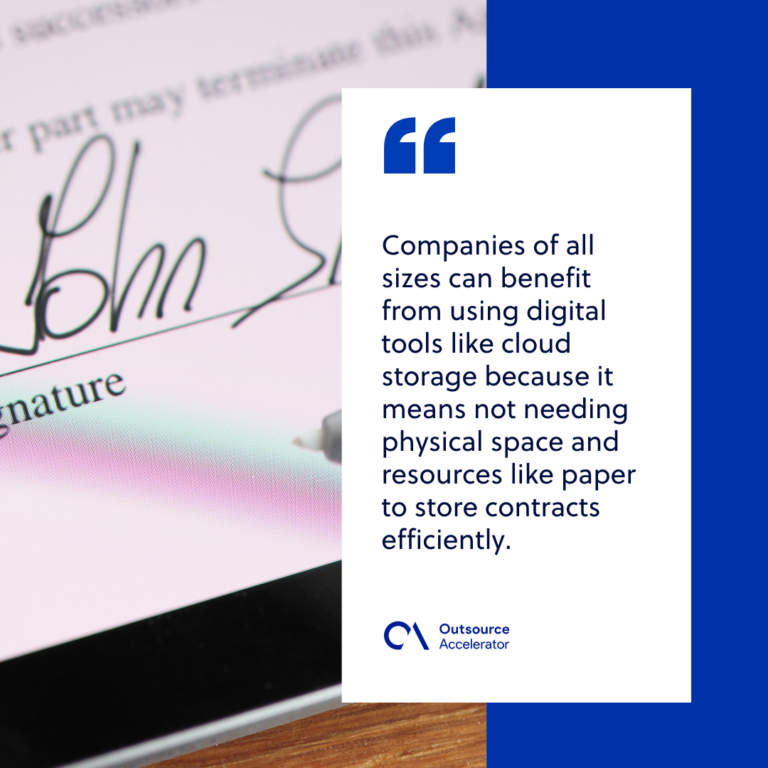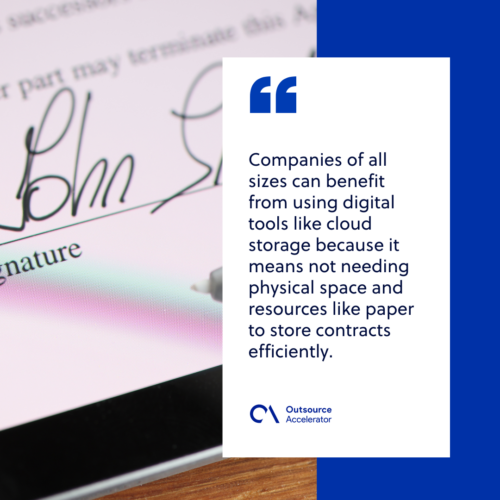 Why is contract lifecycle management important?
Effective contract lifecycle management is critical for businesses of all sizes. Because it helps ensure that contracts are managed efficiently and effectively, reducing the risk of disputes and non-compliance.
Empowered with the right CLM solution, you can treat contracts like assets — documents that provide deep insights and competitive advantages a business may have in its operations and supply chain.
Benefits of contract lifecycle management
Some of the key advantages of contract lifecycle management include:
Improved compliance and risk management 
The implementation of contract lifecycle management ensures that contracts are well-drafted, reviewed, and adhere to legal and regulatory requirements. 
CLM helps reduce the risk of non-compliance with laws and regulations and avoid costly fines and legal disputes.
Increased efficiency and productivity 
Effective contract lifecycle management can help businesses streamline their processes, reducing the time and resources needed to manage contracts manually. 
Therefore, it enables businesses to be more efficient and productive by focusing on core operations.
Enhanced vendor and customer relationships 
Successful contract lifecycle management fosters stronger relationships with vendors and customers. It helps facilitate better communication, reduce misunderstandings, and build trust.
Cost savings and revenue generation 
When contract lifecycle management is done appropriately, it enables better financial planning, budgeting, and forecasting. 
As a result, cost-saving and revenue-generation opportunities can include negotiating better terms with vendors or identifying opportunities for upselling to customers.
Improved contract visibility and control 
Contract lifecycle management provides a centralized repository for contracts, making them easily accessible and searchable. This visibility enables businesses to track key contract milestones, monitor performance, and proactively manage renewals and terminations.
Best practices for contract lifecycle management
To make the most of contract lifecycle management's benefits, organizations can turn to the best practices. 
Here are some tips for effective CLM:
Use contract management software 
Invest in a contract management software solution to streamline the contract lifecycle. Such software can automate tasks, track contract milestones, send notifications for renewals, and provide a centralized repository for contract storage and retrieval.
Standardize contract templates and processes 
Develop standardized contract templates that align with your business's legal requirements and industry-specific regulations. 
These templates should include essential clauses and terms, reducing the time spent on drafting contracts from scratch.
Have clear communication and collaboration among stakeholders 
Implement a well-defined approval process and workflow to ensure contracts undergo the necessary reviews and authorizations. Clearly define the roles and responsibilities of individuals involved in the approval workflow.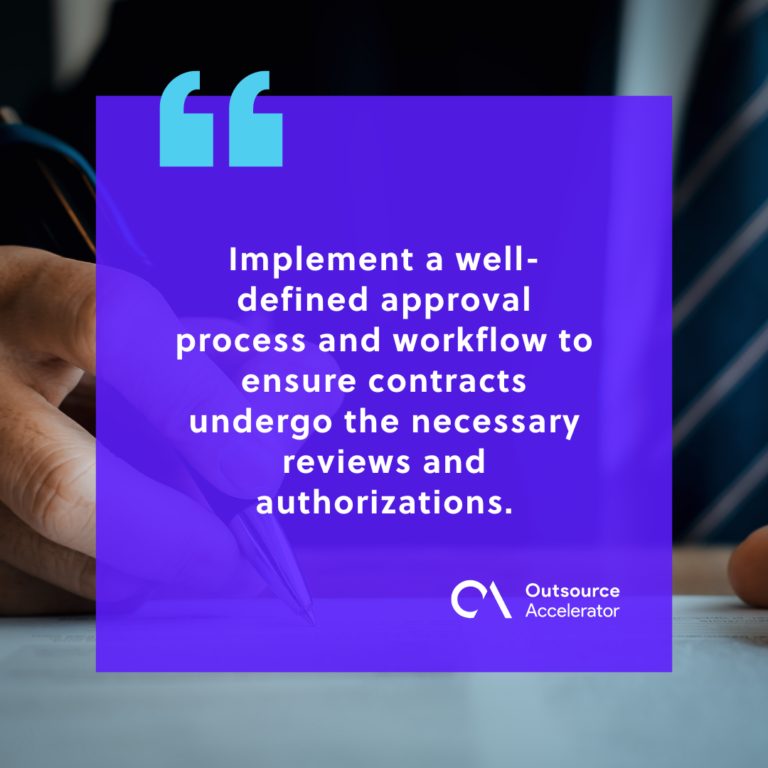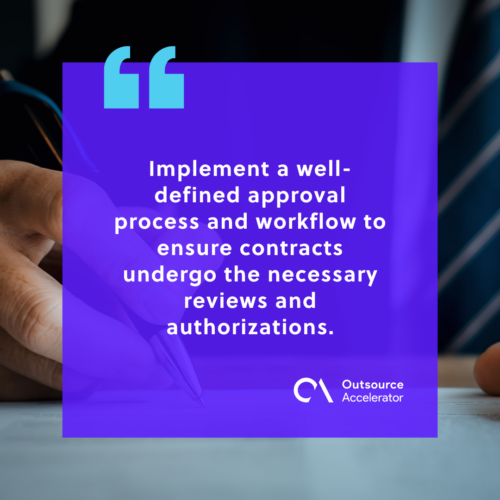 Implement version control 
Maintain a comprehensive system to track changes made during the contract negotiation. This helps ensure the final contract reflects all agreed-upon modifications and prevents discrepancies.
Regular monitoring and evaluation of contract performance 
Regular monitoring and evaluation allow organizations to identify areas for improvement. It helps ensure that contracts meet their objectives.
Establish contract renewal reminders 
Set up automated reminders to notify those involved of upcoming contract expiration dates. This enables proactive negotiations for renewals, avoiding any disruptions in services or products.
Contract lifecycle management plays a vital role in how modern businesses operate because it poses numerous benefits. By following the best practices of CLM, companies will ultimately improve their governance and accountability, contributing to their overall success.