Top five reasons to outsource your operations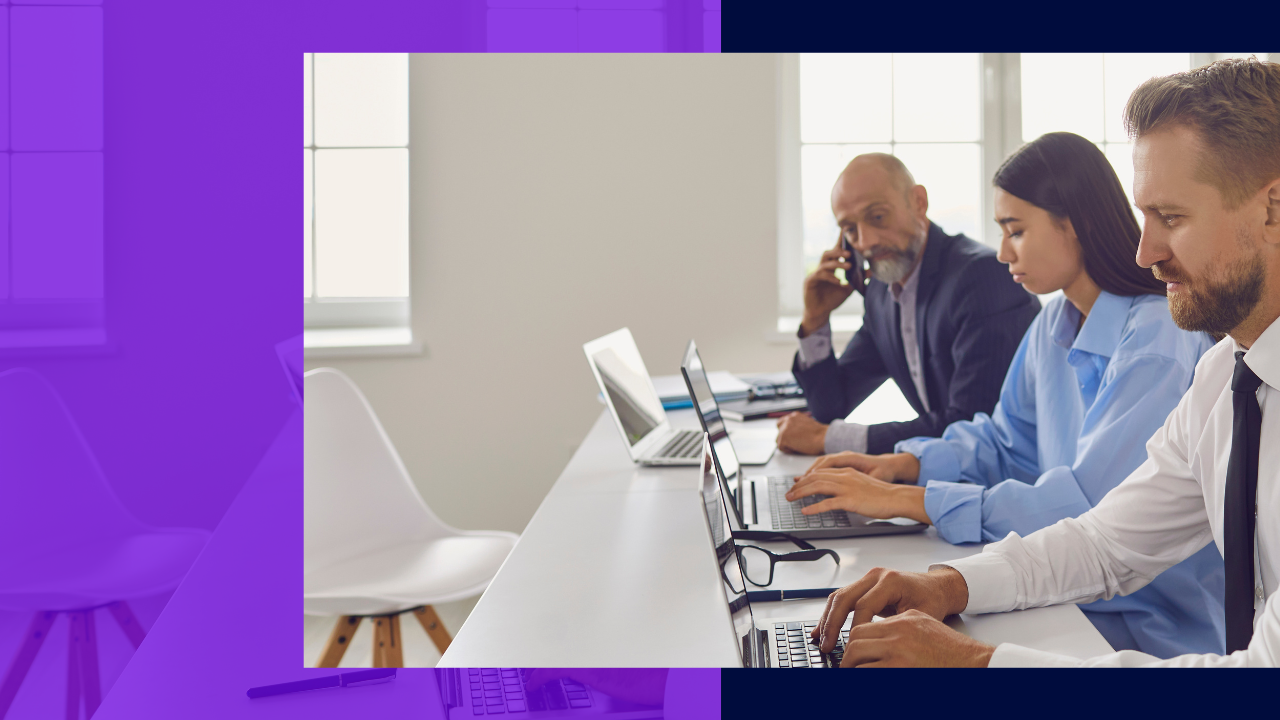 Top five reasons to outsource your operations
What is outsourcing?
Business Process Outsourcing (BPO) is the process of delegating certain business functions to a trusted third-party provider. These BPO companies may be located in the same region as the company, in a nearby country, or in an offshore location.
The naked eye sees outsourcing as a business strategy that "takes away jobs." However, looking at it from a more educated perspective will help you realize its various advantages to a business and to its employees.  The many benefits of outsourcing are the reasons why businesses all around the world choose this strategy when expanding their operations.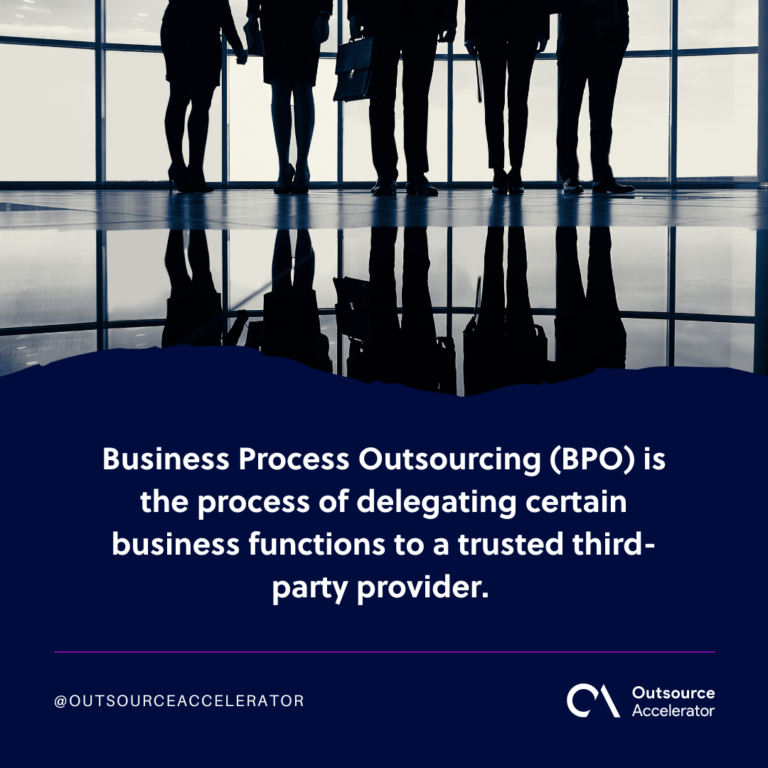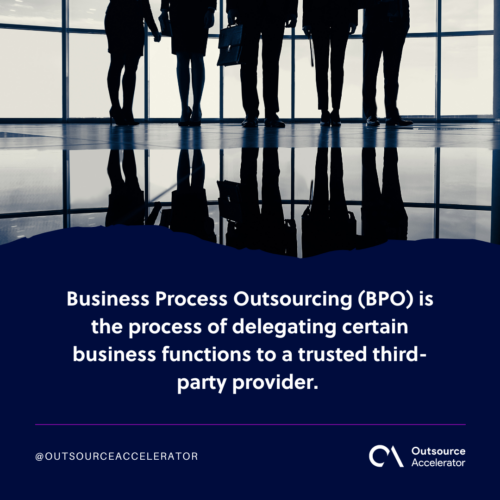 Top five reasons to outsource your business functions
Thinking of outsourcing some (or most) of your business functions? Here are top five reasons why you should do it.
You get to enjoy lower operational and employment costs
We know that businesses outsource to save up on labor costs. But did you know that you can save as much as 70% on employment expenses? This includes the employee's salary, benefits, training costs, office and equipment expenses, taxes, and more. Outsourcing is a very viable strategy for those looking to economize without having to sacrifice the quality of their deliverables.
You get to enjoy a competitive, world-class pool of dedicated professionals
The thing about outsourcing is that you're not going to get outputs that are done for the sake of doing it. When you delegate tasks to a BPO provider, you'll get to enjoy the world-class skills and talents of dedicated professionals. These employees are hired for their relevant educational background and work experience. The BPO's expert recruiters will make sure that they're the right fit for the job.
Most companies outsource offshore because of the lack of available skills in their region. It's difficult to hire around 100 call center employees in the US in one area. Whereas in other outsourcing locations like the Philippines and India, BPOs can hire 100 call center agents in a matter of days. Leading offshore staffing providers like MVP Asia Pacific can help you grow your team gradually or exponentially.
Outsourcing lets you enjoy the competence of a remote staff. In addition, they only require minimal supervision – which can help you save time for more important tasks. Win-win!
You get to improve efficiency of your core team
Outsourcing takes away the tedious and repetitive tasks from your team, so they can focus on their core responsibilities. When you delegate tasks like customer service and data entry, your team will not be inconvenienced by these tiny yet time-consuming duties.
Taking these tasks away from your core team will result in improved productivity and efficiency. Let your team focus on their core responsibilities that contribute to the company's growth and development. Leave the mundane duties to your outsourced team.
You can get help from industry experts
Outsourcing can be as simple as it gets – you hire an outsourcing partner, tell them your goals and business needs, then they'll find ways to make things work for you. However, it can also get complicated, especially for startups and solopreneurs.
With outsourcing, not only you can delegate your tasks to a competent remote team, but you can also seek the advisory services of outsourcing experts. These experts can guide you on your next strategies, expansion plans, and other business concerns. Outsourcing isn't just about delegating tedious roles. It's also about getting guidance and insights from industry leaders – if you need it.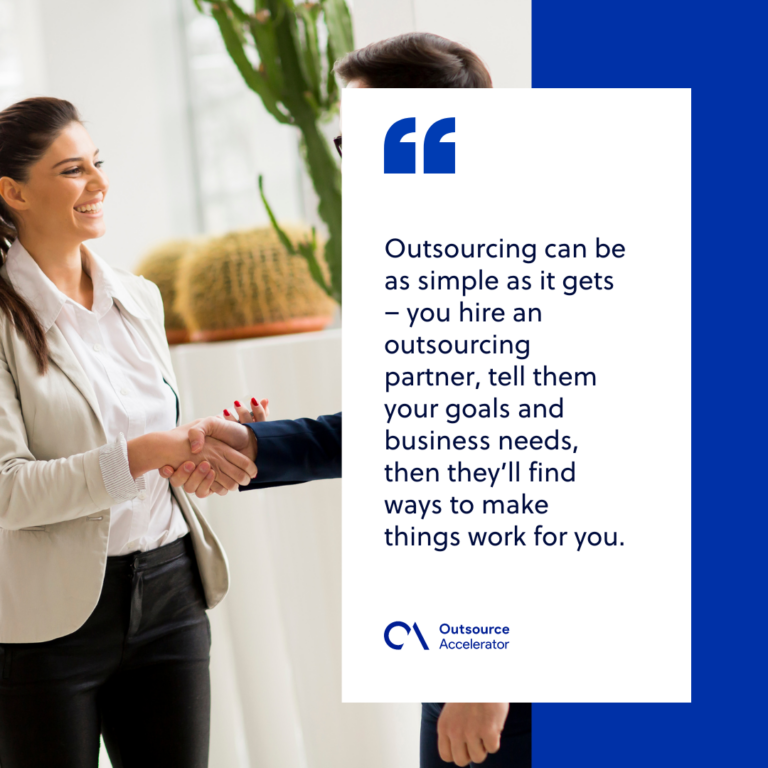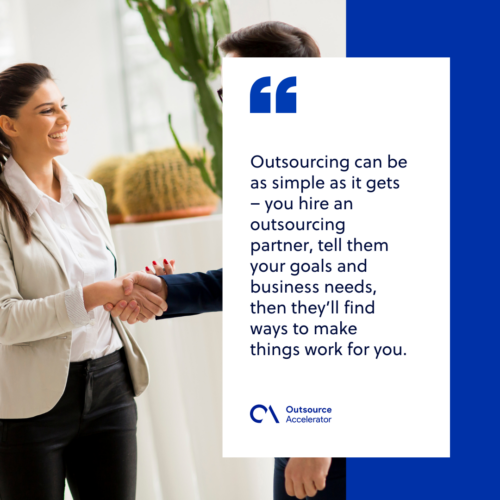 You get to utilize BPOs customized and scalable solutions
Gone are the days when people think of outsourcing firms as solely call centers. Now, it is fully established that BPO companies offer a wide variety of services. BPOs are not one-size fits-all establishments. They provide customized solutions based on every company's business needs. In addition, these solutions are flexible and scalable, so you don't need to worry about making scary long-term commitments.
BPOs are equipped with years of experience and industry expertise. Their customized solutions are created with your company growth in mind. Your BPO provider will be your partner towards reaching your goals for the company.
Factors to consider when outsourcing
Outsourcing is a huge step, so it's best to consider all factors before taking the plunge. To help you make an informed decision and choose the best solutions for you, here are some factors that you should consider:
Location
You can delegate your tasks to an onshore, nearshore, or offshore company. Which do you prefer? 
With onshoring, you'll get to enjoy the same time zone and cultural background, but it can still be expensive especially when compared to the other two options.
Nearshoring is a booming industry, which can also help you with your outsourcing needs. Nearshoring means hiring a BPO provider in a nearby country. The location makes it easier to visit if you feel like it.
Offshoring, on the other hand, is the most cost-effective option. It has been a much favored staffing strategy, and a lot of businesses have grown their companies through leveraging their offshore teams.
Privacy and security measures
Of course we want our private data to remain confidential. However, if you're delegating some functions to a third-party provider, it is inevitable that they'll get access to your data.
The question is, is this negotiable for you or not? If it is negotiable, what kind of data privacy and security measures are you looking for in an outsourcing company? Do you have specific rules and data privacy regulations?
Most BPO providers and compliant with important call center compliances when outsourcing. During the initial meeting, ask about the BPO's certifications and compliances. It will surely help you in your decision-making. Davao-based outsourcing firm SixEleven BPO, for example. is certified PCI DSS and HIPAA compliant.
Expectations
Outsourcing in general provides a lot of promise. It is reliable, cost-efficient, effective, and a great contributor to a business' success. However, like any other endeavor, it's important to manage your expectations.
Problems may – and will – occur. There will be learning curves and adjustment periods. There can be miscommunication and late responses due to time zone differences. Despite these, rest assured that your outsourcing partner will do its best to ensure that they're meeting your targets and expectations.