Why content curation matters in digital marketing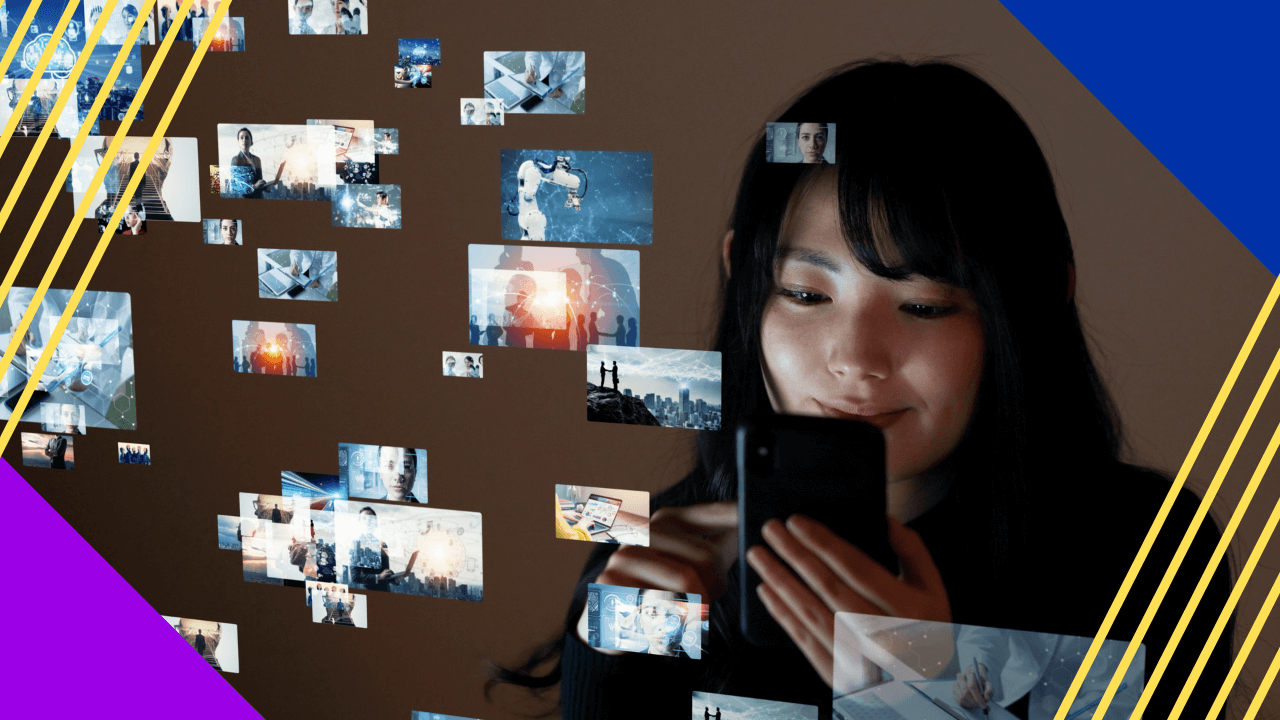 Millions of fresh pieces of content are produced and posted online daily. It's becoming increasingly difficult for companies to stand out from the crowd and reach their target audience. 
Content curation helps businesses sift through the sea of content to find and share relevant pieces with their audience. It selects and organizes the best content from various sources to present to your audience meaningfully. 
Whether you're a business, marketer, or blogger, this article will guide you through content curation and help you succeed in digital marketing. 
What is content curation?
Content curation is a method of organizing and presenting selected content from various sources to offer value, insights, and expertise to the audience. It ultimately enriches their knowledge and experience on a particular topic or theme. 
Content curators act as filters and editors, sifting through vast online information to choose the most valuable and useful pieces for the target audience. They often present the curated content with added context, commentary, or insights. 
Content curation is crucial in content marketing, social media marketing, and thought leadership.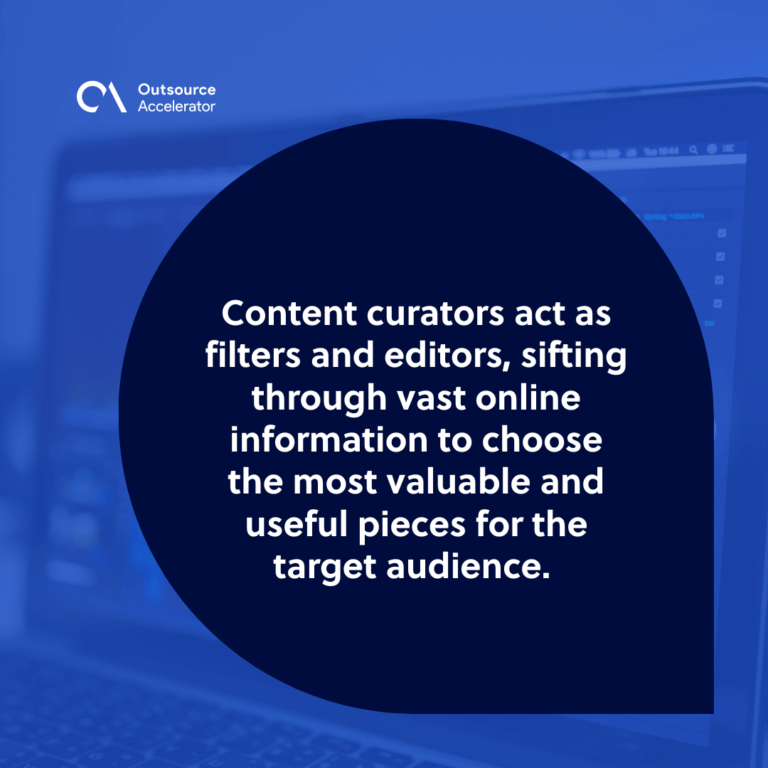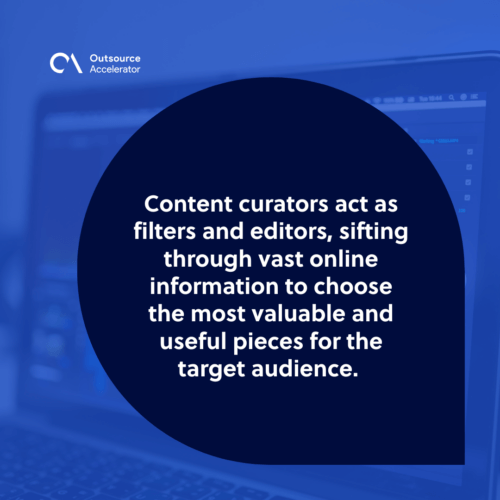 Types of content curation
There are several types of content curation, each serving a different purpose and catering to specific audience needs. 
Here are the main classifications of content curation:

Aggregation
Aggregation is the most common type of content curation. It involves collecting and curating content on a specific topic or theme. 
The curator acts as a filter, selecting the most relevant and valuable pieces to present to the audience cohesively. 
Distillation
Distillation condenses complex or lengthy content into concise and easily digestible formats.

Curators extract key points, insights, or summaries from longer pieces, thus, making the information more accessible and understandable for their audience. 
Elevation 
Elevation highlights the most exceptional pieces from different sources. It emphasizes standout content to capture the audience's attention and appreciation. 
Chronology 
Chronological content curation presents a timeline of events, developments, or trends related to a specific topic. This form of content curation is particularly useful for showcasing the evolution of a subject over time. 
Mashups 
Mashup content curation combines content from various sources to create a new and unique narrative. Curators mix text, images, videos, and other media to craft original content that provides fresh perspectives. 
Content curation vs. Content creation
Content curation and content creation are two distinct approaches to producing and sharing content. 
The table below presents the main differences between the two:
| | | |
| --- | --- | --- |
| | Content curation | Content creation |
| Definition | Gathers, organizes, and presents content from different sources | Generates original content  |
| Source | Sourced from existing online materials | Developed by the content creators themselves |
| Time and effort  | Generally requires less time and effort | Demands more time and effort |
| Expertise and authorship | Showcases expertise through content selection and organization | Establish themselves as authoritative sources on the subject matter |
| Purpose and focus | Provides value by offering a curated collection of high-quality content | Shares unique perspectives, insights, or information |
| Engagement and interaction | Can foster engagement and interaction, but the primary goal is to share information | Aims to elicit direct engagement and interaction by encouraging discussions and calls to action |
How content curation works
Content curation involves several steps to effectively gather, organize, and present curated content to your audience. 
Here are the key steps of content curation:
Define your goals 
First, decide what you want with your content curation efforts.
Why are you doing this? What do you hope to achieve? Your answers will help guide your content curation strategy and keep you focused on what matters most. 
Know your audience
Understand who your target audience is and what they need from you. It's important that what you're sharing resonates with your audience. 
You can use analytics tools to understand what kind of content different groups prefer. 
Gather content from reliable sources
Find sources that produce high-quality content related to your topic area. Some examples of these include: 
Industry blogs

Industry trade journals and newsletters

Company websites (if they're not competitors)

Industry experts on social media
Filter and evaluate 
Evaluate the content based on its relevance and quality. You can consider the following questions: 
Is it relevant?

Does it align with my brand goals? 

Do I need to share it? 

Is this breaking news? 

Can I add value by adding commentary?
Give proper attribution
Give credit when repurposing someone else's work. You can do this by linking to the original source or by directly quoting them. Respect copyright and give recognition where it's due.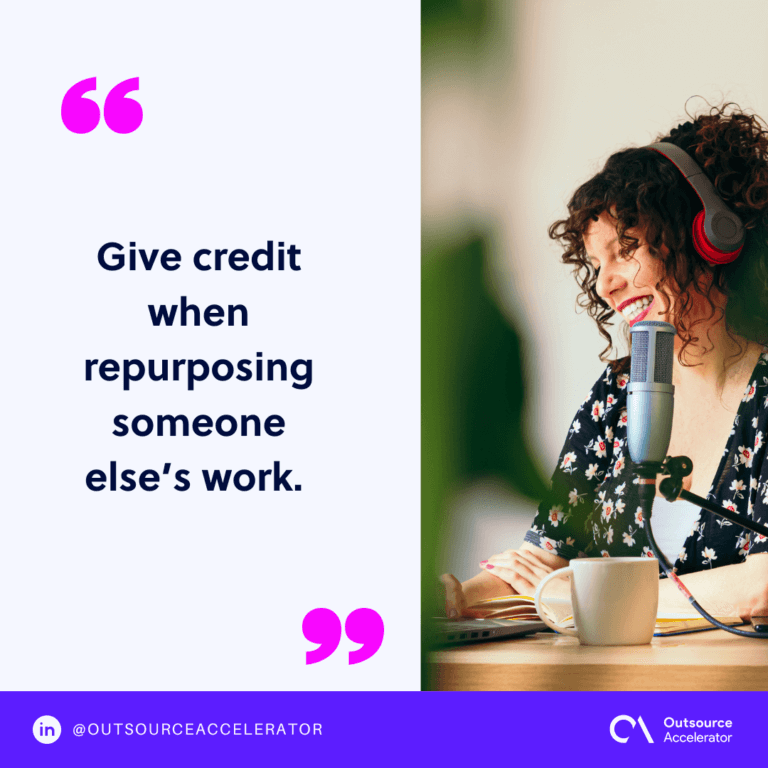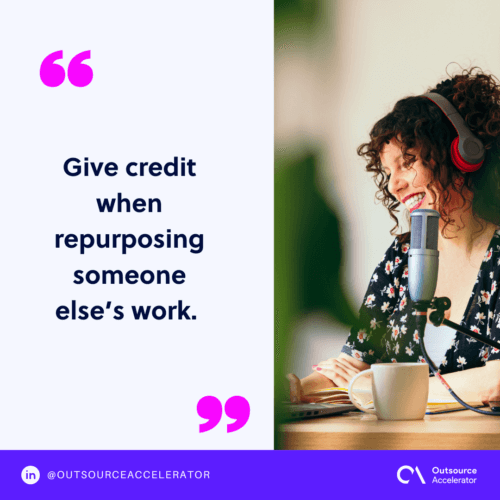 Add value and context
Sometimes, simply sharing content isn't enough. Add your own insights or analysis to it. You may even include photos, videos, or links to helpful resources if they enhance your point. 
Organize and categorize 
The better organized your content is, the easier it will be for readers to find what they're looking for. A good content curation strategy typically divides categories like: 
Top-level categories 

Subcategories 

Individual pieces of content
Optimize for SEO 
Content curation is also about ranking highly in search engines. In digital marketing, you want people who find your curated content to also find your site and buy from you. 
Use keyword-rich tags and include links back to original sources. And don't forget to use good grammar and spelling to ensure high quality! 
Schedule and share
Consistent publishing helps build trust with your audience. Consider using an editorial calendar or similar tool to easily track what you've published. 
Measure performance and improve
Keep track of your digital marketing performance to see what's working and what isn't. Use that information to make adjustments to your content curation strategy. 
This will allow you to target your audience better and improve quality over time. 
Benefits of content curation
Excellent content curation offers numerous benefits for both digital marketers and their audiences. Here are some of its advantages:
Enhanced content quality 
By collecting and presenting only high-quality content, you can raise the perceived value of your website and increase traffic to external sites. 
Diverse perspectives 
If you only share articles from one source, your audience will get bored quickly. Adding other sources into the mix keeps things fresh and interesting. 
Content curation allows you to showcase different voices and opinions in your community.
Increased audience engagement
Content curation helps you connect with your target audience by sharing information with them in an accessible format. With relevant content, people are more likely to stay on your site for longer, leading to increased sales. 
SEO benefits
Content curation helps you stay on top of the latest trends, news, and information in your niche. SEO benefits increase your visibility on online platforms and give you more chances to engage with other people in your industry.

Establishing thought leadership
Content curation establishes you as a thought leader in your field. If you're known for being a source of reliable, valuable information, people will come to you for help and answers.