10 best contact management software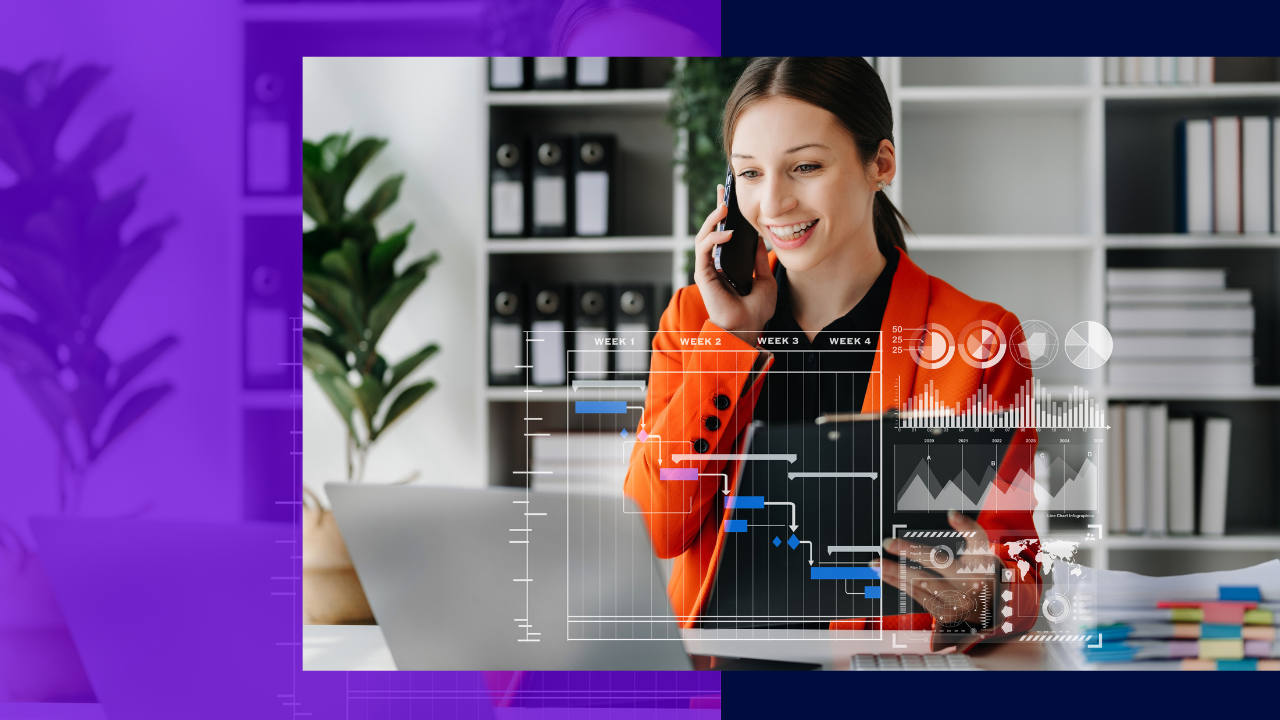 List of best contact management software
Customers are the driving force behind sales and profit, so keeping and managing their information is integral to any business.
Furthermore, when you have too many customers to track, it can be difficult to remember all the necessary information. The solution is a good contact management software that will make storing and analyzing customer information easier.
What is contact management software?
Contact management is the process of gathering, organizing, and analyzing customer information. 
It often includes people's names, contact information, and order history. This data series comes from the customers, leads, or other business connections. 
A contact management software acts as a digital record of all your contacts and their information, which you can easily access at any time. Think of it like a phonebook for businesses.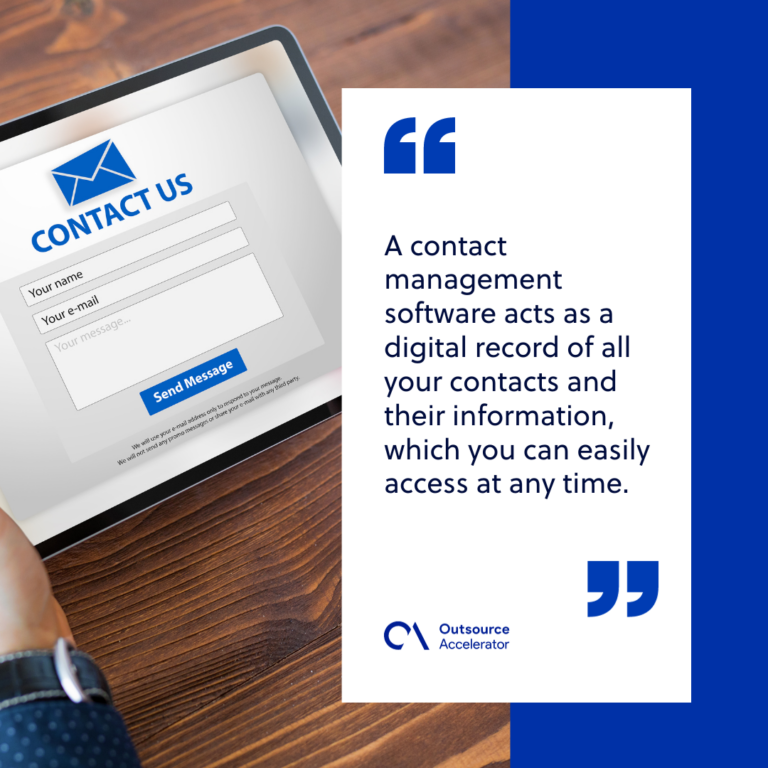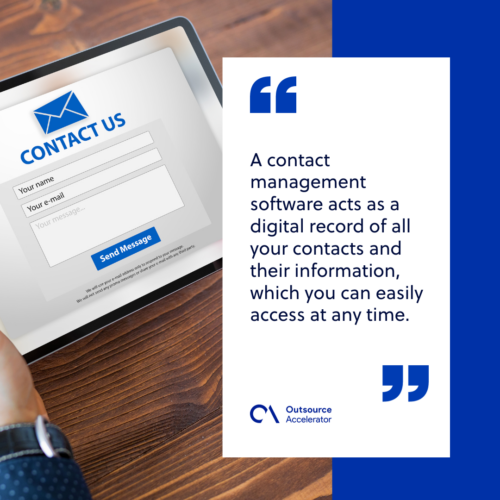 Why you need contact management software
A contact management software makes it easier to access and manage your customers' information and records them in a clean, uncluttered way.
Not only does this software clean up your customer profiles, but it makes working with them a lot simpler and hassle-free.
These software programs help you manage customer relationships and streamline sales operations. It becomes easier to create personalized campaigns if you know your customers well.
Companies with large customer bases will benefit from having an organized database of all their customers as it better helps them understand their behavior and preferences.
10 best contact management software in 2024
Listed below are ten of the best contact management software to use for your organization:
Hubspot is a free and easy-to-use contact management software that automatically adds and updates your records for every interaction with a contact.
Its dedicated contact hub can be integrated with your Gmail, Outlook, or Google Drive accounts where you easily access files and contact records.
This software makes it easy for your team to gain insight on your customers' behaviors, past activity, and conversation history with your business.
Access to these details makes creating personalized experiences and deeper connections easier. 
Other features of Hubspot include:
Pipeline management

Prospect tracking

Email tracking and notifications

Lead management
BIGContacts makes contact management simpler by offering detailed views of your customers' information, from their phone numbers to their transaction history.
Easy access of this data makes it possible to create tailor-made email and outreach campaigns. You have custom fields where you can store additional information.
You can integrate this software with other applications, such as marketing, accounting, and analytics, making everything easier to manage as it is all on one platform.
Freshworks' straightforward and intuitive CMS platform brings all your necessary data in one, centralized place for easy access. You can instantly view all sorts of information, such as prospect details, sales figures, and social profiles.
It uses an AI-assistant named Freddy to help provide predictive analytics and automates contact data entry, which gives you a fuller view of each customer.
Apart from that, Freddy helps analyze historical data, which could be useful for creating future sales strategies.
ActiveCampaign works hand in hand with your customer lifecycle allowing you to reach out and engage with your customers until you eventually convert and close them.
From there, you can use ActiveCampaign to segment your contact list according to different categories, allowing you to personalize content for them.
You can work on lead prioritization, lead nurturing, and automatically close deals and track customer journeys through pipelines.
Keap helps small businesses manage their contacts and clients via a central location that holds all the necessary information.
This software is equipped with automation tools for follow-ups, record updates, emails, and reminders, so you can save yourself the time of creating these manually.
You can integrate Keap with several applications for lead tracking and organization. Users can also create activity triggers and customizable segmentation on different applications, such as Zapier, PayPal, Outlook, Jotform, and Instapage.
Pipedrive focuses on sales and lead management with contact management features that are designed to create hard sales.
This software allows you to customize pipeline stages to fit with whatever sales process you have and makes it easy to track your progress and contacts.
You will have access to automation tools used for goal setting, activity tracking, and lead qualification. It allows for easy integration with other contact apps, such as Zapier, Pandadoc, and Leadfeeder.
You can even retrieve your contact's information from LinkedIn, which you can use to gain insight into the leads you are after.
Nextiva ensures full communication on all levels with your contacts as it offers a wide variety of business phone functions, such as voicemailing to emailing and call queueing.
This software allows you to manage your email history, customer information, and automates additional work for you, like follow-ups and outreach.
You can easily manage your sales and track customer progress with a customizable pipeline tool. Nextiva even integrates with third-party apps like Outlook, Salesforce, and G Suite.
Zendesk Sell helps increase sales and improve efficiency by converting leads to customers through conversational and consultative selling. 
This software's automatic data entry feature takes out all the manual work of inputting and updating contact information and ensures easy accessibility and usability.
You can also gain new insights on your customers through Zendesk's built-in analytics tool, which helps you monitor key performance metrics.
Copper allows you to easily integrate with Google Workspace and keeps your customer information all synchronized across various apps.
It automatically enriches your customers' data by adding their phone numbers, email addresses, and even social media.
Deals and email tracking are easily manageable with this software as it keeps everything all in one place for easy access. You can even stay updated on real-team interactions via the live activity feeds.
You can enjoy increased efficiency with Copper, thanks to its easy task management and prospect tracking. 
Streak is fully compatible with other G-Suite applications for easy tracking and information management. It allows you to share a timeline of customer contacts, including email records, call logs, and other notes.
With this software, you can create a custom and shareable sales pipeline and segment your contact data into specific categories. This gives you insights on your customers for future reference.
Some additional features include social media integration and email marketing, which are just as vital in maintaining customer relationships.
Choosing the right contact management software
A good contact management software keeps your contact information organized and ready to access, which is crucial for any business.
The right SaaS CRM addresses all your business needs. To help you make an informed decision, consider the following criteria when choosing the best one for your business:
Cost

– While there are a lot of free options, these may come with limited features. Choosing the most cost-effective with the right features is the most important.

Scalability

– Depending on the size of your business, the need to scale up or down according to the volume of contacts is crucial.

Available features

– Determine which features you will need the most before deciding on a software.

Ease of use –

You want a software that is simple to navigate and organizes your information in an easy to understand way.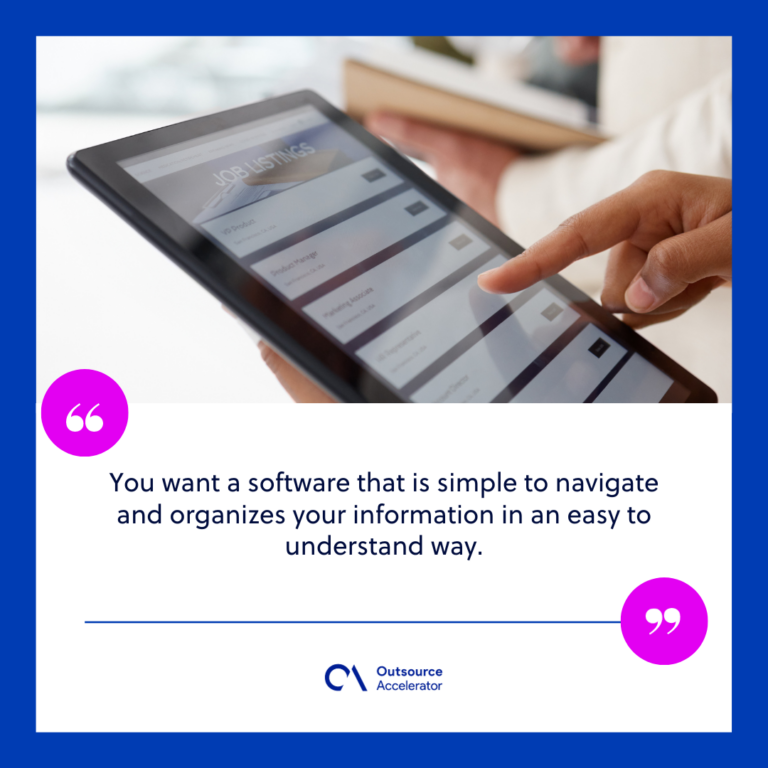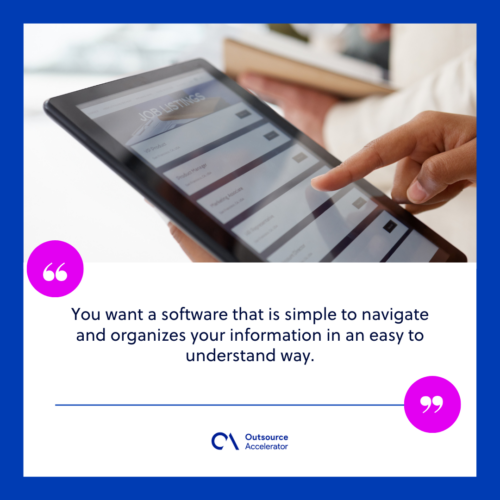 Choosing the right one will propel your business forward as monitoring contact information will become easier, allowing you to cater to their needs more effectively.