Top 10 contact center platforms of 2024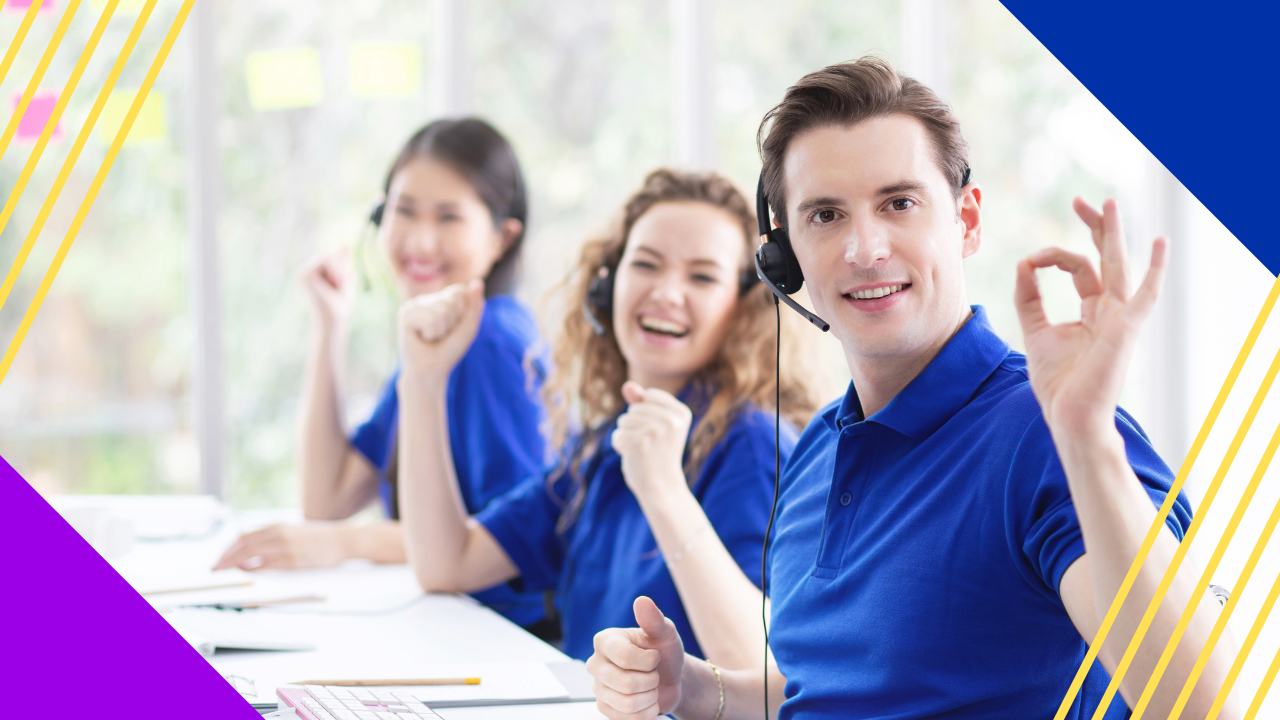 List of contact center platforms
In today's digital age, customer expectations have skyrocketed, making exceptional customer service a top priority for businesses. A robust and efficient contact center platform is a key component in delivering outstanding customer experiences. 
Whether a multinational corporation or a small startup, having the right contact center platform can make all the difference in building strong customer relationships.
A contact center platform serves as the backbone of customer support operations. They enable businesses to efficiently manage and handle customer interactions across various channels, from phone calls to live chat and social media. 
However, with many options available in the market, finding the ideal contact center platform that aligns with your business goals and SEO objectives can be daunting.
In this article, we'll go through what we consider to be the top contact center platforms for 2024.

An overview of contact center platforms
Contact center platforms are the technology that powers customer service. They help companies manage customer interactions and streamline operations. 
A good contact center platform serves as a centralized hub for handling customer queries, providing support, and managing customer relationships. They typically offer a range of features to facilitate your operations. 
Using a combination of software and hardware, a contact center platform can be a powerful tool to provide better experiences for your customers.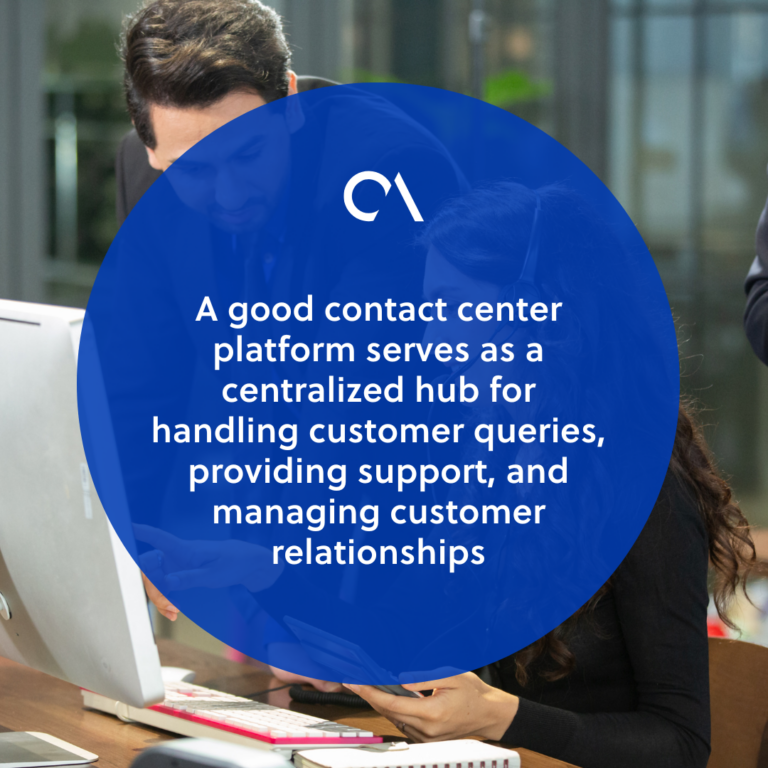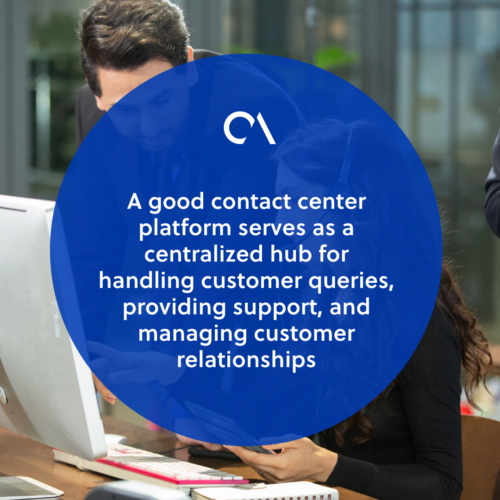 Common features of contact center platforms
The following are some of the primary features you will find in contact center platforms:
Workforce management

— Programs that allow you to schedule agents' calls and monitor their performance.

Quality management

— Tools for measuring customer satisfaction and performance metrics.

Contact routing

— Automated routing of calls based on the call type (inbound/outbound).

Automated outbound dialer

— You can schedule outbound calls from your CRM system.

Agent management

— This includes creating agent profiles, assigning agents to call queues, configuring agent schedules, and setting up call routing rules.

Call recording

— Recording calls can help improve customer satisfaction by providing post-call feedback or training for agents.

Customer care applications

— These apps allow you to create a self-service channel that allows your customers to interact with your brand at any time of the day or night.
Top 10 contact center platforms for 2024
We've outlined the top contact center platforms for 2024: 
Pricing: NICE CXone currently has no available pricing plans on its website. 
NICE CXone is the complete CXi platform for every journey. NICE CXone allows for frictionless customer experience interactions across the entire end-to-end journey, letting you improve customer interactions at any point. 
The contact center platform comes with five main selling points:

Entry points – Making sure you enable a smart start to every customer's journey

Journey orchestration – Allows you to seamlessly guide customers through their path

Smart self-service – Efficient and reliable self-service 

Empowered agents – Competent staff leading towards informed, effective, and engaged interactions

Complete performance – Continuously improved operations and experiences
For a more detailed review of NICE and its comparison with similar products, you may read this.
Pricing: Get a quote on the following pricing packages from their website:
CX Cloud Essentials: $75/user/month

CX Cloud Elevate: $95/user/month

CX Cloud Elite: $125/user/month

Experience Clouds: Custom pricing 
Talkdesk cloud contact center platform is designed for enterprises of all sizes. The software delivers exceptional, AI-powered customer experiences every time. 
Talkdesk leverages AI apps to automate customer self-service, mitigate fraud, empower agents, and operationalize artificial intelligence. Talkdesk puts powerful technology into your hands to make its contact center platform the best it can be. 
With features like workforce engagement, omnichannel engagement, employee collaboration, and customer experience data analytics, you can deliver truly modern customer experiences.
Pricing:

Genesys Cloud CX 1: $75/month 

Genesys Cloud CX 2 (Digital): $95/month 

Genesys Cloud CX 2 (Digital + Voice): $115/month  

Genesys Cloud CX 3 (Digital + WEM): $135/month 

Genesys Cloud CX 3 (Digital + WEM + Voice): $155/month  

AI Experience: Starts at $40/month 

Pointillist by Genesys: Custom pricing

Genesys Cloud EX: Starts at $90/month
Genesys Cloud CX is an all-in-one cloud contact center platform. This unique software unifies customer and agent experiences across phone, email, chat, text, and social channels. 
Genesys Cloud CX boasts impressive stats, including:

94% average response rates

90% first call resolution

20% boost in agent productivity
Deliver faster, smarter, and more experienced customer experiences with Genesys Cloud CX.
Pricing:

Essentials: $30/user/month

Professional: $50/user/month

Custom: Custom pricing
Aircall presents itself as the ultimate integrated business phone system and contact center platform for sales and support teams. Trusted by over 16,000 companies worldwide, Aircall helps you deliver better outcomes from every conversation. 
Set up the contact center platform in seconds and connect to your apps and tools. Aircall also grants you visibility into all real-time metrics so you can enable productivity at once.
Pricing: All plans come with a 14-day free trial period:

Starter: $25/user/month

Essential: $30/user/month

Expert: $50/user/month

Custom: Custom pricing
CloudTalk is a VoIP business calling solution and contact center platform used by customer service and sales teams. 
The software automates workflows and provides managers with a look at built-in analytics to maximize performance and increase calling efficiency. 
CloudTalk comes equipped with over 70 features and a wide range of integrations with CRMs and helpdesk tools. This contact center platform allows you to customize your CX to your company's exact needs. 
Pricing: Get a quote from all pricing packages on the website:
Digital: $149/month 

Core: $149/month

Premium: $169/month 

Optimum: $199/month

Ultimate: $229/month
Five9 is a leader among contact center platforms. It's a Contact Center as a Service (CCaaS) platform that empowers your agents to engage with customers across their chosen channel. 
The technology gives managers visibility into contact center performance to bring overall agility into your business. 
FIve9 equips your agent workforce with AI to evolve the contact center platform.
Pricing: Pricing packages come with either a seven or 30-day free trial:

Small: $9/agent/month

Medium: $29/agent/month 

Large: $49/agent/month

Enterprise: $69/agent/month
Boost your customer service and support efforts with LiveAgent's multichannel contact center platform today. LiveAgent understands that today's customers prefer to use multiple channels to reach out and expect a unified experience across all of them. 
To meet those demands, LiveAgent offers its contact center platform for a seamless omnichannel experience. 
LiveAgent comes with more than 179 available features and over 40 integrations to offer the most complete functionality to your support team.
Pricing: Free version available.
Professional: $450/month

Enterprise: $1200/month
Hubspot is a contact center platform that allows you to seamlessly connect your data, teams, and customers on a single CRM software that grows with the business. The result is better customer service management and delighted customers at every stage of the journey. 
This contact center platform's popular features include: 
Customer portal – Empower your customers to gain ownership over their experience. 

Knowledge base – Convert FAQs into a searchable library of documentation. 

Omnichannel messaging – Provide a seamless customer experience no matter the channel. 

Inbound calling – You can track and receive inbound calls. 

Live chat – Route users to the right service people and help them in real time. 

VoIP calling – Take advantage of call logging and analytics features when contacting your customers.
Pricing:

Essential: $25.95/user/month

Professional: $30.95/user/month

Enterprise: $40.95/user/month
The Nextiva contact center platform pairs excellently with the Nextiva business phone service to make stellar customer service look easy. 
The Nextiva contact center platform allows you to do the following:

Meet customers where they are.

Find a balance between inbound and outbound calls.

Accelerate processes with intelligent virtual agents (IVAs).

Reach full potential with your contact center and agents.
Pricing:

Hero: $150/user/month

Super Hero: $180/user/month
The Gladly contact center platform reimagines customer service to fully revolve around your customers. With a single view, you can make your customers truly feel known. 
The Gladly software promotes these product highlights:

Customer details – Personalized details from previous interactions 

Customer attributes – Customer habits and priorities

Preferences – Customer preferences based on order history

Relationships – Details about those close to your customer

Purchase history – For quick references on next reservations and future orders

Flexible integrations – Unique integrations and flexible APIs 

Task reminders – Keep track of important tasks
Future prospects of contact center platforms
New technologies are continually being integrated into contact center platforms. As the software evolves, so do the expectations of modern, digital-age customers to resolve issues in increasingly shorter times. 
With remote work and outsourcing being adopted as more practical business options, contact center platforms must adapt to growing demand. 
Here are a few trends to watch in the future of contact center platforms:
Conversational AI

— Conversational AI is the use of

AI-powered chatbots

to automate query resolution. These can be used to resolve much of the load for common issues and FAQs. 

Hyper- personalization

— A frequently-cited benefit of digitalization is the amount of data that can be collected. This new feature can make use of real-time customer data to generate strategic insights. 

Increased self-service options

— Self-service may soon become the default mode for customer service. This would massively reduce the number of inbound calls and reserve agents for more complex issues.