Revolutionizing business with computer-aided engineering software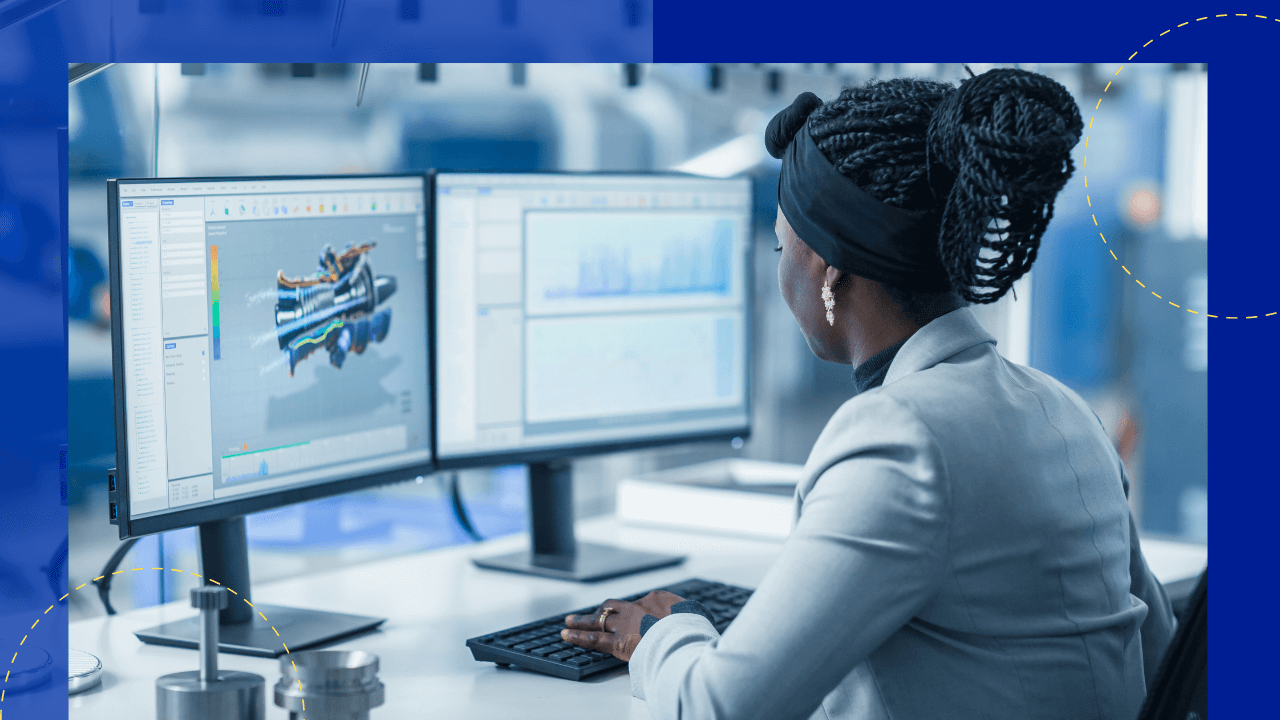 Computer-aided engineering (CAE) software has revolutionized the product engineering industry.
This has transformed how firms function by delivering efficient and effective technical solutions. Businesses may quickly develop, evaluate, and improve their goods and processes with CAE. 
Continue reading to discover more about how computer-aided engineering revolutionizes businesses.
What is computer-aided engineering (CAE)?
Computer-aided engineering (CAE) describes the complete product engineering process, from design to virtual product testing with advanced analytical algorithms. The whole process of CAE is done through manufacturing planning.
CAE is used in every sector that employs design software to create efficient technological and engineering products. 
Computer-aided engineering also enables the testing and modeling the product's physical attributes without requiring a physical prototype. 
Moreover, the most widely utilized simulation types in the context of computer-aided engineering are:
Computational fluid dynamics

Finite element analysis

Multi-body dynamics

Optimization of products or designs

Thermal analysis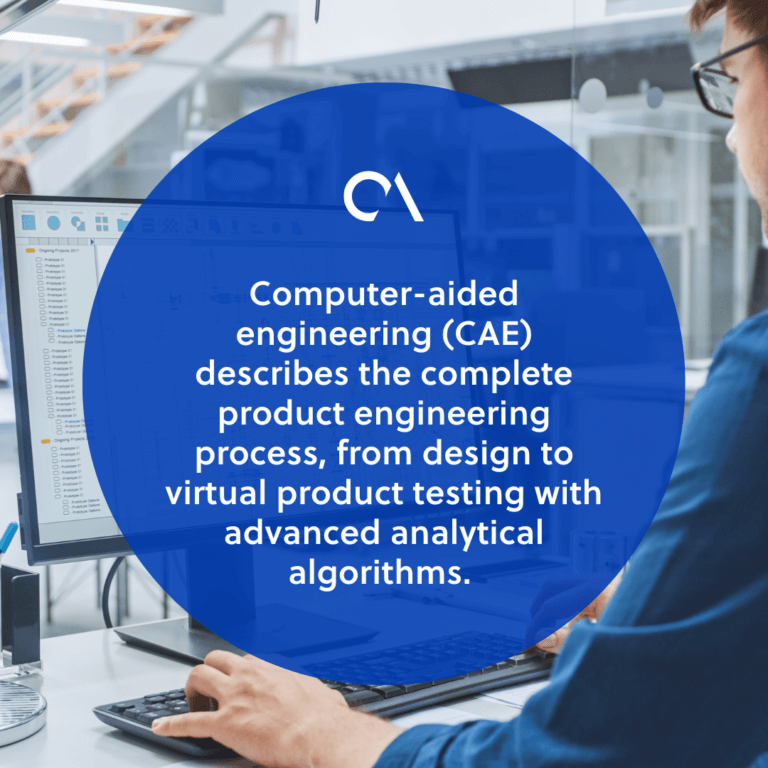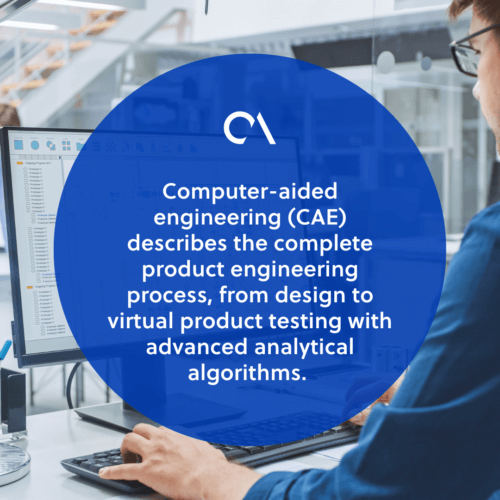 3 significant benefits of CAE software
CAE software provides efficient and effective solutions to engineering difficulties and has been a game changer for corporations.
Here are three crucial advantages of computer-aided engineering:
Increased efficiency and productivity
Computer-aided engineering software automates tedious activities, allowing engineers to concentrate on more vital areas of the design process.
CAE improves efficiency and production, allowing companies to bring items to market more quickly.
Engineers may use computer-aided engineering software to do the following swiftly:
Build and revise designs

Conduct simulations

Analyze findings
This decreases the time and resources needed for product design and testing, leading to faster product development. 
Engineers may interact more efficiently with computer-aided engineering software regardless of location. They may also share designs and simulations in real-time, resulting in speedier decision-making and lowering design review time.
Improved accuracy and reliability
Computer-aided engineering software minimizes the cost and time required for product development. As mentioned earlier, CAE doesn't need many product prototypes, which may be costly. 
Instead, engineers may optimize the design and decrease the number of physical prototypes necessary by running CAE simulations often.
Reduced costs and lead times
Computer-aided engineering software also allows companies to detect and handle possible difficulties early in the design process. 
As a result, higher costs and lead times are reduced, allowing enterprises to produce more products, sell to the market, and generate more sales and ROI.
2 types of computer-aided engineering software
There are two types of computer-aided engineering software:
1. CAD software
Products are modeled in both two and three dimensions using computer-aided design (CAD) software.
This type of computer-aided engineering software enables engineers to spot problems better and fine-tune the design when they can see it in 3D. 
Engineers can also design complicated items more precisely, eliminating room for mistakes — guaranteeing that the final product will perform as expected.
Automotive, aerospace, and manufacturing are just a few fields that put CAD software to good use. Companies may better serve their customers' requirements and meet expectations with the help of this software.
2. CAM software
Toolpaths for numerically controlled machines may be designed using this type of computer-aided engineering software. 
Computer-aided manufacturing software (CAM) helps organizations improve their production. This is done through a rigorous process of eliminating waste, minimizing mistakes, and guaranteeing that their final products are high-quality.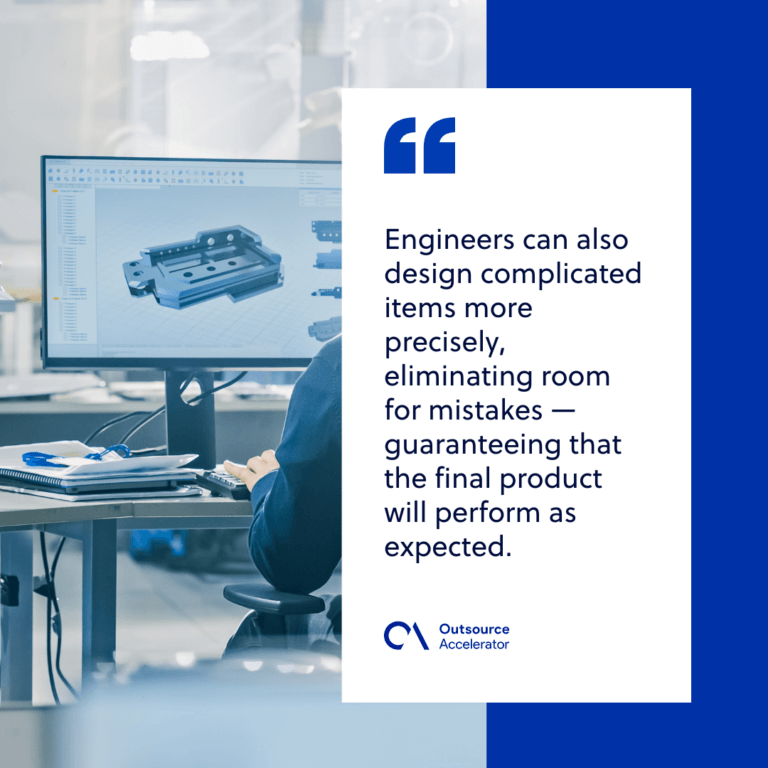 Applications of CAE software in business
Computer-aided engineering helps with different industries and even improves industrial processes — ultimately cutting costs while increasing output.
Here are other computer-aided engineering applications in business:
Product design and development

– CAE software allows firms to generate detailed product designs, including dimensions, materials, and other details. 

Simulation and analysis

– Companies use computer-aided engineering software to foresee and correct product design problems before starting production.

Optimization and validation

– Computer-aided engineering software help firms optimize and validate the final product to ensure the process and designs are accurate and efficient.

Prototyping and testing

– Businesses use CAE software to build virtual prototypes of goods and processes rather than physical prototypes. It enables firms to test the performance of products conveniently anywhere.

Manufacturing and production

– Computer-aided engineering software makes it easier for factories to run more smoothly, with fewer mistakes and higher quality control. In turn, this shortens production times and lowers expenses for enterprises.
Computer-aided engineering maximizes business efficiency
As the demand for high-quality goods grows, so does the desire to cut costs and lead times. That's why more organizations are turning to CAE software to remain ahead of the competition.
These computer-aided engineering advantages will make a difference for your firm:
Improves efficiency and production by decreasing the amount of time and money spent on bringing items to market. 

Helps firms stay competitive in today's fast-paced market by ensuring the quality of the products

Solves product engineering products quickly and increases productivity in your team

Facilitates the steps of product and process design, analysis, and

optimization for companies

to guarantee excellent results
By embracing this technology, your business may gain increased efficiency, production, and profitability, setting itself up for success in today's ever-changing corporate environment.