How to increase ROI: Best practices in 2024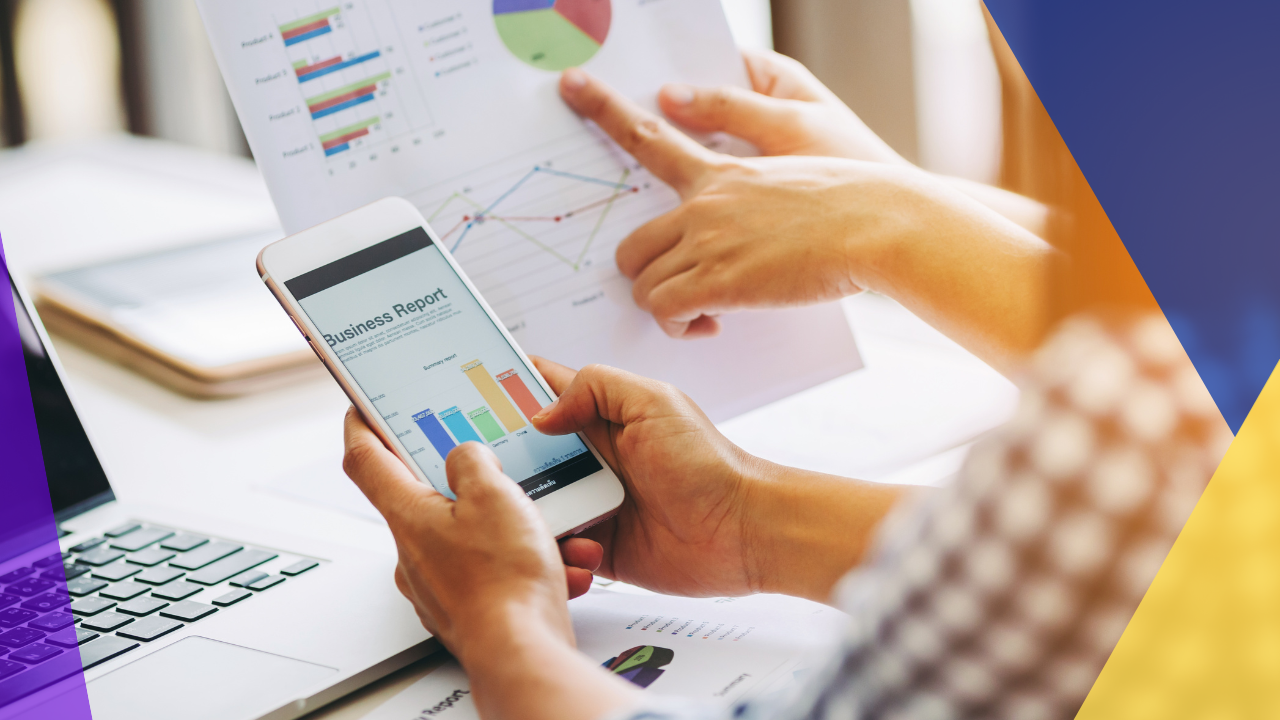 For success-driven entrepreneurs, increasing their business's return on investment (ROI) is among the top priorities.
There are programs that can help entrepreneurs and investors discover new investment opportunities that can increase ROI such as The Ferris Report. Being aware of these new opportunities can help boost your knowledge in making financial decisions.
An increase in ROI signals that a business is doing well, which means more profit for the company.
Thus, learning how to increase ROI is a necessity for any organization.
This article will help you better understand ROI and what it means for your business. It will also detail steps you can take to increase your business's return on investment.
Read on below to learn how.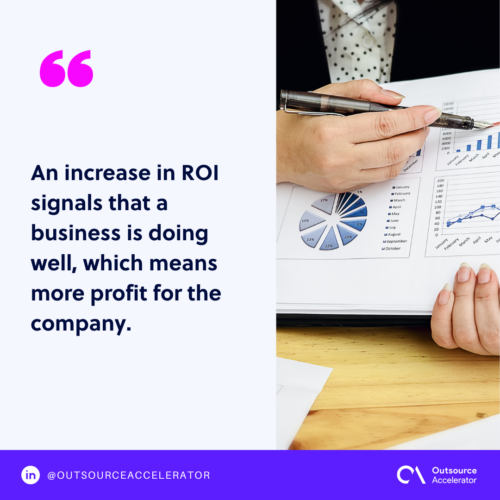 Defining ROI
Return on investment is a measure of how much profit or loss you make on an investment.
It's calculated as the ratio of net returns to investment costs, expressed as a percentage.
A good way to think about ROI is as a comparison between what you have to pay for something and the results you get from it.
For example, if you buy a widget for $10 and sell it for $50, then your ROI is 500%.
The more money you can make on an investment, the better your ROI will be.
In accounting terms, ROI is generally expressed as a percentage and considered in comparison to the total invested amount.
For example, if you invested $1,000 and made $200 in profit from that investment, then your ROI would be 200/1000 = 20%.
Since a business's profit is tied to its ROI, knowing how to increase ROI is paramount in running a successful company.
How to measure ROI
There are two methods used to calculate ROI.
Below are the formulae for these methods.
First method:
ROI = (Cost of Investment / Net Return on Investment) x 100%
For example, say that a business invested USD 40,000 and had a net ROI of USD 60,000.
Using the above formula, the business's ROI will be computed as:
= (40,000 / 60,000) X 100%
= 0.6667 x 100%
ROI = 66.67%
Second method:
ROI = (FVI/IVI / Cost of Investment) x 100%
Where:
FVI = Final Value of Investments
IVI = Initial Value of Investments
Take for example a company that originally invested USD 10,000 for its startup[1] and had the investment's final value pegged at USD 25,000.
In this case, the company's ROI will be computed as:
= [(25,000 – 10,000) / 10,000] x 100%
= (15,000 / 10,000) x 100%
ROI = 150%
Knowing the formula for calculating ROI lets you determine the factors that affect it. In turn, being aware of these factors will help you better plan how to increase ROI for your company.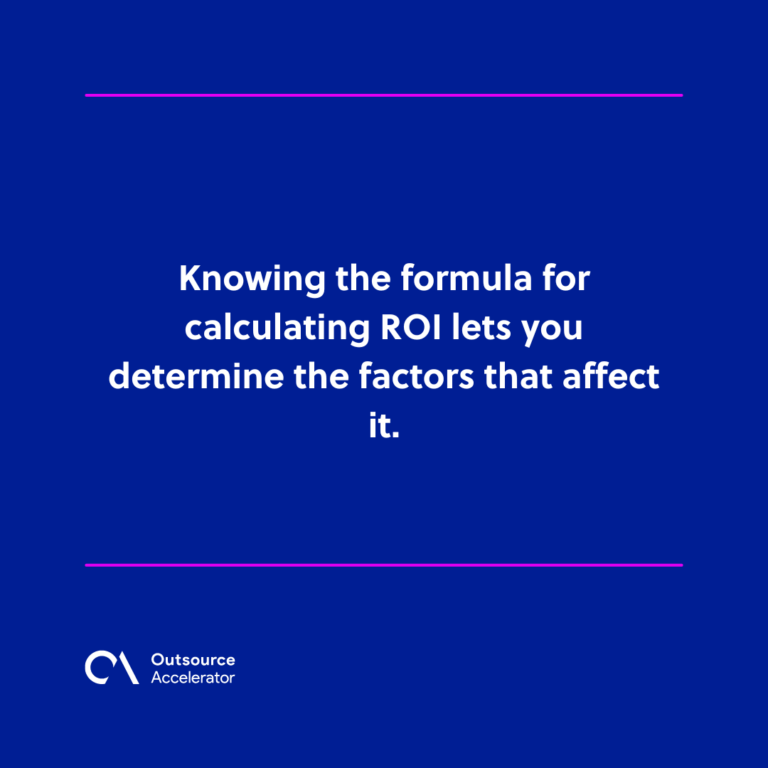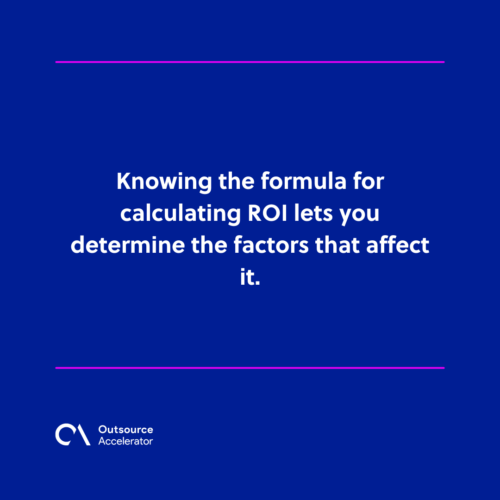 How to know if you have a good ROI
Whether an ROI is good or not is subjective on the size of a company and its type of industry.
Kabbage Inc. – a FinTech company acquired by American Express – posits that larger companies can consider annual ROIs of 10% or even less as good.
There is also the return on digital investment (RODI) to consider.
In the 2022 survey conducted by Erns and Young – a multinational professional services firm – from 23% in 2020, 41% of the respondents indicated that they're measuring RODI returns.
Digital ROI is based on the returns businesses gain from digital investments[2], such as online marketing campaigns.
An ideal digital ROI at 5:1, or an ROI of USD 5 for every USD 1 spent on digital marketing.
How to increase ROI in 2024
If you want to learn how to increase ROI for your business, there are several factors you must take into account.
These are:
Revenue

Data

Analytics

Overhead costs
These factors play vital roles in your business's ROI and should be the top priorities when making plans on how to increase ROI.
Discussed below are the steps you can take to increase your business's ROI.
Increase your business's revenue
Increasing your business's revenue, naturally, also increases your net investment returns.
Generating more revenues without increasing your operating expenses – or adding costs just enough to still net solid gains – will contribute towards a higher ROI.
One way of doing this is improving your marketing campaigns to grow your business's sales pipeline at every stage.
You can also opt to increase the price of your products and services – but not so much that it negatively affects your sales.
Leverage available data
Using existing marketing data can help you improve your ROI and your overall business, in general.
Data can help you better understand your customers' needs and wants.
Understanding your market better, in turn, will help you create more effective marketing strategies that can boost your sales.
This ultimately leads to more revenues, which brings us back to the previous point.
There are many ways you can gather consumer data. These include:
Social listening

Surveys

Touchpoint maps

Customer journey maps

Predictive analysis

Customer segmentation



Invest in analytics
As pointed out in the previous section, you can leverage data to help you increase your business's ROI.
That's why investing in analytics tools is essential if you want to learn how to increase ROI for your business.
Using analytics tools, such as Splunk, Talend, QlikView, and Apache Spark will help you veer away from vanity metrics (e.g., followers count, blog views, subscribers) and focus on actionable metrics.
Actionable sales metrics include:
User conversion rate

Email opt-in conversion rate

Social media referrals

Lifetime value

Acquisition cost
By focusing your data analysis on actionable metrics that directly affect your revenue, you can make better marketing decisions that will affect your ROI.
Reduce overhead and operational costs
Your business's overhead (expenses that aren't revenue-generating) and operational costs eat your potential revenues and, therefore, your ROI.
Looking into cost-reduction opportunities that will help you cut back on overhead costs is an alternative to raising your product or service's costs to increase your revenue.
Farming out some of your business processes to offshoring firms can significantly decrease your expenses without compromising quality.
Re-evaluate your expectations
Your ROI doesn't always have to be measured in immediate monetary gains. However, they should still be easily identifiable.
For example, investing in employee engagement activities that foster a positive company culture helps you retain and attract employees.
This can result in lower employee turnover and higher productivity, contributing to higher revenue and ROI.
Shifting your expectations can help you see benefits that can't be easily quantified in conventional ROI metrics but, nonetheless, helps increase your business's ROI.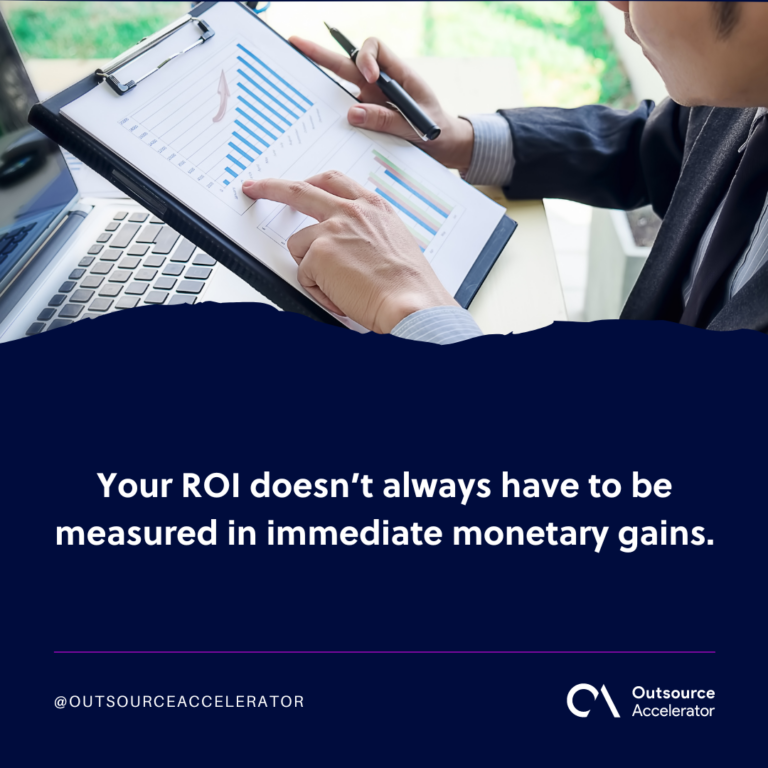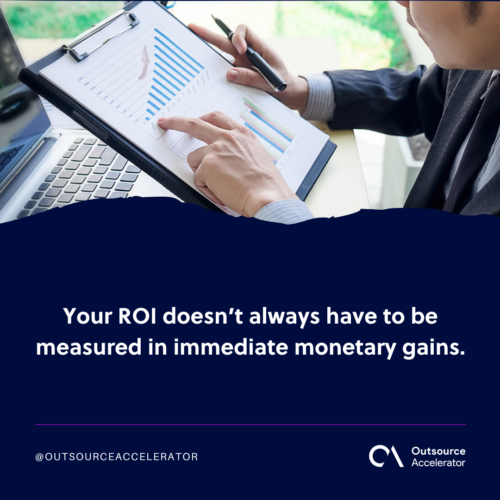 How to increase ROI through outsourcing
As stated in the previous section, outsourcing can help you reduce your operational and overhead costs by a significant amount.
Doing so gives you back the potential revenues that you would have spent on these resources.
But how exactly does outsourcing help you increase your ROI?
Outsourcing offers cost-reduction opportunities
Cost-reduction is among the top benefits of outsourcing any business functions.
Data from Zippia – a professional training and coaching firm that collects corporate data worldwide – indicate that businesses save as much as 70% to 90% on labor costs through outsourcing.
Aside from labor costs reduction, you can also save on overhead costs (e.g., facilities, equipment, training costs) when you outsource. Outsourcing firms typically shoulder these expenses.
Outsourcing gives you access to better tech
Investing in analytics and data analytics tools is one of the steps to increasing your ROI.
As service providers, these types of technologies are easily available to outsourcing companies.
Thus, you hit two birds with one stone when you outsource – get access to leading-edge data analytics tools and save on the expenses these would have cost you.

Aside from data analytics tools, outsourcing firms typically have better marketing software that can boost your campaigns and, ultimately, your revenues.
Outsourcing improves marketing campaigns
Offshoring your business's marketing lets you tap into the technological resources of outsourcing firms.
This means the latest industry technologies, such as customer relationship management (CRM) software, that can significantly improve your marketing efforts.
You'll also be able to hire seasoned marketing professionals with a wealth of marketing experience from various industries.
Outsourcing improves your customers' experience
As your business's process efficiency improves through outsourcing, your customers' overall experience will improve as well.
Offshore firms can cover your customer service on a 24/7 basis, which can drastically improve your customers' experience.
This fosters customer loyalty toward your company and can increase your conversion rate, particularly for ecommerce businesses.
While it may not directly add to your business's revenue, these benefits fall under the previously discussed, not-easily-quantifiable benefits that still contribute to increasing your ROI.
References:
[1] startup. Aldianto, A. et al. (2021). "Toward a business resilience framework for startups." Sustainability, 13(6). https://doi.org/10.3390/su13063132
[2] digital investments. König, M. et al. "Different patterns in the evolution of digital and non-digital ventures' business models." Technological Forecasting and Social Change, 146, 844-852. https://doi.org/10.1016/j.techfore.2018.05.006