How cloud staffing creative services can help a business's growth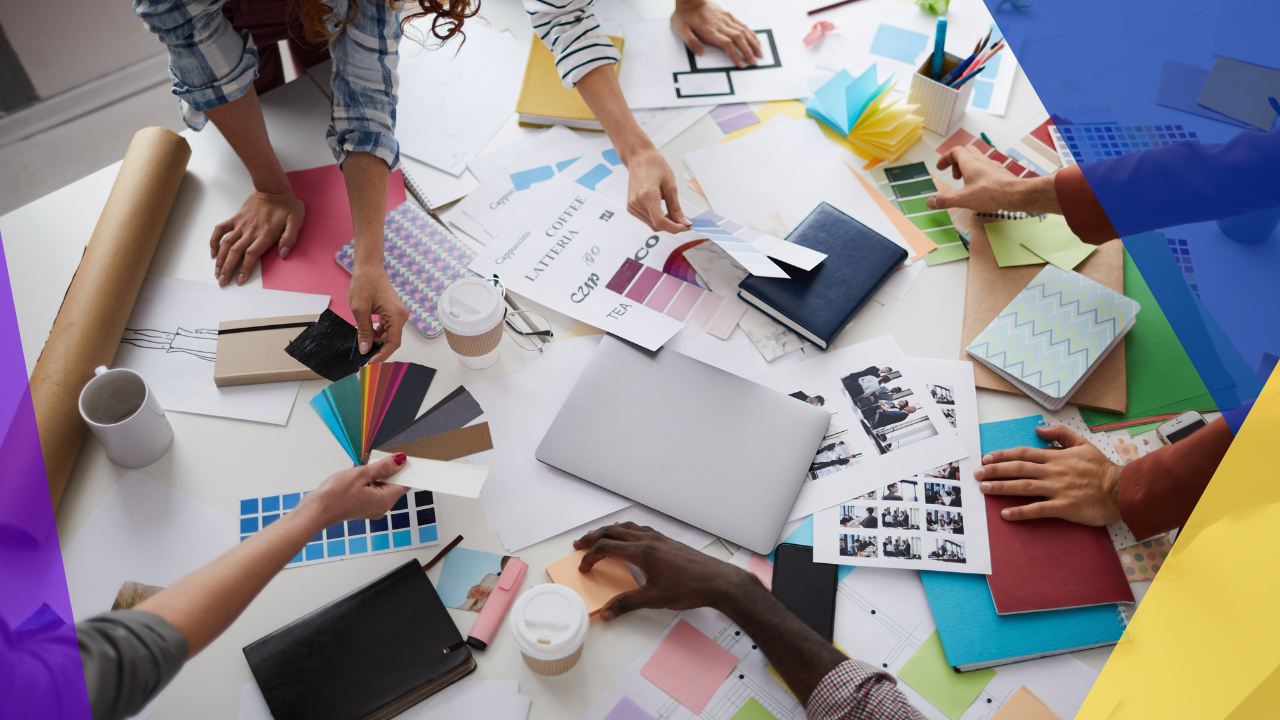 The digital age has brought consumers and businesses closer than ever before. What used to be a disinterested public has now become more aware and concerned with the brand identity of the businesses they're supporting.
Sadly, many businesses confuse branding with brand identity. This confusion leads to companies making bad choices for their brands.
This mistake – and other similar marketing blunders – could easily be avoided by integrating creative services into a company's functions.
However, not all businesses can afford the recruitment, hiring, and training expenses of even a small creative team. There are also companies that can afford to do so but are wary of the often time-consuming recruitment and hiring process.
Fortunately, plenty of outsourcing companies like Cloudstaff now offer creative services for other businesses that are significantly more cost-effective than building their own creative team from scratch.
With the availability of cloud staffing for creative services, businesses no longer have to worry about marketing gaffes.
What are creative services?
Creative services are a wide range of services concerned with producing output that traverses the lines between marketing and design.
This array of services is all about breathing life into a brand's message and identity.
Thus, the creative service umbrella encompasses various seemingly unrelated jobs, from copywriting and email marketing to game development and photo or video editing.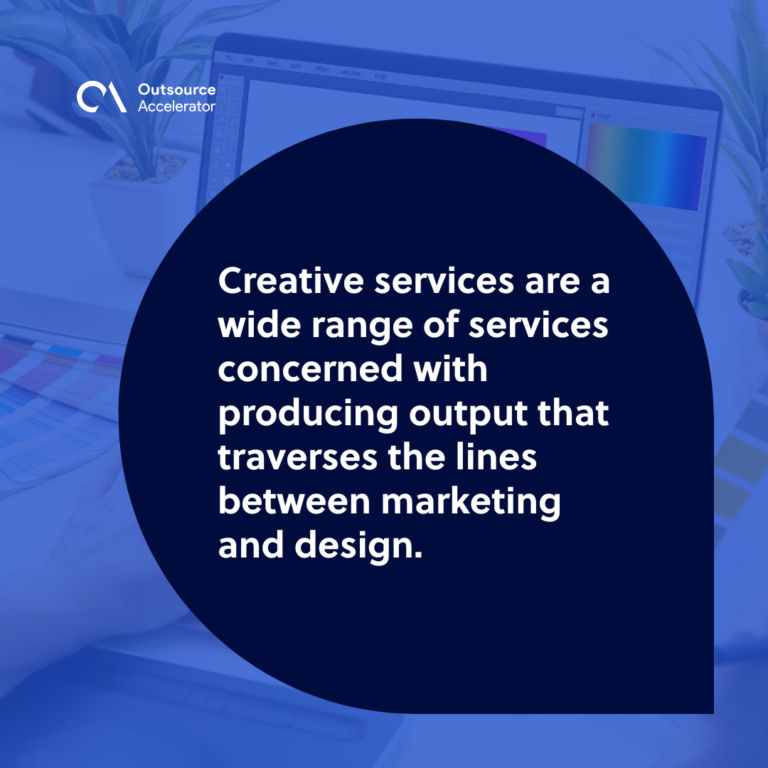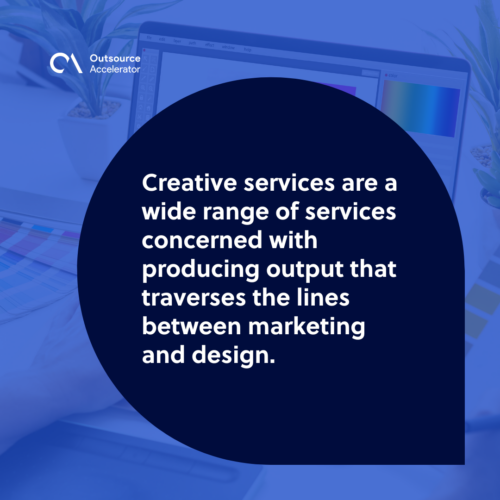 Despite the apparent dissimilarity between the many operations under creative services, they all share the same end goal of creating a resounding, consistent, and captivating brand identity that consumers would come to recognize.
Take a look below at some of the jobs that fall under creative services.
Content writing/content creation
Content writing or content creation, as the term implies, is the process of creating written content, often for digital marketing purposes. It can range from blog posts and articles to video and podcast scripts.
Content writing has increased in popularity alongside digital marketing and search engine optimization (SEO) best practices.
This popularity is largely due to the fact that creating search-engine-optimized content makes a business's website more visible online and increases the chances of lead generation and conversion.
Moreover, businesses that consistently produce quality content related to their brand identity establish themselves as reliable authorities in their fields.
Graphic design
The human brain processes visual imagery 60,000 times faster than verbal ones. Thus, in digital marketing, a picture is not only worth a thousand words but sixty thousand of them.
Graphic design banks on this fact when creating brand logos, ad visuals, or infographics to convey messages to consumers more effectively.
It goes hand in hand with content creation. Without compelling visuals, your written content may appear bland to the casual netizen with an attention span shorter than 10 seconds.
Video content/editing
If content writing and graphic design are the bread and butter of digital marketing, then video content is the cup of coffee that tops them off.
Video content helps consumers understand how to properly operate or handle complex or delicate products. This type of content can also be used to create an emotional connection with a business's consumers if verbal and visual images don't make the cut.
Basically, video content is a great marketing tool that can be used at any stage of a consumer's journey.
How cloud staffing creative services can help a business's growth
As seen in the few examples above, creative services are utilized for marketing a brand in various ways.
By helping businesses create a branding and brand identity that are memorable and exude their business values, outsourced creative services indirectly help them retain existing customers and convert prospects into new ones.
Moreover, an effective creative cloud staff gives businesses an edge over their competitors.
With the baby boomer generation entering retirement, the millennial generation – currently the largest adult cohort globally – will likely take over as the largest consumer group.
Millennials are notoriously thoughtful consumers, with more than half of the generational cohort saying they "almost always research before buying." Furthermore, 83% of millennials prefer brands that align with their values over other brands.
Thus, cloud staffing a creative team becomes even more crucial for businesses that hope to capture the attention and loyalty of this new generation of consumers.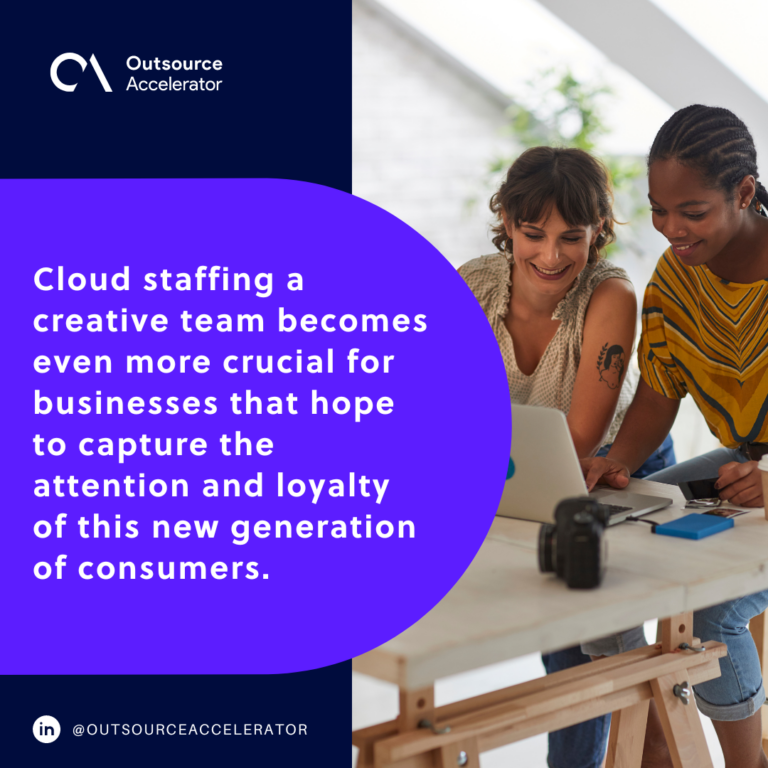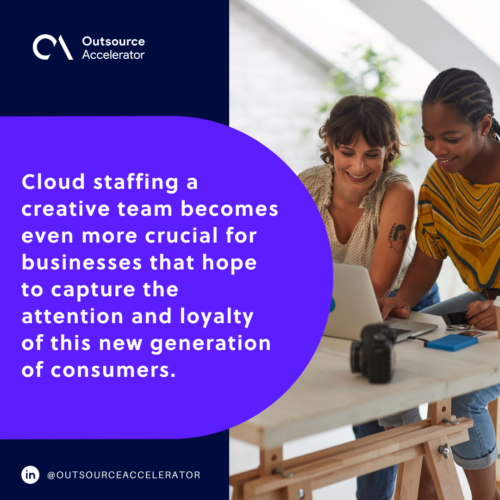 What creative services does Cloudstaff offer?
With 17 years of experience in the industry, Cloudstaff is well aware of the increasing importance of having a consistently reliable creative services team.
That's why Cloudstaff makes sure to provide cloud staffing of only the top talents in the creative industry. It also offers a wide range of creative services to fulfill whatever needs its clients may have.
Among the creative services Cloudstaff offers are graphic design, content writing, email marketing, video editing, 3D and animation, motion graphics, and web design, to name a few.
If your business requires a creative nudge to put you in the right marketing direction, get in touch with Cloudstaff and you'll be provided with a marketing roadmap in the form of creative output.