What is cloud enablement?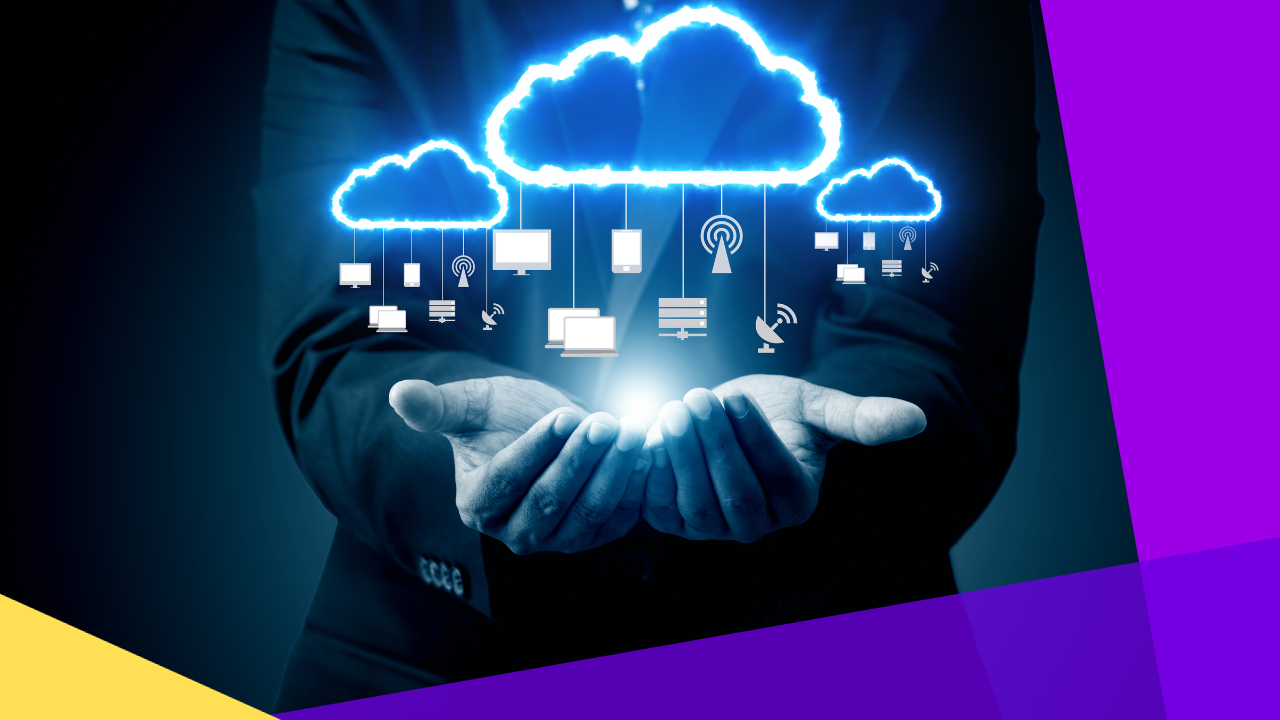 As digital transformation becomes the norm, cloud enablement has become a key driver of success for businesses across the globe.
EarthWeb reported that 94% of organizations worldwide use cloud computing in their operations.
It's not a surprise nowadays that any company uses some form of cloud service. That's why the minority haven't yet needed to be ready to transition to the cloud.
This article defines cloud enablement and explores its myriad of benefits. We'll also highlight potential challenges, discuss strategies, and guide you on getting started on your cloud enablement journey.
Cloud enablement defined
Cloud enablement transitions and optimizes business applications, data, and infrastructure to leverage cloud computing platforms and services.
The process involves moving from traditional on-premises environments to cloud-based solutions that offer scalability, flexibility, and cost-efficiency.
Cloud enablement empowers organizations to use the cloud's capabilities to drive innovation and streamline operations.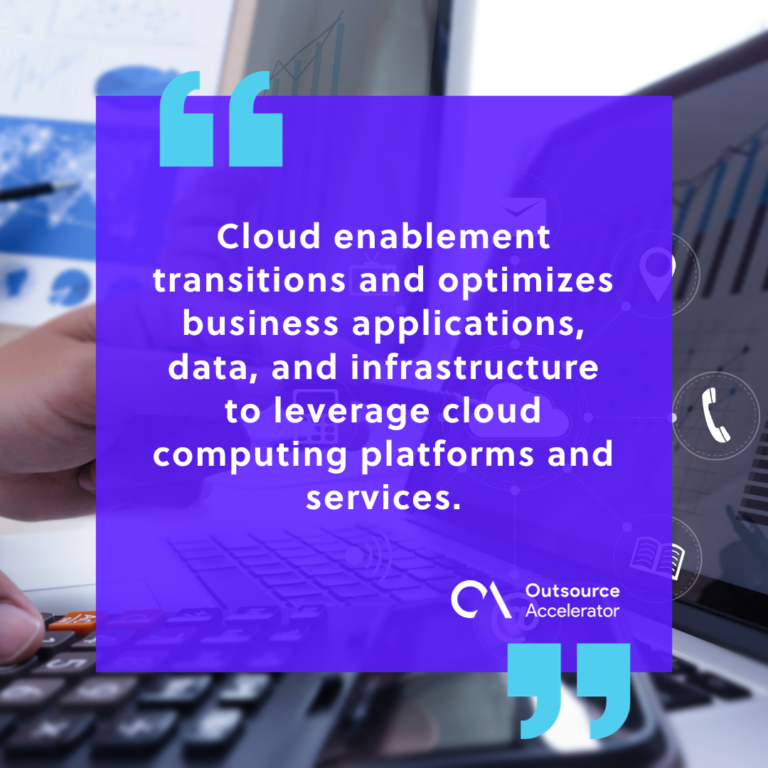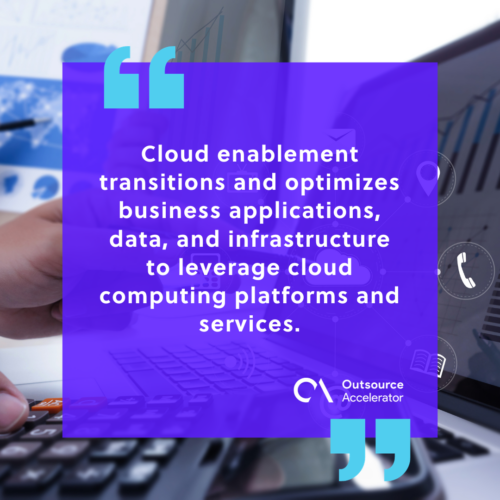 Benefits of cloud enablement
Implementing cloud enablement can yield several advantages for businesses, such as:

Cost savings
Cloud enablement reduces upfront infrastructure costs by cutting the need for physical servers and costly hardware upgrades.
Organizations can pay for cloud services on a pay-as-you-go basis, optimizing resource allocation and reducing operational costs.
A survey by Office 365 found that IT professionals using a cloud-hosted service saved up to 20% in infrastructure costs. Nearly 80% of the 250 respondents swear by the cloud's ability to simplify tasks and save resources.
Scalability and flexibility
Cloud platforms offer the ability to instantly scale computing resources and storage capacity. These capabilities let businesses adapt to fluctuating demands and handle increased workloads seamlessly.
Better collaboration
Cloud-based tools and applications enable real-time collaboration and data sharing. This promotes better productivity, efficiency, and innovation.
Enhanced data security
Cloud service providers invest heavily in data security measures and compliance certifications. 
Firms can benefit from robust security protocols, data encryption, and regular system updates 
Business continuity
Cloud platforms offer built-in data redundancy, disaster recovery, and backup capabilities. This guarantees business continuity in the event of unforeseen circumstances or system failures.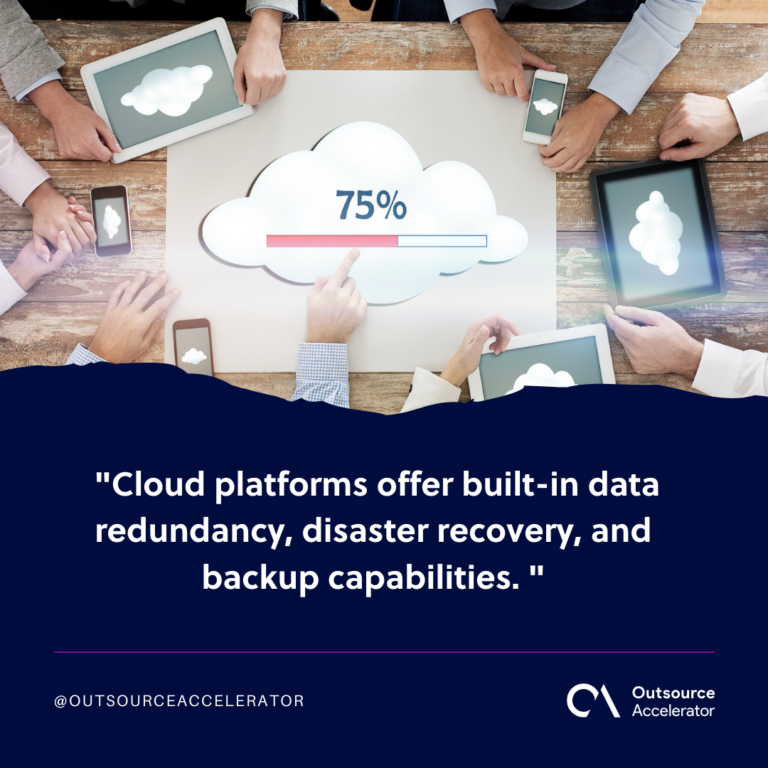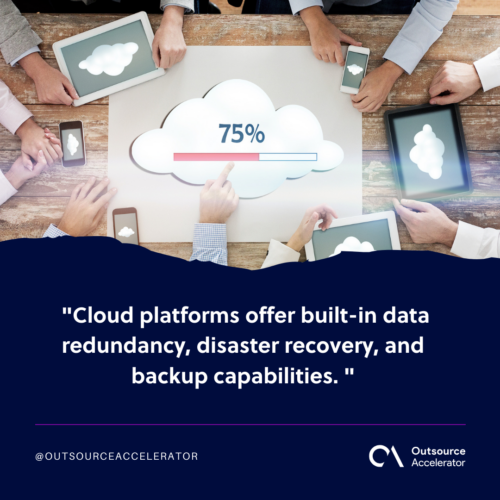 Challenges of cloud development
While cloud enablement offers many benefits, it is essential to know the challenges that can arise during implementation:
Legacy system compatibility
Migrating existing legacy systems to the cloud can be complex. It requires careful planning and consideration of compatibility issues, dependencies, and potential data migration challenges.

Vendor lock-in
Organizations must evaluate and select the right cloud service provider to avoid vendor lock-in. It can hinder future scalability, flexibility, and cost optimization.
Data security and privacy concerns
Companies must still address concerns about data privacy and regulatory compliance. They must have effective control over sensitive information stored in the cloud.
Skill gap
Cloud enablement requires a skilled workforce that can understand and use its technologies effectively. Businesses may need to invest in training, hire cloud experts, or partner with specialized cloud service providers.
Strategies for implementing cloud enablement
To embark on your cloud enablement journey, follow these steps:
Set clear objectives

. Define your organization's goals and expectations from cloud enablement initiatives. Align them with your entire business strategy.

Engage stakeholders

. Involve key stakeholders, such as IT teams, department heads, and senior management, in decision-making to ensure buy-in and support.

Choose the right cloud model

. Determine whether a public, private, or

hybrid cloud

model best suits your organization. Each has its own advantages and considerations.

Develop a migration plan

. Identify which systems or applications will move to the cloud and when.

Security and compliance

. Implement strong access controls, encryption, and monitoring to protect your data.

Staff training

. Ensure your team has the skills and knowledge to manage cloud resources effectively. Continuous training is essential in a dynamic cloud environment.

Start small and iterate

. Begin with a pilot project or a non-critical workload to gain hands-on experience. You can identify any potential challenges or areas for improvement.

Continuous optimization

. Use analytics tools and performance metrics to identify areas for cost savings, performance enhancements, and security improvements.

Evaluate success

. Always assess the impact of cloud enablement on your business. Measure KPIs and compare them with predefined targets to gauge the success of your initiatives.
Your organization can make the most of cloud enablement by having a clear plan, dealing with issues ahead of time, and always improving your cloud setup.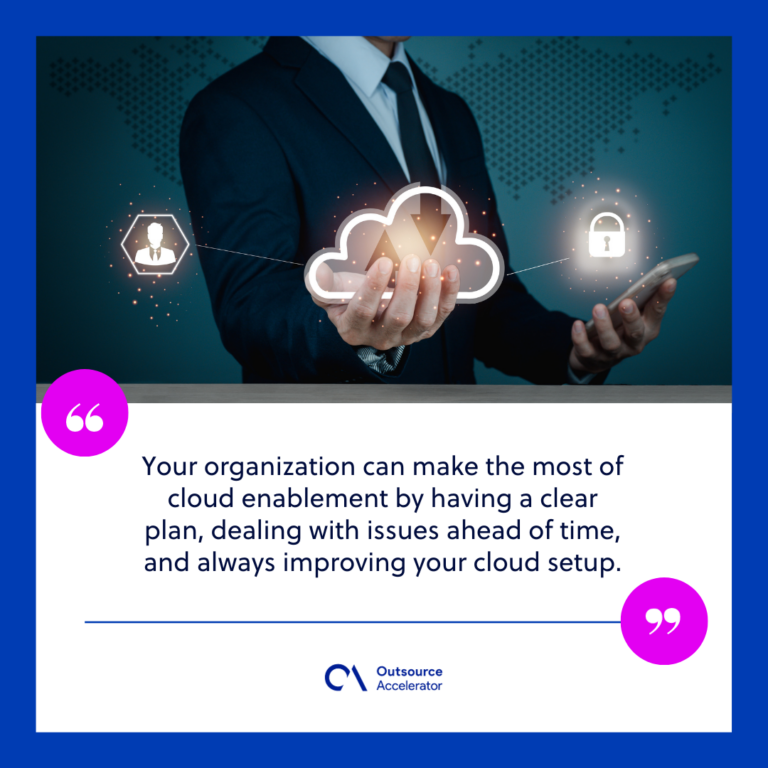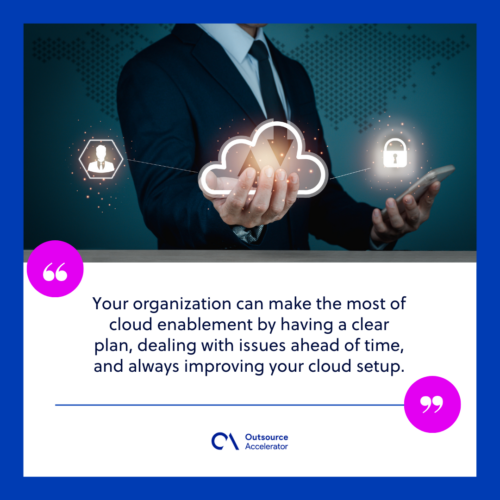 Getting started on cloud enablement
The cloud has revolutionized how we operate. It has become an essential component of digital transformation.
Cloud enablement is the gateway to a more agile, cost-effective, and innovative business environment. By embracing the cloud and adhering to best practices, businesses can unlock new opportunities and remain competitive in a rapidly evolving digital landscape.
Organizations can also future-proof their operations, enhance productivity, and achieve business success.
Whether you're just starting your cloud journey or looking to enhance your existing cloud capabilities — it's clear that the future of business technology awaits in the cloud.