A guide to choosing the right cloud consulting company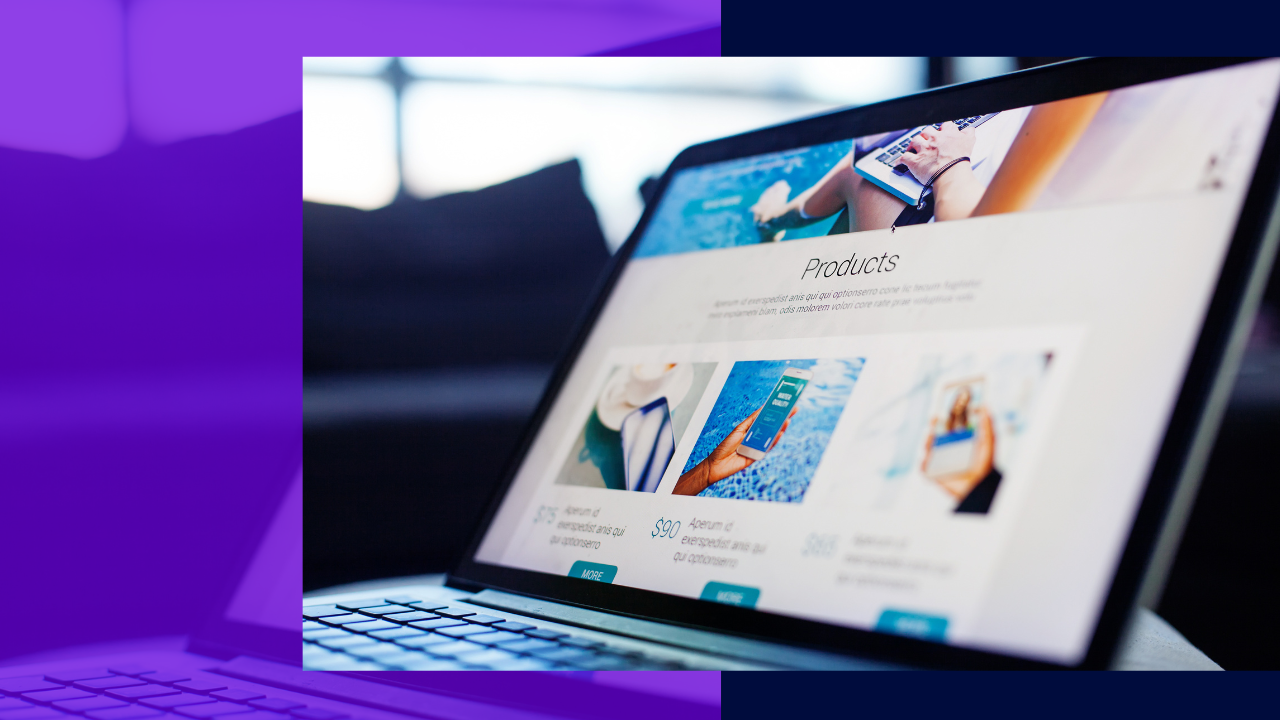 Cloud projects are complicated because they have many parts that need managing. But they help businesses reach their goals and become more competitive and flexible.
This is why many businesses ask for help from a cloud consulting service provider to help them with the process.
As cloud computing and cloud services become more mainstream, companies outsource to third-party providers specializing in cloud implementation.
With the right approach, consultants help set up a cloud environment that works well for a company requiring it.
Additionally, cloud service providers can do everything from running software applications to processing data. However, not all cloud infrastructures are created equal.
Some cloud consultants provide implementation, migration, and support expertise for businesses that require complex and customized cloud computing solutions.
But how can you choose the right cloud consulting partner? What should you be looking for in the right provider? This article will answer these questions.
What is cloud consulting?
Cloud consulting is an outsourced service that assists in implementing and using cloud computing.
Generally, the idea of cloud consulting is to establish a strong foundation for the organization's cloud initiatives.
Cloud consulting services are typically provided remotely via the internet, and consultants often visit client sites only when required.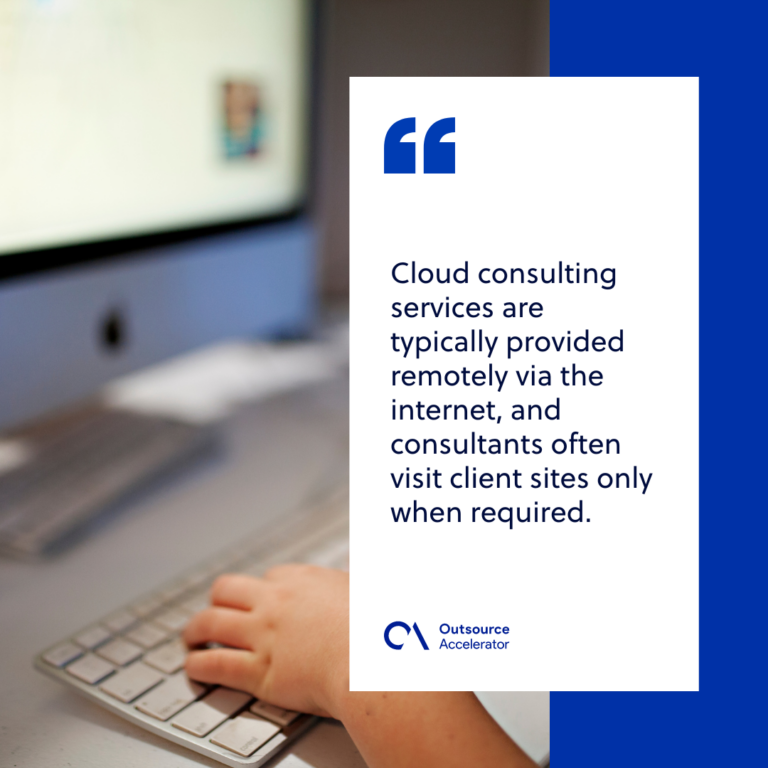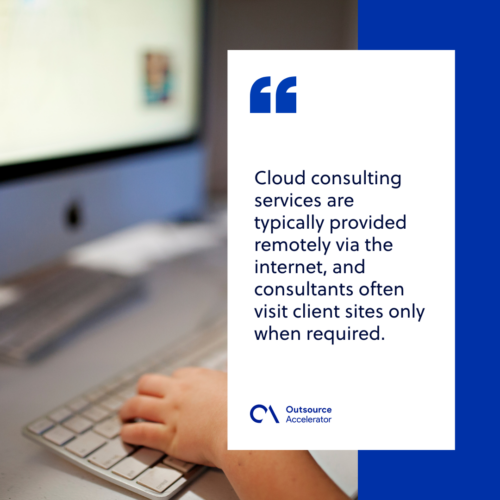 It builds a strategy from cloud readiness assessments and cloud cyber security to guarantee that the business data, apps, and workloads are prepared for the digital future.
Cloud Consulting companies provide their services contractually, focusing on using cloud computing and other "as a service" technologies like PaaS, IaaS, and SaaS.
Outsourcing cloud services will not require investing in the infrastructure to launch a project. Cloud consulting providers help businesses to merge their expertise, time, and assets on cloud-based applications.
A consulting firm or an analyst team gets paid to guide clients on how they can use cloud technology and establish their business objectives.
This approach allows businesses to economize on physical IT expenses such as:
Ensuring quality support infrastructure

Employee training

Software and hardware procurement

Operating system license expenses
Cloud consultants suggest ways for organizations to improve their business objectives. This enables firms to analyze how their security model works.
They also describe all available services and advise tech firms to enhance security systems. It's a way to protect their cloud environment from cyber threats.
How to choose the right cloud consulting company?
Working with the cloud opens new business possibilities and enables more creativity, productivity, and agility.
Choosing the right cloud consulting company is a process that requires expertise and a clear understanding of the business needs.
The following are a few tips in choosing a cloud consulting service provider:
1. Understand your cloud strategy
You must understand how your cloud strategy works before selecting a cloud consulting company because it is one of the most critical aspects in determining business growth.
The first step to understanding the strategy is to learn about the features and benefits of cloud computing. The second is to assess your business processes.
You can evaluate your cloud strategy from three perspectives:
Strategic perspective

Organizational perspective

Technical perspective
2. Know what your business needs
Identifying your business requirements gives you a clear picture of what services to expect from any cloud consulting service provider.
If you don't know what your demands are right now, you can still ask for the assistance of a consultant to evaluate your business's needs.
To help you determine your requirements, ask yourself the following questions:
What are my business concerns that the cloud can fix?

What kind of assistance will we require during and after the transition?

Do we have enough budget for the cost?
Once you know what type of cloud assistance you need, it will be easier to analyze and select the best cloud consultant for your business.
3. Define your budget
Understand the cost of moving to the cloud environment before you avail of the service of a cloud consultant.
Although it's not a requirement, availing of cloud consulting services without setting a budget might result in overspending or underspending.
So before you start working with your cloud provider, make sure you know what services are available to you in terms of price and scope of service.
4. Hire the right people for the job
Hiring the right people is critical because they will be the driving force for the betterment of your cloud environment.
Additionally, delivering high standards in the cloud environment sets you apart from the rest of your competitors.
5. Learn about their approach to cloud management
Companies shouldn't go into the cloud without knowing their provider's approach to cloud management.
The best way to learn about your service provider's cloud management system  is to schedule a meeting and ask them how they manage cloud services.
A forward-thinking provider will work with you to develop a cloud system that keeps your IT department focused on growing your business.
6. Beware of vanity metrics
Other consulting companies have metrics that sound good but don't matter in the end and can mislead your marketing strategy.
Examples of vanity metrics are customer acquisition cost, lifetime value, satisfaction, and NPS score–so any metric can be a vanity metric.
But you must identify which metrics gain the most followers and produce accurate results. 
7. Ask about the tools and technologies used
Before you sign any contract with a cloud consulting company, it is important to know what you'll be getting.
If the cloud is an extension of your business, you must ensure your cloud consulting provider has the right tools and technologies.
Asking what tools are in their toolbox ensures that the cloud consulting company you have chosen can give you what your company needs.
8. Check client reviews and testimonials
Brand reputation is important to businesses because it determines how good or bad they provide their service. 
If a company is just starting, chances are they don't have much information online. But this shouldn't make you question their abilities to do the job.
However, it is still vital that they have an online presence. Check what former clients say about their experience with the cloud consulting company to determine if it is reliable.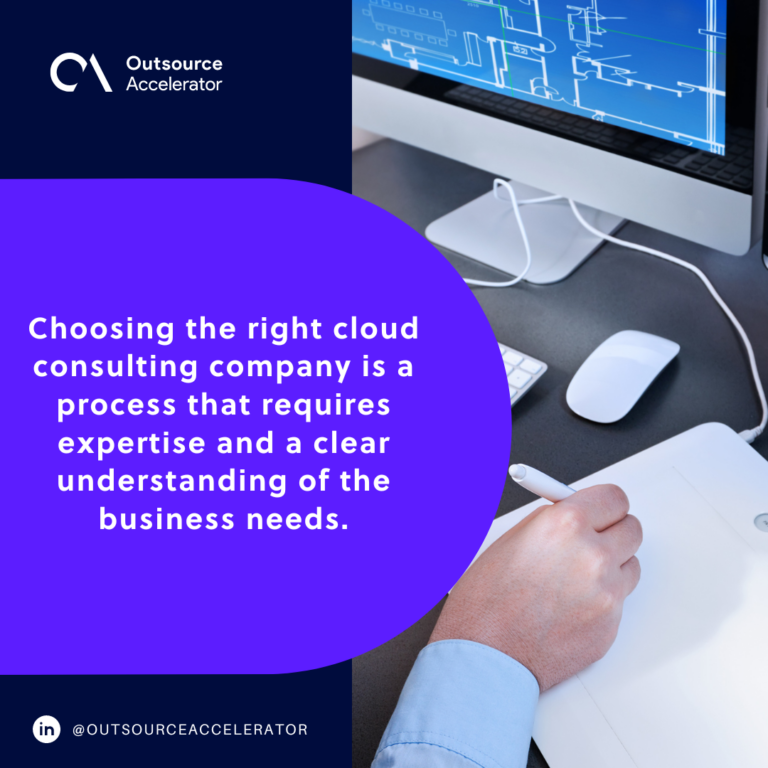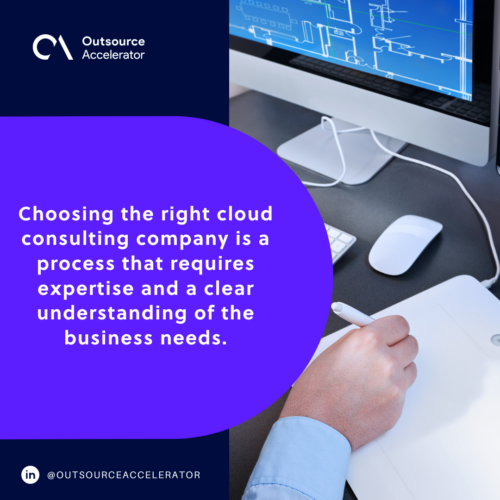 Summing up on selecting a cloud consulting company
Choosing a competent cloud consulting company with adequate experience is crucial.
A business must identify the right company with relevant skills and expertise. Having the right service provider leads to an excellent working relationship that helps your business grow.
The right cloud consulting company can determine which types of technology and applications are ideal for your business requirements.
If you are looking for a cloud consulting company, keep in mind the tips above and choose the one that fits you and is well within your budget.