Top 10 skills for a certified coding associate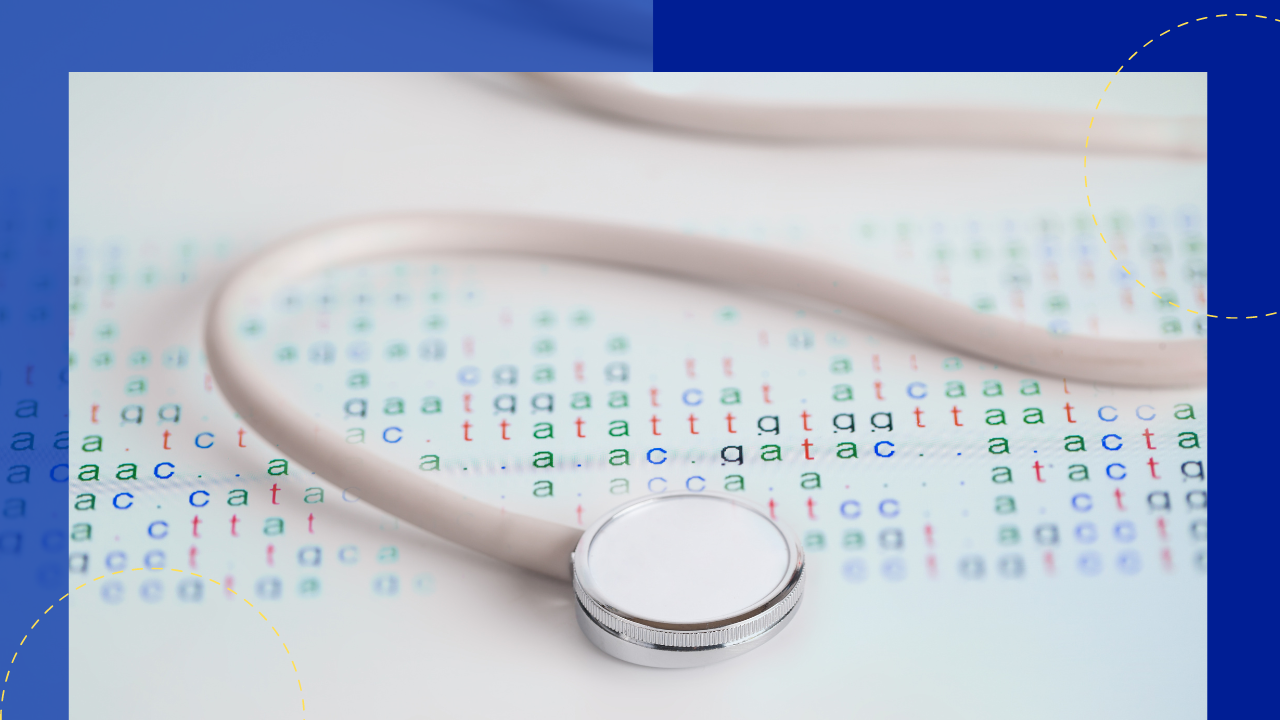 The advancement of technology in the fast-growing healthcare industry has a huge impact on the quality of medical services. 
Today, aside from doctors and nurses, many careers in healthcare support occupations also make a difference in patients' lives. For instance, medical coding[1] and medical billing functions are in-demand in the healthcare business.  
Such careers also include a certified coding associate. These professionals have coding competencies in both the hospital and medical practices. 
With the increasing demand for electronic health records,[2] healthcare institutions require more certified coding associates that deal with coding, claims, and furnish reimbursements.
This article will discuss the fundamental questions about certified coding associates, their roles and responsibilities, and the essential skills needed. We'll also discuss their significance in the healthcare industry.  
What is a certified coding associate (CCA)? 
A certified coding associate is a healthcare professional that specializes in medical coding. They play a vital role in health information management in hospitals, diagnostic centers, and care providers. 
It is an entry-level certification for medical coders. A medical coder professional translates medical diagnosis, medical services, and equipment into standardized codes. 
There is a growing market for medical coding solutions. In fact, the global medical coding market is projected to grow by $23.73 billion with a compound annual growth rate (CAGR) of 10.62% in 2026.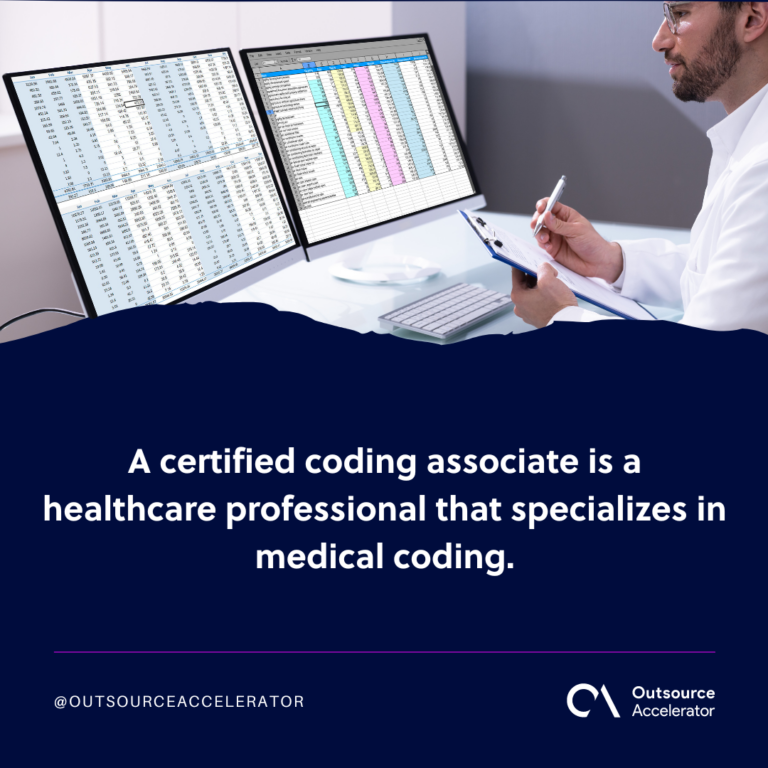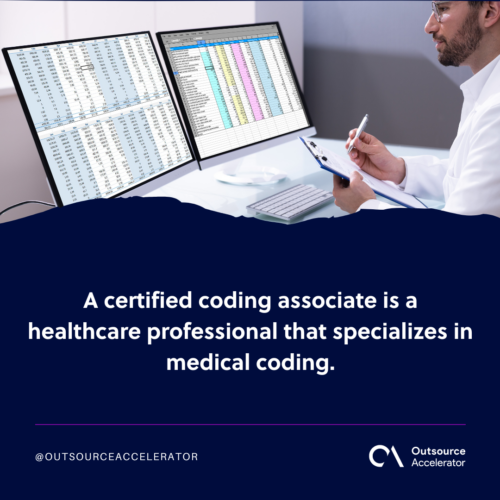 Roles and responsibilities of a certified coding associate
A certified coding associate encompasses many roles and responsibilities. This professional medical coder ensures all relevant information is appropriately coded to a high level of accuracy. 
Here is the breakdown of certified coding associate's roles and responsibilities:
Translating patient information into standardized codes

Assigning CPT, HCPCS, ICD-10-CM, APC, ASA, and DRG codes

Ensuring compliance with medical coding policies and guidelines 

Maintaining and ensuring database security for patient data confidentiality 

Preparing charts and reports and performing chart audits 

Submitting and following-up claims with insurance companies 

Collecting and payments for each patient account 
Essential skills of a certified coding associate 
There are a handful of hard and soft skills that certified coding associates need to possess. Medical coders play an integral role, they are lucrative as any other profession in the healthcare industry. 
Here are the skills required from a certified coding associate:
1. Communication and interpersonal skills 
Although dealing with patients is not part of their job, excellent communication and interpersonal skills are still necessary to possess. Certified coding associates often interact with doctors, nurses, and other healthcare staff to discuss important details. 
Certified coding associates might also get in touch with insurance providers or clients to discuss patients' records for accurate coding. 
Thus, keeping a professional tone and active listening is essential to ensure that data doesn't get lost in translation, may it be verbally, written, or computer-based. 
2. Technical skills 
Being proficient in computers and having the ability to adapt to new technologies is important for a certified coding associate. Most organizations use electronic health records (EHR) software for coding and billing functions. 
Some technical skills of certified coding associates include:
Medical coding

CPT coding

Inpatient coding

ICD-10

HCPCS coding

Customer billing

Health information technology

Clinical documentation

Health Insurance Portability and Accountability Act (HIPAA) compliance
3. Understanding of medical terminologies
Certified coding associates need extensive knowledge of clinical anatomy.
Like other healthcare practitioners, they have in-depth knowledge of anatomy, physiology, pharmacology, disease processes, and different classification systems. It enables them to assign procedural and diagnostic codes to medical terminologies properly. 
4. Analytical skills 
Great analytical skills are important for a certified coding associate to be able to analyze patients' health records to determine what codes are appropriate. 
This is to ensure accurate billing and the healthcare service provider gets paid on time for the services rendered. 
5. Computer literacy
To be able to navigate certain software programs, being computer literate is also an essential skill for a certified coding associate. Some software programs include Homecare, AdvancedMD, Homebase, DrChrono, Nextivity, and Centricity. 
Moreover, medical coders enter data and diagnosis codes with fast and accurate 10-key typing speed skills. 
6. Conflict management 
Medical coders often encounter tough situations. In day-to-day operations, a certified coding associate deals with negotiating payments with clients and insurance firms for denied claims. 
There is a possibility for problems to arise. Thus, conflict management is another important skill for navigating this kind of situation. 
Certified coding associates must be agile, resourceful, able to listen attentively, and empathetic to provide better assistance.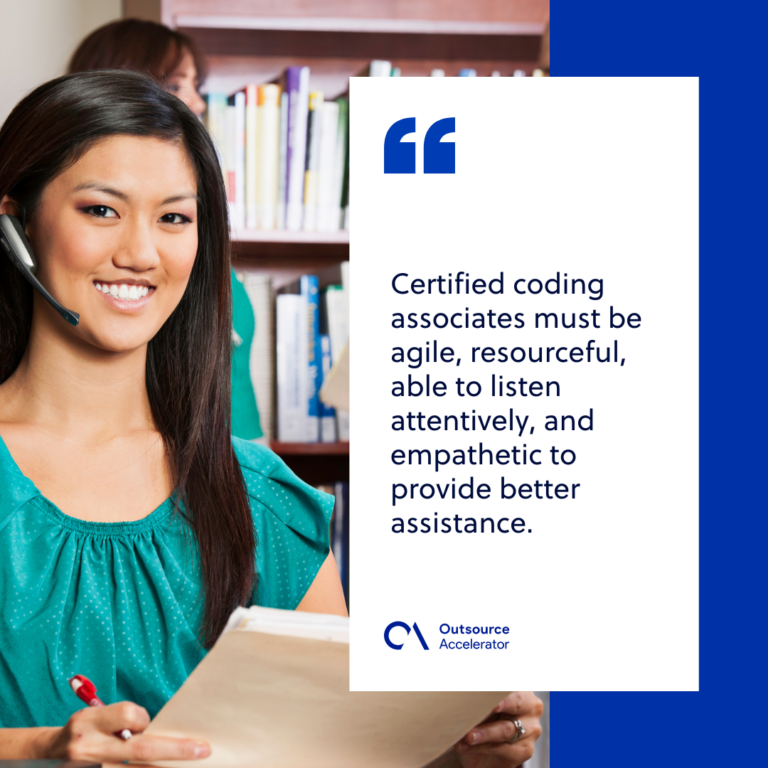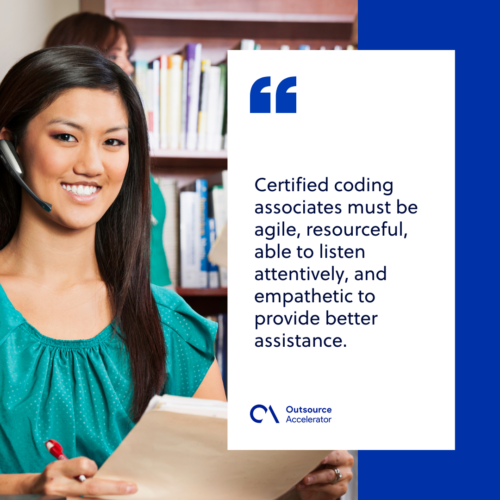 7. Attention to detail 
Attention to detail is one of the critical skills for medical coders and billers to avoid discrepancies and disparities in coding and billing software. 
Certified coding associates ensure that alphanumeric codes are allocated properly and each payment details correlate with the record fed into the system. 
8. Organizational skills
Having organizational skills enables medical coders to save time, increase productivity and work effectively when things get busy. 
Certified coding associates manage all the data for many cases systematically and patients at the same time. Keeping all the information organized and accurate is particularly important to save time from the hassle. 
9. Works independently 
Medical coders can do their job proactively and finish their work on time and with minimal supervision despite the distractions of a busy environment. Working independently maintains their productivity and good performance at work. 
10. Time management 
Certified coding associates have a variety of responsibilities. Thus, managing their workloads and schedule is quite a struggle. 
To handle relevant data and patients at once, time management is an important skill to do their job efficiently and effectively. 
Importance of certified coding associate in the healthcare industry 
Medical coding is critical in any healthcare setting. A skilled professional like a certified coding associate can fill this role to keep up with the medical business processes of hospitals and medical offices.  
This role is notably valuable not because it deals solely with coding but also affects the procedures, diagnosis, treatments, and patient care relevant to quality healthcare service. 
In essence, a certified coding associate improves daily organizational operations by giving quality service, a vital factor in the growing healthcare industry. 
Article References:
[1] Medical coding. Adams, D.L., Norman, H. and Burroughs, V.J. (2002). Addressing medical coding and billing part II: a strategy for achieving compliance. A risk management approach for reducing coding and billing errors. Journal of the National Medical Association, [online] 94(6), pp.430–447. 
[2] Electronic health records. Jensen, P.B., Jensen, L.J. and Brunak, S. (2012). Mining electronic health records: towards better research applications and clinical care. Nature Reviews Genetics, 13(6), pp.395–405. doi:10.1038/nrg3208.