Top 10 call queue software in 2024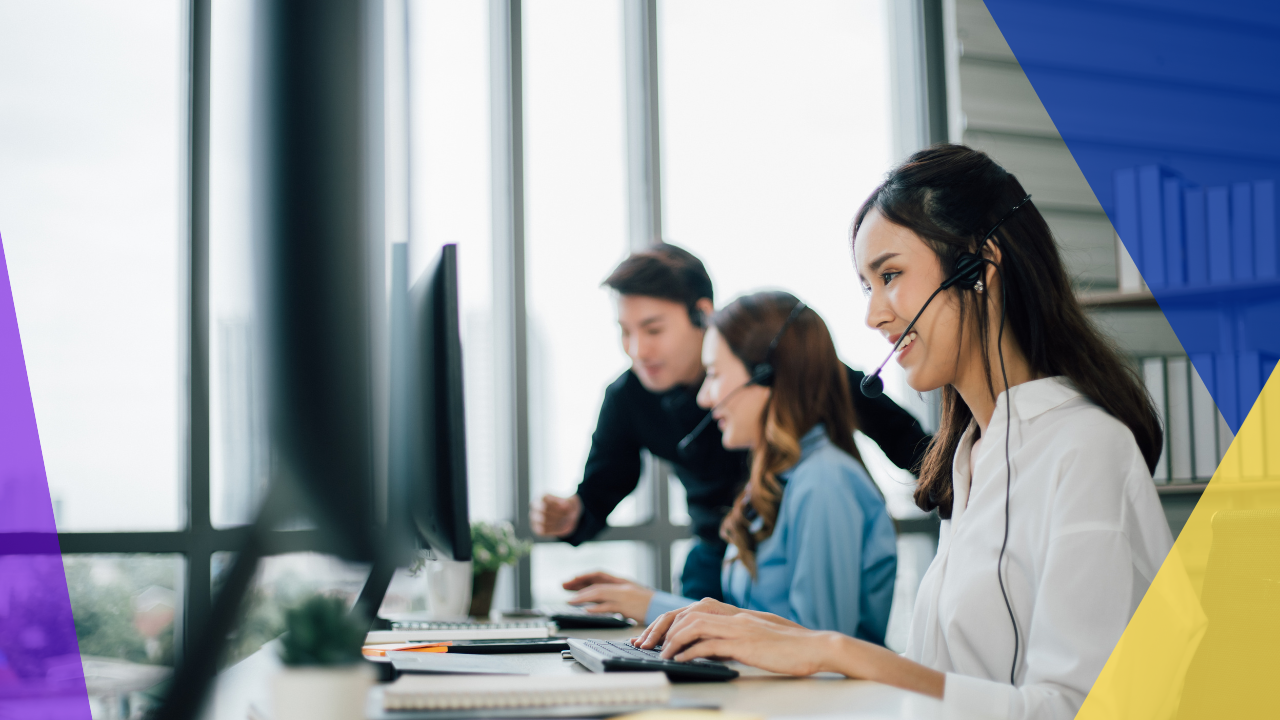 List of 10 best call queue software in 2024
Customer expectations are rising, and businesses are expected to be available to customers 24/7. However, managing a high volume of incoming calls can be overwhelming, especially for small businesses. 
When a call center is equipped with a call system, the first thing to understand is that each customer request has its own work order record. This makes it complicated for the agents to handle their tasks. 
Fortunately, call queue software provides an effective solution to help businesses of all sizes manage their incoming calls and queue system and provide top-notch customer service[1].
Call queue software is a must-have call center solution for any large or small business. It streamlines a business workflow and also enhances customer satisfaction[2].
However, other call center software solutions come with unnecessary features. Read on to discover the top ten call queue software. 
What are the call queue software features you need to look for? 
Call queues are an important aspect of call center operations, allowing agents to manage incoming calls more efficiently and effectively. 
A call queue software can be used for many purposes, but it is most commonly used to route incoming calls to agents in a call center.
Many companies have been investing in software to streamline their operations. Straits research's latest report shows that the global contact center software market size is projected to reach USD 165 billion by 2030.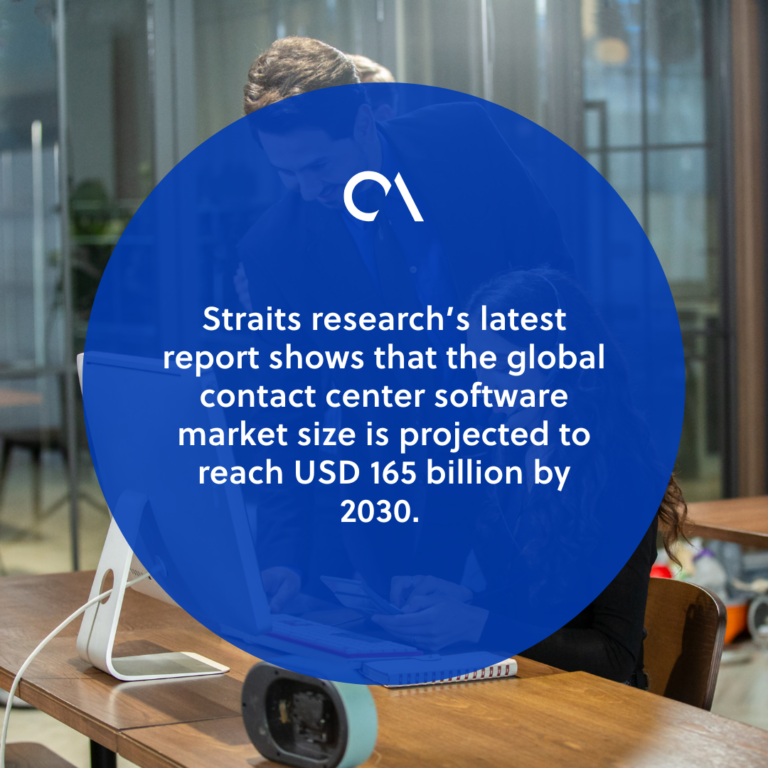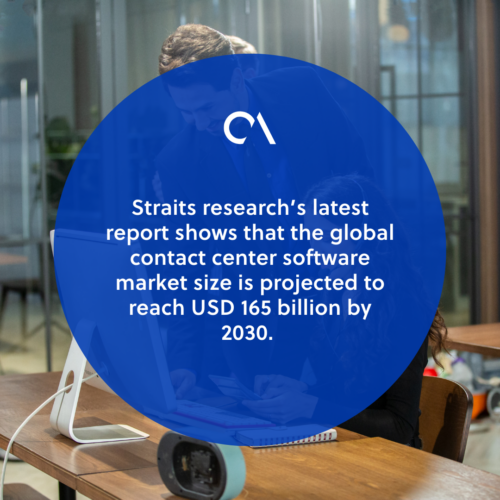 Call queue software has many useful features that can help improve business:
Web-based interface –

allows employees to access their data from anywhere on any device with an internet connection. This gives them flexibility since technology limitations do not tie them down.

Queue management –

can be set up to handle multiple calls at once. This allows callers to get through to the appropriate department quickly and with less wait time on their end.

Callback capability –

lets

agents contact customers who could not reach them, enabling them to follow up with questions or concerns. 

Call distribution –

agents can split incoming calls between multiple agents at once or assign them to specific agents individually. 

Automated attendant –

includes greeting customers with options right when they call in so they can easily find what they need. 

Queue status indicators –

agents are able to monitor how many calls are currently waiting in the queue along with their estimated wait time from within their own call center software.  

Busy call handling

– used to auto-route incoming calls to another available agent or customer service rep (CSR). 

Call recording and analytics –

call recording and analytics feature metrics such as average call length or wait time help improve performance and better serve customers. 
Key advantages of call queue software
Call queue software has become a valuable solution for call centers that need a way to ensure that all calls are answered quickly and efficiently. 
Here are the key benefits of call queue software:
Improve customer service 
Call center queue software allows agents to provide callers with an enhanced and high-quality service through real-time data about their place in line and estimated wait time. 
This helps agents to plan their day more efficiently while improving their overall experience when they offer assistance.
Reduced costs 
Most call centers with a high volume of incoming calls invest heavily in infrastructure and workforce, which can be costly. 
With call queue software, businesses can lessen their operating costs by leveraging virtual agents who work remotely. Reducing staff also means companies can avoid paying expensive recruitment and training fees.
Increased efficiency 
Call queue software is designed to increase business efficiency by grouping calls according to their purpose, type, or priority so agents can focus on their most critical tasks. 
Regardless of how many agents, businesses can always add more people to a single queue. It will help manage each agent's workload and provide better service to customers.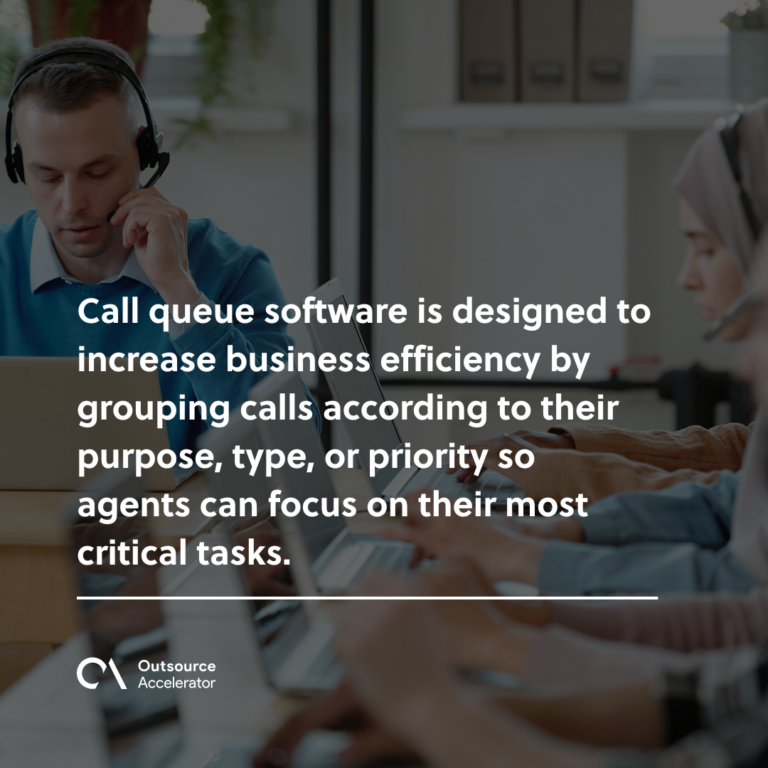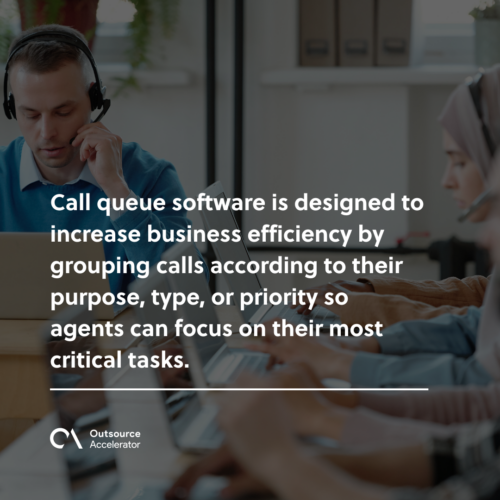 Boost revenue 
Contact centers are a major contributor to the company's overall revenue generation since they help generate leads and sales opportunities. 
Call queue software allows call centers to have more people available at all times. It can help boost their revenue by letting callers make purchases or schedule appointments during peak hours.
Top 10 call queue software in 2024
To get the most from your call center software, it's essential to choose the right one for your business needs. 
Here are the top call queue software options available:

CloudTalk is an innovative call queue software that helps businesses handle inbound and outbound calls and automate phone answering, customer tracking and reporting, and live chat.
The platform offers a wide range of features, including: 
Real-time reporting

Analytics

Collaboration
Scheduling calls can be a time-consuming task. With CloudTalk's automated call scheduling feature allows you to set up weekly call schedules for agents with just a few clicks.
Its interface is simple and intuitive, making it easy for your employees to get started with minimal training. 
CloudTalk is free and can be used for up to three users at no cost. 
LiveAgent is a simple, fast, and very easy-to-use call center software. It is designed around the idea of helping businesses improve their customer experience. 
LiveAgent has a lot of key features:
Manage incoming calls

Create a professional call-back system

Answer questions (via chat or email) 

Forward or record calls

View detailed reports
In addition, it integrates with popular CRMs, has mobile apps for Android and iOS, and can be used with the company's cloud infrastructure. 
The free version of LiveAgent includes most of the functionality needed for small businesses.
Squaretalk is a cloud-based call queue solution that provides organizations with the tools they need to manage their business effectively. 
It offers features such as an automated dialer engine and calls queueing capabilities, which help organizations improve their call center operations. 
Moreover, this call queue software also offers powerful reporting tools that allow users to monitor metrics such as agent performance for better management capabilities.
The best thing about SquareTalk is its seamless integration with other CRMs like Salesforce and Zendesk.
Zendesk is software that offers multiple ways to connect with customers. 
Agents can manage all customer interactions from a centralized location and create custom workflows to provide the best possible customer service. 
Zendesk is well known to be affordable, easy to use, and customized to suit a company's unique needs. 
Salesforce Service Cloud is a powerful call queue software enabling custom queueing systems in a high-quality service across multiple channels. 
Its unique features make monitoring and managing incoming calls easy. For example, its intuitive interface allows firms to create different types of reports. 
Five9 has been around for ten years and has over 1,000 customers worldwide. It is a feature-rich, cloud-based call queue software that helps manage customer lifecycle. 
The software features include automated call routing, real-time analytics, and web collaboration tools so agents can work together to deliver exceptional customer experiences.
If you're focusing on building customer relationships with ease, then Zoho Desk is the right software for you. 
Zoho Desk is a hosted software that can be accessed anywhere. It offers features such as:
Email, chat, and social media integration

Customizable workflows 

Reporting and analytics

Employee management tools

24/7 support 
Unlike the other software, Zoho Desk has several plans depending on the company's needs and budget. All plans come with unlimited users, calls, and conversations.
ContactSPACE has an all-inclusive package that includes easy-to-use customer service software, a powerful CRM, and a human resource management system. 
This software works with the most popular telephony systems, including VoIP and PBX. The vendor also offers customized versions to meet specific business needs.
ContactSPACE integrates with other software like:
Salesforce

Zoho

Hubspot 

Microsoft dynamics

SugarCRM

Stripe
Bitrix24 comes with a feature-rich set of functions that enables it to manage the customer support department successfully. This includes real-time reporting, unlimited agents and channels, and multi-queue management. 
The best part about Bitrix24 is that businesses can use it even without any prior experience in such software. 
CallHippo has several offerings that make it stand out. It comes with call queues and call center features that can help in contact center operations. 
It has an easy-to-use interface and offers a variety of tools to help you manage your business effectively and efficiently.
Choose the right call queue software for your call queue management 
Companies must manage their call queues effectively. However, finding quick, affordable, and efficient call queue software is not always easy.  
Investing in the right call queue software that significantly helps improve the overall customer experience is crucial.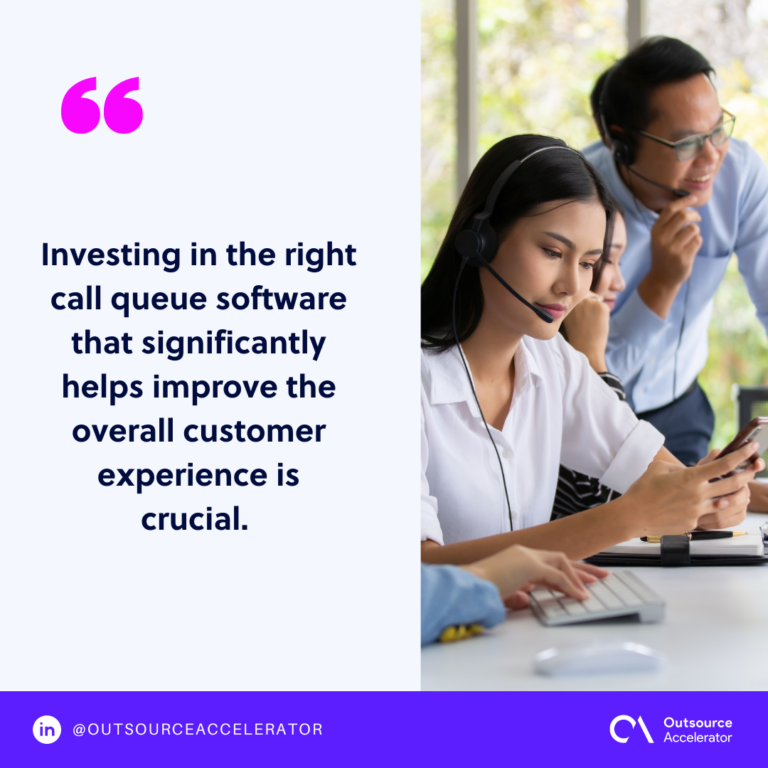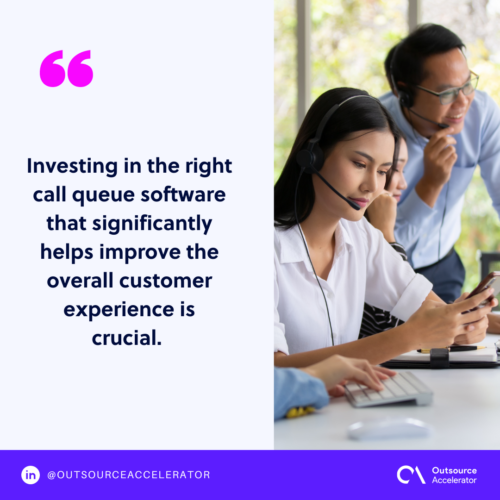 Many options are available today if you're looking for call queue software. To help you with your decision, we've compiled the list above, so you can clearly understand each type of call queue software and how it works. 
Article References:
[1] Customer services. Kurniali, S. and Titan (2015). Customer Service Information System for a Call Center. Procedia Computer Science, 59, pp.298–304. ‌
[2] Customer satisfaction. Eneizan, B., Taamneh, M., Enaizan, O., Almaaitah, M., Ngah, A. and Alsakarneh, A. (2021). Human resources practices and job satisfaction on customer satisfaction: The mediating role of quality of customer interaction in online call center. International Journal of Data and Network Science, [online] 5(1), pp.11–18.