What are calls in queue and why are they important?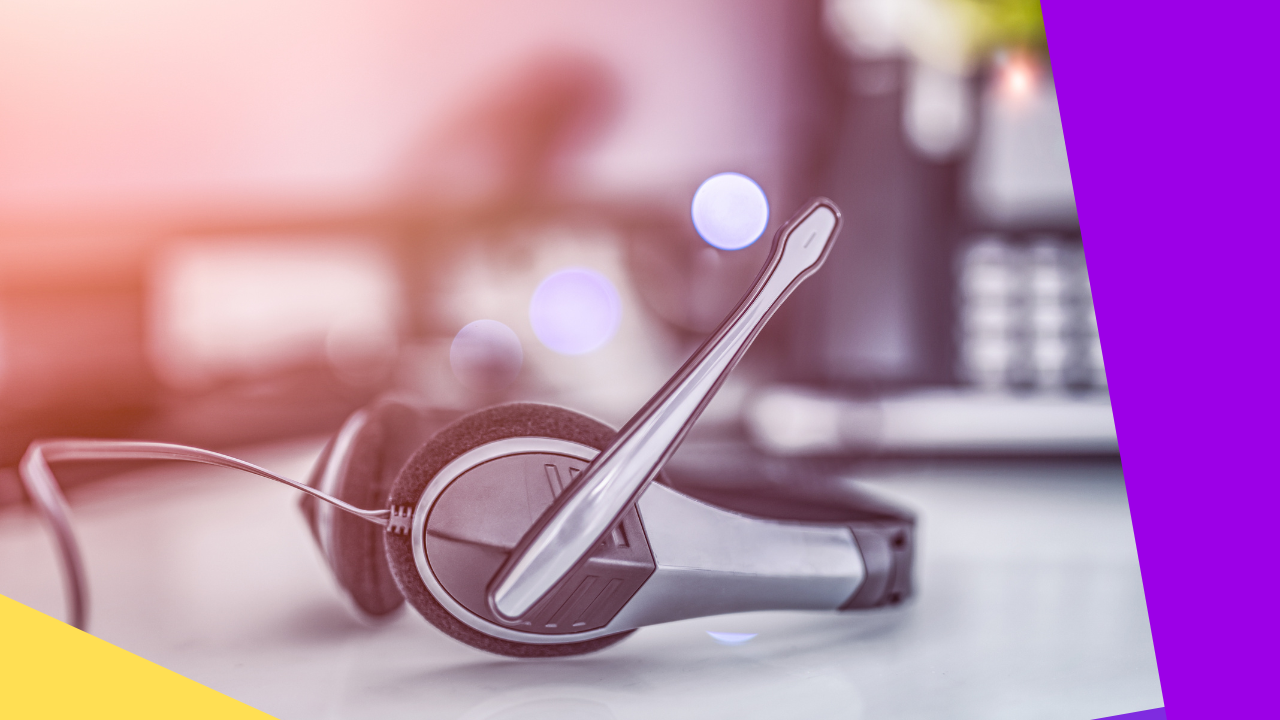 Offering quality customer service can be a challenge for small businesses that don't have the resources to hire a large call center[1] staff. 
If a company doesn't have enough agents on hand at any given time, callers will have to wait until an agent becomes available before they can be helped with their issue. 
This can cause customer frustration and lead some people to hang up without leaving a message or contacting via another channel.
To avoid this situation, consider optimizing your call queue system to provide high-quality customer service. With the right strategies, you can ensure a satisfied customer.[2] 
This article will feature calls in queue, ways to optimize it, and how it can benefit businesses. 
How do calls in queue work?
Calls in queue refer to the number of incoming telephone calls waiting in a line to be answered by an available agent or representative. 
This can be tricky in business.  According to Ring Central's latest report, 57% of callers find long hold times to be a frustrating part of the service experience.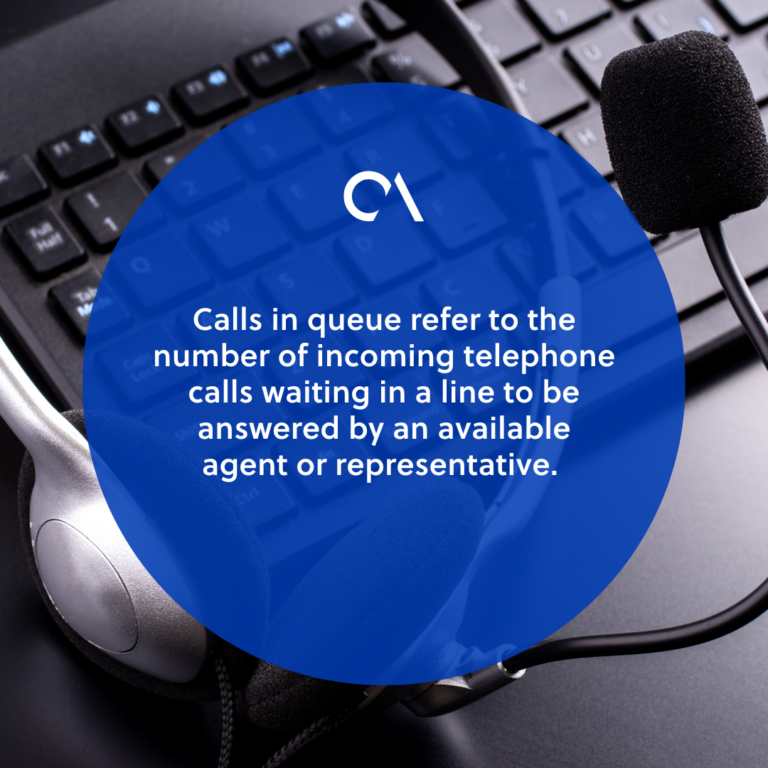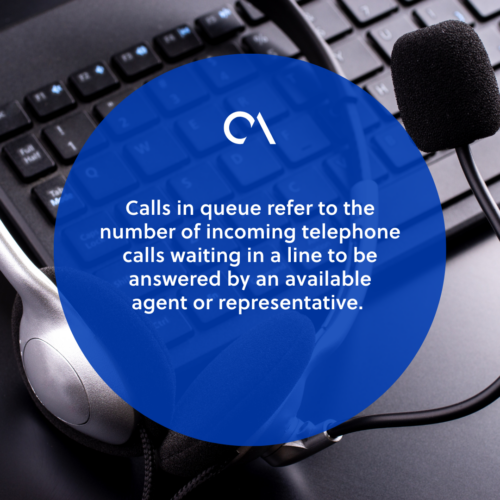 It's a common concept used in call centers and customer service environments where a high volume of calls are received and managed by a team of agents.
In this scenario, calls that can't be immediately answered are held in a queue, and the callers hear hold music or a message indicating their estimated wait time. As soon as an agent becomes available, the next call in the queue is automatically routed to them.
A queue can have multiple levels. For instance, if there are two queues in your call center: one for sales calls and another for service calls, each queue can have its own level of priority. 
This means that if there are no agents available in either queue, new calls will be routed to the other queue first (but not if they are busy too).
Further, there are two types of calls in queue:
Outbound queues.

Calls that an outbound queue has queued are waiting to be connected to their destination.
Inbound queues.

Inbound queues allow you to manage incoming calls. You can use them to route calls automatically or manually, depending on the type of call and the information provided by the caller. 
Ways to optimize calls in queue
Here we have the several ways to optimize calls in queue to reduce customer hold times. 
Utilize call greeting messages
Callers don't want to wait on hold, and they will be more likely to hang up if they have to listen to an uninteresting message. Make sure your greetings are relevant, concise, and engaging.
This is a great opportunity to deliver your value proposition and explain the benefits of speaking with an agent versus self-help tools. 
The greeting message may also include other options for contacting your company if the caller cannot wait on hold or would prefer not to.
Apply a call-back system
A call-back system is a simple way to manage calls in queue. In this case, the caller is placed on hold while the operator performs some other task. 
The caller can then call back at his convenience and talk to an operator when he returns. This ensures that only one caller's wait time is affected and keeps operators from dealing with numerous calls simultaneously. 
Run automated call distributor (ACD)
An ACD allows routing calls based on their priority level or the nature of the inquiry. This is because high-priority calls are answered first, while low-priority ones are answered last. 
Moreover, an ACD system is similar to a call-back system, except for allowing automated prompts instead of simply playing a message. These systems can be programmed with different scripts depending on what type of customer you're dealing with.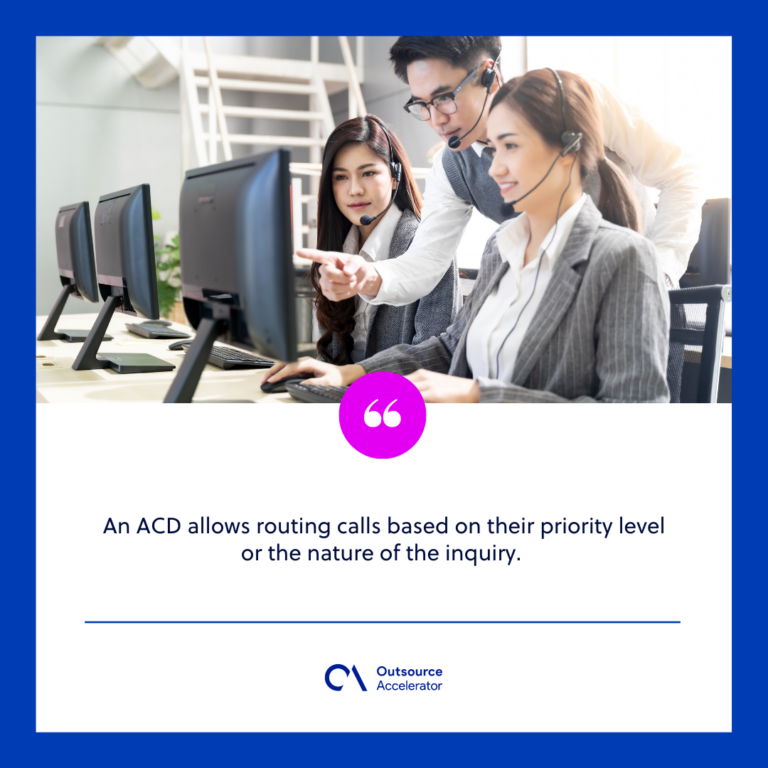 Use an intelligent call-routing system
One of the most important things you can also do when optimizing your queue is to utilize an intelligent call-routing system. 
An intelligent call-routing system is a computer program that analyzes incoming calls and routes them based on factors, such as:
How long the customer has been waiting 

How many times they've called
Call centers often rely on manual routing systems, but they're not very flexible and don't take into account current conditions when routing a call. 
With an intelligent call-routing system, you can route calls based on agent availability, skill level, or even location. This will ensure that customers who need immediate help are given priority over those who can wait longer. 
Monitor queue metrics
Another way is by monitoring metrics. You should monitor two main metrics when it comes to optimizing calls in queue: average handle time and abandonment rate. 
Average handle time measures how long it takes an agent to handle one call, while abandonment rate measures how many calls were abandoned before reaching an agent. 
To ensure that all calls are handled quickly and efficiently, organizations need access to real-time data about their queue length and wait times. This will enable them to take immediate action and verify that their operations are working as intended.
How can calls in queue benefit your business
Here are some advantages of optimizing calls in queue for your business:
Improved customer support 
An increased call volume can result in longer customer wait times. This is particularly seen in businesses with a high volume of incoming calls, specifically in the call center. 
However, having calls waiting in queue ensures that customers don't have to wait long periods, which leads to a better customer experience.
Improved agent productivity
With this increase in calls, there will also be an improvement in the time it takes for an agent to complete their tasks.
This can be enhanced by using technology that queues incoming calls and plays music or messages to inform customers that they are in line.
As such, your agents will be more productive since they'll be able to handle more calls efficiently, which can increase your overall revenue and profit margins.
Greater customer satisfaction 
The first thing that comes to mind when we think about calls in queue is that customers are waiting for their turn. Callers who are waiting too long to speak to an agent can get annoyed. 
According to Arise's customer service report, two-thirds of customers are willing to wait for only two minutes before hanging up the call. 
This suggests that if you manage your queues effectively, there will be no reason for your customers to be unsatisfied with their experience. It can also significantly improve customer satisfaction levels because people have less time to wait on hold.
Increased sales
For many companies, their top priority is increasing sales and revenue. A good calls in queue system is a great way to increase sales as they allow more opportunities for customers to buy from you. 
When a caller hangs up, and another call comes in, the next caller will hear about what was sold during the previous call. This creates an excellent opportunity for cross-selling and upselling without having to do any additional marketing or advertising.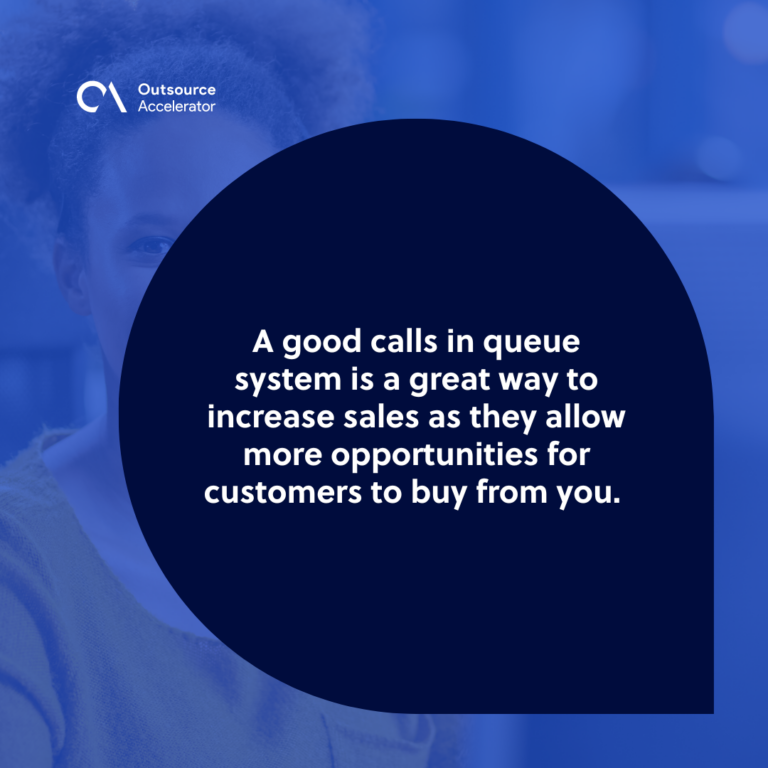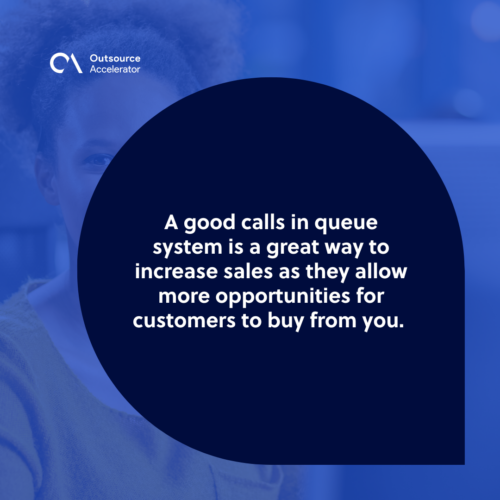 Article References
[1] Call center. Harvey, D.E., Hogan, S.M. and Payseur, J.Y. (1991). Call center solutions. AT T Technical Journal, [online] 70(5), pp.36–44. 
[2] Satisfied customer. Chicu, D., Pàmies, M. del M., Ryan, G. and Cross, C. (2019). Exploring the influence of the human factor on customer satisfaction in call centres. BRQ Business Research Quarterly, 22(2), pp.83–95.