How to choose the right call management system that suits your business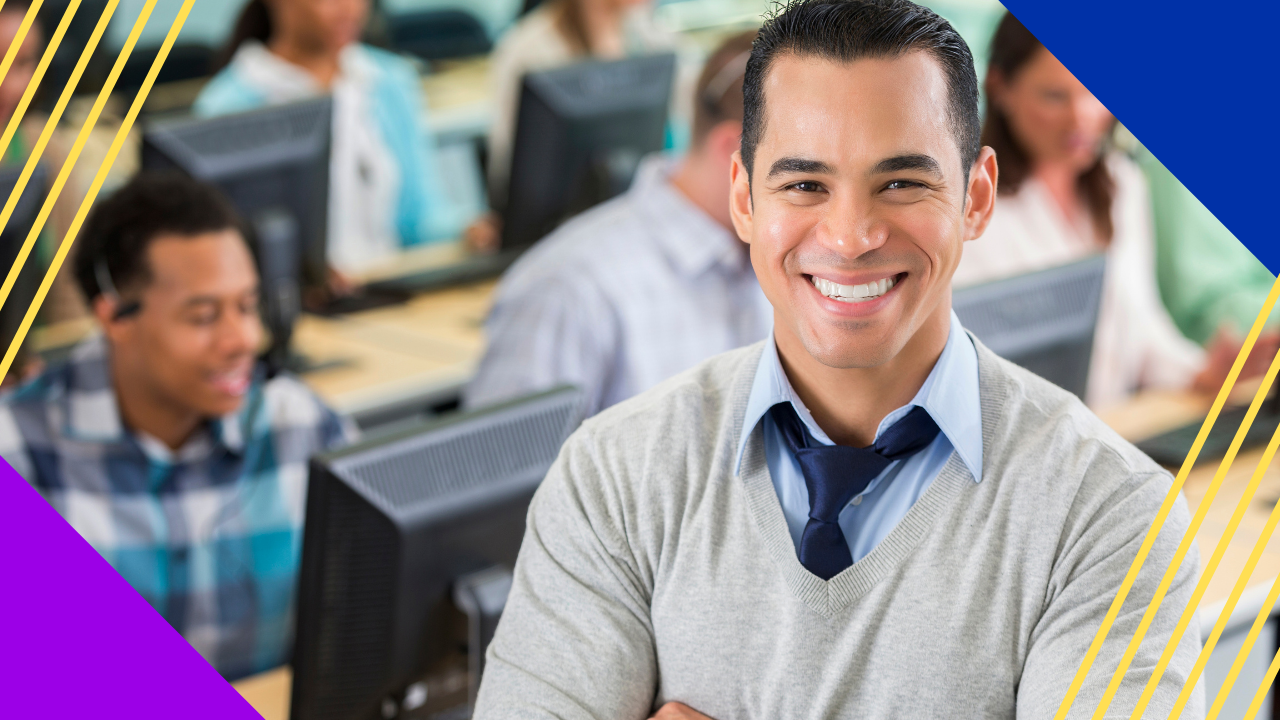 To have functional and successful call center operations, you shouldn't just rely on your agents' skills alone. Technology plays a vital role in augmenting your entire business landscape and streamlining your processes. 
There are tons of options of technology you can integrate into your organization. However, a call management system is one crucial tech innovation that should be in every business that caters to customers via calls. 
Learn the basics of a call management system, its benefits, and how to choose the right one for your business in this article. 
A quick overview of call management 
A call management system is a type of technology designed to handle incoming and outgoing calls in call centers. Every company needs a reliable call management system to help route calls to the right agents, collect valuable data, and track all types of calls. 
It is usually a part of a voice over Internet Protocol (VOIP) service. This enables your organization to better control, manage, and enhance your caller's overall experience. 
A call management system makes use of a specific set of predefined rules and parameters that route all kinds of calls through business telephone systems. 
It also has a call recording function that lets you monitor your call center agents' performance. This function helps you identify which areas of your processes or services you need to improve.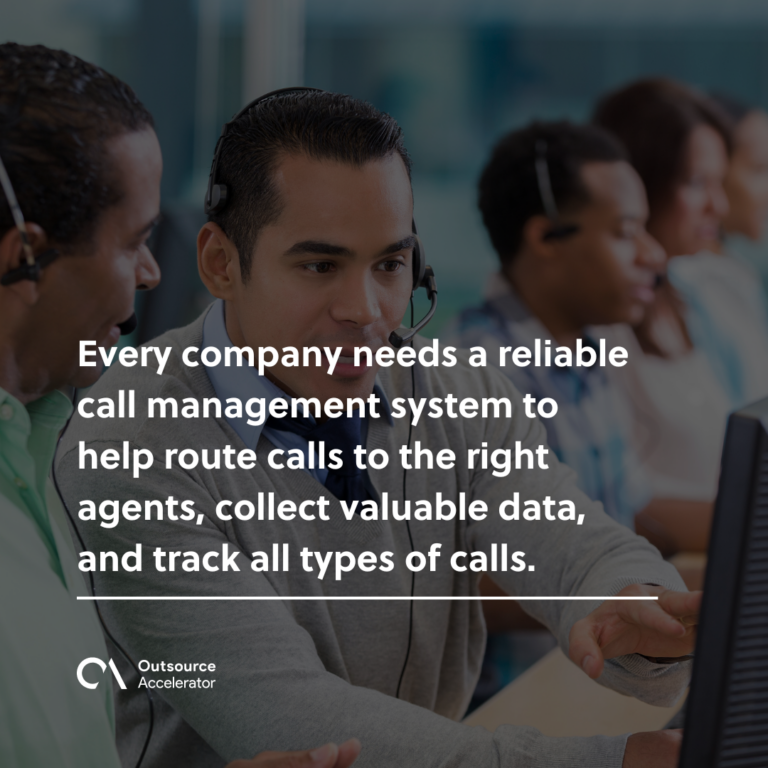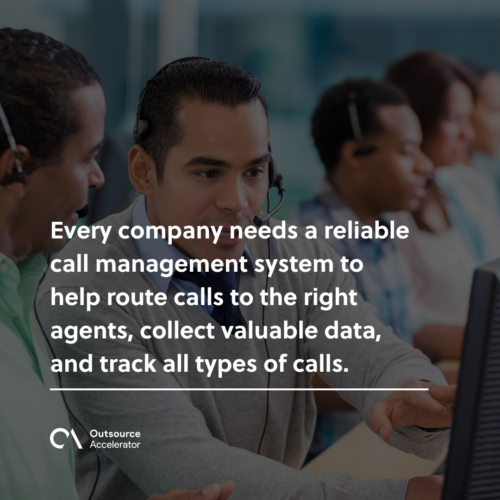 Benefits of utilizing a call management system 
If your business is handling high volumes of calls daily, a call management system is a viable solution to boost your efficiency and productivity. 
On top of that, implementing a call management software in your call center can also help you with the following: 
Improve customer service 
Through a call routing function, customers can be immediately transferred to the right agent who can handle their concerns. 
A call management system also lets agents access customers' previous call records or any information about their needs picked up by the system. 
It allows your agents to give the right information or solution to your customers' problems or inquiries. As a result, customers are properly and quickly attended to, which in turn, results in a positive customer experience. 
Save on costs
A call management system is also cost-effective as it helps you optimize your call distribution process. With a more effective system, your agents won't have to spend extra time handling customer service inquiries. 
Manage staffing levels more effectively 
A call management system collects valuable statistics and data, particularly on your peak and off-peak hours.
This can help your management team efficiently organize your staffing levels so no customers will be left waiting in long queues during peak time. More so, no agent will also be left idling during quieter periods.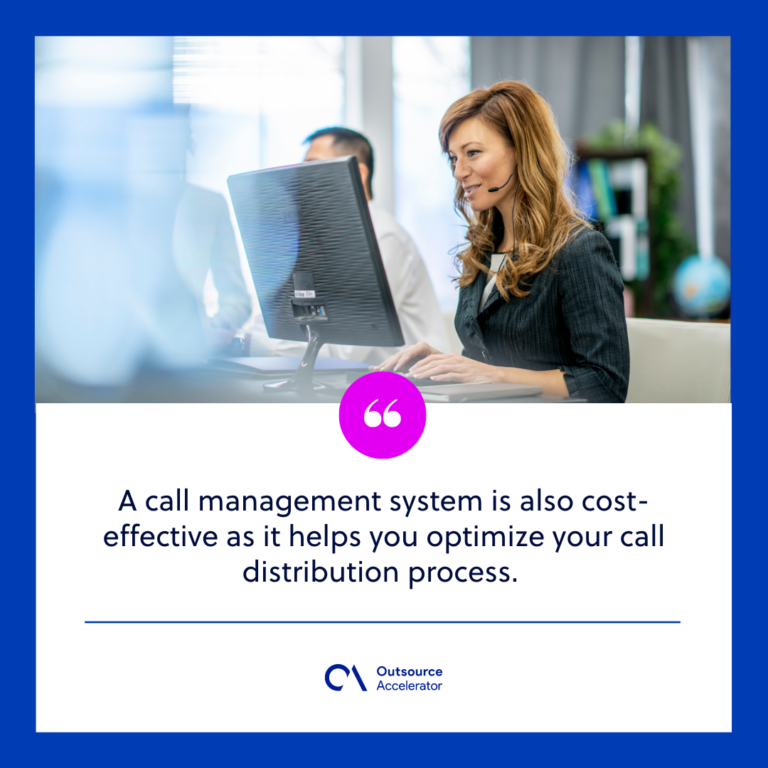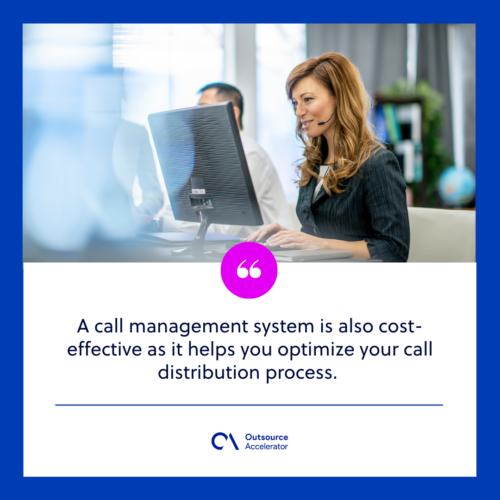 What to look for in a call management system provider
While it's good to have a call management system, remember to choose the right provider that can satisfy your business needs and criteria. 
To help you pick your best choice, here are the things you should consider:
Reliability
Note that a good call management system provider should always have a reliable phone carrier presence, including excellent phone routing. 
Make sure to ask questions, especially in terms of how reliable their services are. A good service provider will have no qualms in answering clients' concerns and questions. 
Onboarding process and customer service 
Your chosen provider should also have dedicated customer service to support your team during your call management system's implementation phase.  
A reliable representative should be able to guide your team throughout this process, especially in understanding your data. Note that all your gathered information is pointless unless you turn it into actionable and attainable goals. 
Industry knowledge 
Make sure to choose a call management system vendor that specializes in your type of industry. 
Moreover, choose a provider that can produce proprietary data that will compare your organization to your competitors. 
This will let you have benchmarks and enough confidence that your agents will have a better understanding of your goals and objectives. 
Pricing 
Every call management system provider will surely have its pricing values. Look for a vendor that can provide you with a pricing structure depending on your type of needs and call management objectives. 
Integrations 
Do you have a marketing software or a specific customer relationship management (CRM) platform in place? Ensure that your chosen call management system provider will be able to integrate or push data into your current platform. 
Lastly, remember that your call management solution should help boost your call processes and not complicate them.