Effective ways to manage call center attrition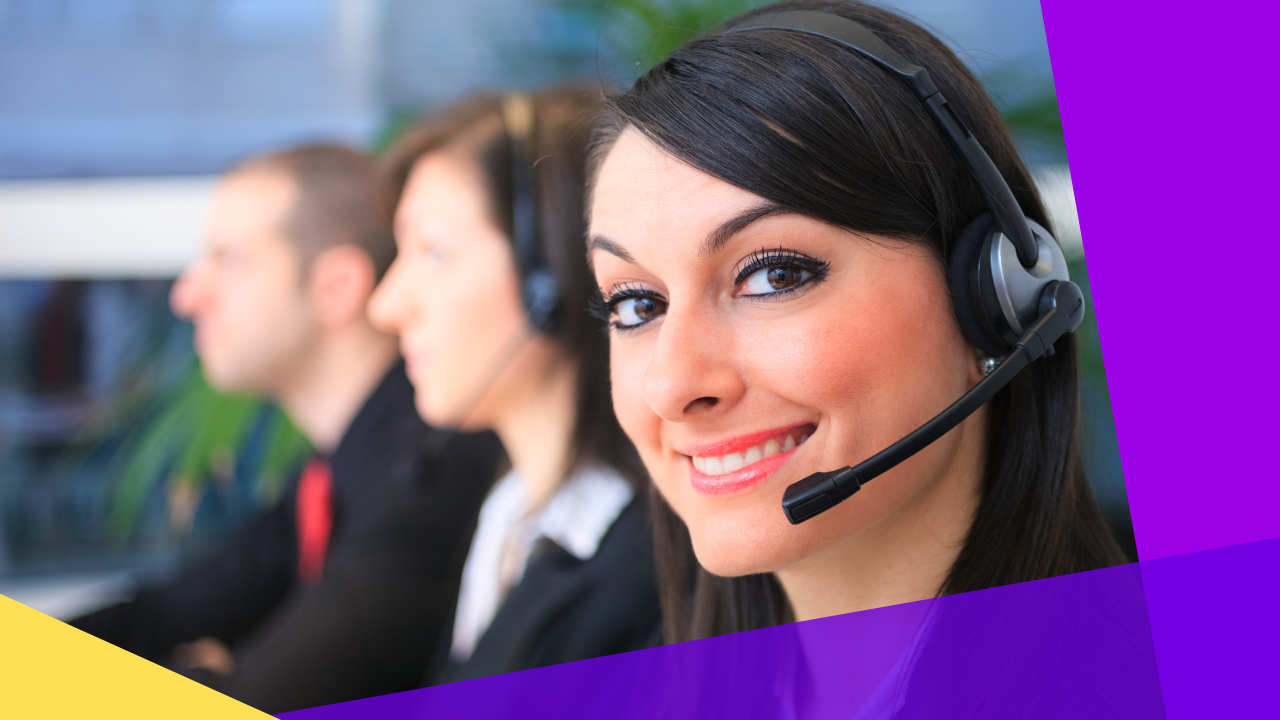 All businesses and industries can suffer from high employee turnover rates or attrition. 
There are various factors as to why employees leave. Regardless of the reason, every time an employee leaves, it is not good for the business. 
Management needs to invest resources and time to fill in the gaps. Not to mention, it will take time for normal operations to continue once the recruit has been trained and oriented. 
While other businesses can better cope with it in time, call center attrition is quite different. It is challenging and will require a fast and immediate response. 
This article will discuss the several factors why employees resign along with the possible solutions to address them.  
Why does call center attrition matter?
Calls continuously pour into the system of call center companies. With many clients looking for answers to their queries, enough agents need to be present to assist them. 
But with call center attrition, the normal workload of agents and the rest of the staff in operations are jumbled. 
Other agents need to take more calls than usual, while superiors are compelled to fill in the gap, resulting in delays in other aspects of their responsibilities. 
This is costly to call center operations as any impediment can mean huge losses to the company. Not to mention, resources and time are invested by the management.
But what triggers call center attrition?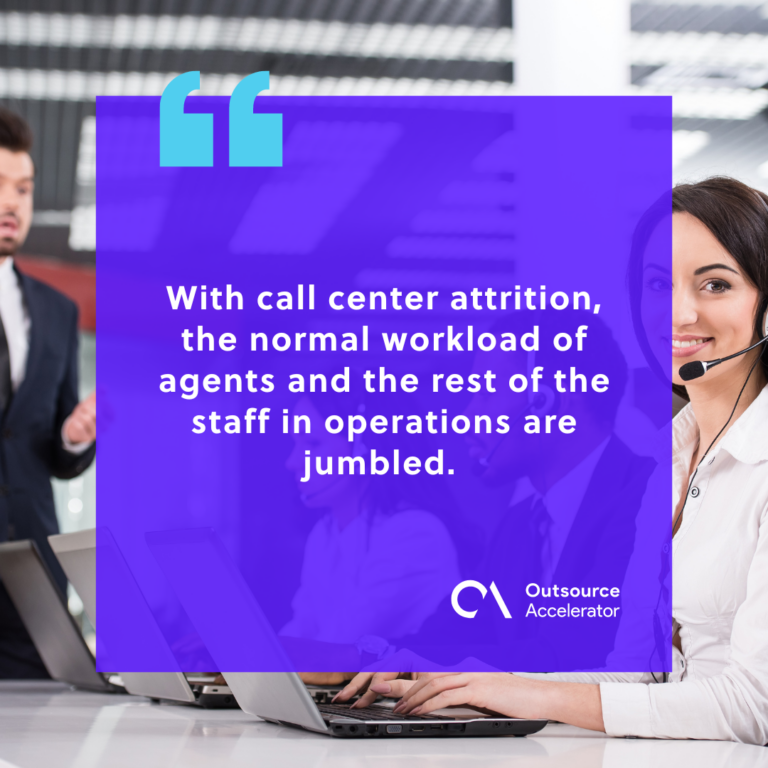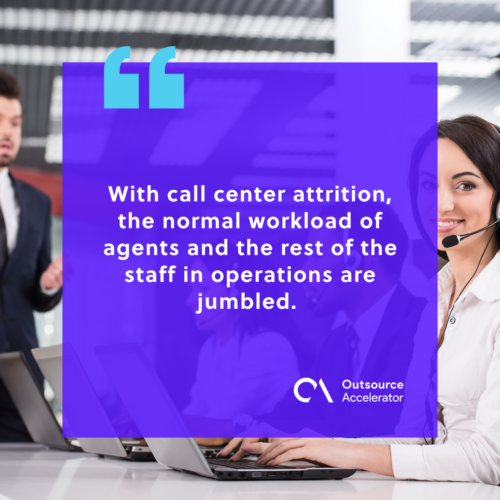 Factors causing call center attrition
Below are four known factors that cause call center attrition. Normally, most causes are internal to the organization, especially its culture. 
External factors such as compensation and promotion are just treated as secondary. They do not comprise the most factors cited for leaving call center companies. 
Lack of empowerment
Call center agents absorb a huge amount of stress related to customer concerns and queries. As they spend most of their time interacting with clients, it gets easily monotonous, and they might experience burnout. 
With the lack of creativity and flexibility in doing their jobs, call center agents may feel less valued and satisfied with their work forcing them to leave right away. 
Poor organizational culture
In most cases, call center agents work in cubicles and spend most of their time at their desks. With the lack of support from the company and a toxic environment, they can feel alone. 
An organizational culture that fosters camaraderie and fun even at work can alleviate stress-related consequences of their job. They get to bond with their officemates, spend some quality time with their superiors, and feel valued through events and incentives. 
Lack of appreciation
Goals and objectives are important, but they do not take precedence over the achievements and milestones of agents. 
Celebrate any small or big wins of an agent. They might experience roadblocks during their monthly appraisals, but these should not define them as employees. 
Should there be any mistakes, superiors should help agents overcome them through counseling and guidance instead of scolding them. 
This way, agents can feel the support and empathy of the management for their well-being.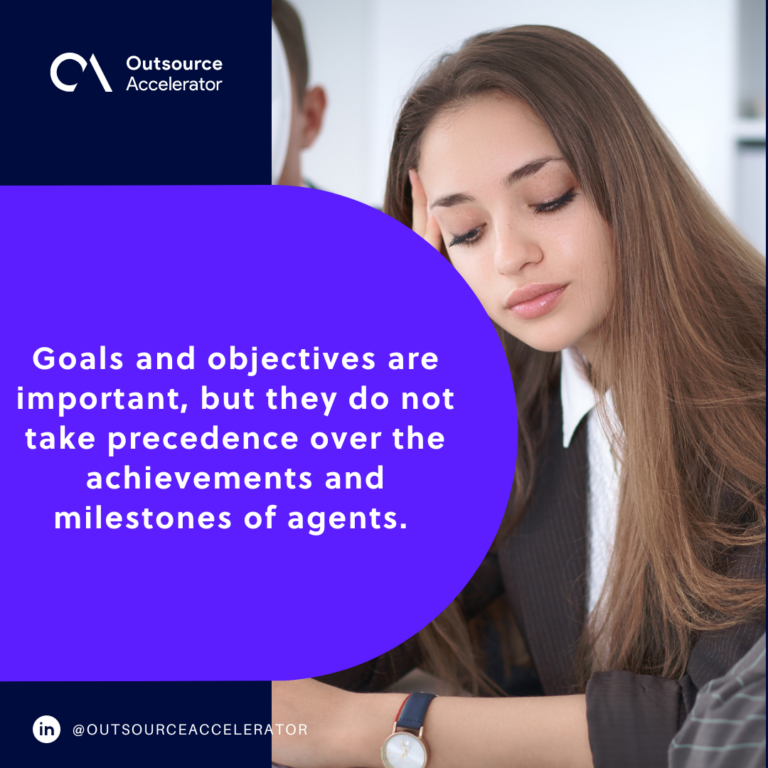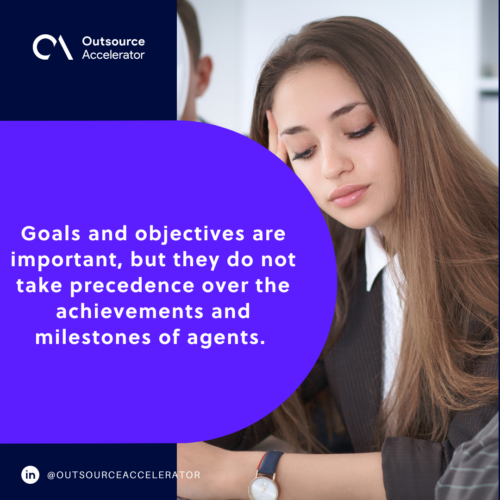 Unfair treatment
Call centers have stringent standards and performance review metrics. These often cause a lot of stress and anxiety on the part of agents.

With managers and superiors potentially abusing this to assert their dominance over agents, it can result in unfair treatment of agents. 
Once they feel they are being abused, agents will resort to resigning and looking for better opportunities outside the company. 
Objectively, performance appraisals are used as a tool to improve the skills and work ethic of employees. However, the need for more explanation and supportive culture from the management can elicit the wrong reaction from the employees. 
To avoid this, it is important for the management to communicate as openly and genuinely with their employees and discuss their lapses and strengths.
Managing call center attrition 
There is no single-bullet solution to address call center attrition. It all boils down to how employees perceive the company, at the same time, the way call center management handles their operations. 
But the surefire way to curb attrition rates are:
Open and transparent communication
Employees need assurance in everything they do. Supervisors must be mindful of being open about what they think in a diplomatic way. 
They must let the employees understand how things operate and how it can help them improve their craft and the company's overall well-being. 
The more the employees know and understand the situation, the less they will consider resigning from the job.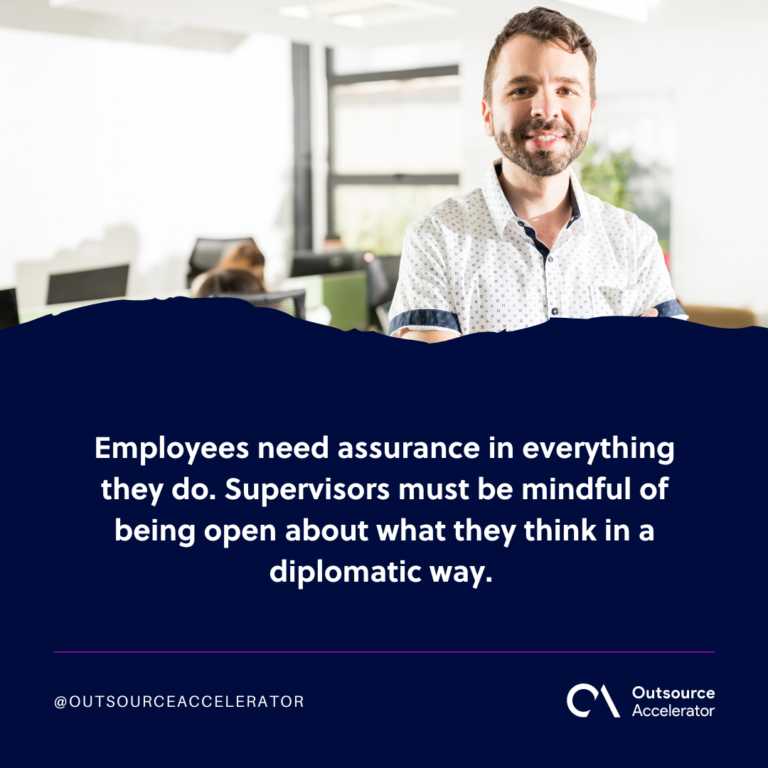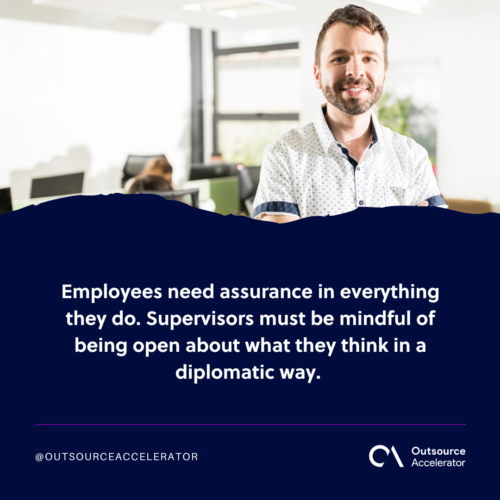 Make the workplace a center of fun
The expectations are already demanding, and the quotas are too daunting. A bad attitude will not make operations run smoothly. In fact, it can only hamper it. 
Host weekly get-togethers or icebreakers that will kill the monotony of the job. Agents need a short reprieve from all the stress they absorb from interacting with different clients. 
Building a positive office environment
One of the major reasons employees stay with the company is not because of salary, benefits, or the promise of promotion but the family created within the organization. 
If agents feel they are loved and welcomed and can grow in the company, they will endure anything, even if the stress that comes from an irate caller. 
However, building a positive office environment to combat call center attrition will take some time. It cannot happen overnight.
All managers and superiors must constantly work on it. The management must invest heavily in ensuring that they are providing a better and more conducive work environment for their employees.