The strategic value of a backfill position
Organizations often encounter situations where a temporary void is left due to an employee's absence. These gaps can disrupt workflow, hinder productivity, and strain team dynamics. 
Enter the unsung hero of the modern workplace– the backfill position. 
While it may not always be in the spotlight, the strategic role of a backfill position can't be underestimated. It allows for a seamless transition by temporarily filling the void left by an employee, ensuring that operations continue smoothly.
This article delves into how backfill positions occur, how to fill them, and their significance in today's business environment. 
What does backfill position mean? 
A backfill position refers to an interim role created within a company to cover the duties of an absent employee. A new employee is typically hired or assigned to the position to ensure continuity of work and responsibilities. 
Backfill positions are usually temporary but may sometimes be permanent, depending on the specific circumstances and duration of the vacancy. 
Businesses need to have processes to identify and fill backfill positions efficiently. These play a crucial role in maintaining operational continuity and effective management of workloads.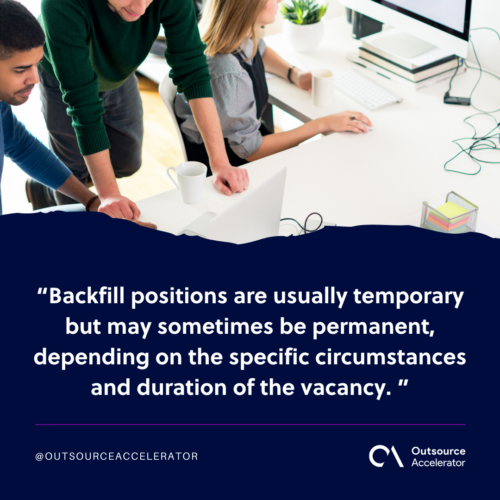 When do you need a backfill position? 
In essence, the need for a backfill position arises whenever a regular employee's absence can disrupt operations, productivity, or service delivery. 
Here are some common scenarios when a backfill position becomes necessary: Employee resignation 
When an employee resigns, retires, or is terminated, a backfill position is often necessary to fill the void left by their departure. This helps ensure that the departing employee's responsibilities and duties are appropriately covered. 
New projects or initiatives 
When a company takes on new projects or initiatives, additional staffing may be needed to manage the increased workload. A backfill position can be created to handle any temporary gaps in staffing, allowing the company to maintain uninterrupted workflow.
Organizational growth and expansion
During periods of rapid growth or expansion, organizations may create backfill positions to handle increased workloads or new responsibilities. 
This is until permanent employees can be hired or promoted.
Seasonal fluctuations
Some industries experience seasonal fluctuations in demand, resulting in temporary staffing gaps. A backfill position can help manage increased workloads during busy seasons. 
How to backfill a position
Effectively filling a backfill position requires careful planning, clear communication, and support for the backfill employee. 
You can follow these steps to backfill a position: 
Assess the need
Start by understanding the responsibilities, qualifications, and skills required for the position that needs to be backfilled. Analyze the impact of the vacancy on workflow, team dynamics, and overall operations. 
Create a backfill plan
Develop a clear plan for the backfill process. Outline the duration, responsibilities, goals, and expectations for the backfill employee. 
Communicate this plan to relevant stakeholders, such as HR, managers, and team members. 
Internal vs. external recruitment 
Decide whether to fill the backfill position internally or externally. 
You can identify suitable employees already within the organization who are already familiar with the culture and processes. Or you can recruit externally and bring in fresh perspectives. Going further, you can even consider outsourcing. 
Identify potential candidates with the required skills, knowledge, and experience for the role.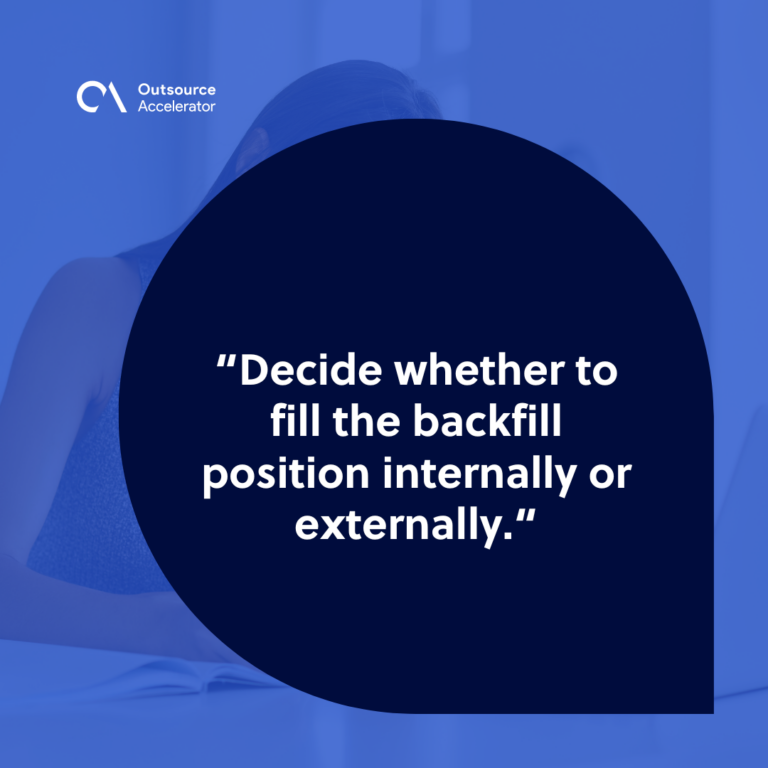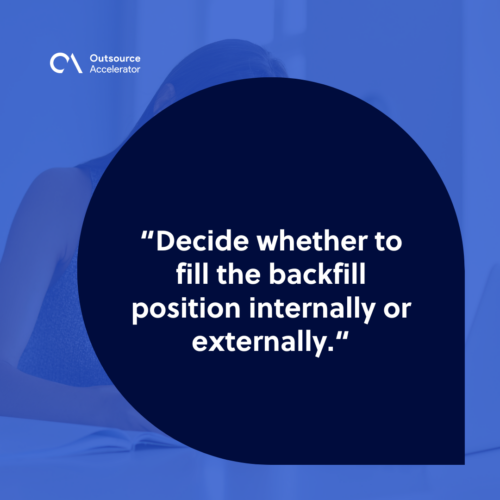 Training and onboarding 
Ensure the selected candidate receives proper training and onboarding to understand their responsibilities and perform the job effectively. 
Provide necessary resources, documentation, and support. 
Support and guidance 
Provide ongoing support, mentorship, and guidance. Encourage open communication, address any challenges, and offer regular feedback to help them succeed. 
Performance evaluation
Conduct periodic performance evaluations to assess how well the backfill employee is fulfilling their responsibilities. Make necessary adjustments to address any issues. 
Transition process
The nature of a backfill position is temporary. 
You'll need to establish a process for transitioning back to the original position when the employee returns or a permanent replacement is hired. This works the same when reducing your staff after peak periods. 
Document any changes made during the backfill period for a smooth transition. 
Importance of a well-managed backfill position
The importance of a well-managed backfill position in an organization cannot be overstated. Here are the primary reasons why having an efficiently executed backfill strategy is crucial:

Continuity in operations
Maintaining operational continuity is one of the most immediate and evident benefits of a well-managed backfill position. 
When a regular employee is temporarily absent, the backfill position ensures that essential tasks and responsibilities continue without disruption. 
In industries where timely responses are critical, a well-executed backfill strategy prevents bottlenecks, avoids delays, and preserves the organization's reputation for reliability. This applies to healthcare, customer service, and manufacturing, among others. 
Supporting employee morale and well-being
Employee morale and well-being are vital for a productive and engaged workforce. When organizations implement a backfill position effectively, it demonstrates their commitment to supporting employees during times of need. 
Moreover, a well-managed backfill position can prevent burnout among existing team members who might otherwise need to absorb the absent employee's responsibilities.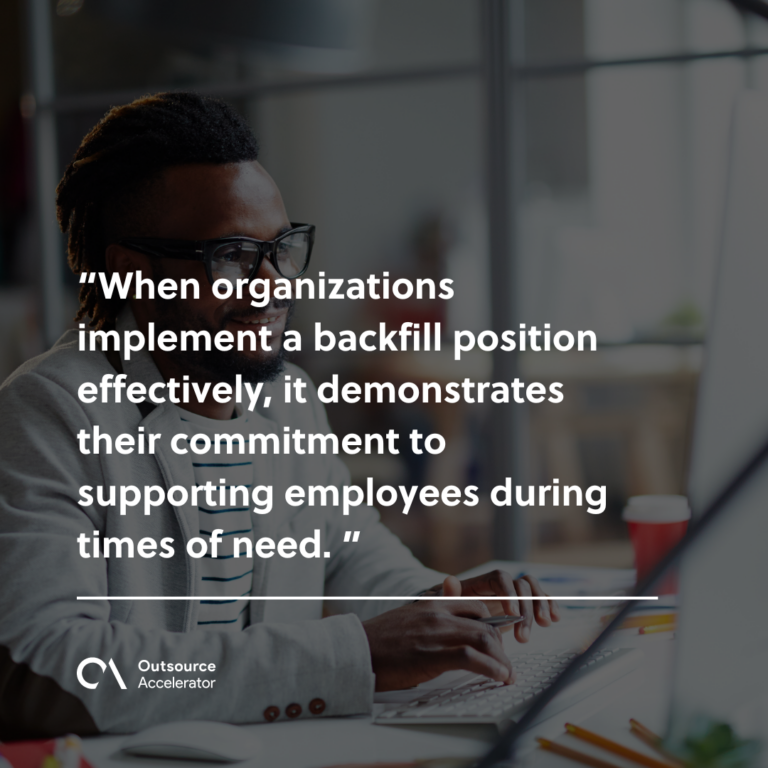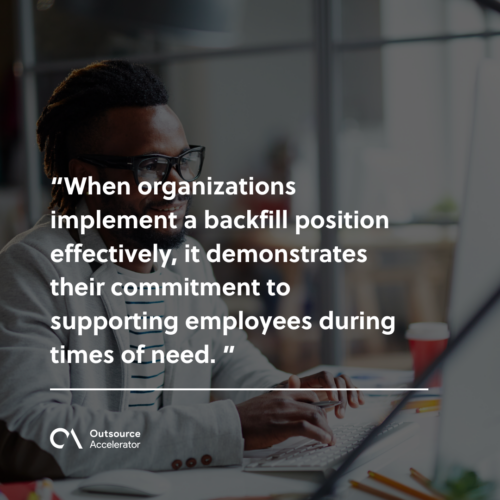 Organizational resilience
Organizations must be agile and adaptable to navigate unexpected challenges and opportunities. 
A backfill position contributes to organizational resilience by ensuring that the absence of a single employee does not lead to significant disruptions.
With a backfill strategy, organizations can quickly respond to unforeseen circumstances without compromising their ability to deliver products or services. This adaptability is especially valuable in industries subject to rapid changes or economic fluctuations.
Long-term strategic planning
Effective backfilling isn't just about managing temporary absences; it also plays a role in long-term strategic planning. 
When organizations use backfill positions strategically, they have the opportunity to:
Assess their workforce needs 

Identify areas where cross-training or skill development is necessary

Groom internal talent for future leadership roles
When organizations recognize and harness the potential of backfill positions, they position themselves to thrive in an ever-changing business environment.