Outsourcing vs. Insourcing: Making the right choice for your business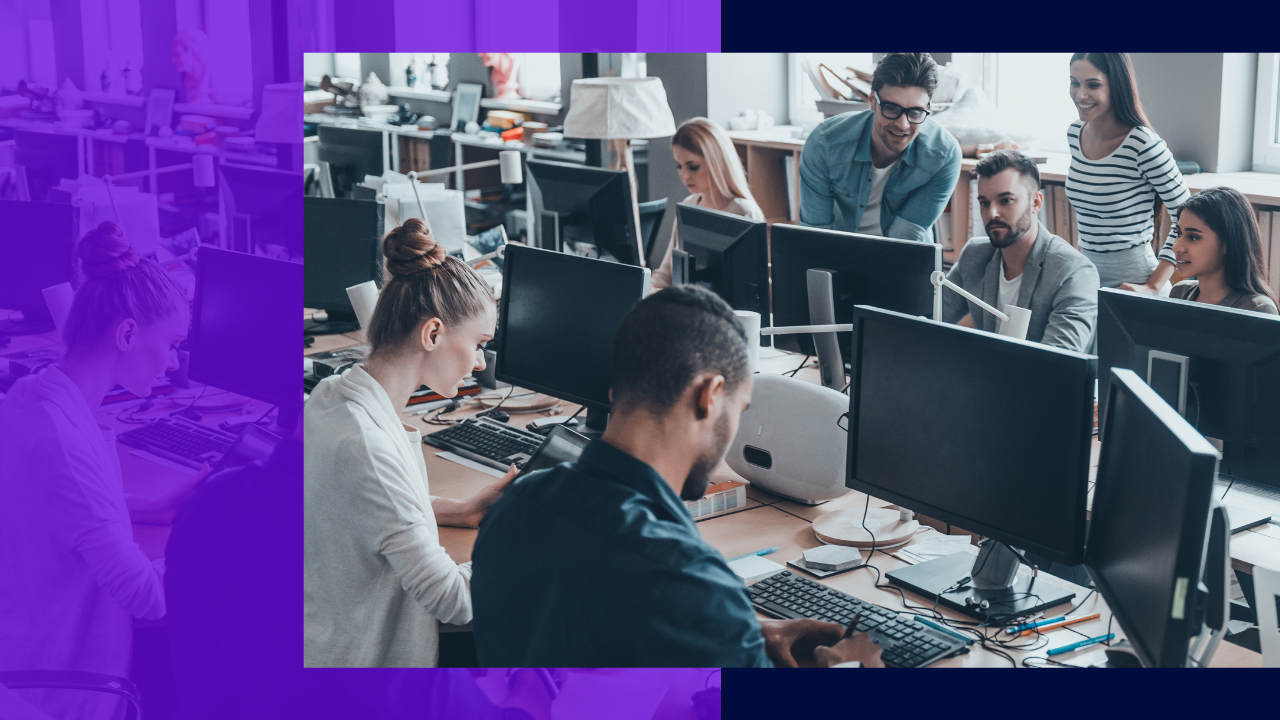 Today's business landscape sees organizations constantly seeking the most efficient and cost-effective ways to meet their needs. Companies' key decision is whether to hire in-house or outsource various functions or processes. 
If you're confident that outsourcing is the way to go, SPLACE, a top-rated BPO, is ready to partner with your brand. 
This article explores Outsourcing vs. Insourcing, as well as their pros and cons. 
Outsourcing vs. Insourcing: Pros and cons of insourcing
Insourcing is the practice of conducting business activities within an organization's facilities and by its employees. This means companies utilize internal resources, staff, and expertise. 
Pros of insourcing
Insourcing provides businesses with the following advantages:
Direct control 
Insourcing grants you complete control over your operations and processes. You can make decisions and adjustments swiftly, enabling your organization to maintain a tight grip on the quality and direction of your work. 
Confidentiality and security 
Insourcing enhances data security and confidentiality. All sensitive information remains within your company's control. 
This is particularly important for industries that handle customer or proprietary data. 
Communication
Direct communication among in-house teams is often seamless. This results in real-time collaboration and quick decision-making. 
In-house teams are readily available for urgent needs or unexpected changes, which is crucial in time-sensitive situations.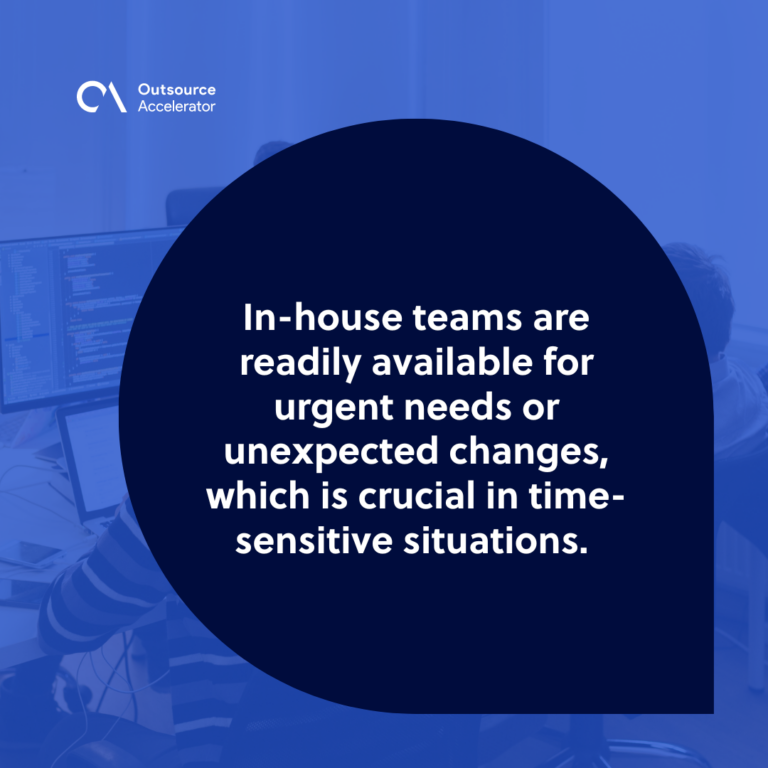 Cons of insourcing
Despite its handful of pros, businesses must also consider insourcing's disadvantages before making any decision: 
Higher costs
Maintaining an in-house team leads to higher operational costs, including:

Salaries 

Benefits

Office space

Equipment 

Training expenses
This is especially true for specialized or non-core functions. 
Limited scalability and flexibility
Insourcing hinders scalability and flexibility. You'll see this most frequently during periods of rapid growth or expansion. Other firms also have trouble adapting quickly to changing market conditions or technological advancement. 
Skill constraints
No matter how well you hire, your existing in-house team may lack the specialized skills or knowledge required for certain tasks. This could lead to substandard outcomes.
You can always hire new employees to fill those gaps, but this will require additional investment and training. 
Outsourcing vs. Insourcing: Pros and cons of outsourcing
Outsourcing is the strategic practice of delegating specific business tasks to external service providers. Instead of handling them internally, organizations collaborate with specialized entities. 
Outsourcing covers a wide range of functions, including:

Customer support

IT services 

Manufacturing 

Human resources 

Accounting 
Businesses often outsource to capitalize on the skills and resources beyond their physical workplaces. 
Pros of outsourcing
Outsourcing services allow businesses to leverage the following advantages:
Cost savings 
Outsourcing leads to significant cost reductions. External providers can leverage economies of scale, shared resources, and lower labor costs in different regions and countries. 
Access to expertise 
By outsourcing to specialized service providers, businesses gain access to a broader range of skills, knowledge, and experience. This is especially visible if you partner with an overseas firm. 
Outsourcing facilitates entry into the global talent pool and market. 
Scalability and growth opportunities 
Companies usually outsource their non-core functions, enabling them to focus on their own strategic initiatives. This affords them more flexibility and scalability, and they can capitalize on growth opportunities.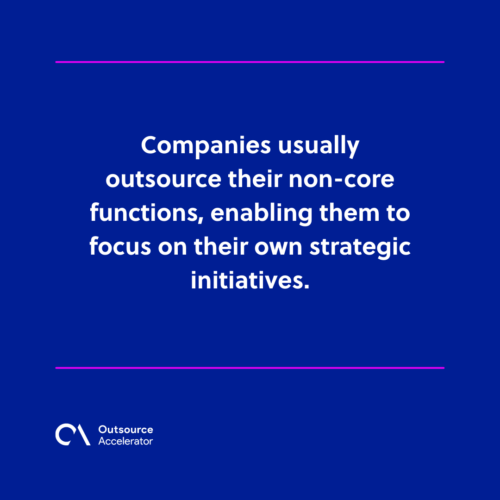 Cons of outsourcing
On the other hand, outsourcing also poses these potential drawbacks:
Communication challenges
Time zone differences often serve as a major issue for foreign clients. For some, managing communication across different time zones may lead to misunderstandings or delays in project execution. 
Confidentiality and data security
During outsourcing, you'll be sharing information with external parties, even partially. This might raise data security and confidentiality concerns because there are now more ways for cybercriminals to attack. 
Transition challenges
If you're new to outsourcing, it can be challenging to deal with the process of transitioning. It may even lead to temporary operation disruptions. 
This issue is compounded when you work with foreign partners. 
Outsourcing vs. Insourcing: Which should you choose? 
The decision between outsourcing or insourcing depends on various factors specific to your business, goals, resources, and the tasks in question. 
Here are some considerations to help you make an informed choice: 
Choose insourcing when:

The task closely aligns with your core competencies 

You need to maintain direct control 

Sensitive information must be kept guarded

Tasks are small-scale and non-complex

You need an immediate response
Choose outsourcing when:

You're looking for cost efficiency 

The task requires specialized skills 

You need to scale quickly to meet demands 

Your core functions require more attention

You need access to cutting-edge technologies and innovative approaches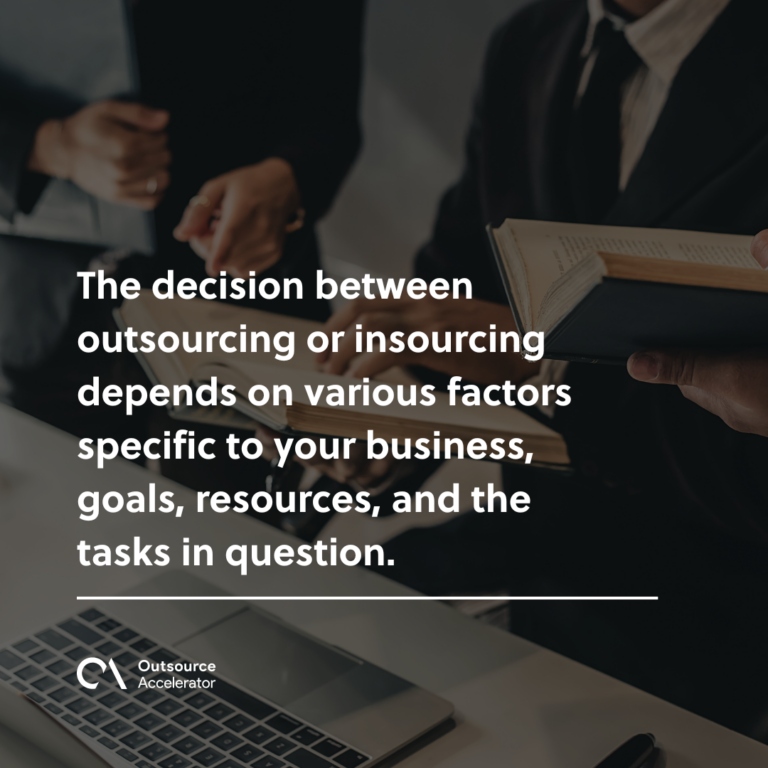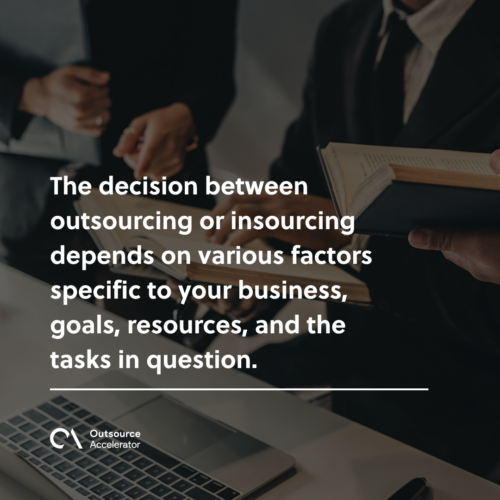 SPLACE as your outsourcing service provider
Collaborating with a reputable outsourcing partner like SPLACE can help you navigate these decisions. SPLACE is designed to help you build, connect, and expand your business functions. 
It handles all the behind-the-scenes tasks so that you can focus on what matters for your company. 
Contact SPLACE today to know more about its outsourcing services.