Manual vs. Automated bookkeeping: A comparative analysis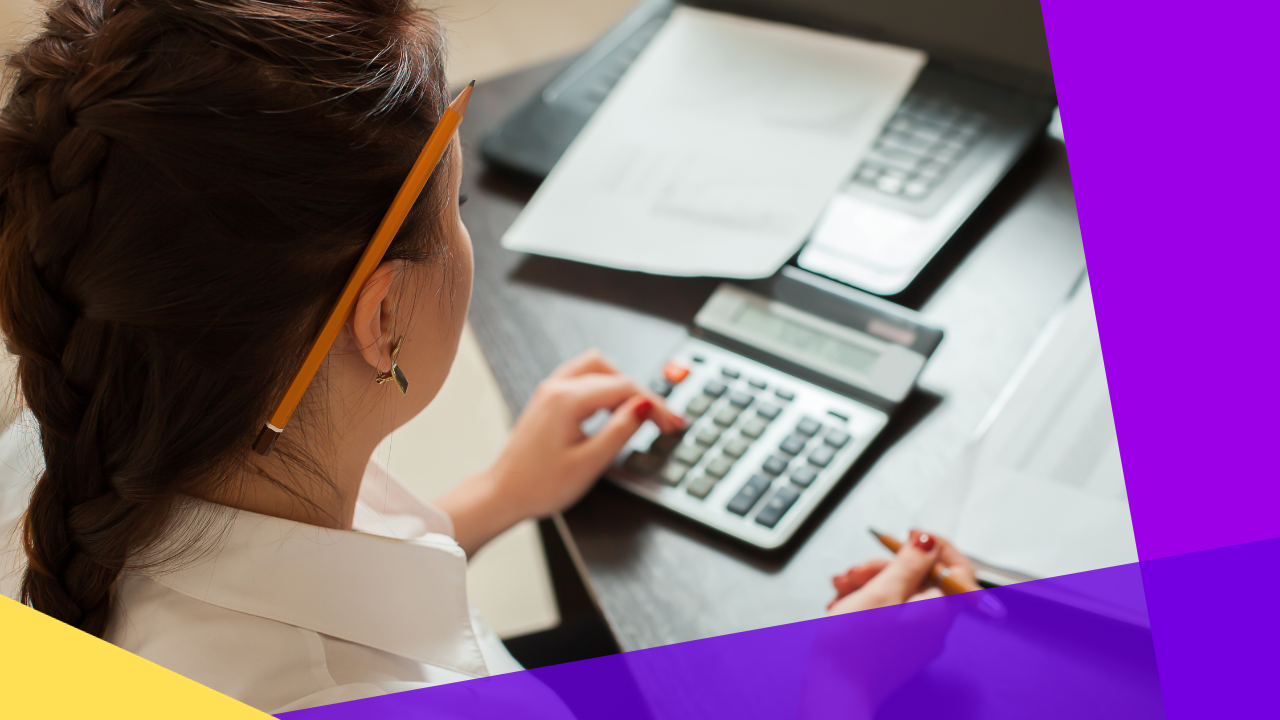 This article is a submission by D&V Philippines. D&V Philippines has years of experience in the accounting and finance industry. This third-party services company can generate the financial reports you need to make real-time financial decisions. 
Your accounting books are one of your main sources of financial data. It has the numbers you need to determine your company's downward or upward trajectory.
You can gain insights into possible improvements to implement. You'll be able to identify months, products, services, or seasons that deliver the highest profits.
You'll also be able to determine the budget you need to establish and your company's largest expenses. 
Updating your accounting books is a task you can't take lightly. Errors in your books distort your company's financial situation.
You'll miss possible growth opportunities, overspend, and miscalculate the profitability of your business. All these create problems for your organization.
That's why it's important always to have updated and mistake-free books. 
Some businesses still update their accounting books manually while others have already shifted to automated bookkeeping.  
This article shows a comparative analysis of Manual vs. Automated bookkeeping and why are businesses shifting to the latter.
Why is manual bookkeeping inefficient?
Companies that still do manual bookkeeping use several journals and ledgers to record financial data.
They use a general ledger that contains multiple transactions and balances of subsidiary journals and ledgers. This takes a lot of time and work because they have to review all transactions that occur daily, weekly, and/or monthly.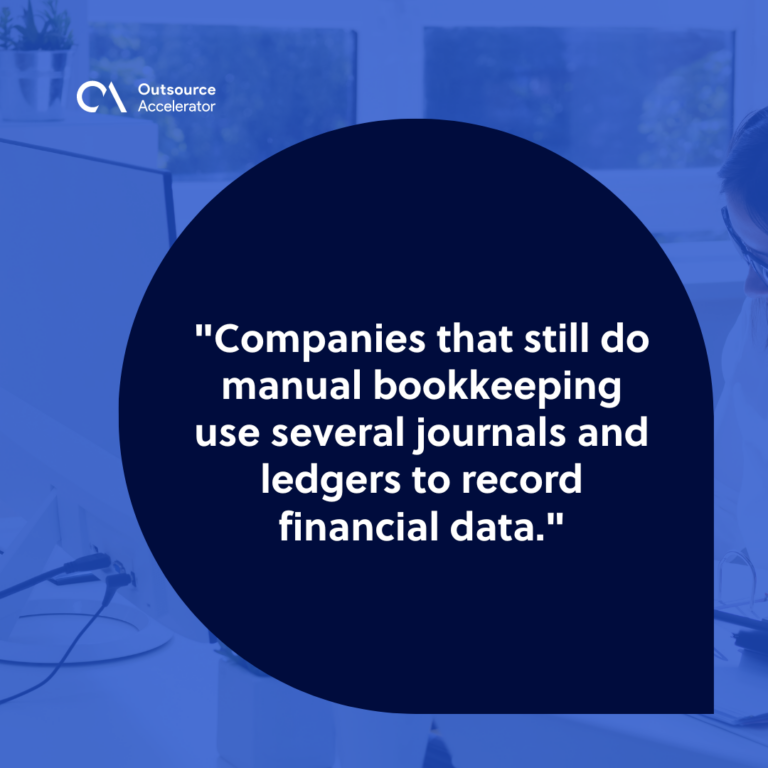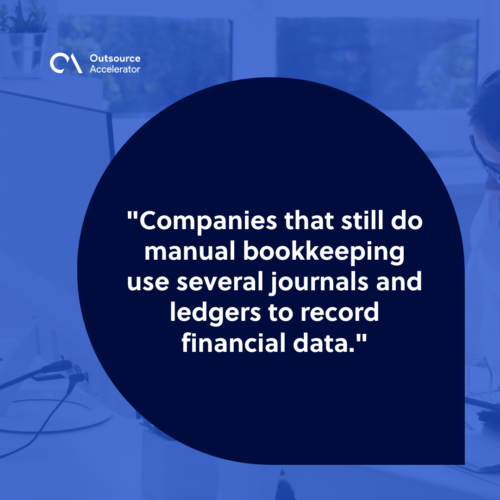 They also must do bank reconciliation, payroll, and others manually. This entire process requires experience and skills.
If you lack the experienced staff to do your bookkeeping correctly, your books will have plenty of mistakes.
Inexperienced staff will not only make mistakes but will also consume work time to correct them. These may cause delays in filing taxes, paying employees and suppliers, computing revenues and profits, and managing expenses.
Delays in payments will most likely incur penalties, fines, or loss of privileges. These costs accumulate and reduce the profits your business generates. 
It's also possible to lose physical copies of your ledgers and journals because of theft, negligence, or natural disasters. These scenarios could be disastrous for you.
You'll lose important financial information about your budgets, revenues, and taxes. You'll have no way to recover severely damaged or lost books.  
Mistake-ridden or lost accounting books, ledgers, journals, and reports distort or give you an inaccurate picture of your company's financial situation.
This puts you in a difficult situation wherein you might implement a strategy that's costly and isn't profitable.
Budget projections, forecasts, and allocation of resources will be unreliable as well. All these have a negative impact on the financial well-being of your business. 
These are the reasons it's important to keep your accounting books error-free and updated. A manual approach won't get the job done.  
Why shift to automated bookkeeping?
Manual bookkeeping is an inefficient way to update your books. Technology has advanced over the years to simplify tasks and reduce or at least eliminate redundancies.
Accounting and automation provide companies like yours with several advantages.  Automated bookkeeping offers the following:
Eliminate possible human errors
Automated bookkeeping eliminates possible human errors in your accounting books and corrects mistakes at a more efficient rate.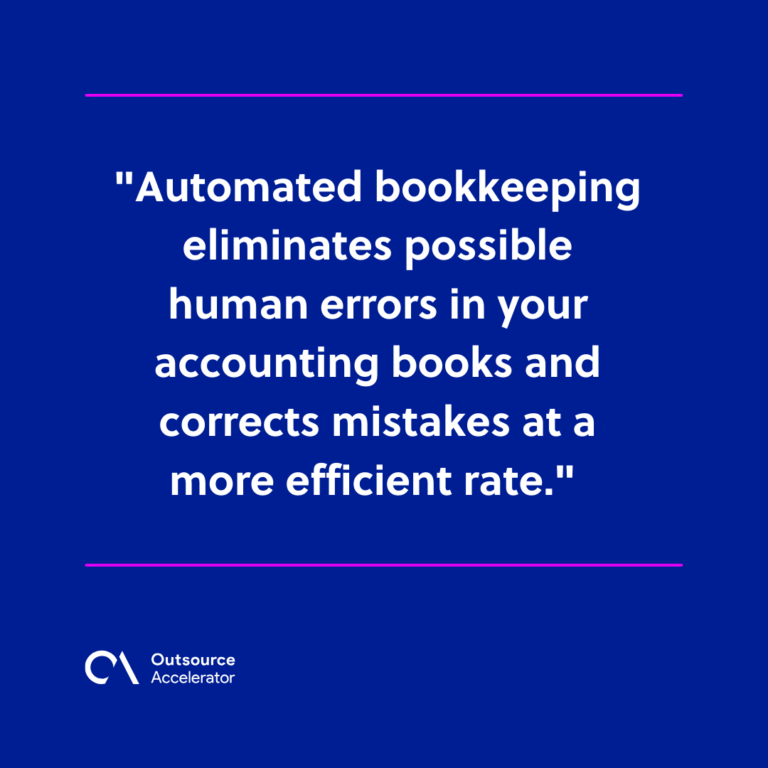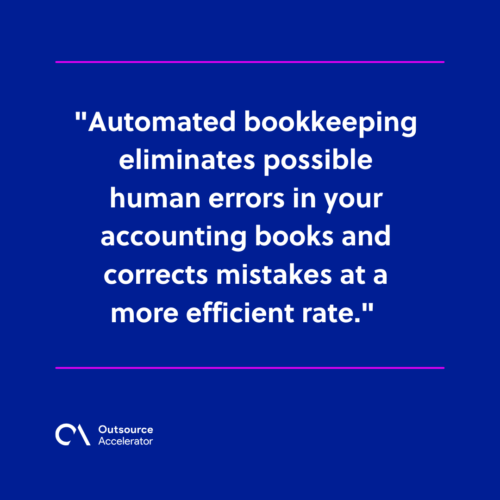 AI won't feel fatigued as a person would. It can review multiple records, data, and reports simultaneously. It can also tag mistakes and correct them in real-time.
You don't have to hire multiple employees to supervise the AI or use the accounting software you install whenever you update your accounting books.  
Secured financial data
Cloud-based accounting software ensures that all the financial data of your business is safe and secure.
You won't have to worry about data theft and/or loss, natural disasters that can destroy or damage your accounting books, and loss due to negligence. You can make soft copies of reports you use to make financial decisions.  
Minimizes accounting team redundancies
Automated bookkeeping reduces redundancies in your accounting team. You'll spend less on training and onboarding new employees. Most accounting software is user-friendly and simple to understand.
Once employees figure out the system, they'll need less supervision to do their work. 
Access to real-time financial data
You'll have access to precise and real-time financial data when you use accounting software.
You can use the real-time information for budget allocations, resource maximization, profit analysis, and implementation of cost-reduction measures. 
Faster turnaround time
The faster turnaround times that software provides enable you to take on more clients. You can deliver the results they expect from you in a shorter time compared to when you had to do manual bookkeeping.  
Retrieve financial anytime
Cloud-based systems allow users to retrieve the financial data they need at their own convenience. This makes working remotely possible without sacrificing security.
It also allows for easy access to information whenever you need to update a presentation or pitch to a client outside the office. 
Challenges of automated bookkeeping
Moving your financial data to the cloud and updating it to automation has its challenges. Some of the problems you might encounter include: 
The speed at which an employee learns the technology you uses varies. Some learn faster than others. This slow training period might delay automation for an extended period.

 

Data migration also takes a significant time to accomplish. In some cases, your current database might not match the software you use. The system might create discrepancies because of these mismatches. 

Your newly installed automated bookkeeping system might encounter technical issues such as downtimes, glitches, and slow internet connection. You might have to hire IT support or update the skills and certifications of your current team to meet the requirements of your new accounting software.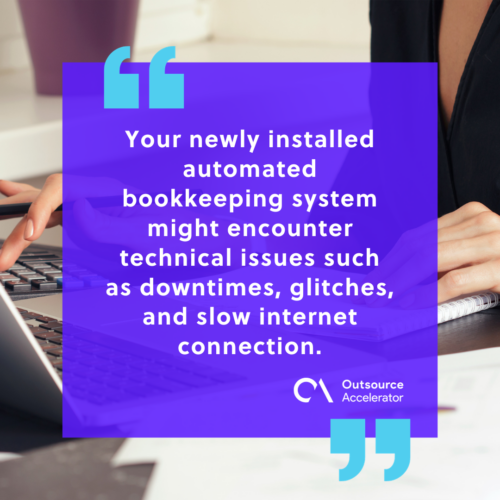 Manual vs. Automated bookkeeping: Which is a better option?
Knowing the difference between manual and automated bookkeeping provides you with the insights you need to invest in software.
You still need people to review your books, but automation simplifies their tasks and reduces their workload.
This means your team can focus their efforts and time on profitable work for your growing business. You can also consider outsourcing some of your company's accounting and bookkeeping tasks.