Exploring the role of an application support analyst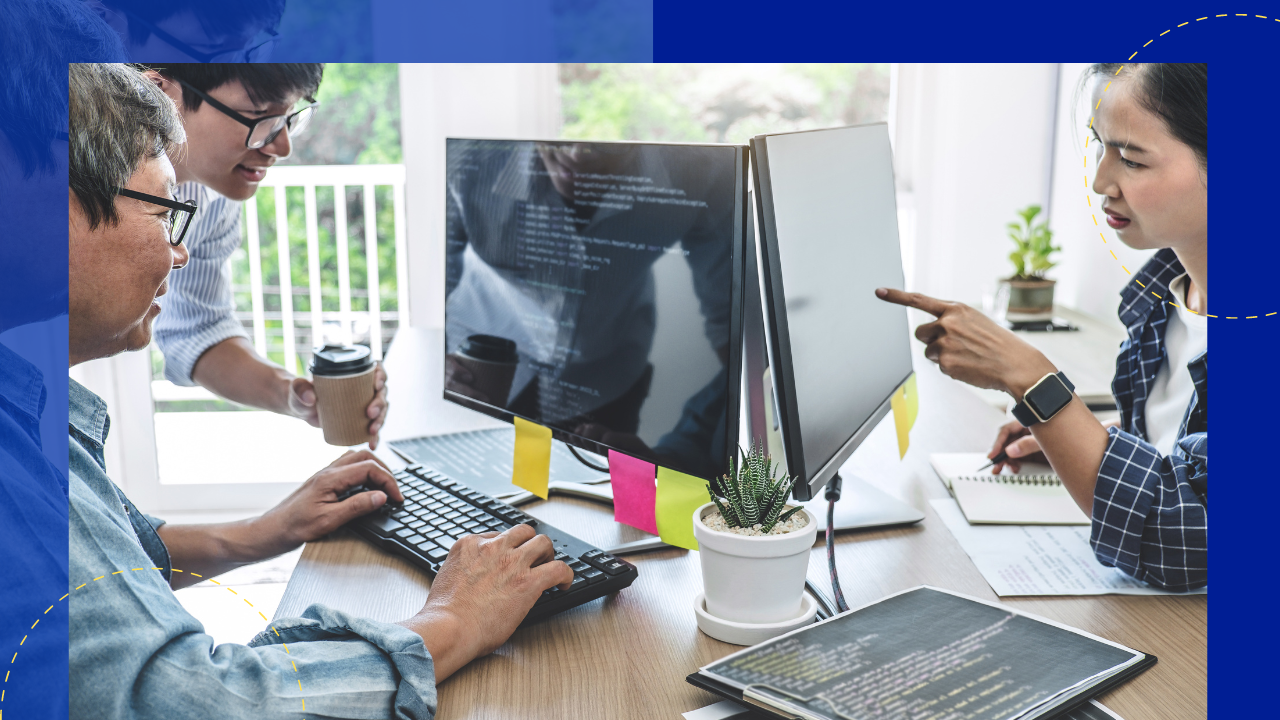 Modern businesses recognize that technology is the backbone of efficiency.
If you operate a company that relies on applications to support its operations, you understand the importance of having a smooth-running and reliable system.
According to a Data.ai report, global downloads of business applications increased by 90% in the past few years. This is why an application support analyst emerges as a crucial link in maintaining seamless functionality.
Let's learn more about this profession's responsibilities, including the skills and qualifications you should look for when hiring one.
What is an application support analyst?
An application support analyst is a specialized IT professional who ensures the stability and functionality of business applications and software systems.
Application support specialists play a crucial role in maintaining a well-functioning IT infrastructure by:
Resolving technical issues

Providing user support

Ensuring the smooth operation of essential applications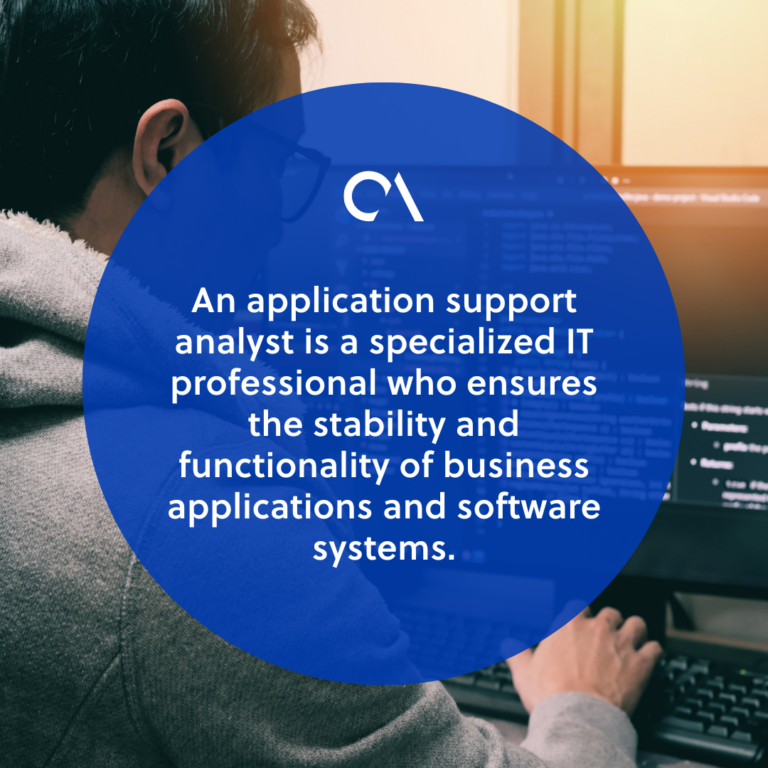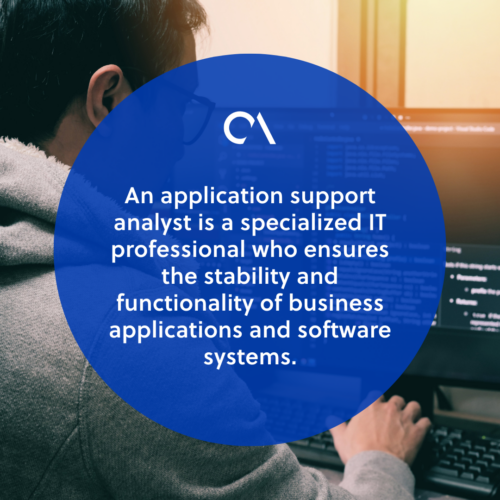 Qualifications needed for an application support analyst
Most application support analysts hold a bachelor's degree in computer science, IT, or a related field. Additionally, certifications like Information Technology Infrastructure Library (ITIL) Foundation enhance their credentials.

Responsibilities of an application support analyst
The responsibilities of an application support analyst encompass a wide range of tasks. Some of their key duties are:
Technical support
One of the key responsibilities of application support analysts is to provide technical support to users.
They resolve issues related to software applications, respond to user inquiries, and offer guidance on how to use the apps effectively.
Troubleshooting
Application support analysts are responsible for investigating and resolving application-related issues.
They analyze software logs, identify the root cause of problems, and implement appropriate solutions or escalate them to the relevant IT teams.
System monitoring and maintenance
These analysts monitor the performance of critical systems and applications. They proactively detect and resolve issues before they disrupt normal operations.
Regular maintenance tasks, such as installing updates and patches, are also part of their responsibilities.
Documentation
Maintaining accurate documentation is essential in IT support. An application support analyst documents troubleshooting procedures, issue resolutions, and user instructions.
This function helps in knowledge-sharing and ensures smooth employee onboarding and offboarding.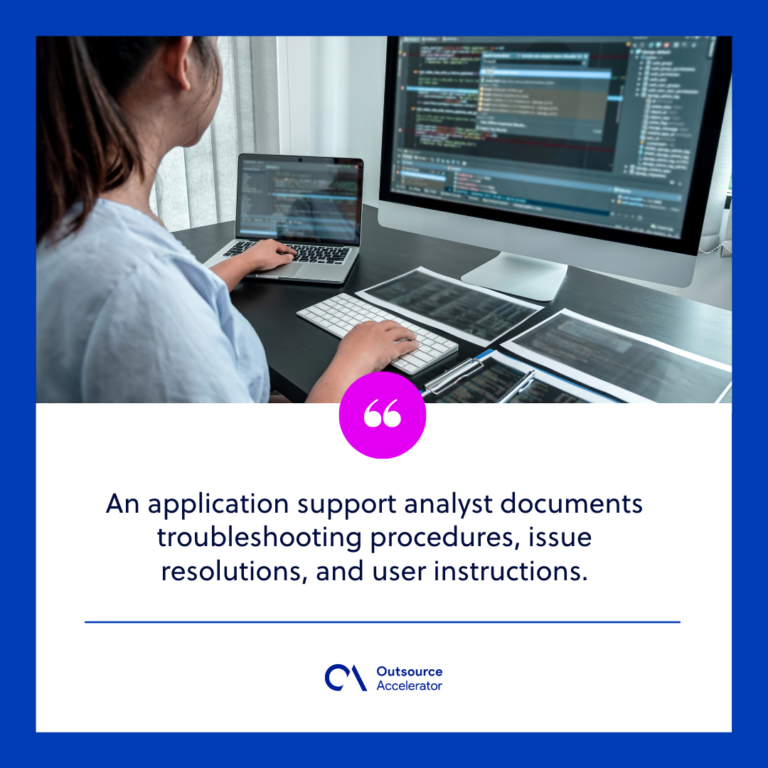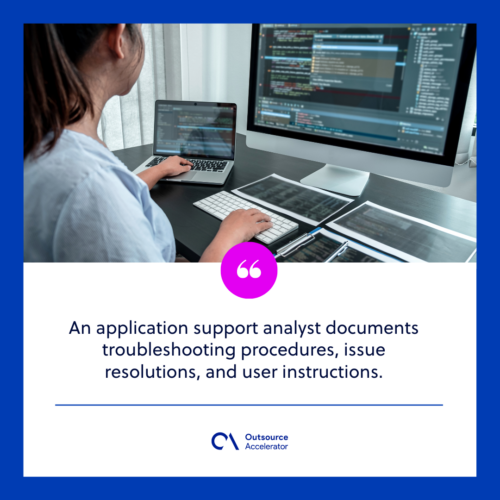 Collaboration with development teams
An application support analyst collaborates with software development teams to provide feedback on and improve app performance.
Part of its role is to communicate users' pain points and suggest enhancements to optimize experience and system functionality.

Cost-effective IT support
Having an application support analyst onboard can be more cost-effective than relying solely on in-house development teams or outsourcing support services.
Application support analysts provide specialized assistance and expertise tailored to the needs of your application systems.
Common tools used by an application support analyst
Application support analysts rely on various tools to carry out their tasks effectively. They use applications such as:
Ticketing systems

. An application support analyst uses this software to manage and track user issues and requests.

Monitoring tools

. These help analysts monitor the performance of critical applications.

Remote access software

. These tools allow application support analysts to

access users' systems remotely

for troubleshooting and assistance.

Data management software

. Analysts use this software to manage and organize data efficiently and optimize database performance.

Web platform development software

. An application support analyst leverages these tools to help build, customize, and manage websites and web applications.

Collaboration tools

. These facilitate communication and knowledge sharing between analysts and other team members.
Skills to look for in an application support analyst
When seeking an application support analyst, specific skills are paramount to success:
Problem-solving

. Application support analysts' ability to analyze complex technical issues and devise effective solutions is crucial.

Communication

. Effective communication skills are vital for explaining technical matters to non-technical users.

Attention to detail

. Analysts must be meticulous in their approach to ensure no issue goes unnoticed.

Technical proficiency

. A strong foundation in programming languages, databases, and software applications is essential. An application support analyst should be proficient in Structure Query Language (SQL), coding, and scripting.

Customer service orientation

. Good listening and empathy skills are crucial to providing a positive

user experience

and resolving issues effectively.
Why your business needs an application support analyst
Having a dedicated application support analyst offers numerous benefits, including:
Reduced downtime
Application support analysts play a crucial role in minimizing system downtime.
They promptly and proactively monitor systems to ensure critical apps remain operational. This reduces potential losses from business interruptions.
Enhanced user experience
With their technical expertise and user support skills, application support analysts improve the experience of using various software.
They provide timely assistance, resolve issues efficiently, and increase productivity.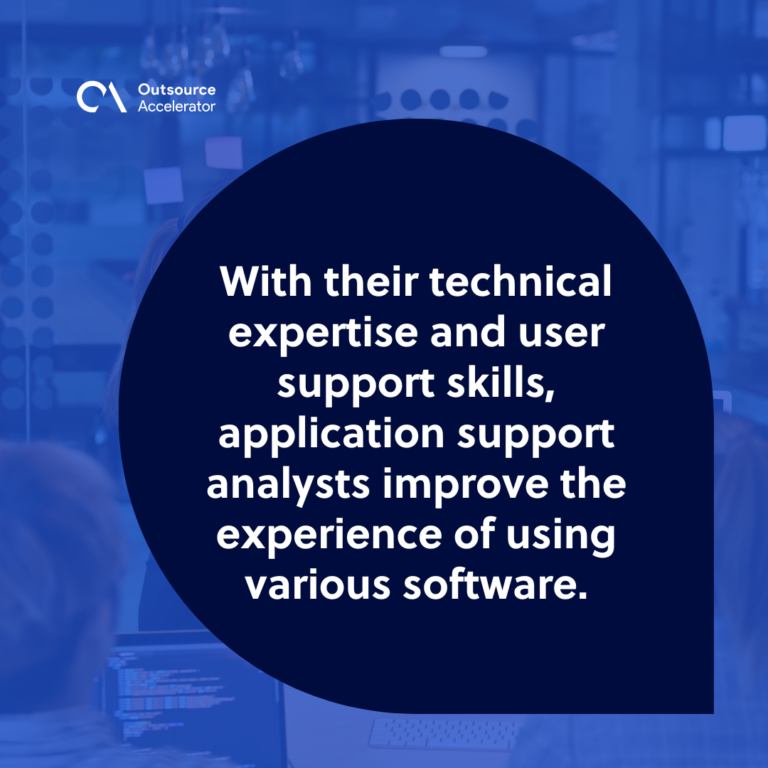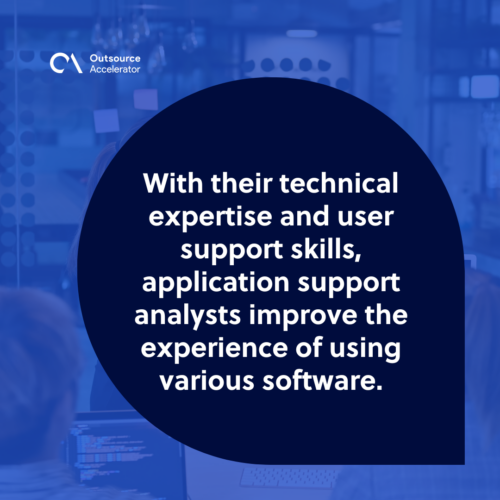 Efficient issue resolution
An application support analyst has the knowledge and skills to diagnose and resolve software issues quickly.
This expert's problem-solving abilities save time for employees who would otherwise struggle to find resolutions independently.
Continuous improvement
By working closely with development teams, application support analysts contribute to the ongoing improvement of your apps.
Their insights and feedback help identify areas for enhancement and ensure your software systems' stability and reliability.