A complete guide to app store optimization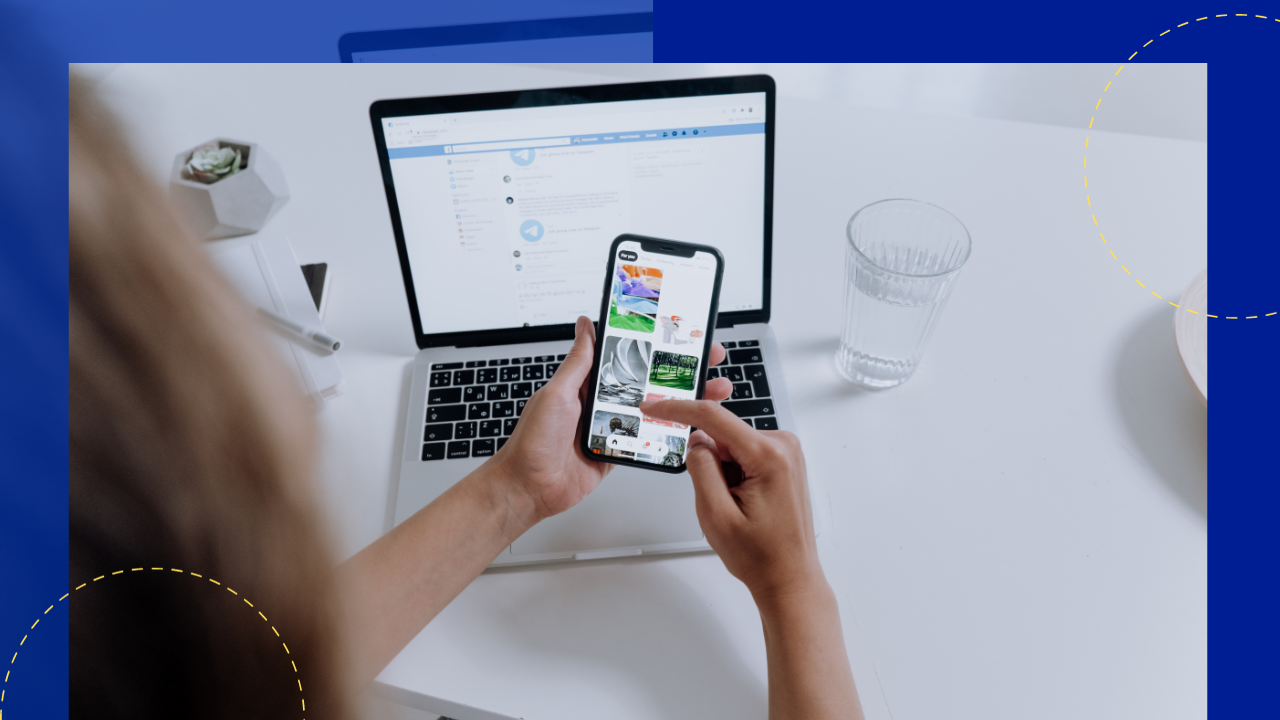 If you have created a mobile app, you know that getting people to download and use it is no easy task.
According to Statista, there are over 3.55 million apps in the Google Play app store alone. With this overabundance, it's crucial to make sure your app stands out from the competition. That's where app store optimization (ASO) comes in.
In this comprehensive guide, we will explore the ins and outs of ASO, from its basics to its remarkable benefits.
What is app store optimization?
App store optimization (ASO) is the process of optimizing your application's visibility and discoverability in app stores like Google Play Store and Apple App Store.
It involves various strategies to improve your app's ranking in search results, ultimately leading to more downloads and user engagement.
ASO considers both on-metadata and off-metadata factors. On-metadata factors include your app title, keywords, description, and screenshots.
On the other hand, off-metadata factors are based on external signals such as user ratings, reviews, and download numbers.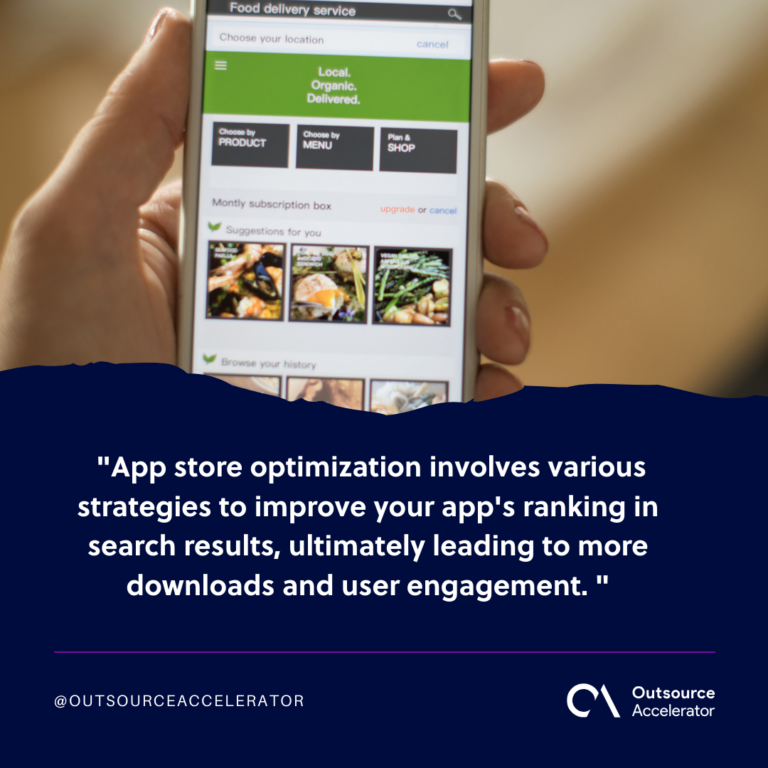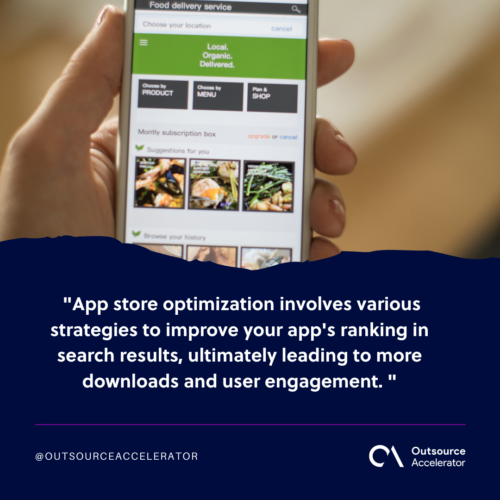 App store optimization: Factors to remember
To optimize your app effectively, keep the following factors in mind:
Keywords
You need to start with keyword research to improve your app's visibility and discoverability.
Identify the keywords people will likely use when searching for an app like yours. Incorporate those keywords naturally into your app's title, description, and metadata to increase the chances of appearing in relevant search results.
Title
Choose a title that clearly reflects your app's purpose, and it must include relevant keywords. Keep it concise, memorable, and unique.
Description
Craft a compelling and informative description highlighting your app's unique selling points. Use concise and persuasive language to capture users' attention.
App icon
Create an eye-catching and recognizable app icon representing your app's brand and purpose. A visually appealing icon can significantly impact conversion rates.
Screenshots and videos
Include high-quality screenshots and videos showcasing your app's key features and user experience. Visual elements play a crucial role in convincing users to download your app.
Number of downloads
The more downloads your app receives, the higher its chances of ranking well in search results. 
Encourage users to download your app by emphasizing its value, promoting it through different channels, and leveraging your existing user base.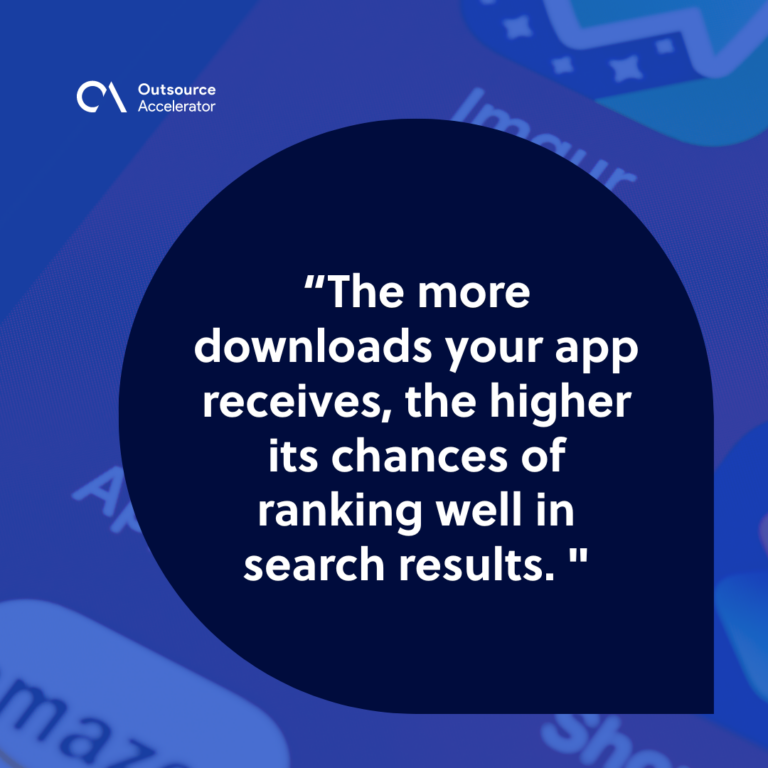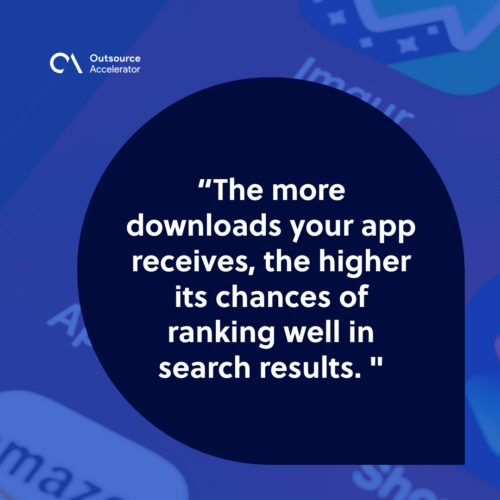 Localization
Consider localizing your app's metadata and screenshots to target specific markets. This can significantly improve your app's visibility and appeal to users worldwide.
Reviews and ratings
Getting positive reviews and ratings is essential for the success of your app. Motivate content customers to share their experiences and offer valuable feedback.
Address any negative reviews promptly and make improvements based on user feedback.
Benefits of app store optimization
By investing time and effort into app store optimization, you can reap several benefits for your app and your business:
Boosted customer retention 
Additionally, app store optimization helps improve user engagement and retention. When users find your app in the store and download it, they are likelier to continue using it if it meets their expectations.
Cost-effective marketing
Compared to other user acquisition strategies like paid advertising, ASO is a cost-effective way to drive organic growth for your app.
Better app ratings and reviews
You can encourage positive app reviews and address negative feedback through ASO. As a result, you improve user satisfaction and build a positive reputation.
Increased revenue
App store optimization can impact your app's revenue by increasing the number of downloads and user engagement.
More users downloading and using your app translates into higher revenue through in-app purchases, subscriptions, or advertisements.
Competitive advantage
By optimizing your app for app store search results, you can outshine your competitors and gain a competitive advantage.
When users see your app ranked higher in search results and read positive reviews, they are likelier to choose it over others in the same category.
Long-term growth
With up to three million apps available in each of the leading app stores, it's easy for your app to get lost in the sea of competition.
ASO helps boost your app's visibility and user acquisition in the short term. Therefore, it contributes to long-term growth and sustainability.
By consistently improving your app's visibility and engagement, you have a higher chance of attracting potential users looking for what your app offers. You can build a loyal user base and increase its market longevity.

Reaping the rewards of app store optimization
App store optimization is the key to unlocking your app's potential. Following the strategies mentioned in this guide can enhance your app's visibility, credibility, and user base.
Remember, the benefits of app store optimization may vary depending on the nature of your app, target audience, and market conditions.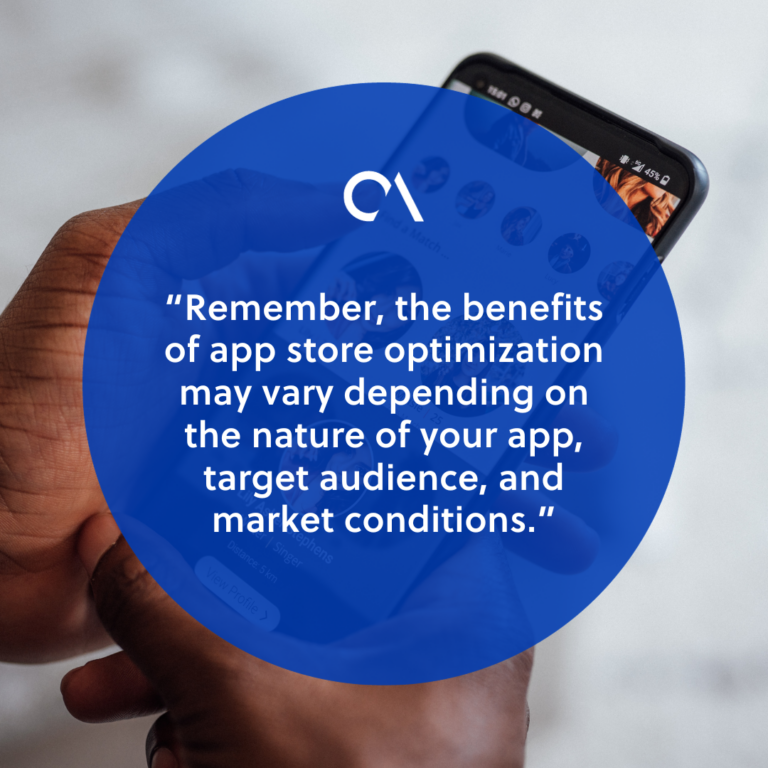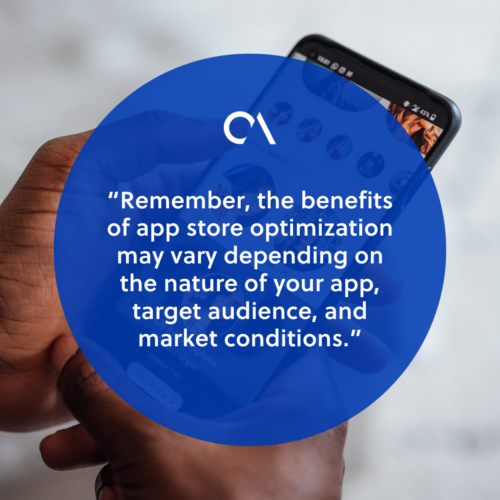 It's essential to continuously monitor and adapt your ASO strategies to maximize the rewards for your specific app.
Whether you're a seasoned app developer or just starting out, mastering the art of ASO is essential for achieving success in the digital age.