AI customer service: The future of the industry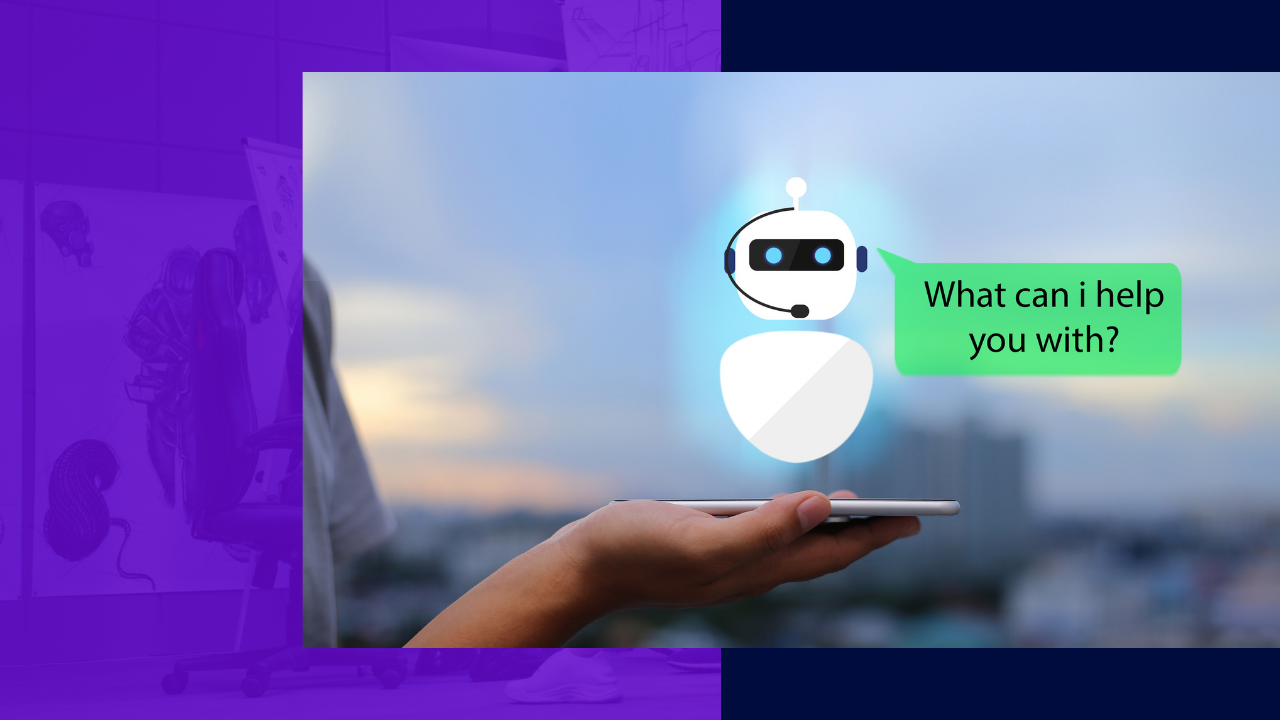 AI customer service was developed to further assist consumer care representatives to make their daily operations more efficient and productive.
Throughout the years, software developers, AI specialists, and tech moguls have been working hard to integrate AIs into programs, operating systems, websites, and mobile applications.
With this advancement, most of us now have access to digital help from the most known AI assistants such as Siri, Cortana, Google Assistant, and Alexa. 
These programs are known for helping users on a more personal level. But when it comes to consumer care—or any large-scale entities—the approach changes.
Instead of being personalized to one user, AI customer service bots are trained to serve as many customer tickets as they can handle. 
Given that they are enterprise-grade, meaning they're made to handle fleets of information, it's safe to say that they are worthy of investment.
What is AI customer service?
As the name suggests, AI customer service utilizes the usage of artificial intelligence in order to make consumer care easier and more streamlined.
When talking about AI customer support, some people might think of ASIMO of Japan, manning the frontlines of the consumer care industry. But in reality, it's much more subtle than that.
AIs could take on the form of automated answering machines, chatbots, and online knowledge base assistants.
Customer care itself is already filled to the brim with the newest and freshest technology and programs. So why does the industry need AI bots too?
The purpose of AI bots is to make people's lives easier, one day at a time. Imagine integrating an AI into an agent's day: they would become more productive and efficient, compared to an AI-less workday.
That being said, integrating sophisticated software into a department doesn't have to be expensive. There are AI companies that provide enterprise-grade services to businesses that want to dip their toes into AIs customer service bots.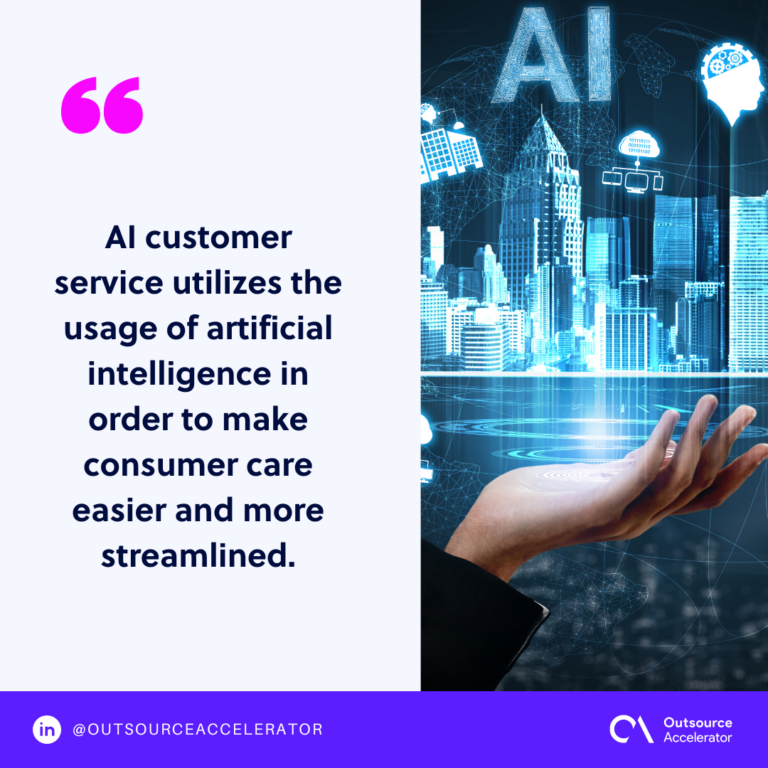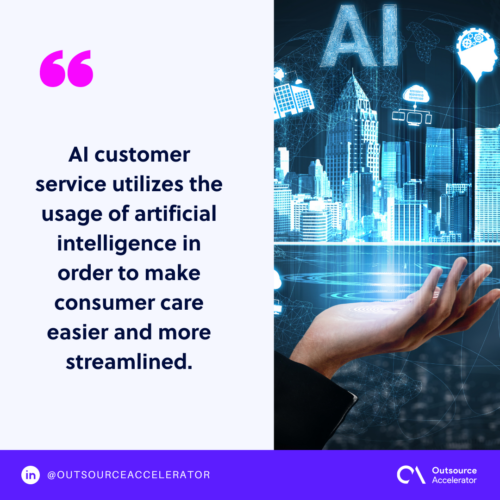 The integration of AI with customer service
The integration of artificial intelligence with customer service has been a long time coming. 
The rise of demand for better customer support has impacted the sector and, thus, companies are looking for innovative and creative ways to keep up with the demand.
With the help of AIs, the customer care department of any company can now keep up with the surge of demand and incoming tickets.
How AI can make customer service activities easier
As mentioned earlier, AI-powered service processes are much more streamlined than their opposite.
For instance, Facebook Messenger had introduced chatbots years before and now, almost every business with an online presence has one installed.
The most common form of the chatbot often greets the buyer with a short introduction and interactive choices. From there, the conversation may end with an estimated queue time or an instant reply from a chat support agent.
This is just one of the many instances of AIs making customer care activities easier and more productive.
CS activities that can be manned by AIs
The following processes can be worked on by AI and customer care representatives simultaneously. Keep in mind that while artificial intelligence is one of the most high-tech pieces of infrastructure, we still have a long way to go.
Having human counterparts to AI customer support is one way to ensure that the process is flawlessly executed. 
For now, we can hope that sometime in the future, AIs can run processes without any human interactions.
Email support
While AI email support may not be as popular as others on this mini-list, it can still be of tremendous help to consumer support teams.
Email auto-responders can be used for a multitude of activities such as initial replies, follow-up emails, and introductory or welcome emails.
Chat support
As briefly mentioned earlier, chatbots, or chat support bots, will take care of the initial conversation with the interested client. Most businesses program the AI to direct consumers to identify what kind of help they need.
From questions to concerns, AI chatbots help in the organization of helpdesk tickets.
Online knowledge bases
Online knowledge bases are a great tool that can aid call center agents with efficient problem-solving. 
A knowledge base system powered by AI stores expert knowledge and other useful information in one place, allowing all agents to deliver quick and consistent solutions to customers. 
This is more on the internal part of consumer service activities but is helpful nonetheless.
Can AIs run phone customer service?
Believe it or not, AIs are already manning customer hotlines over the phone.
Interactive voice response (IVR) is a phone system that utilizes automated and prerecorded responses that accept numerical or vocal input. 
It can let consumers navigate through the company's knowledge base system and solve the issue on their own or it can lead them to an agent's queue.
Top 3 US companies that provide AI services
More and more AI companies are popping up to provide businesses with top-of-the-line AI services to assist in their consumer care activities. 
These service providers work hard to develop artificial intelligence infrastructure that will eliminate administrative tasks in the workplace. From automation to streamlining, they've got it all covered.
Yellow.AI aims to revolutionize the customer care industry with its automated consumer engagement and response platform powered by its AIs.
The company provides its clients and partners with hassle-free integration and 24/7 after-sales care.
Running primarily on chat-based customer care platforms, AlphaChat is continuously developing ways to effectively run modern chat support activities.
AlphaChat introduces no-code and end-to-end conversational AI that can be launched in minutes. With this, chat support agents have a lighter workload that's easily manageable.
Another conversational AI is LivePerson that boasts its AI-powered Conversational Cloud. Known before as LiveEngage, the AI-powered chatbot aims to turn prospects into active leads.
Businesses can customize their Conversation Cloud to further integrate their marketing tone and culture to the chat support channel.
How AIs can help customer service agents perform better
Artificial intelligence is developed to assist in our daily lives. 
As technology advances, most of us don't need to manually write down dates and reminders. Modern phones already have a built-in digital assistant that recognizes our voice commands.
It's the same for the customer care industry too. Consumer care is one of the busiest careers one can have in an office setting. Reducing even the smaller tasks can immensely help agents become more focused.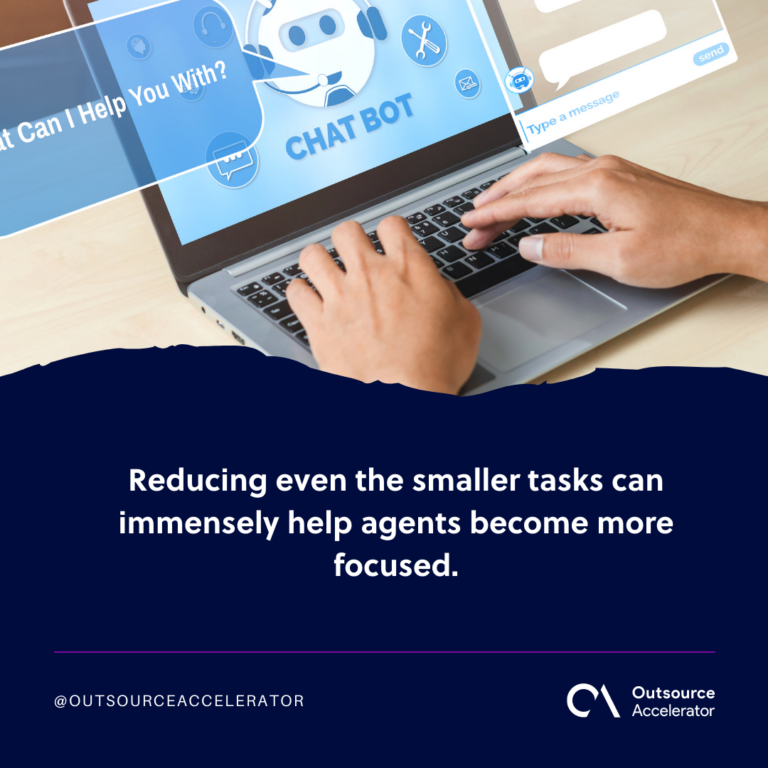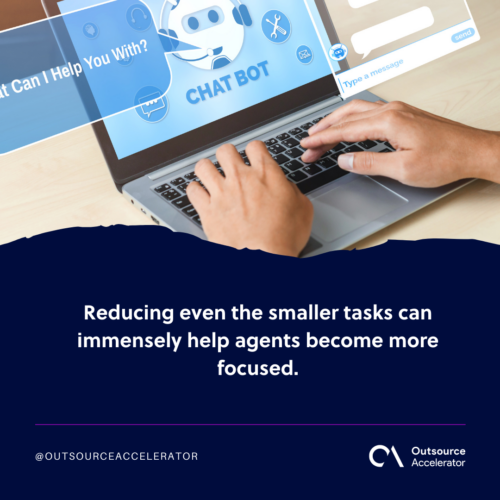 Less administrative tasks
Most AI customer service bots are developed to lessen the burden of organizing tickets into neat little categories. They can also be trained in collecting basic consumer information to store and double-check.
While administrative tasks are important too, the menial aspects of the duty may add up. And before you know it, the workday is filled with these—hindering your productivity. This is where AI customer service software is most useful. 
Streamlined processes
Streamlining processes is such an integral part of any successful department. With AI customer service bots, any attempts of streamlining activities will be a million times easier.
For instance, smart IVRs can be trained and programmed to ask the caller to identify the nature of their call (e.g., urgent, non-urgent, questions, etc.). By doing so, the agent who will take the call will be able to adjust their approach once the patron is up the queue.
This can also be a way of identifying which calls agents need to take first, based on the call's level of urgency.
With this, agents have the ability to prioritize easily and without hassle, delegating their time and utmost effort to the more urgent tickets.
Many companies have recognized the value of integrating AI into their business processes. These companies turn to reputable offshoring firms like Outsourced to provide them with skilled AI developers that can help them streamline their existing processes.
Better implementation of best practices
Best practices are put in place so employees and workers are aware of the best possible way to execute company processes, bylaws, and procedures.
When a new initiative is introduced in the workplace—in this case, an AI customer service bot—it will be easier to implement consumer care best practices with it onboard.
New and existing consumer care agents can learn the new best practices and can now work more efficiently and be twice as productive in a workday.
Why employees shouldn't be afraid of AI assistants taking over
At present, companies need to step up to meet the demands of the public. Some take on this challenge by employing as many people as they can to man desks, while others choose a more automated route.
AI customer service companies are working hard to keep up with the trends, and the demand for their services, suffice to say, is here to stay.
While the fear of losing a job to an AI machine is a valid concern, it's still less likely to happen in the near future. 
To ease these concerns in a general manner, industries—even in the future—will still need human workers and employees to run a successful business.
As mentioned before, even the most sophisticated AI customer service will still manage to make small, preventable mistakes that their human counterparts can correct.
Maybe in the later years, we won't need much of the labor force but until then, AI and humans can coexist together, making days as productive as possible.