Accounts payable specialists: Who they are and what they do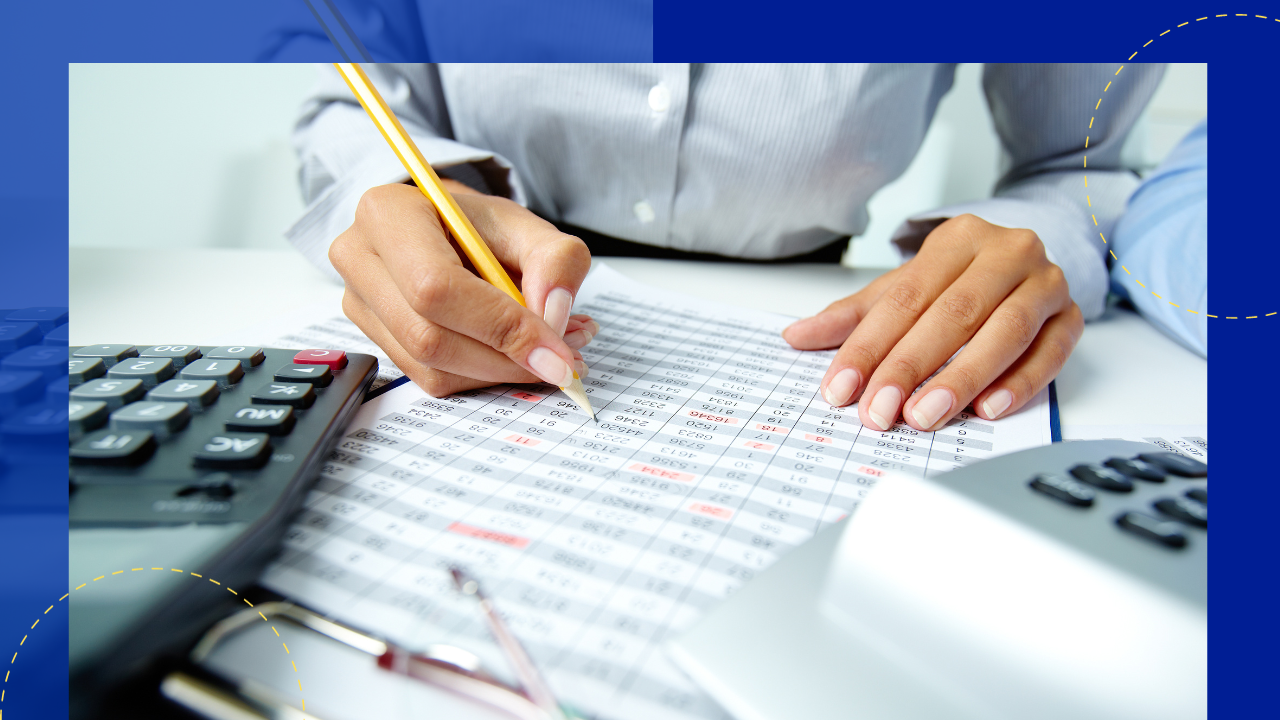 Countless transactions occur daily in business finance. Here, an unsung hero works diligently behind the scenes to keep the financial gears turning smoothly – the accounts payable specialist. 
This article sheds light on the vital role of accounts payable specialists. We'll explore the key responsibilities, skills, and qualifications required to excel in this role, including their impact on your financial efficiency. 
What is an accounts payable specialist?
An accounts payable specialist oversees a company's financial obligations. 
Accounts payable specialists are professionals with the critical responsibility of managing and processing the payments that a company owes to its vendors and suppliers. In doing so, they safeguard the organization's financial health. 
Their role is essential for maintaining a business's financial health and stability.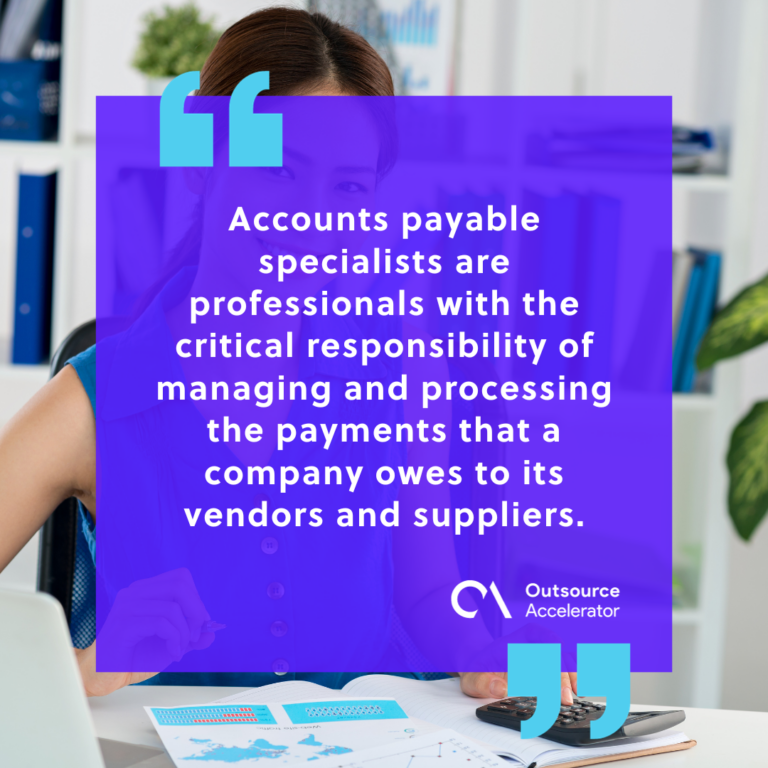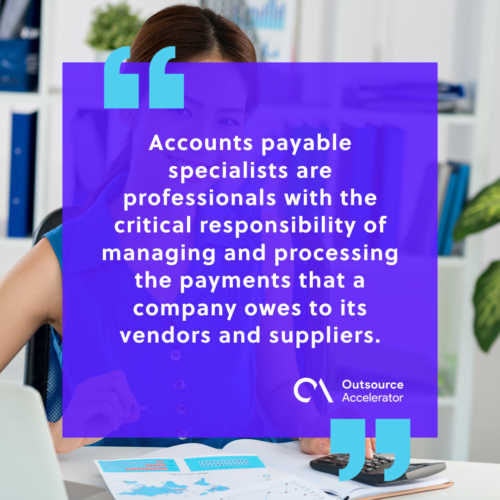 Responsibilities of an accounts payable specialist
The responsibilities of an accounts payable specialist typically include: 
Managing accounts payable
An accounts payable specialist is primarily responsible for ensuring that payments to suppliers and vendors are made on time. This involves preparing and issuing checks, initiating electronic payments, and maintaining payment records. 
Accounts payable specialists frequently utilize accounting software and other programs for this role. 
Invoice processing
Accounts payable specialists receive and process invoices from suppliers and vendors. They verify that the invoices are accurate and in compliance with the company's policies and purchase orders. 
Financial reporting
These professionals contribute to financial reporting by providing accurate and up-to-date information on accounts payable to the finance department. This may require collaboration with other internal departments to gather data.
This information is crucial for budgeting and financial analysis. 
Maintaining vendor relationships
Accounts payable specialists often communicate with suppliers and vendors to resolve any discrepancies or issues related to invoices, payments, or deliveries. They may also negotiate payment terms when necessary. 
Thus, they need to build and maintain positive relationships with these external entities. It allows them to negotiate favorable terms and ensure a reliable supply chain. 
Ensuring compliance
Ensuring compliance with relevant financial regulations and company policies is a key part of the accounts payable specialist role. They must be aware of tax regulations and other legal requirements related to payment processing. 
Problem resolution
They may occasionally investigate and resolve discrepancies, disputes, or issues related to invoices, payments, or vendor relationships. This may involve working closely with other departments, such as procurement or receiving. 
Recordkeeping 
Accounts payable specialists must maintain detailed and organized records of all financial transactions related to accounts payable. This includes filing invoices, receipts, and payment records for future reference and auditing purposes.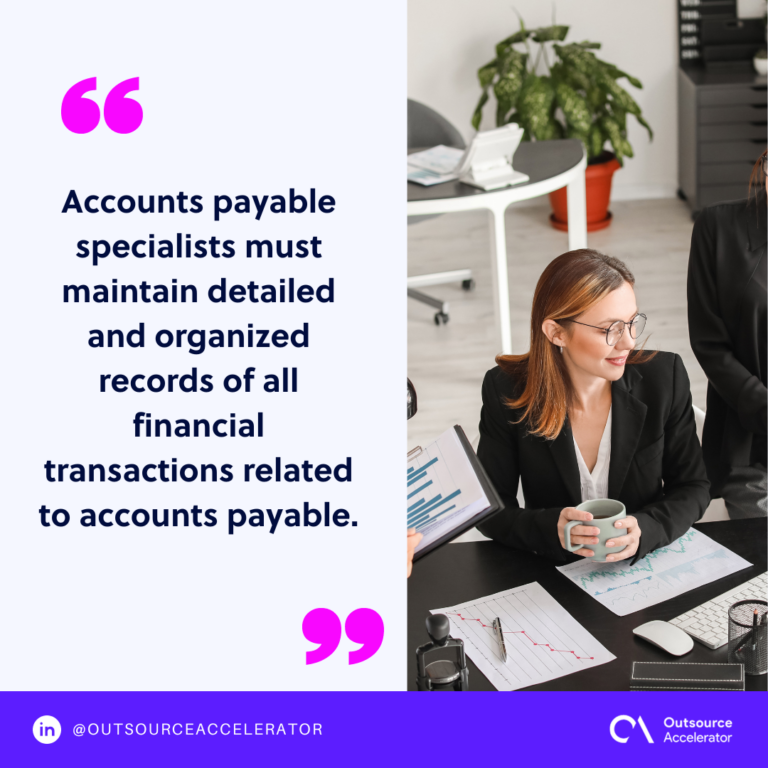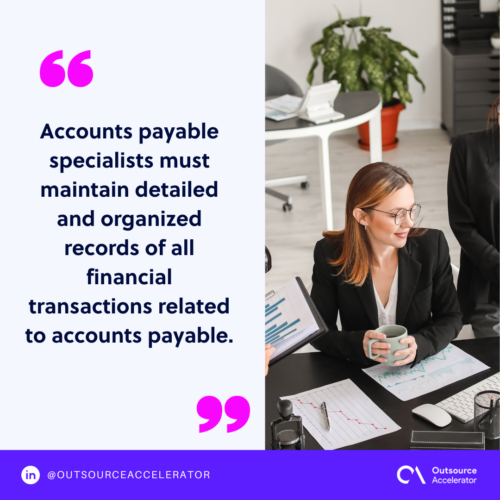 Expense reporting
An accounts payable specialist may assist in preparing expense reports for employees. Accounts payable specialists ensure that expenses are properly documented and reimbursed in a timely manner. 
Skills and qualifications needed for an accounts payable specialist
One needs a combination of different skills and qualifications to excel as an accounts payable specialist. 
These abilities enable them to effectively manage financial obligations, ensure accuracy in financial records, and contribute to the overall financial stability of an organization. 
When hiring for this role, remember these key skills and qualifications needed: 
Skills 
Here are the particular skills to look for in an accounts payable specialist:
Financial acumen

– A solid understanding of basic accounting and financial principles is crucial to help them interpret data. This includes knowledge of accounts payable processes, financial statements, and general ledger coding.  

Attention to detail

– Being meticulous and accurate in handling financial transactions is paramount. Accounts payable specialists must precisely verify invoices, payments, and records to avoid errors. 

Communication skills

– They need strong written and verbal communication skills to interact with vendors, suppliers, and internal departments. This helps resolve issues and negotiate payment terms. 

Organizational skills

– Strong organizational abilities are needed to handle a large amount of invoices and payments.  

Problem-solving ability

– An accounts payable specialist often encounters discrepancies and disputes. Being a skilled problem-solver will help resolve these issues efficiently. 

Mathematical expertise

– Strong mathematical and numerical skills are needed to accurately process and reconcile invoices, calculate discounts or amounts owed, and assist with financial reports. 

Technological proficiency

– Familiarity with accounting software and systems is essential. Many tasks involve data entry and analysis using these tools. 

Time management

– Managing multiple invoices and payments requires efficient time management to meet deadlines and prevent bottlenecks. 

Analytical thinking

– Accounts payable specialists must possess the ability to analyze financial data, spot trends, and identify areas for cost savings or process improvements. 
Qualifications
An efficient accounts payable specialist possesses the following qualifications: 
Education

– A high school diploma or equivalent is typically the minimum educational requirement. However, some employers may prefer candidates with an associate's degree or higher in accounting, finance, or a related field. 

Certifications

– While not always mandatory, obtaining certifications can enhance a candidate's qualifications. Look for certifications like the

Certified Accounts Payable Professional (CAPP)

or Certified Public Accountant (CPA).  

Experience

– Previous experience in a finance role is preferred. Entry-level positions may require minimal experience, while senior roles may demand several years of relevant experience.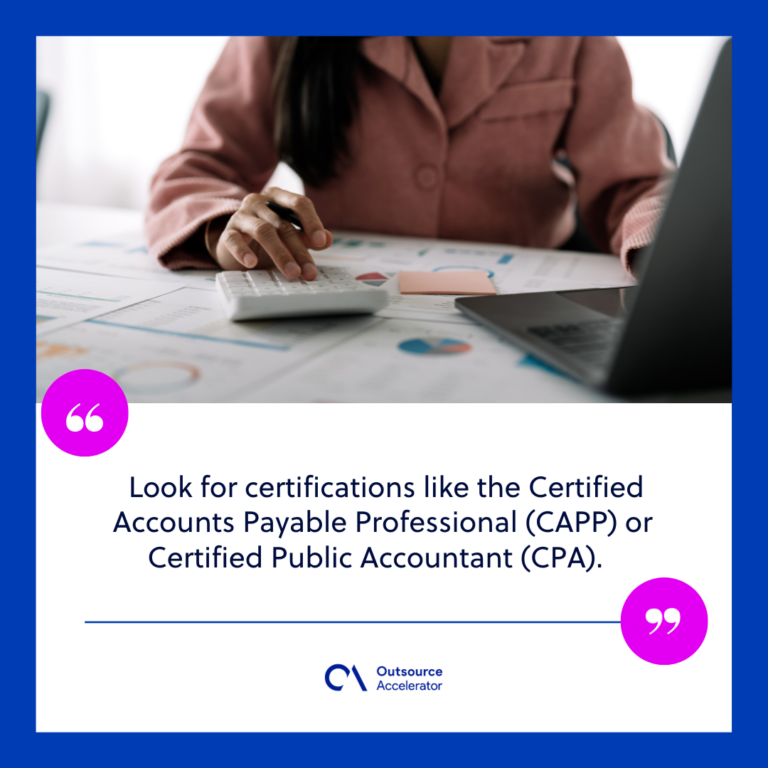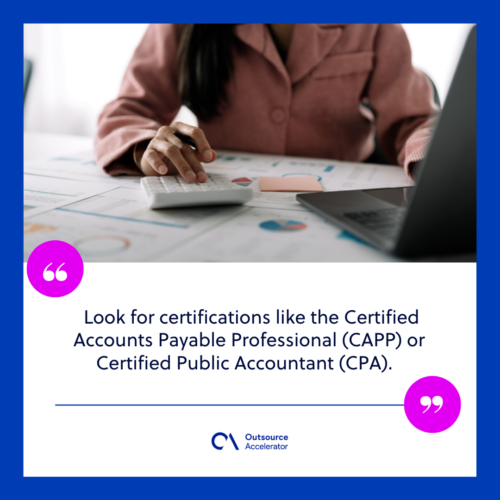 Accounts payable specialist salary
According to the job search site ZipRecruiter, the average hourly pay for an accounts payable specialist is $23.50/hour in the United States. The salary rate for this role across the industry may vary depending on experience and location. 
If you're looking to outsource an accounts payable specialist, you may even be able to reduce this labor cost. You can learn all about accounts payable outsourcing here.