The advantages and disadvantages of accounts payable outsourcing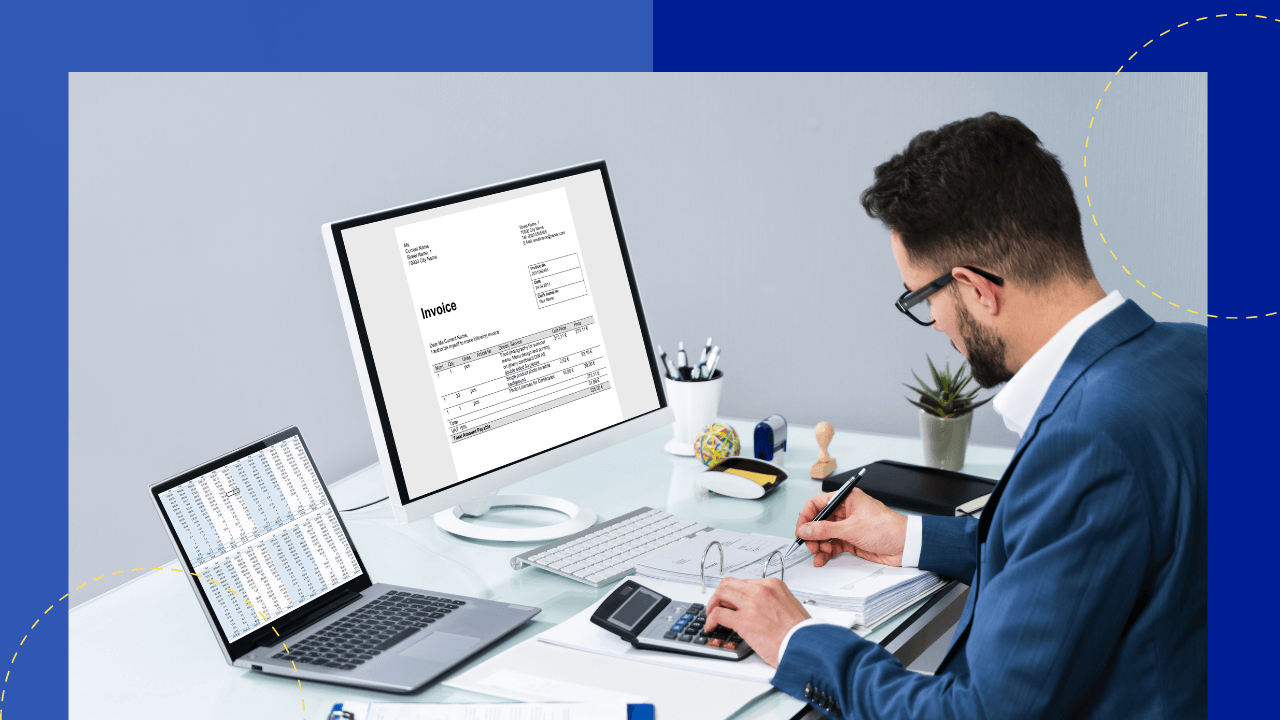 The advantages and disadvantages of accounts payable outsourcing
Financial managers must identify the obstacles preventing the company from succeeding financially. This includes defining what success looks like when back-office and administrative responsibilities multiply due to increases in invoice volume or business development. 
Your accounts payable (AP) department must determine how to scale its operations to handle an increased volume of invoices with limited resources. This is on top of all your other financial responsibilities to keep the company expanding.
What is accounts payable?
Accounts payable refers to the short-term debt and liability on a balance sheet that a company owes to the suppliers and vendors who have given them credit for goods or services. 
Also known as trade payables, the accounts payable department manages vendor bills or invoices and enters the current liabilities in the general ledger (GL).
Before paying, the AP department would compare invoices to purchase orders to make sure the products or services were indeed received.
Accounts payable represents the total of all past-due sums a company owes to its suppliers on its balance sheet. Additionally, a cash flow statement shows a rise or decrease in total AP from the previous period.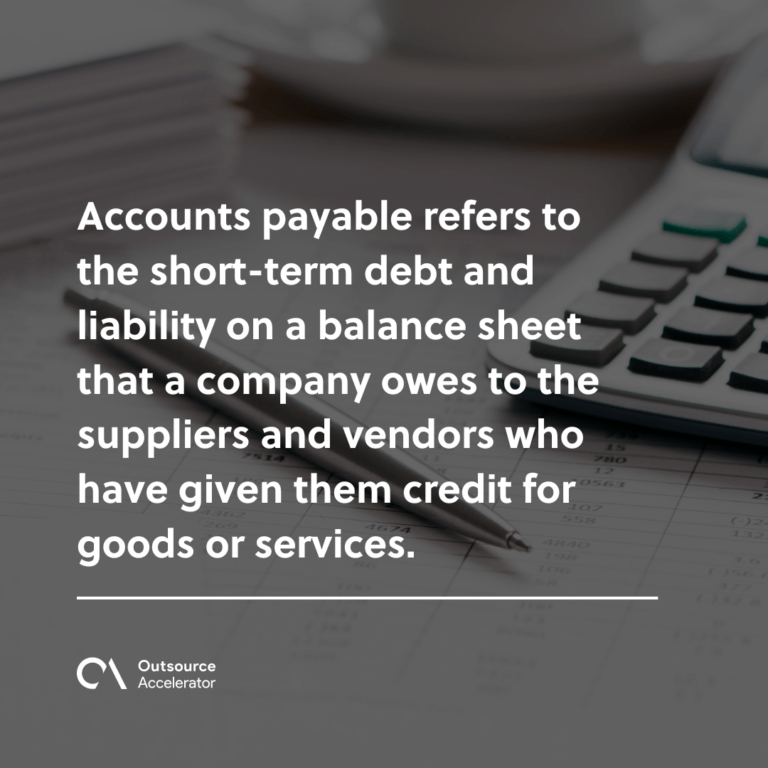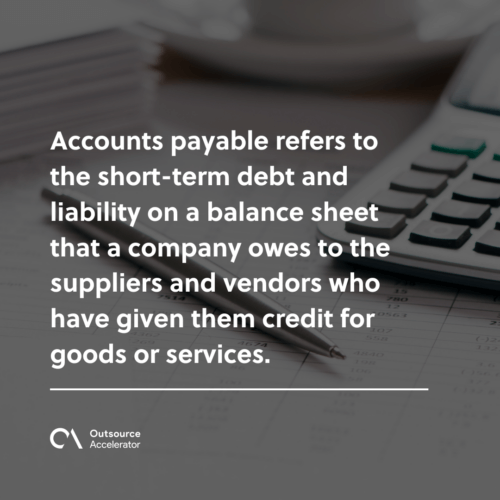 Why get accounts payable outsourcing services
Adequate bandwidth, automation tools, and time are required to manage the complexity of accounts payable operations.
Handling your connections with suppliers and vendors is difficult enough. Complicated accounts payable procedures may prevent your business from growing.
In the worst-case scenario, an inefficient accounts payable process could cost your company money. Thus, numerous businesses embrace automated accounts payable technologies to streamline finance and accounting procedures.  
A component of business process outsourcing (BPO) is accounts payable outsourcing. Companies employ a skilled third party to electronically capture and process vendor invoices, accounts payable, and payments to lessen the stress on their internal financial staff.
Services provided by accounts payable outsourcing companies
Many accounts payable outsourcing companies offer various services, from matching invoices with purchase orders to processing monthly sales tax. 
Accounts payable outsourcing companies can also do the hard work of processing your purchase orders, debit memos, standard pricing information, and monthly AP ledgers. They can also prepare and process accounts receivable (AR) aging reports for you.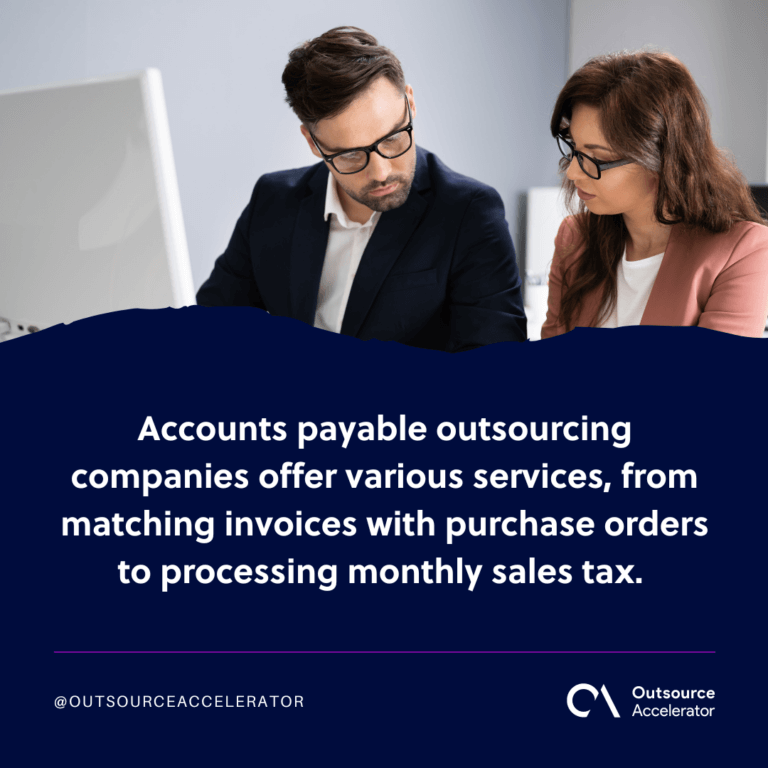 Advantages of accounts payable outsourcing
Outsourcing accounts payable has promising benefits. Here are some of them.
Efficiency in invoice processing and payments
Your outsourcing company heavily considers your account payable requirements, stepping in to keep a close eye on automation and workflows.
You can see outcomes more quickly and plainly than if you were still dependent on laborious procedures and antiquated processes. 
Avoiding double payments
Finding problems during an accounts payable audit is a significant concern. Errors do not merely result in expenses but also in compliance problems, depending on the regulations that apply to your business.
Even a minor mistake can result in significant issues during an audit, like paying a vendor incorrectly. 
When performing their duties, accounts payable outsourcing companies do not just adhere to best practices. They also use technology to spot mistakes before they cause liabilities.
Reduced hiring needs
Outsourcing lowers the cost of accounts payable mostly by avoiding overhead expenses. It is expensive in terms of money and time to hire new workers and teach your current staff to use new procedures and technologies.
Accounts payable outsourcing may result in cost savings for you because you will not have to deal with things like insurance, pensions, or office space and equipment for new employees.
Recent studies claim that recruiting one employee can reach $5000, and the cost of employing executives keeps rising.
These expenses can add up rapidly, especially for large businesses. By outsourcing, you can save money and time on hiring, training, and rewarding new staff.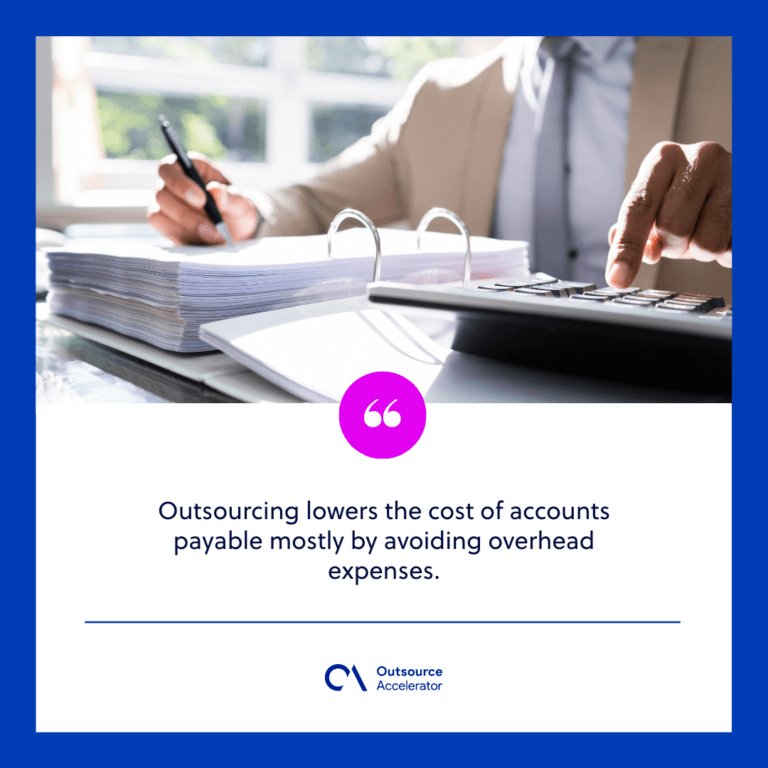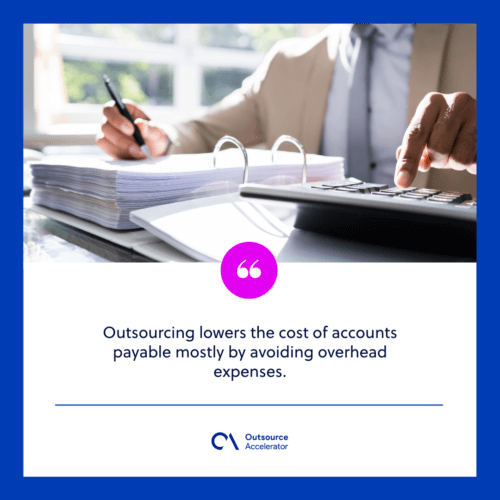 Shifted focus on higher-level tasks
A company's internal teams may concentrate on other crucial duties, such as budgeting, analysis, decision-making improvement, and vendor relationship management.
Your company's workload is reduced by outsourcing accounts payable. Your accounts payable team becomes free to focus on the tasks that help the company create value.
Automated accounts payable process tracking
Accounts payable outsourcing firms frequently use automation software to increase efficiency. The automatic tracking features of these companies enable their partners to keep track of each step of the accounting process as required.
The top accounts payable outsourcing companies have the resources to integrate with any current accounting system.
You gain access to top-notch resources when you delegate your accounts payable responsibilities to them. These include computer systems with specialized expense management, invoicing, and other accounting applications.
Disadvantages of accounts payable outsourcing
Using external statements payable outsourcing providers to free up your internal accounts payable department also has drawbacks when not adequately managed.
Ineffective service provider
The network between a corporation and its suppliers, known as the supply chain, may be jeopardized by inefficient accounts payable operations.
Errors will still occur, even if an outsourced provider, presumably, makes fewer mistakes than a stressed-out accounts payable department.
Reduced control over accounts payable processes
Businesses have more control over procedures and systems when they have internal accounts payable divisions. Internal staff members are more approachable, and queries and problems are directed immediately to the appropriate individuals.
Outsourcing companies will probably not spend the weekend making it up if an emergency arises. They will need help to follow your accounts payable routines precisely, causing you to follow their processes.
Unreliable communication and transparency
Reliable outsourced accounts payable service provider will offer live customer assistance. However, the terms of their communication with you may vary. 
There may be a few profound insights that could make your company run more smoothly from a financial standpoint. Also, many outsourced accounts payable service providers are located abroad, which can be a communication and access barrier.
Risks with business interruption crises
An organization that outsources its accounts payable risk becoming reliant on a different provider. This reliance could be dangerous, especially if an organization's outsourcing partner unexpectedly experiences financial difficulties or data breaches.
Such events may jeopardize an organization's accounts payable procedures. It could be time-consuming and expensive to switch to a different provider of outsourced accounting services.
Data privacy and security concerns
Companies that outsource accounts payable services have access to private financial data. Most of the time, these outsourcing companies also keep a company's data on internal servers and the cloud.
While these data storage methods make the data more accessible to the parties involved, they also increase the risk of security breaches and unauthorized access to sensitive information.
By all means, review your provider's privacy and data security policies to ensure that they adhere to your standards.