When Successful Entrepreneurs Build an Outsourcing Firm – with Michael Ross of Doxa Talent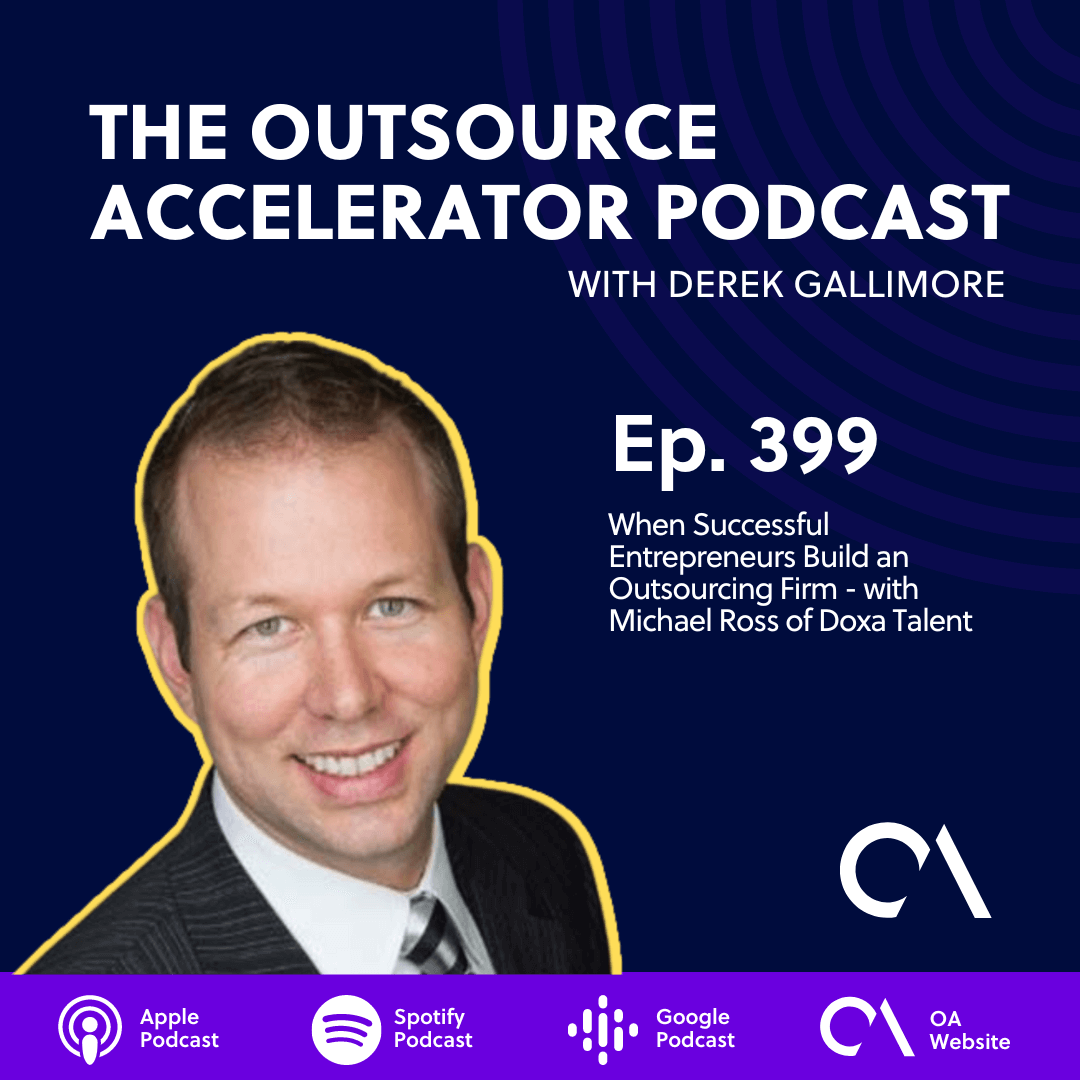 Doxa Talent
Derek Gallimore introduces Michael Ross, Chief Revenue Officer and co-founder of Doxa Talent. A new entrant in the BPO industry, Doxa both serves as an employer of record (EoR) and provides offshore staffing for clients in the US.
In this episode, Derek and Michael discuss Doxa, its journey during the pandemic, and how outsourcing and globalized employment have changed over the past years.
The OA podcast welcomes Michael Ross, Chief Revenue Officer and co-founder of Doxa Talent. A recent entrant in the outsourcing industry, Doxa Talent is born out of founders with a wide business and entrepreneurial experience.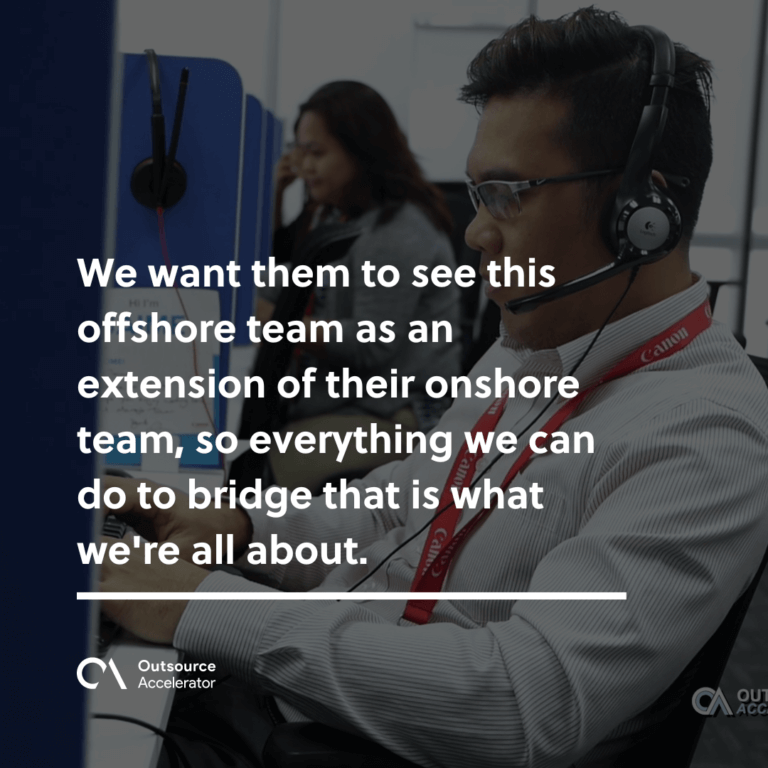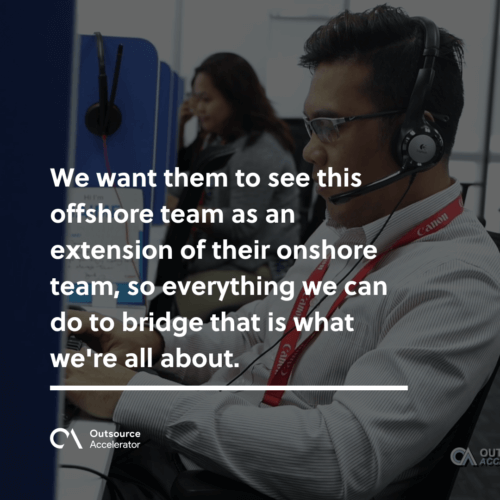 How Doxa originated
Prior to founding Doxa, Michael spent the last 15 years identifying partners, regulatory environments, and distribution channels in new international markets. He has referred dozens of clients to BPOs worldwide, mostly in the Philippines.
Throughout this time, Michael realized that small and medium-sized companies "did not have a myriad of solutions" accessible to them.
Even one of Doxa's co-founders, David Nielsen, encountered challenges in working with his offshore team, citing he "was not getting the support that he was expecting."
The challenges of tapping into talents and the spike of remote working "opened the eyes to many companies" on the possibility of offshore staffing. With this, Michael and two other co-founders formed Doxa, with its name derived "from the Greek term to assign new meaning to something."
Doxa's focus as a service provider
Doxa mainly focuses on small to medium companies with "a couple of publicly-traded companies" on the side. Branded as "built by entrepreneurs for entrepreneurs," they work with their clients to understand their requirements and engage them in the recruiting process.
The company also offers a flexible option in hiring. They "do not want [clients] locked into long-term contracts" and make it difficult for them to bring their teams in-house.
As an employer of record, the firm keeps a blended approach to managing offshore staff. They use their infrastructure to bring in top talents while their clients can "own the process [and] training."
In the end, Doxa intends to "help companies grow profitably" while creating meaningful work for Filipino employees at the same time.
Michael's contribution to globalizing businesses
Michael started his journey in outsourcing and globalized businesses in 2008 while doing philanthropic work in Panama.
Housing the second largest free-trade zone in the world, Michael observed that multinational companies "had teams and could leverage [the country's] policies and gateway for trade." SMEs, meanwhile, do not have the capacity to "level the playing field."
From this, he saw the opportunity to help companies go into Latin America and leverage Panama as their port of entry.
Per Michael, a big part of his vision for Doxa is similar to his background, allowing SMEs to "tap into resources that multinational [companies] have been leveraging for years."
He believes "a couple of things" happen when offshore staffing is leveraged successfully. These are the following.
Cost arbitrage

. Since the cost of living offshore is only a fraction of that in developed countries, companies can "redeploy [their] savings into their home country and team."

Better opportunities for growth

. Also, hiring global teams gives the chance to let in-house teams do higher and more valuable work, manage offshore teams, and open themselves to a global workspace.
For Michael, globalized employment is all about "borderless talent and opening [everyone's] eyes to opportunities."
How perspectives within global employment and offshoring changed
Per Michael, he has "seen a strong shift [on] interests" from companies that used to rely solely on in-house teams and local talents. This comes with the change in perspectives on different aspects of the way everyone works.
Michael believes that there are "a couple of reasons why people are more open to offshore [and] remote [work]."
Everyone has "gone through [a] collective experience" of working at home. As a result, the majority of companies were able to move forward with the remote setup, either walking away from their leases or not renewing their office spaces.
However, Michael added, remote working "brings up the challenge" in managing corporate culture between in-office and remote teams. He projects having a "dual culture" between companies since a part of their teams won't have "the same opportunity that [teams] have for water-cooler discussions and brainstorming."
In terms of global employment, Michael observes some sensitivity in clients who want to test global employment, thinking their customers won't "appreciate this new way of working."
Though when these companies tested hiring offshore, it went well for them without facing backlash from their customers.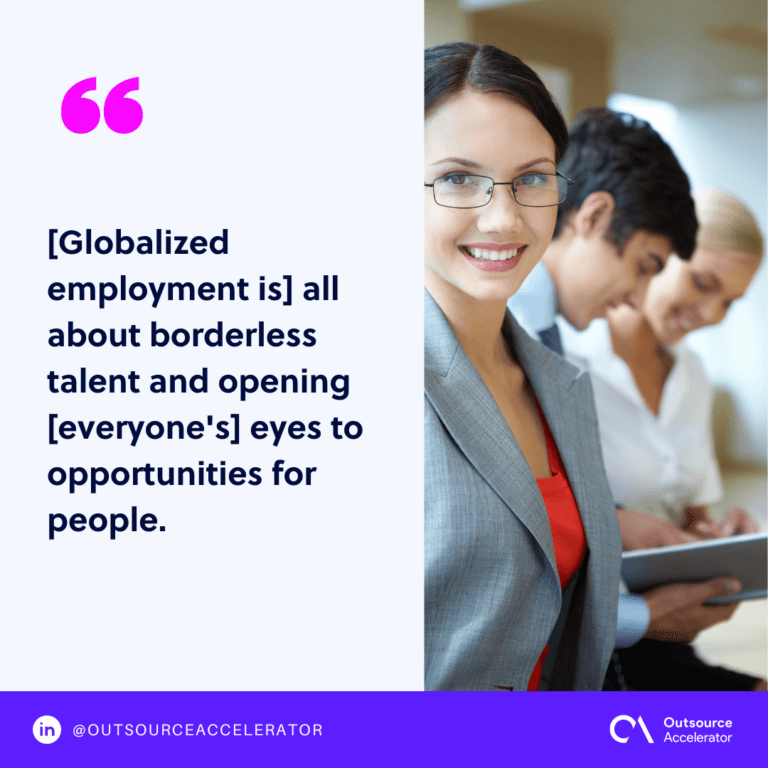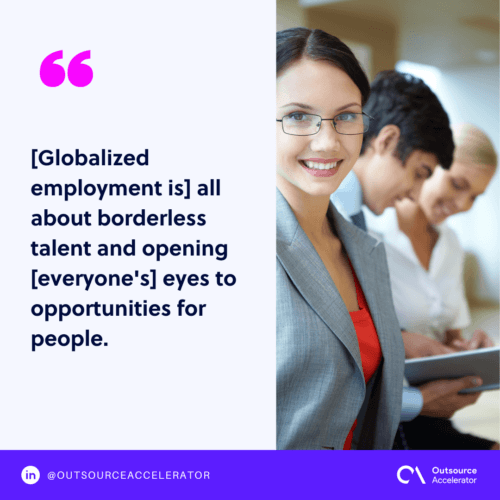 Michael on coaching clients about offshoring
For Michael, talking through some of their client's pain points and identifying their challenges are helpful in getting them started. This is most effective, especially with some companies that have either heard horror stories about remote work or freelancing or have experienced them first-hand.
They then "contrast [these experiences] with how [the company's] approach differs."
Wanting to "have skin in the [outsourcing] game," Doxa is motivated to find the right talent the first time for their clients. They also do not want to lock their clients into "contracts that never end," making their processes as flexible as possible.
Michael emphasizes that hiring offshore "succeeds if [clients] have been properly informed and their mindset is [to make their offshore staff] an extension of their onshore team."
Reach out to Michael through [email protected]. Alternatively, interested clients can visit https://www.doxatalent.com/ for more information on their services.