The 10 Critical Success Factors of Outsourcing – with Staff Domain's Justin Pavsic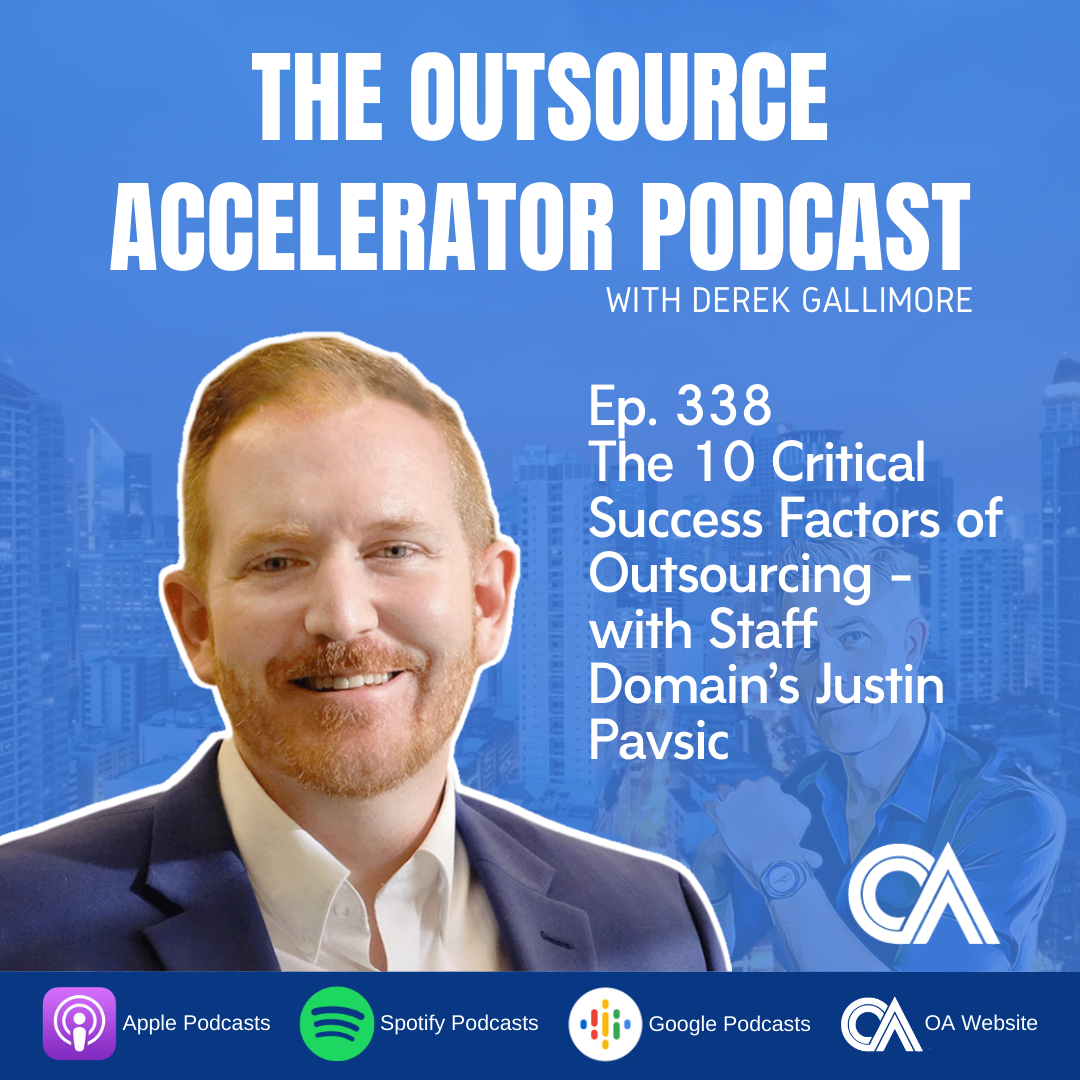 Staff Domain
Derek Gallimore talks to Justin Pavsic, managing director and co-founder of Staff Domain. focusing on US and Australian clients, the company is one of the leading offshore accounting, e-commerce, and tech support service providers in the heart of Manila.
Staff Domain partnered with Bond University in creating research on the things that went right and wrong when companies delegated their services offshore. In this episode, Derek and Justin talked about the ten critical factors in successful offshoring, from hiring the right partner to creating strategies in growing an offshore team.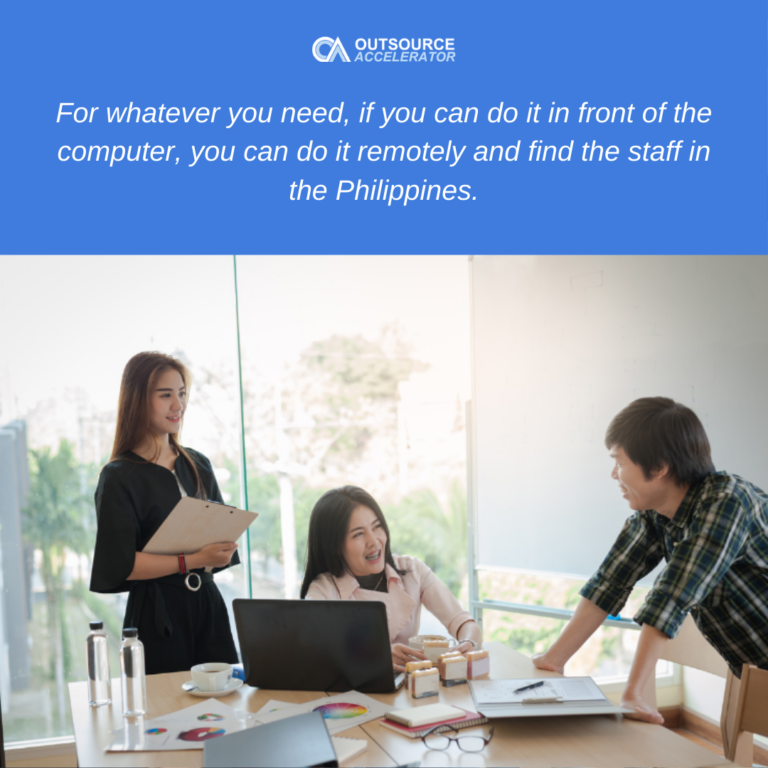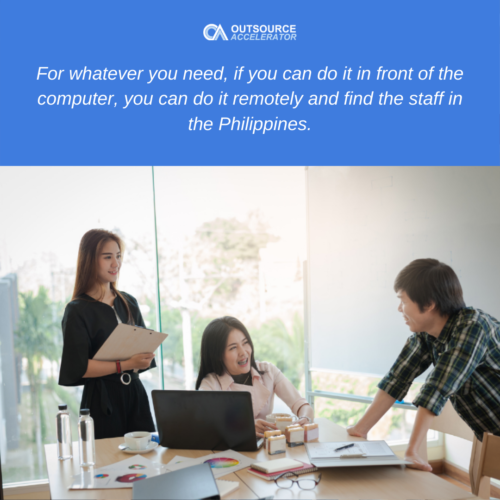 How Staff Domain and Bond University started the study
Justin Pavsic is the managing director and co-founder of Staff Domain, a leading outsourcing company based in Manila. Mainly focused on US and Australian clients, they aim to provide great satisfaction with their offshore services by walking them through the process from front to back. 
Justin observes that most clients set up and hire an offshore team then leave the rest to the outsourcing partner. He finds this "really problematic if you don't know what you're doing." This led the company to partner with Bond University to do offshoring research to find out in what aspects that businesses struggled with outsourcing and what succeeded for them. 
They chose the University instead of external agencies because they wanted it to be standalone, irrespective of what the outcome was. Being a premier institution in Australia, the partnership also gave them access to a lot of accounting firms in the country, with accounting being one of the most heavily outsourced services in the world.
The 10 Critical Success Factors of Outsourcing
The research took about six months, along with the final interview and the collation of data. Justin realized that the success factors usually involve people and people management
Based on the team's research, Staff Domain has formulated the following critical success factors in outsourcing.
Finding the right offshore company

. First, they need to find a suitable outsourcing company for them according to their internal tech, employee engagements, technicalities, and other aspects.

Hiring the right staff.

Justin advised to not rush on finding suitable staff for their team. In Staff Domain, for instance, the usual turnaround for finding the perfect match for a company takes up to 21 days.
Hiring the senior staff first.

He also emphasized the importance of hiring a senior staff first. This helps them to train additional staff easier since the senior employee can pick up the tasks easily and can help in training the newer ones. 
Handover training, open communication.

One of the most important things in offshoring is having open communication when training the teams at work.
Integrating the offshore with the onshore staff.

The study finds that having a holistic approach to working with onshore and offshore staff leads to better results. 
Hiring a manager to supervise teams.

Aside from senior staffing, clients should also hire an in-house manager as a point of contact in managing offshore teams.
Making onshore staff comfortable with offshoring.

Most onshore employees think that offshoring takes the job away from them. This is why companies should also condition them and make them realize that having an offshore staff instead helps more in their growth as a staff and as a company.
Having the technology and skills.

One of the benefits in having an offshoring partner is access to the technology they use at work. Companies, in return, should integrate these tools and equipment in their onshore work to collaborate more smoothly.
Formalizing business processes.

Companies are also recommended to identify and state their processes sooner than later. 
Using a staggered approach.

Lastly, Justin suggested that it's better to have a staggered approach in hiring staff in terms of growing their team rather than hiring a lot of employees at once.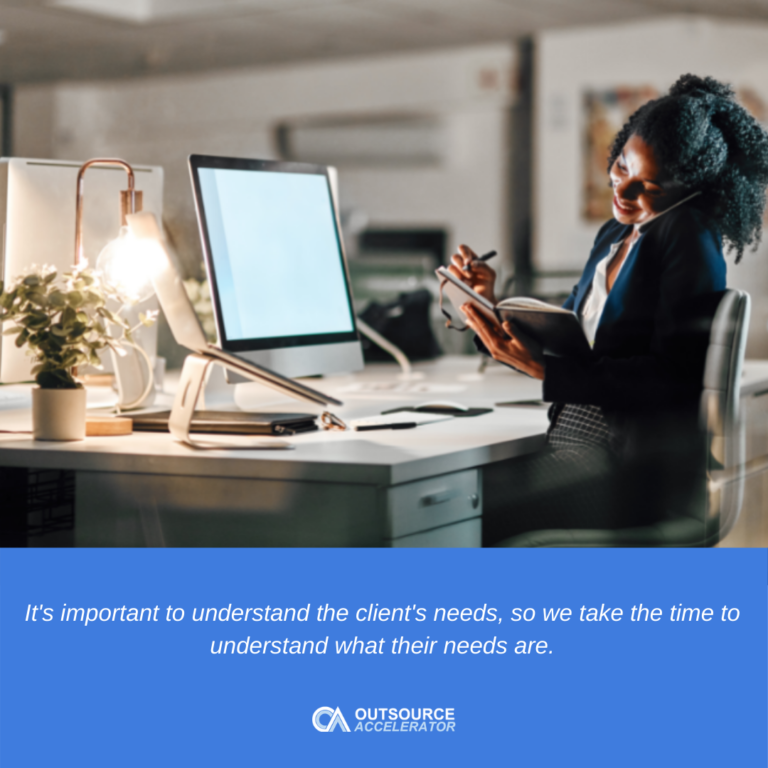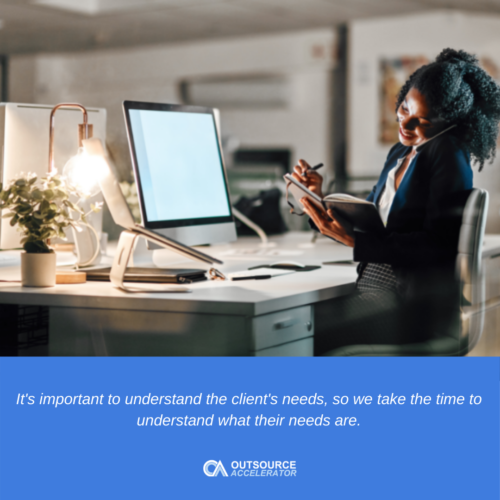 Justin's view on work from home and from the office
Justin recognized the effect of the COVID-19 pandemic in forcing remote work in companies around the world. As he mentioned, working from home, two streets across the office, and halfways across the road are exactly the same. Workers still deliver the same work at the same time.
However, the case in the Philippines, as Justin mentioned, is "an interesting predicament in itself". The Internet connection in the country is not always stable, like in other developing countries in Asia. 
With this, he won't recommend a work-from-home (WFH) set up outside of the pandemic. WFH provides more flexibility in working away from a company. However, one of the dilemmas in this setup is that outsourcing partners won't easily control external aspects such as internet connection and electricity. 
For instance, Staff Domain's office has a backup power system that could power up the whole floor for three hours, three generators, and six internet connections. Now, the company will have trouble if all of it goes down one day.
Another dilemma to arise here will be the balance of focus. Justin, like other companies who are used to working from the office, finds it more efficient to work away from his home. He cited the "mental game" where the mind switches modes when they are in the office, at home, or even in the gym for a workout. 
This is a far cry from studies where companies find it more efficient when employees work remotely. For him, being more efficient at work means putting in more hours, which leads to burnout. Justin also advises his clients against outsourcing from home.
Staff Domain's pricing structure
Staff Domain charges separate invoices: one for staff salaries and the other for fixed pricing in the facilities. The pricing varies from market to market, but they assure their clients the transparency on their pricing.
Companies who would want to reach out to Staff Domain can check out their website, email [email protected] for sales inquiries, and email Justin through [email protected] for further questions.
References:
Email: [email protected]
Justin's email: [email protected]
Listen to more podcast episodes here: