Specialized Outsourcing for the Real Estate Sector – with Greg Brooks of Rocket Station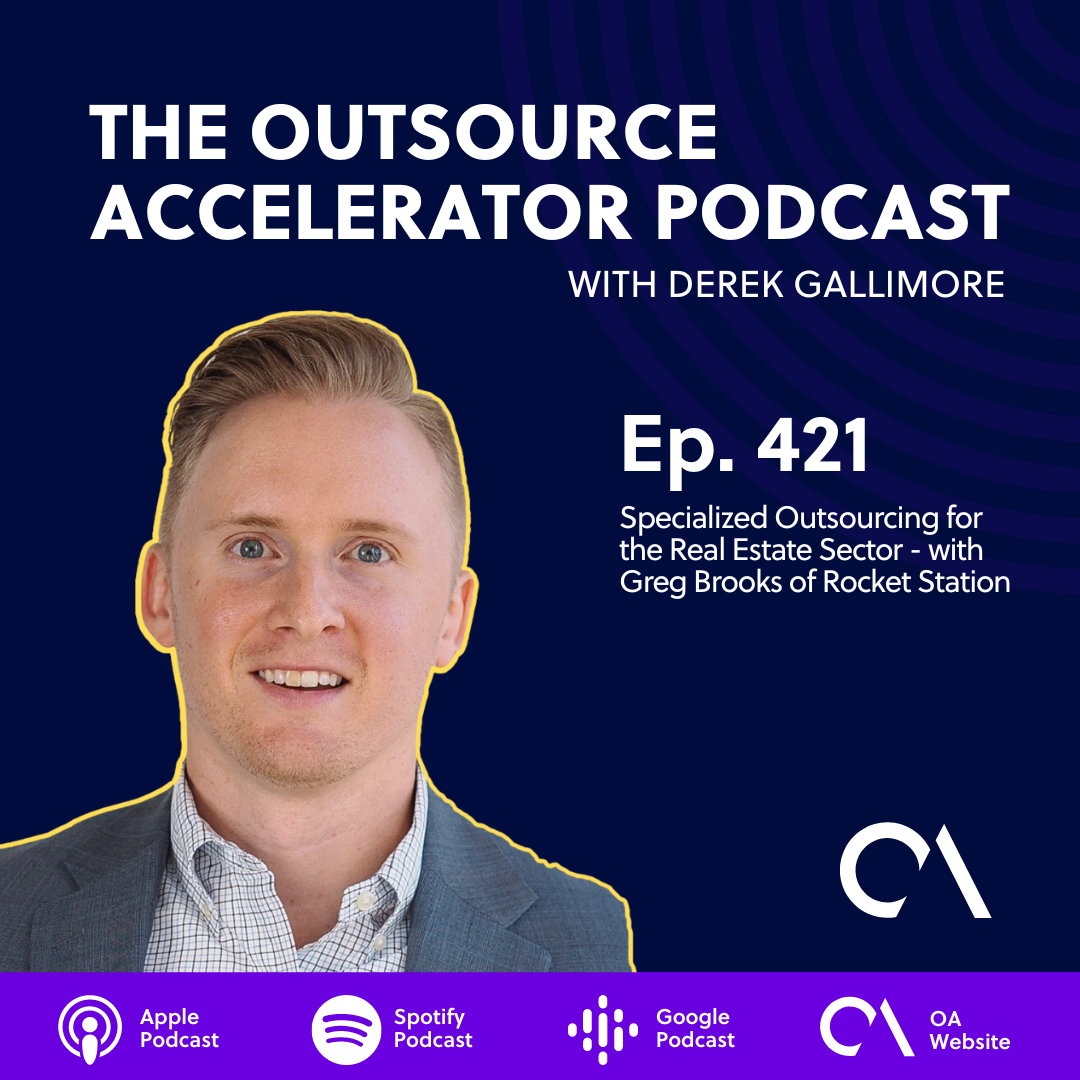 Rocket Station Virtual Assistants
Do they speak English? In this episode, Rocket Station Virtual Assistants' chief growth officer candidly shares how this question pops up way too often every time he talks to companies that are curious about acquiring outsourced services.
In a span of 40 minutes, Derek and Greg exchange their experiences by answering questions like this. Both of them agree that everyone has a general idea of outsourcing, but the concept is so complex that many questions surround it. 
While both have in-depth knowledge of outsourcing and years of experience to back it up, their lines of expertise are very different. Derek is focused on generalist outsourced service, and Greg caters to a specific market.
Interestingly, their conversation gives a 360-degree view of the outsourcing industry.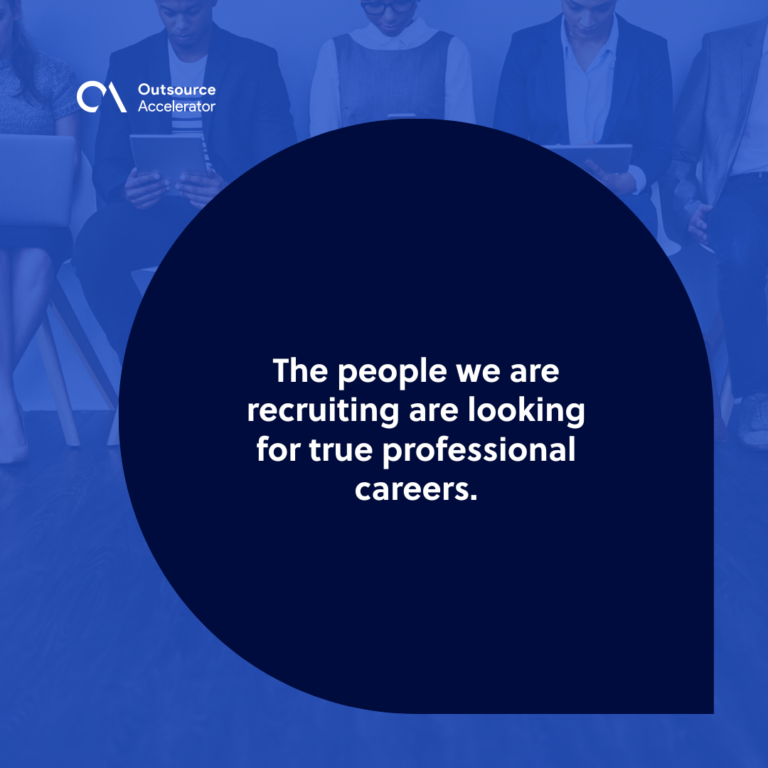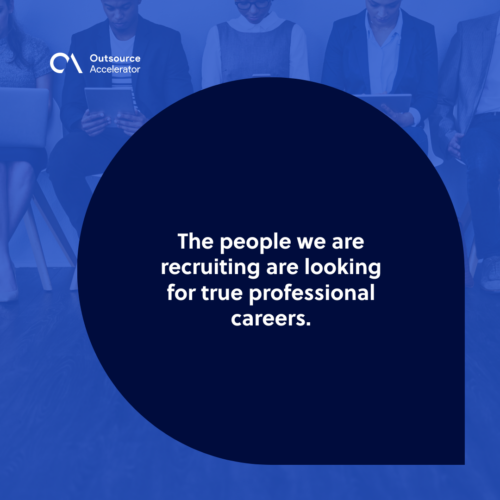 Niche market vs. generalist outsourcing
Rocket Station Virtual Assistants is a Dallas-based outsourcing company focused on providing services to real estate professionals and commercial real estate firms. 
Greg sheds a light on how niche market business process outsourcing firms (BPO) run. While generalists BPOs provide services to companies from varying industries, specialized or niche market BPOs focus on one sector to cater to. 
But, he stresses that although they serve a singular sector, they do provide a wide range of outsourced professional roles. 
"So when we say that we specialize in real estate, we [are] very much, maybe being a little bit different [from the] kind of the generalist outsourcing or BPO companies, we truly mean we cover everything end-to-end within our box, which is the real estate industry," Greg explains. 
To further clarify what he meant, Greg says a real estate professional, may it be a broker or a real estate firm, requires several roles like accountants, marketing managers, and sales associates to name a few. 
"What we do is we recruit the full spectrum of those individuals," he says. 
"So we are very narrow in terms of the industry that we specifically cater to, but in terms of the jobs that we recruit for… we truly do cover everything end-to-end in terms of the actual skill sets that our clientele within the real estate industry would need out of their virtual assistant," he continues.
Word of mouth
Greg tells Derek that the company is rooted in the real estate industry because its founder and chief operating officer (CEO) Rob Nickell is in the real estate business. This is how they came to focus on providing outsourced services to professionals and companies within that industry. 
Greg shares how "word of mouth" introduced Rob to the idea of outsourcing services to virtual assistants (VAs). 
"Rob kind of fumbled into this business," Greg says. 
He explains that the real estate industry is "close-knit" in Dallas, and Rob was introduced to the idea of hiring VAs by people in his network. Before venturing into outsourcing, Rob has already worked with an offshore team. 
"Our company fills the void and the gap for the real estate industry," Greg says. 
Answering typical questions
Network and clout get the word out about the opportunity outsourcing and offshore staffing can offer to real estate professionals and companies.
Greg candidly shares that some of the initial questions he answers from interested parties are, "Do they speak English?", or "I don't know anything about this foreign land called the Philippines… how can I leverage them?"
These are questions he happily answers. At the same time, this shows that there is so much outsourcing knowledge that can be shared with people or even companies that want to embark on it for the first time. 
"Just like a lot of people who have that initial experience when it comes to why they don't want to use outsourcing is because they've had this experience at a big company," Greg says. 
He says people would typically come across outsourcing through outsourced IT services or customer service. And that would be it. Their knowledge about outsourcing is limited to just a couple of roles but in reality, there are many professional roles that could be outsourced.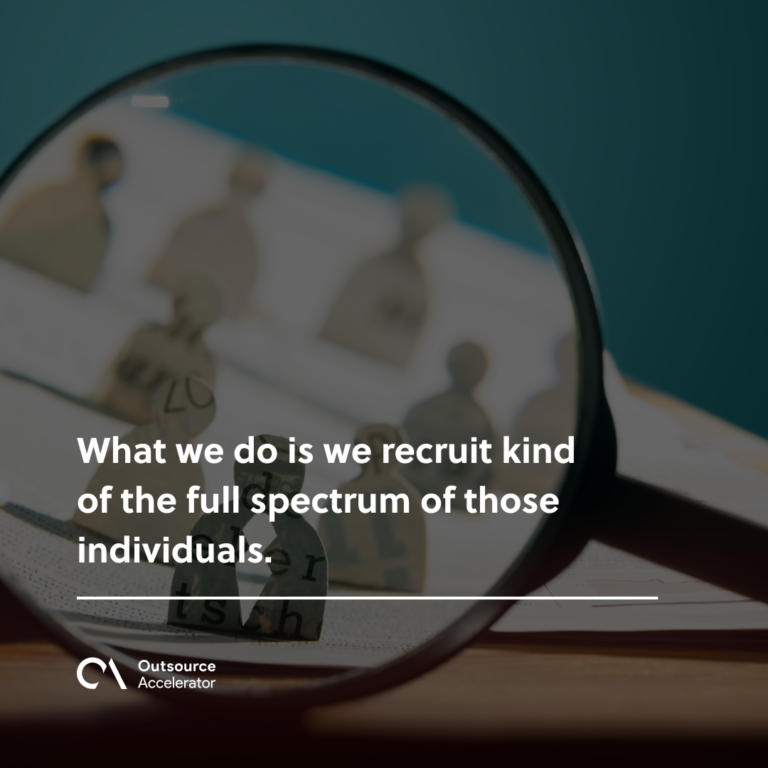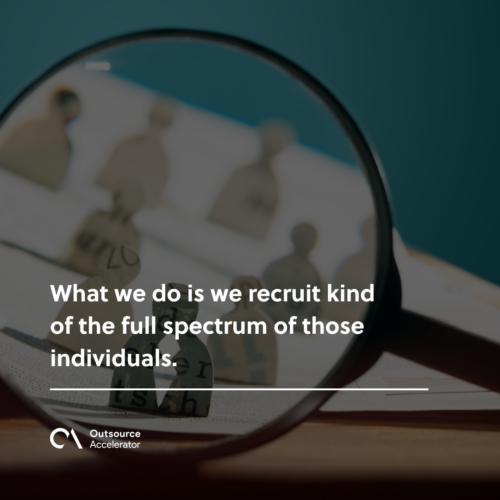 The term VA puts them in a box
Greg says that in the U.S., the term "virtual assistant" is attached to Rocket Station's company name intentionally. But he says outsourcing means more than just VAs. 
"Just taking the name of our company, that was a very intentional move to be named Rocket Station Virtual staffing because it doesn't matter if you're in the U.S.," he says. 
However, Greg explains that the term virtual assistant puts people "in a box where they are just an inbox manager."
"It doesn't really show or give credit to the level of professionalism, the education, the work experience that so many of the Filipinos that you and I know and work with every single day have," he says. 
He says the outsourcing scene in the Philippines has really evolved from its virtual assistant era. 
"The people that we're recruiting every single day, they're looking for true professional careers. They are expert marketers. They are people with ten years of customer service experience, managing teams, leading teams," he says. 
Greg shares that within the company they call offshore staff "virtual team members."
"They are integral parts of our team," he says.
Connect with Greg through his LinkedIn profile.
You can also visit Rocket Station Virtual Assistants and see more of the company's work at https://rocketstationcareers.com/
Listen to more podcast episodes here: