Recruitment at Scale with Talkpush's Max Armbruster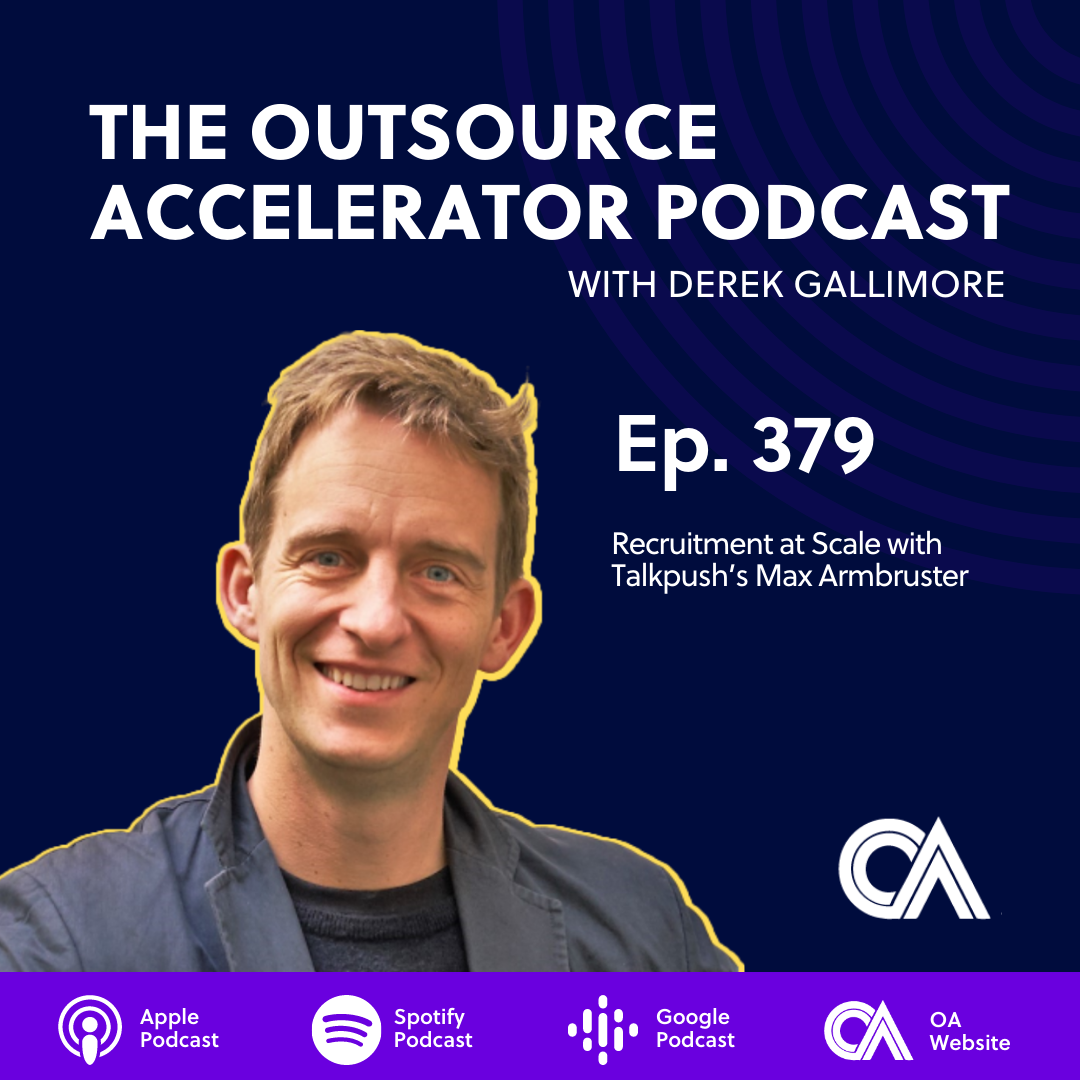 The OA podcast features Max Armbruster, CEO and Founder of Talkpush, a leading recruitment software designed to manage large talent pools from social media.
Talkpush
Derek Gallimore talks with Max Armbruster, CEO and founder of Talkpush. Talkpush is a recruitment software specifically designed to handle large volumes of the talent pool, especially from social media.
Known for providing competitive talents in the market, the BPO industry continues to tap the talent pools of outsourcing destinations and hire the best teams each year. In this episode, Derek and Max will share the nature of recruitment in the BPO industry and how Talkpush helps them screen and manage their recruits easier.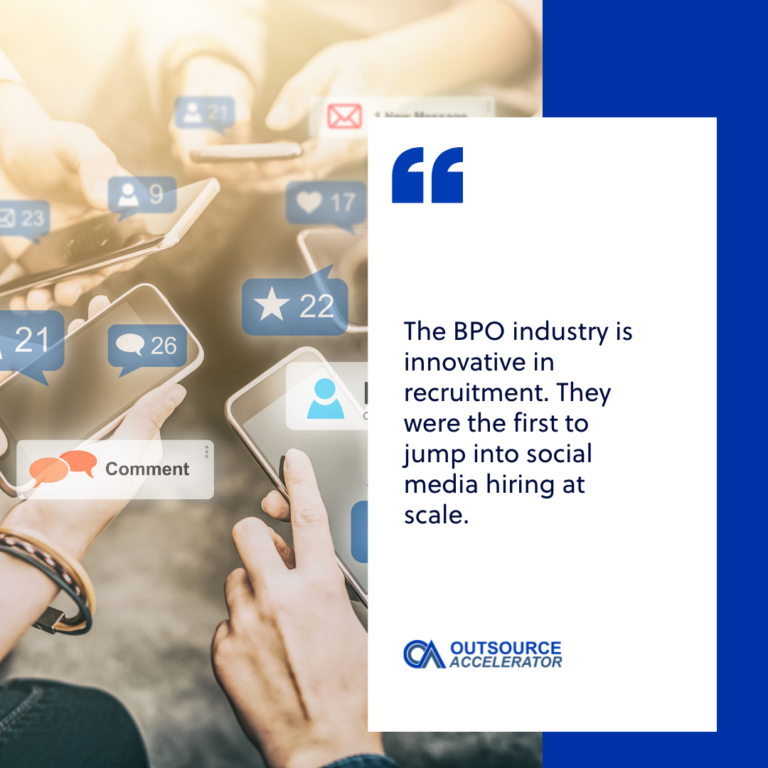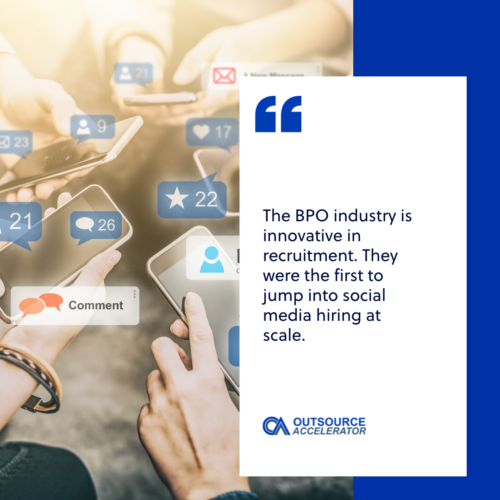 Talkpush as a recruitment platform for BPOs
Talkpush is used by companies looking to attract candidates "more than an average recruiter."
It utilizes robotic process automation to condense processes that usually take weeks with human recruitment.
Talkpush is most recommended for BPOs with massive hiring targets each week. David knows that recruitment "never stops in the BPO industry" with many workers entering the industry as their first job. Meanwhile, churn rates in BPOs vary from 30% to 150%. 
Accenture is a good example of this, which hires up to 250,000 employees yearly across multiple locations.
The only catch is that most outsourcing companies still need to market themselves to potential recruits "unless [they are] like Accenture." This is since BPOs are not "consumer-facing brands."
At the same time, geography even affects the supply and demand in terms of hiring competitive talents. With this, Max says outsourcing companies "have to work for their candidates" more.
How Talkpush reaches potential candidates
Per Max, Talkpush has a more omnichannel approach in looking for candidates. While Talkpush mostly focuses on social media, it is also useful for engaging through referral programs, job boards, and other means.
Max agrees that social media "[has] the great opportunity" in reaching out to potential hires. Top platforms such as Facebook and Instagram get 15 to 20 times more users compared to Indeed and other job boards.
With this, Max sees a good opportunity for BPOs to "go heavy on social media" for a few reasons.
Bring down the cost per hire for each talent

Open the talent pool to employees that "[most BPOs] would not have considered"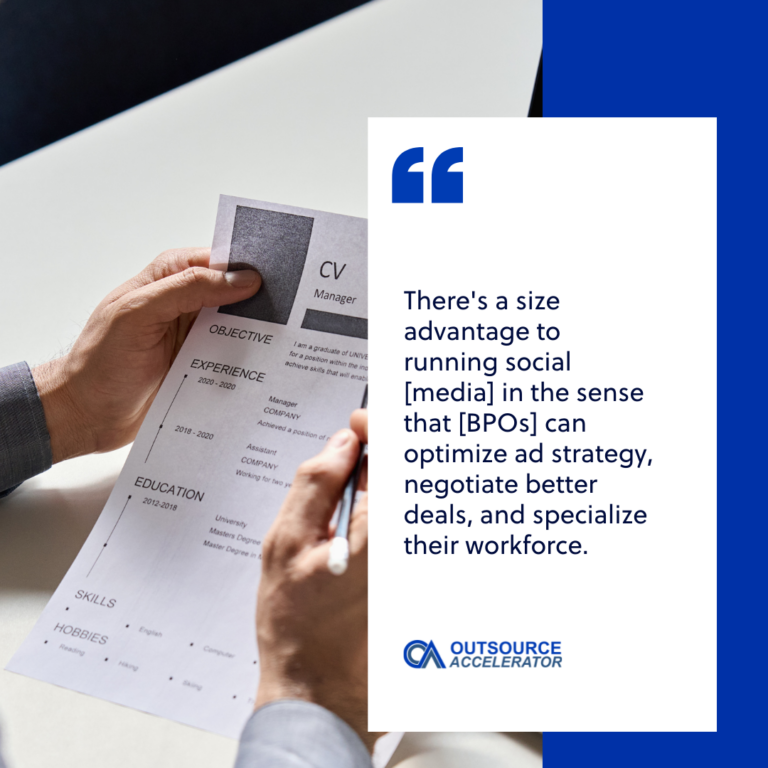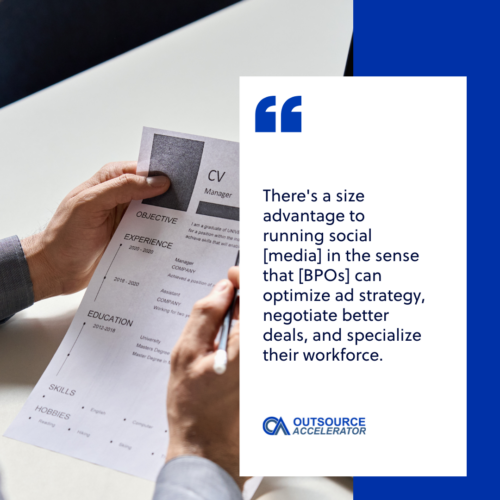 Significant differences in offshore countries' employment markets
Per Max, the differences in the employment markets of destinations such as the Philippines, India, and South Africa are "vast and enormous." Meanwhile, the supply and demand of talents "[vary] from location to location." 
India, Brazil, and South Africa have an "oversupply of talents" with their population count and unemployment rates. Whereas, talents in the Philippines "fight harder" with more presence and similar skill sets that employers look at.
This is why recruitment in each country relies more on the key performance metrics (KPIs) applicable to them. Employers should measure the number of qualified leads for countries like the Philippines.
On the other hand, those with a "less competitive environment"  should focus more on automating their processes.
Like in consumer brands, employers have to appeal to the masses while still connecting to the destination's local market. This gets more challenging with the context of culture, language, and communication channels that a certain destination is aware of. 
These distinctions, per Max, are why sourcing professionals handle recruitment domestically. Also, recruitment in the outsourcing sector "is time-sensitive" given that BPOs could face penalties once they did not meet their timelines in hiring teams.
Trends in remote mass hiring in BPOs
Per Max, remote hiring in BPOs receives "enormous success" worldwide. It created opportunities for companies to set up virtual offices and have their IT managers in-house. 
Max added that this change even "expanded the [industry's reach] to town halls." He expects this trend to "continue to 20-50% of headcount" forward.
On the other hand, Talkpush saw a "threefold increase" in recruitment volume during the pandemic. Outsourcing firms took the opportunity to hire candidates and offer remote work for those laid off during the lockdowns.
What is the future of global hiring?
Max recognizes the fast-paced movement of trends worldwide, especially in hiring. Even consumer marketing "[will] be different five years from now," making it difficult to predict trends in the years forward.
However, hiring via social media could give advantages to smaller-scale firms. Having a more distinct voice than large-scale ones, they can "play with their employer brand" and localize their strategies. 
With this, Max believes that the hiring competition in the future will be a "technology-led battle" between small and large companies.
Interested parties can reach out to Max through their website https://talkpush.com/ and his LinkedIn account.