Podcast Guesting – Talking Outsourcing on The Kim Barrett Show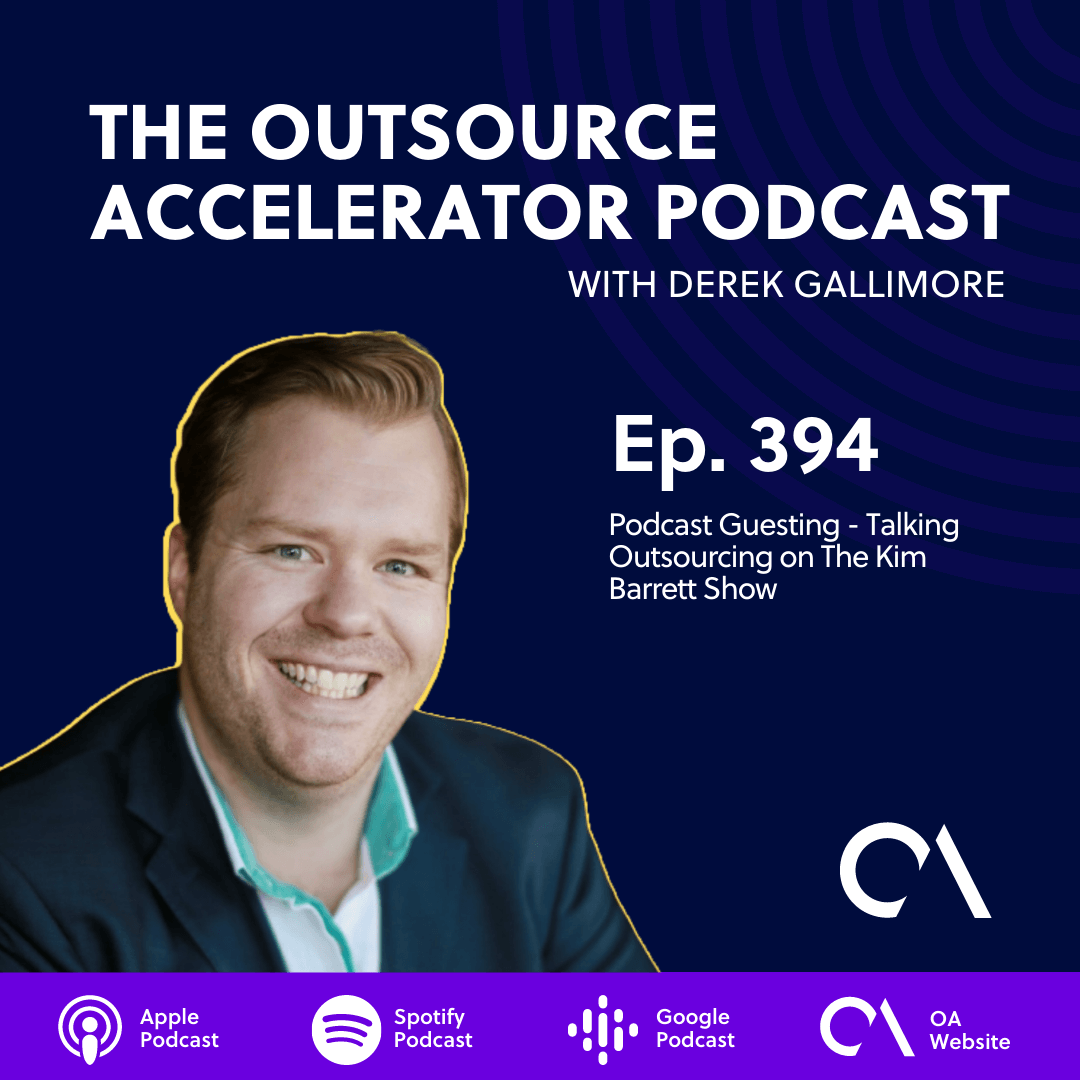 The Kim Barrett Show
In this episode, Outsource Accelerator CEO Derek Gallimore is featured on The Kim Barrett Show hosted by Kim Barrett. Kim is an author, international speaker, entrepreneur, and owner of Your Social Voice, one of Australia's leading digital marketing agencies.
Hear Derek and Kim discuss Outsource Accelerator as a leading outsourcing marketplace in the world and harnessing the power of global employment for small and medium businesses.
Outsource Accelerator CEO Derek Gallimore is featured in The Kim Barrett Show hosted by Kim Barrett, an author, international speaker, and owner of one of Australia's leading digital marketing agencies, Your Social Voice.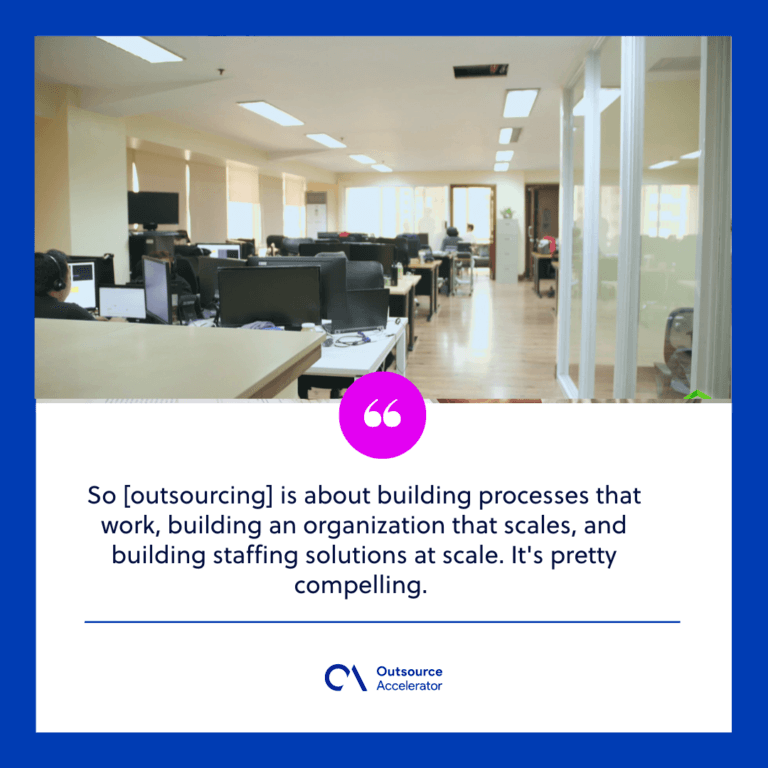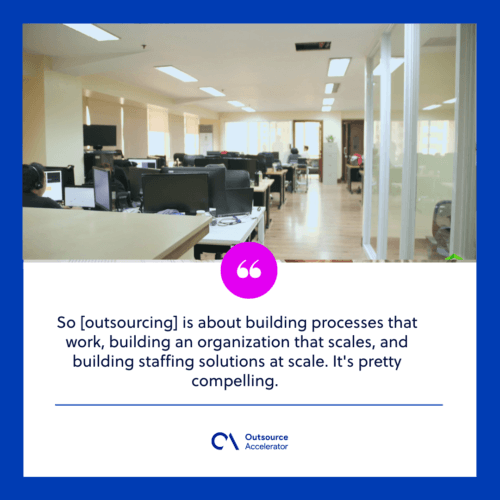 Derek's turning point in building Outsource Accelerator
Outsource Accelerator is the world's biggest marketplace for outsourcing and offshoring services. Derek explains that OA is "all about global employment and the future of work." 
He saw the potential of getting his own staff in the Philippines through his previous business involving services apartments in central London. Getting customer support services at first, he soon had his physical office in the UK and "90% of the staff in the Philippines." 
Derek once looked back at his hotel industry experience, which was the time when he was paying monthly commissions for about $400,000 on Booking.com. 
Derek anticipates perspective changes if the outsourcing industry has that kind of marketplace. 
This shift significantly helped him build a business that booted up to $20 million in revenue.
Today, Outsource Accelerator has more than 100,000 monthly visitors to the website. With the various content, such as 15,000 articles, podcasts, and videos posted on the website, OA receives more than 300,000 page views. 
Derek truly believes in "providing information and education" about the industry; they "support people on [their outsourcing] journey."
The Philippines as an ideal offshore outsourcing destination
The outsourcing industry generates appealing revenues, for instance, an estimated $250 billion for the US only and 24 billion in the Philippines.  
Per Derek, offshore outsourcing is often associated with Filipino professionals. In the bigger picture, one can get any kind of professional in the Philippines since it offers a reduced cost for business. 
The Philippines and India are "two of the biggest nations by far that basically do offshoring." The industry has been in the country for 30 years now, similar to India. According to Derek, the Philippines is the "sweet spot of [cheaper salaries]" since businesses can save up to 70% costs here.
Derek says that there's a "massive industry" in the country that supports services either "back end or front end" for all the world's leading brands. He added that major brands have physical offices in the country. Some of them include Google, JP Morgan, and Citibank. 
One significant mistake when hiring offshore
Derek implies that employment in the Philippines is exactly the same as in the US or Australia, where people can hire "part-timers, full-timers, professionals, casual class, or even MBA graduates."
Yet, Derek observed that companies usually hire "people that work from home" and cost only "two or three [dollars] an hour" instead of professionals. 
With this, Derek advises companies to "[not] go too cheap [and] get professionals" instead. While Filipino professionals who graduated from various prestigious universities could cost more than $2 an hour", it is significantly low as compared to their equivalents in Australia, the US, or even the UK. 
Dealing with cultural differences when hiring
Kim mentioned the cultural differences in how the business operates in western countries compared to Filipinos. 
Derek admitted that there are nuances when it comes to the "idiosyncrasies" in the Filipino workforce or even in the Columbian and Indian workforce. 
For businesses that are new to outsourcing, one must learn to restructure the business. But if that business already has staff and processes in place, it just requires "transferring a little bit."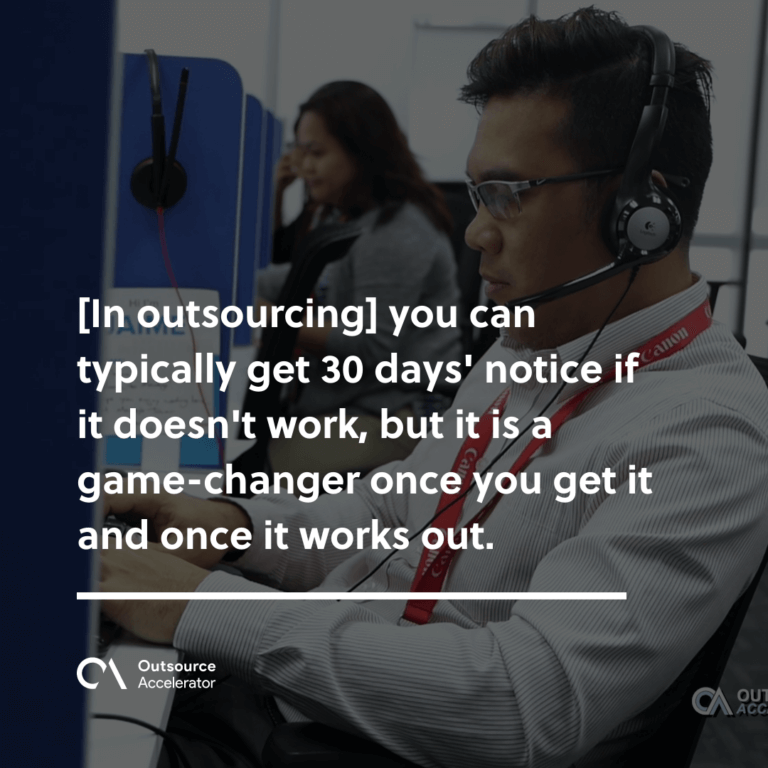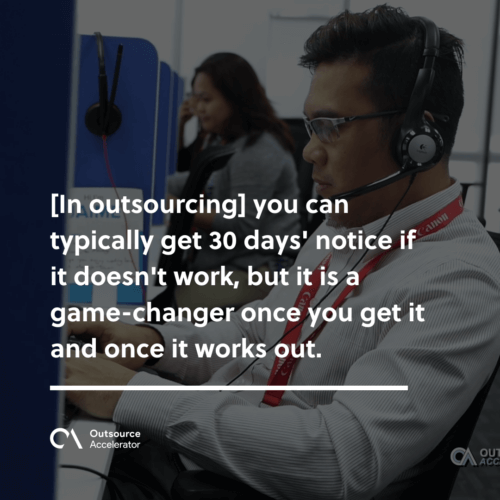 What Outsource Accelerator can offer to businesses
Outsource Accelerator caters service to start-ups, small-to-medium enterprises (SMEs), and mid-sized companies. 
Derek reiterates that over 99% of businesses "can probably outsource or offshore 95% of roles" – even plumbers, electricians, or coffee shop owners. BPOs can cater majority of their roles to help them save 70% on staffing costs. 
Derek specifies that the OA platform helps navigate the market through "a list of at least three and a half thousand outsourcing firms across the globe" on its website. 
Lastly, Derek describes the benefit of outsourcing in businesses as "pretty compelling." For him, it is all about "building processes," "building staffing solutions," and "building an organization that scales." 
Per Derek, a lot of issues were found with offshoring to be caused by "fundamental issues of employment, building and scaling a business, and [managing it]." As such, he encourages businesses to explore more outsourcing in at least three to six months. He ensures that this "will be a game-changer for [companies]." 
Go to https://www.outsourceaccelerator.com/ to learn more about the OA marketplace. Moreover, get in touch with Kim Barrett at [email protected] and take a peek at his podcast, The Kim Barrett show. 
Listen to more podcast episodes here: