Mike O'Hagan's Take On Outsourcing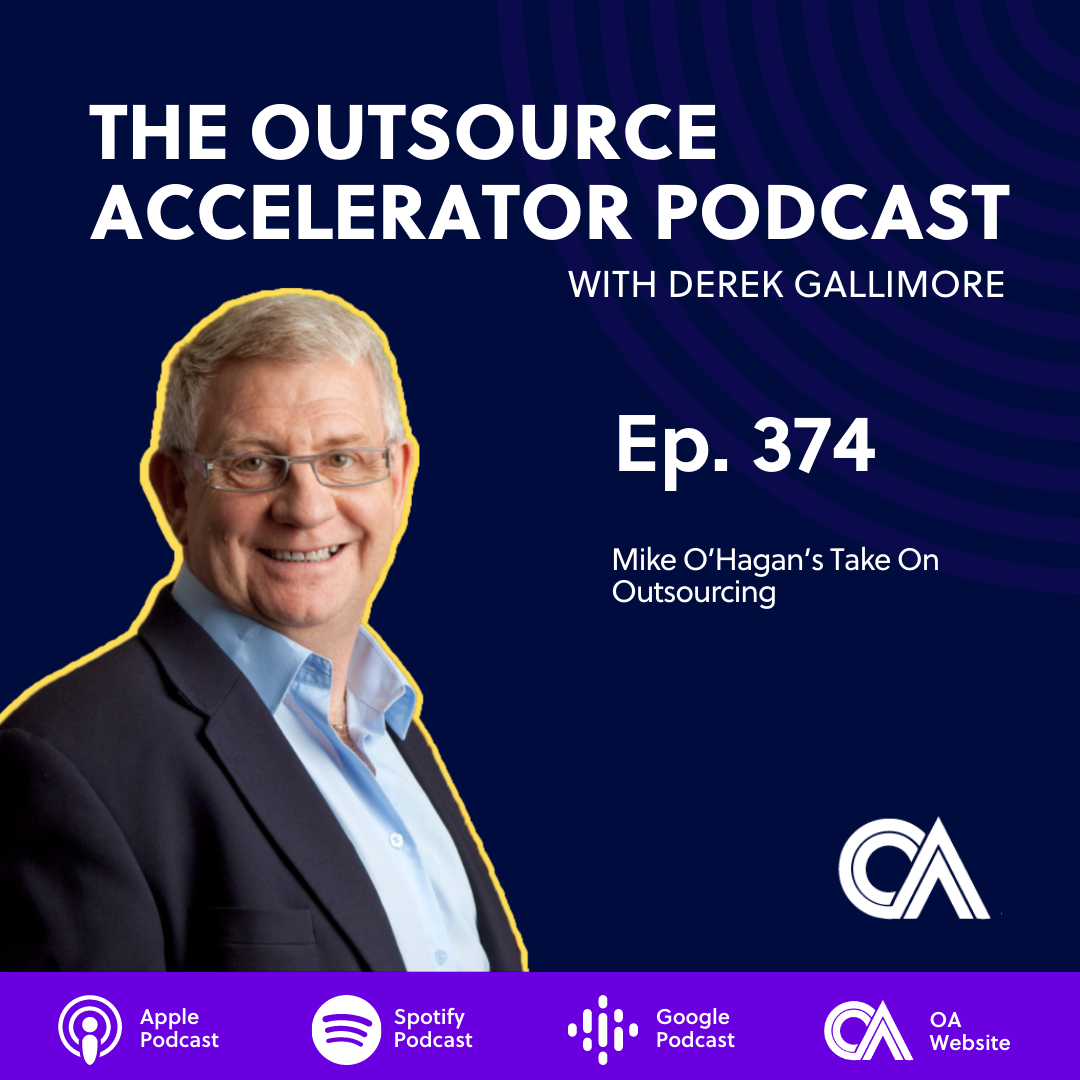 The OA podcast features Mike O'Hagan. Mike organizes business tours for entrepreneurs looking to outsource and invest in the Philippines. He is also the chairman of the board for Shore360, a BPO company located in Clark, Pampanga.
Mike O'Hagan
Derek Gallimore talks with Mike O'Hagan. Mike does intensive business tours for companies looking to explore outsourcing in the Philippines. He also runs Shore360, a BPO company based in Clark, Pampanga.
in this episode, Derek and Mike share insights about outsourcing in the Philippines. They talk about how COVID has impacted the global outsourcing industry, the importance of people and training, and the future trends that will affect the workplace.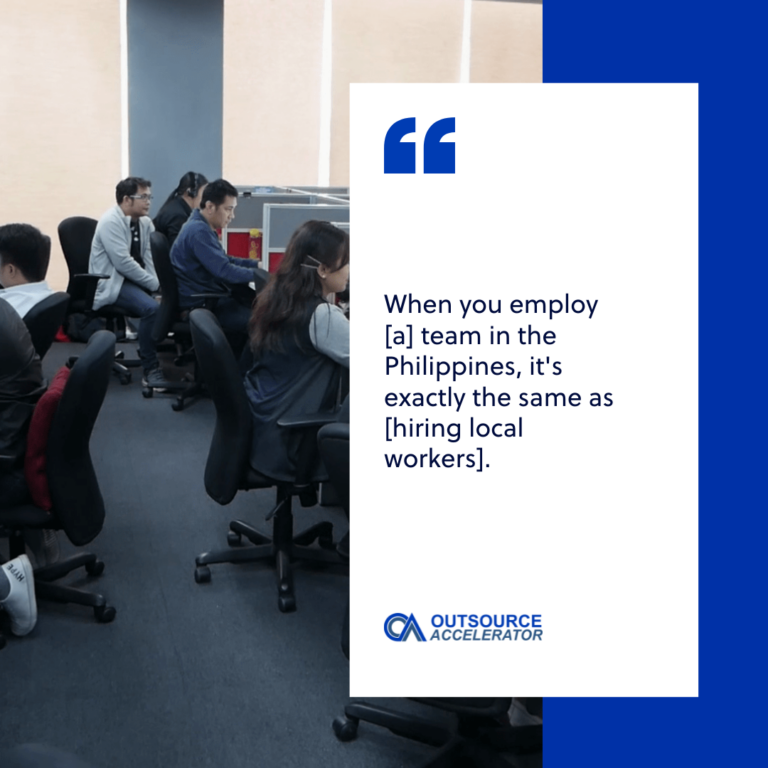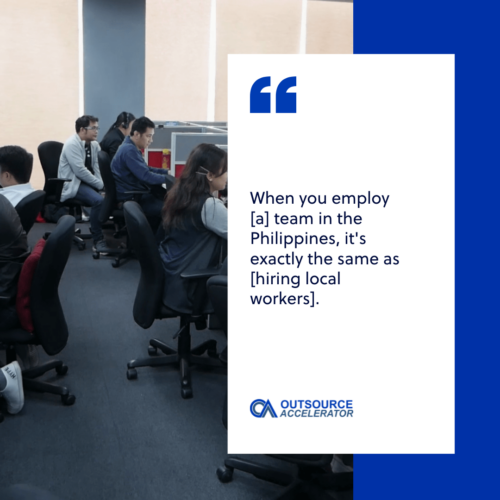 How Mike started in the outsourcing industry
Mike once founded and managed Mini Movers, a moving business in Australia, for 38 years before selling it four years ago. Having experienced financial troubles a decade ago, he turned to the Philippines to get the business back on its feet.
The company's great outcome led Mike to share his experience with other entrepreneurs within his area. He then established Mike's Business Tours and took around 500 foreigners on a three-day intensive business tour in Manila and Clark.
Mike's Business Tours has been running since 2010 until COVID "shut [the business] down quickly." 
The future of Mike's Business Tours
During his time in Australia, Mike considered "going digital" with his tours. However, given the complexity, he realized that this is "hard to turn into something [clients] sit and watch digitally."
Per Mike, the experience that clients get from in-person tours is "difficult to replicate." It would take them "a lot of hours [and] information [to take]; most of it [unexpected]." What's more, his tours are not built at a fixed pace. Clients "never know what was coming next," adding an element of thrill to it.
Further, Mike hopes that his tours "will be back" in up to 12 months, as soon as the pandemic ends.
COVID's impact on the outsourcing industry
Mike saw some of his major clients outsource their services during the pandemic – but not in the Philippines. Instead, they moved their services to neighboring countries such as Malaysia and Vietnam with "big numbers."
The first few months of lockdown brought most businesses in trouble, especially those in the travel industry. Then came "a huge push" in outsourcing services. 
Compared to the Philippines, countries like Vietnam opened up early and "[stepped up] with better offers" and tax incentives for clients.
Yet, Mike still hopes the Philippines remains"the golden boy" despite the tighter outsourcing competition. This is since the country has a better edge in terms of wages, the English language, and cultural affinity to developed countries. 
Only, the country could face short-term uncertainty in government policies which Mike hopes to "settle down with the right leadership."
Outsourcing in the Australian market 
Despite the focus on cheap wages, Mike said most of his clients came to the Philippines because of labor shortages. According to him, most businesses jump into offshoring since "it [is] easy to do" than hiring local workers.
Overcoming the Great Depression, the offshoring expert implied that a similar period of disruption happened with the pandemic. This could bring a "shift in the way people think" as a result, with the younger generation having a more short-term outlook.
The world sees a "massive surge to offshoring" with the mass resignations and shortages happening. However, with AI wiping away "lower, more automated" jobs, small and medium businesses would be after "smart workers" instead of process-driven ones.
Work-from-home vs work-from-office setup
Mike believes that workers with higher skill sets and qualifications "[will] work from home" while lower-skilled ones will work in the office.
In the Philippines, Mike recognizes that Filipinos "are scared of COVID." Feeling safer at home, employees "are arguing with their bosses" to retain their remote setup. He expects this to change "when COVID disappears" as more clients are "pushing to pull [employees] back in the office."
Mike admits that having remote teams is now accepted with the improved productivity and cheaper costs. However, knowledge sharing and collaboration is way different compared to having office work.
He added that a lot of houses in the Philippines "are not suitable for work-from-home [setup]." Many Filipino employees still live in an extended family setting, making it prone to distractions and background noises. 
Also, internet connection is "still wobbly" in Filipino houses, a far cry from infrastructures in other countries.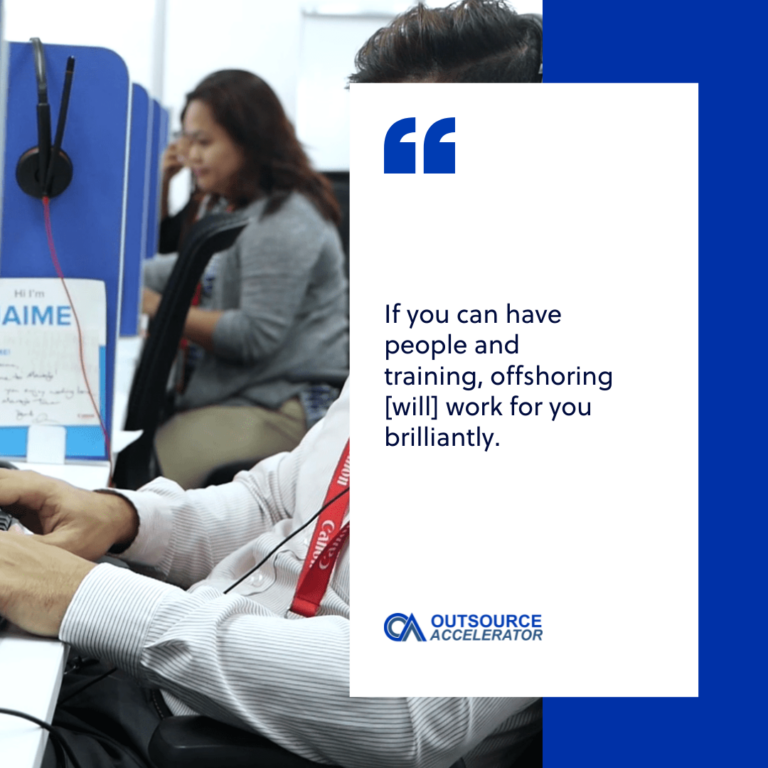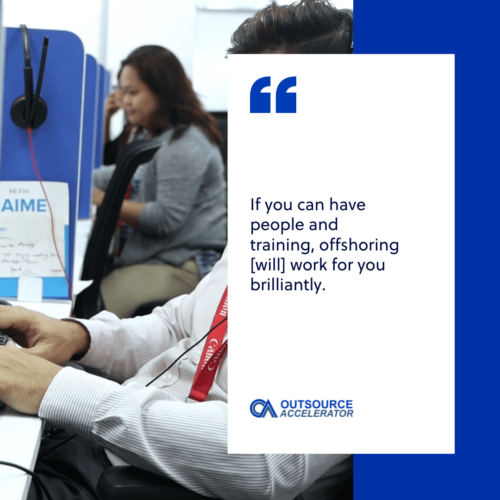 How the perception in outsourcing changed
Mike agrees that more people see outsourcing as a "level-playing field" in running a globalized business.
During his early tours, entrepreneurs are astounded to know they can delegate their businesses in the Philippines. Mike recalled that they "never realized the roles that the Filipinos were doing" until the tour happened.
What's more, the talk on outsourcing veered away from the costs to the location of their employees, whether in Manila or in the province. 
At the same time, cultural differences and accents are not a big deal nowadays. According to Mike, even countries like Australia have become "more multicultural." 
He advises each of his clients that hiring a Filipino workforce is "exactly the same" as hiring locally. They have to provide good salaries, create a good work environment, and treat their workers well to keep them satisfied.
The power of 'people' and 'training' when outsourcing
According to Mike, "people" and "training" are the keys to successful offshoring.
Mike believes that companies should "do 80% of the same way [and] 20% experimenting" to easily adapt to change. Having "rigid and fixed" processes make it harder for clients to outsource. This is because they will have less engagement with their teams.
According to him, there is a "massive opportunity for entrepreneurs to [build operations] in the Philippines." Particularly, huge opportunities await in terms of "training Filipinos in a specific niche." Training offshore employees and getting them to adjust makes teams "easy to sell" in their operations.
Also, Mike advises two things when hiring outsourced employees:
Hiring and training less experienced people

. Even from his experience, hiring and training less-experienced people brings companies "more wages, [better] loyalty, and less staff churn."

Building a reliable team

. According to Mike, building a team instead of hiring a "unicorn" is most important for companies to succeed.
Clients can reach out to Mike through his email, [email protected], and his LinkedIn page.
Listen to more podcast episodes here: