Kris Buckham – High Touch, High Value Outsourcing Service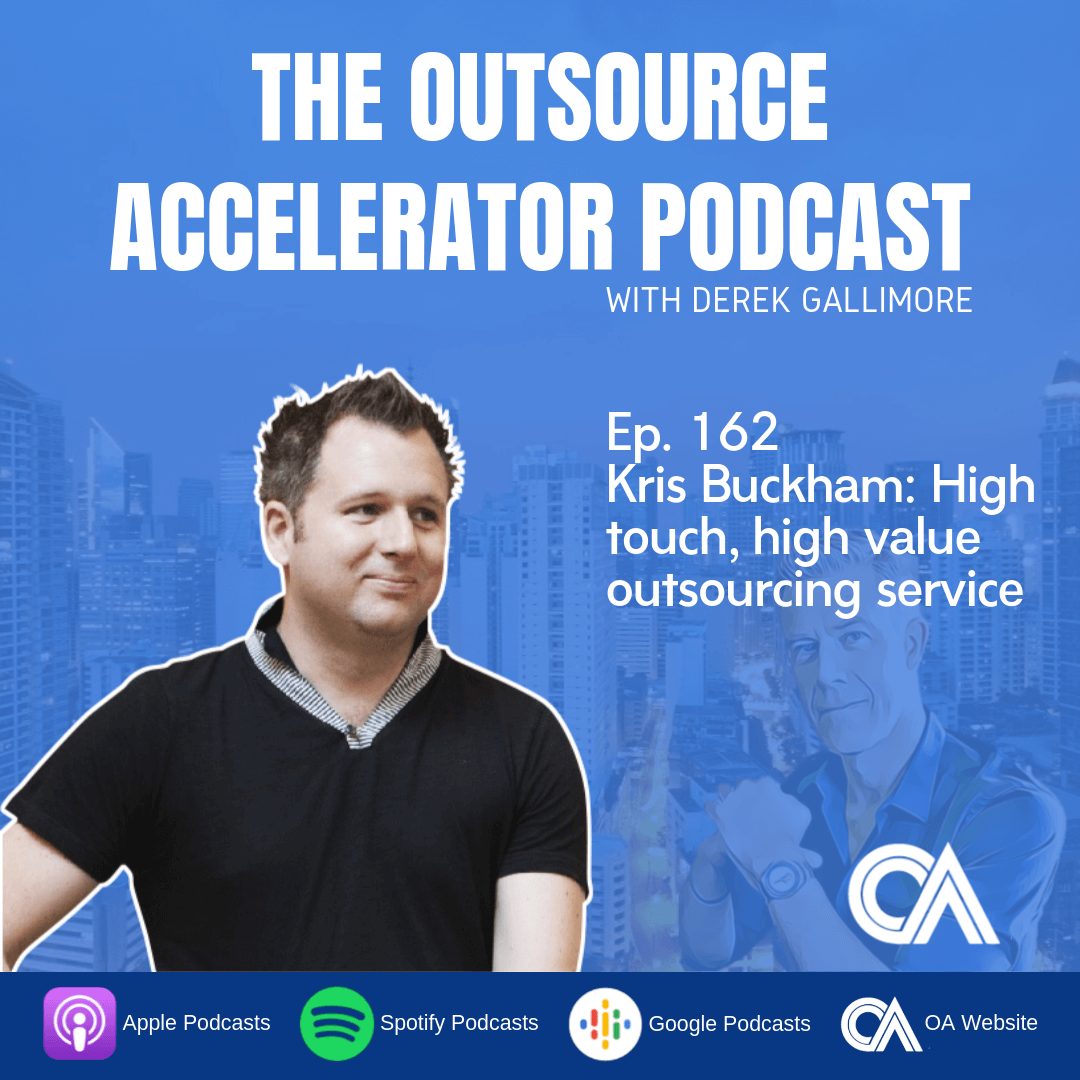 Ep 162 Kris Buckham
In this episode, Derek is joined by Kris Buckham, the founder of 'Cooee.'  Join us as Derek deep dives and talks about Kris' high touch, high value BPO, plus a brain training and management training program. We look at the future of outsourcing, how it's evolving, and also, talk about AI and how it's going to affect the outsourcing sector in the Philippines and the world, generally.
SUMMARY:
Kris co-founded a start up in the outsourcing space which is a high touch, high value BPO, but also in brain-based coaching and facilitation.

Kris shares his insight about the shared services before and how it's really changed in the last 10 years.

Kris and his wife, Pia, also have a unique BPO of their own.
Kris supports their clients by not only giving services, but only supports all throughout the process of their client's endeavors.

Kris and Derek talked about AI and automation and how it might affect the BPO jobs in the Philippines.
KEY POINTS:
Empathy is needed when working on SMEs to help understand the clients.
The Filipinos are getting better and better when it comes to BPO skills.

Outsourcing has become popular all throughout the Philippines.
RESOURCES:
https://outsourceaccelator.com/podcast/episode162
Derek: Hi, and welcome to another episode of the Outsource Accelerator Podcast. This is episode number 162, and my name is Derek Gallimore.
So, we have Kris Buckham back with us, of 'Cooee,' which is a high touch, high value BPO, plus a brain training and management training program.
We interviewed Kris previously on episodes 156 and 159 if you want to listen to those back stories.
In this episode, we still look at the future of outsourcing, how it's evolving, and also, we talk, as most people, about AI and how it's going to affect the outsourcing sector here in the Philippines and the world generally.
So, it's a really interesting conversation. I certainly learnt a lot and I'm sure you will enjoy. If you want to get in touch with Kris or know any more about 'Cooee,' then go to our show notes at outsourceaccelerator.com/162.
Enjoy.
Derek: Hi, and welcome back everybody. Today, I am lucky enough to be joined by Kris Buckham again of 'Cooee.'
Hi Kris, how are you?
Kris: Hi, Derek. Good, thanks.
Derek: Good. And, we have spoken previously to Kris as I mentioned just an intro there. So, please go back and listen to those. But Kris is a fellow Australian; we actually live in the same suburb of Manila and Kris is relatively raising the co-founded – a start-up in the outsourcing space – and, I said a high touch, high value BPO, but then, also in brain-based coaching and facilitation. So yeah, fantastic.
I have you onboard, Kris. I suppose you are much better at introducing yourself than I. Do you want to just give people a brief background as to how you got here?
Kris: Yeah sure, Derek. So, I've been here for ten years. I met my wife Pia, who is the co-founder of 'Cooee.' We got married; now, have two young boys. So, the Philippines is a integral part of my life now. I love it here. I always love living here. And we started a company here a year ago to get out and run a brain-based coaching program with companies here and abroad. And also, we have a boutique BPO of our own. We've handful of clients and we really focus there on a higher end kind of experience; we spend a lot of time with them.
Pia and I are very hands-on. We enjoy; we love paying to detail. We only had our first client when we were on the middle of the migration. Pia and I are looking at expense journals in their accounting system, so quite into the detail, but, we enjoyed that. I think that our clients appreciate that sort of hands-on approach and we spend a lot of time face-to-face with them. We give them all sorts of our high-end reporting, process improvements and volumes and eating some stuff that they don't get to look at themselves and their own. We have the management meeting.
So, that's where we want to try, and pitch ourselves and pitch whatever clients who want to go on that journey. We recognize that outsourcing is a journey. It's a big decision to make, in the first place. But we are both very passionate about it, having  helped big businesses do it before. About now helping smaller, medium-sized businesses on their journey to get them to where they want to be. We're really enjoying it at the moment.
Derek: Fascinating. There really is a huge value and we have spoken to previously and you've got a huge corporate background, both yourself and Pia. You are investing so much of your time and so much of your own professional kind of expertise and knowledge in this outsourcing relationship with the client. This is where I preach that this huge value in outsourcing because you're not just getting a bum on a seat, but you're getting this hand holding and this kind of process sophistication that I think the Philippines is probably now the world leader in.
Also, I find it interesting talking to your set of business model where your higher touch BPO kind of model, what I found in the last few years. Outsourcing has becoming quite commoditized and there's potentially a bit of a race to the bottom where a lot of clients, they're really just looking at the dollar cost, the per-hour cost, the seat cost, and I think, they're really kind of missing the point because work isn't just about people in the grindstone.
It's actually about the output – the quality of output. I really think with 'Cooee,' there's a lot of sort of space in the market for the down to hire cost, but it's a better output – it's a higher quality – instead of offering a lot of expertise, along with the hours. We spoke previously and you have a vision of keeping it pretty boutique. You don't want to go and take hundreds or thousands of seats.
Kris: Yeah, that's right. We believe in that model. The company, our clients, are generally family owned, Small, medium businesses. So, it is a big step for them to go offshore. We really want to be with them along that process to get their presence here. And given all that, we can add a lot of value to their business. So, it's not just about getting the wrong vibe in Manila, it's about the ongoing maintenance of the roles.
But also, we get in and help them out with just any transformational chore lending advice, we've been doing this for many years in the banking sector, because ultimately, you are going through a very large transformation in the sending location. We can help them by support as they're going through that transformational thing; that's really important. That's we're very passionate about.
I think there's obviously a market for getting things, roll over the fence very quickly, etc. I think there also needs to be an emphasis on building that long-term hunch between the two organizations.
Derek: You've seen the market, as I've mentioned, outsourcing is only sort of twenty years old and it's come so far in that time. And previously, I think only ten years ago, outsourcing really hadn't penetrated the SME Market. The SME Market is huge in the west. There are about 35 million SMEs that employed about a hundred million people.
Where do you see this going? Do you see more and more penetration into the SME Market? Do you eventually see that every SME outsources will just become more and more normalized or do you think that it could become politically unfavorable and people just then go back home? Where do you see this whole market evolving?
Kris: Look, I mean from the meetings we've done, the travel, the different locations, and speaking to different businesses, I think it means that we're going one direction and that is small companies taking advantage of this whole structure and the different markets, mostly in the Philippines, clearly, the different avenues that they have and cross sectors. There are still many, many sectors in Australia, for example, they just haven't even started looking at it. Clearly, they're aware of it, but they haven't taken the first step. So, I certainly see the opportunity for the market here and for the other offshore markets, if they can get to penetrate the SME group.
Derek: Yeah, that's why I get up in the morning, so I just see this huge opportunity and I just sort of see the biggest hurdle really is getting people familiar and comfortable with the concept. It's a kind of one-size-fits-all and I think outsourcing can offer incredible value to almost any business model in any sector. But it's just kind of getting people, getting people comfortable and kind of moving them down on that path.
Do you see what are the risks in the market? Because there's a lot of chatter about AI and automation, and it's going to wipe out millions of jobs. There's potentially, outsourcing, is in the firing line for that, especially the kind of data entry, the mundane, the high repetitive roles. There's a lot of fear in the Philippines. What are your thoughts on that? Is that going to happen?
Kris: Yeah, I mean look at how truth, how coaching and leadership development programs that we run at Beak. The client experience and the customer experience, and if I think about AI, the automation, clearly, it's already here; it's already happening. But, the first one that came through, maybe, level one, Chabot, when you aware to a certain extent.
When you get to that level two, level three, and it becomes a human interaction, I think, actually, that becomes more and more involved over the next few years, because when the agent is having their conversation with the person in the UK or in the US, the customer is potentially already in a threat state because of the what you did in level one. So, they have high level of anxiety they could be quite aggressive. So how that agent reacts, how he handles that customer, I think that becomes ultra-important. Things like empathy, demonstrating awareness, I think becomes really important rather than just the right i'm going to follow the KOP and level two is we say, "No, I'm sorry," which will only make the situation worse. Yes AI will move the automation, no doubt about it. But I think for the customer experience end point, it becomes even more important to focus on the people. This is still the people business; and we'll always hear that. And I hope companies don't lose sight as it is super important. As they go through all the automation, there will still be any human connection that will never go away.
Derek: Right. How do you see things shaping up in the skilled sectors of the Philippines? Because I actually think there's a bit of a hangover. Unfortunately when outsourcing starts, it was all call centers and twenty years ago, it was a pretty rubbish kind of output because everyone was new at it. I think people are getting better now. As you say, as people improve with their empathy, with their communication styles, their knowledge of the product and the institution, it only gets better and stronger. Are you seeing generally the Philippines shaping up, they're up-skilling, and their kind of keeping pace with the evolution of sophistication, so that they will not all just going to get wiped up by computers?
Kris: Yes, good question.  I think they're taking some really good steps. I'm seeing a lot of initiatives coming out whether it's in the industry bodies or doing through the government, etc. It has been attached very quickly. Really, the last ten years has really caught a lot of institutions by surprise. It probably has to really catch up to a certain extent and that will be no different to the impact that AI have. They're going in a lot of direction. I do like some of the initiatives. It will be a challenge, absolutely.
The skill sets are there definitely, it's incredible work. I mean, versus ten years ago, the type of roles that are available to create paths for Filipino; we're talking only a lot of them in North. You see, in Ortigas, which is an area where we have clients, a lot of call centers, and you sit there at café at lunch time, the conversation next to you, two work colleagues talking about their KPIs, their efficiency gain targets and this easy conversation just didn't exist ten years ago because these companies didn't exist in these functions – it's an incredible opportunity. And I think; I hope the industry bodies and the government can keep up with demands. I don't see it stopping. We've also talked about these getting out, far reaching parts of the country now – no longer just in Manila. In Cebu ongoing, these organizations are popular all throughout the country, which is great for many provincial schools and the opportunities for these communities.
Derek: Yeah, absolutely. Because when outsourcing – it is a massive contributor towards its economy. It's 10 plus percent but it only employs 1 million of the country out of the 110 million. So, I think there' still a lot of opportunity for the employment to spread and for this kind of boom to trickle down, which certainly needs to be supported and largely by the government and with your initiatives and your kind of angles in terms of approaching things from a humanist point of view, using empathy, and using those skills, which truly only humans can do. It's a pretty powerful mix and has huge potential then for the Philippines, which really excites me.
Kris:  Yeah, we like to think so. We're very passionate about that. If we can get that style of thinking in the brains, the more leaders here and igniting that spark. I think that is a great thing for organizations, the teams, and for the staff development as they move through their careers in whichever function they are in, to have that side of developing career; it's really important.
Derek: Absolutely. Now, thank you so much for your insight. It really does get me excited talking about the kind of future potential of outsourcing, both for the SMEs, for the west, but also for the future of Philippines. Thank you for joining me. If people want to get in touch with you or want know more about 'Cooee' or your training, how can they do that?
Kris: Through our website, mycooee.biz. There's information there about our training programs and our small boutique BPO. Love to talk to people and give more information. Pia and I will happily meet you anytime. We're also on Facebook.
Derek: Fantastic. And all of those details will be on the show notes. Thank you so much, Kris.
Kris: Derek, thanks very much for having me here. I appreciate it.
Derek: OK, that was Kris Buckham of 'Cooee.' If you want to get in touch with Kris or know any more about 'Cooee,' then go to show our show notes at outsourceaccelerator.com/162. And of course, if you want to get in touch with us or ask us anything, then drop some email to [email protected].
See you next time.
Listen to more podcast episodes here: