Lester Tay – Inception of Atticus Solutions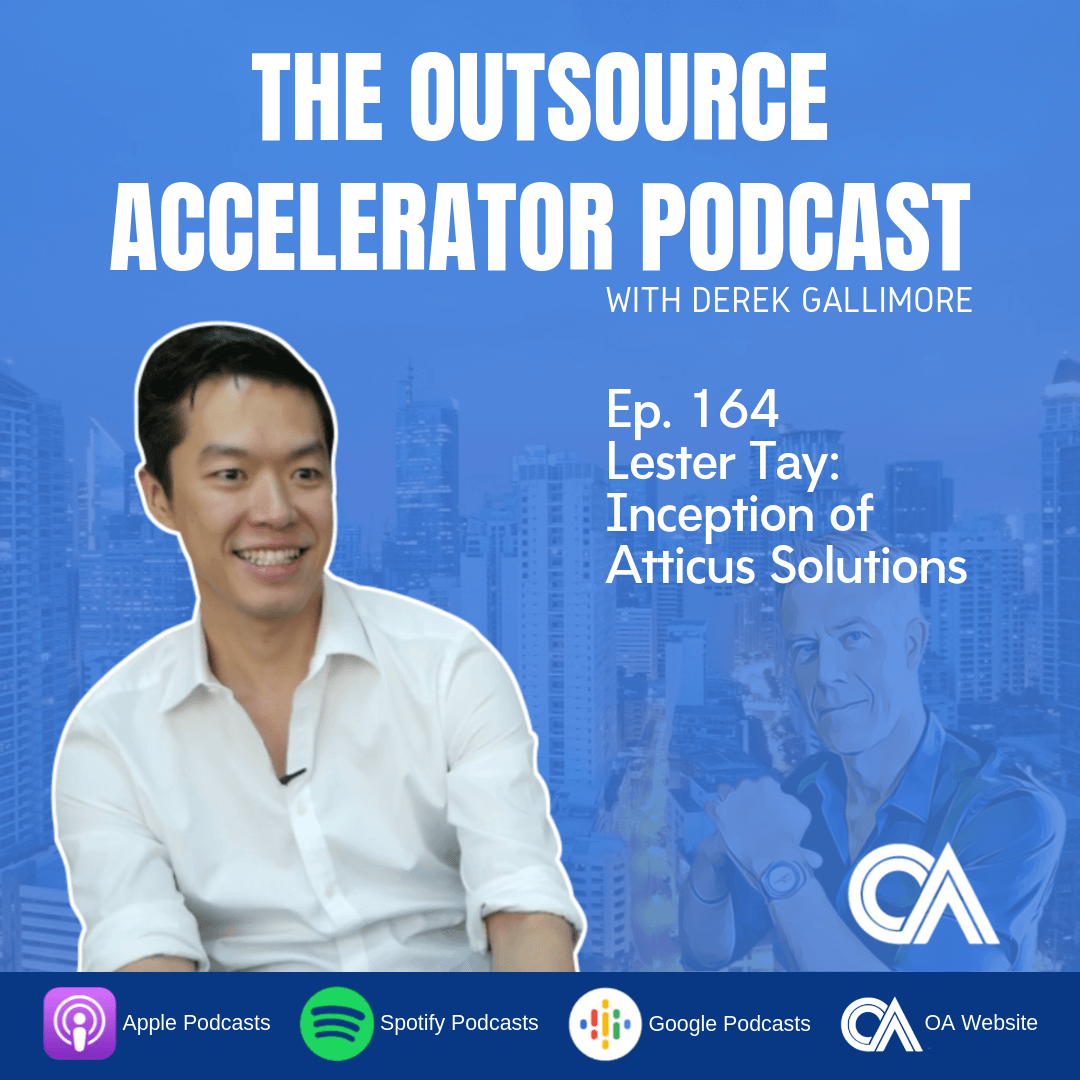 Ep 164 Lester Tay – Copy
In this episode, Derek is joined by Lester Tay of Atticus Solutions. Join us as Derek deep dives and talks about Lester's outsourcing service provider company and how it differs from others. We get to hear how he started his company with only one person, the difficulties, and how it has grown today.
Summary:
Lester was educated overseas, educated in London, got a job in Australia and was then always inclined to come back to the Philippines to start a business.

Lester started Atticus Advisory Solutions in 2013.

Atticus Advisory Solutions do not have voice accounts, they focus on higher value services or IT specialization.

Lester's company is very transparent with their clients.
Key Points:
Starting a BPO business requires a lot of patience and perseverance.

Take the plunge and allow your business to grow and prosper.

The key to a successful BPO is treating your staff very good to help achieve both of the employer and the employee's goals.
Resources:
Derek:  Hi, and welcome to another episode of the Outsource Accelerator Podcast. My name is Derek Gallimore and this is episode number 164. So today, I am happy to be joined by Lester Tay, again of Atticus Solutions. He joined us originally on episode 160. We heard about his backstory and how he was doing an MBA and eventually came back to the Philippines to start an outsourcing company. Here, we concentrate more on what Atticus Solutions does, which is an outsourcing service provider here in the Philippines. If you want to get in touch with Lester or know more about Atticus, go to our show notes. You can find those at outsourceaccelator.com/164. Enjoy!
Derek:  Welcome back, everybody. It's another episode with Lester Tay today. We had Lester join us a couple of weeks ago to discuss Atticus Solutions, it's an outsourcing service provider. Lester was educated overseas, educated in London, got a job in Australia and was then inclined, always inclined to come back to the Philippines to start a business here and he came back and stated outsourcing. So, I want to hear all about that from Lester, but specifically about the values that Atticus Solutions offers and how it differentiates itself. Thank you so much for joining us.
Lester:  Hi, how are you there?
Derek:  Yeah, great. Thank you. Great. And so, I suppose, initially, can you just give us a background for those that haven't gone back and listened to the prior podcast that we did with you. Just give us a quick intro.
Lester:  Sure. So, I started Atticus in 2013. I was living in Australia back then and our very first client was he just told me why don't we set a BPO and outsourcing company in the Philippines. And having no experience in setting up a business, having no, I guess having no knowledge in how to set up a business, I just took the plunge in entrepreneurship and let my hand – started very small, started with one person back in 2013. So right now, I am having the company Atticus Advisory Solutions, we've grown by the luck in the past few years.
Derek:  Cool, and well done. You do see a lot of entrepreneurial starting BPOs and often one of the reasons why they do it is because they are scratching their own itch for staffing solutions and staffing needs. And then they open up the doors a little bit for other clients and things like that. You went straight into outsourcing with your entrepreneurial zest and what are some of those learnings been and can you give us a snapshot of where you are now? How big the company is now?
Lester:  Oh yeah. So, looking back from 2013, I mean if you'll ask me to do it again, I think it's a crazy decision for me to start it with just one person. Sorry, your question was?
Derek:  How far have you come now? How big are you?
Lester:  Yeah, so I started one person and right now, we're going up to a fifty and a hundred this year. We don't have any voice, outbound calls or whatever and we don't have hard voice accounts that's why the growth is, I would say, not as fast as other outsourcing accounts who have a lot of voice accounts. So we focus on higher value services.
Derek:  Right. What services do you focus on? And why the decision not to go with voice?
Lester:  Okay. Well, the reason why we're focusing only on our core service right now, which is we have a lot of software developers, we have functional consultants, we have network engineers. We offer higher-value service. Why we focus on that? Well, very simple. We tried voice before and it didn't work out very well. The margins were not as good, that's one. Number two, I think the type of people that we have now, they're more alive with the values of the business.
Derek:  Right, okay. And it's really more future-proof as well isn't it to have the more modern and higher-skill trade?
Lester:  It is, unless you keep seeing the Google demonstration of the AI. Whatever Google call it, it's the restaurant. Yeah, I think it's more future-proof compared to the pure voice service. But it's not going away soon. I'm just saying that we're just preparing for the future.
Derek:  Yeah, absolutely. Can you give us an example what kind of roles you do, what sort of projects you do? And with the lot of tech and IT, one kind of assume that it's more project based but are these ongoing roles?
Lester:  So yes, these are ongoing roles. The reason is I realized if we did other roles not just project based, we we're just constantly looking for new customers to fill those project needs. Whereas these ones, we are very transparent with our clients. All of our clients know how much our staffs are getting paid, I mean the staff besides them. So that they treat the staff here as if their own employees.
Derek:  Right, okay. How does your pricing work? If people are interested in outsourcing with you, how do you suggest the pricing works? What is the common requirement or approach?
Lester:  Sure. Number one, we try first to understand your business. We put your goals into the business and how having an augmented staff can help you achieve whatever goals you have. Number two, based on those data analysis, we agree with you on a certain type of talent that we offer. We share with you the salary range in the Philippines of those particular talents. The next part is we actually share with you how much the talent will be paid. We're very transparent, the reason why we are transparent is we want to look at this is because we want our customers to be very long term. We share with them the salary of the person assigned to them. We share to them how much these expenses we put on and also our management fee. So, everything's very transparent with our cost. Third, ongoing, we work with you in developing the talent. We make sure we have regular evaluation for the staff, making sure we have training for the staff, not only technical but also personal development training so that the staff grows with you or with the client's business.
Derek:  Right. Fantastic. And then there are different outsourcing service models. There's staff leasing, seat leasing, there's full service BPO with KPIs and outputs instead of an hourly rate. What is your kind of sweet spot in terms of the service offering?  
Lester:  We don't do staff leasing hourly rates. We just have a very simple transparent monthly billing with the client. We always work with the client to review their business and how we can work together. What's good about our company is that we're funded by entrepreneurs so we understand how entrepreneurs think. And the biggest motivation for me is the companies or clients treat the staff here as people as well. Not just some faceless resource overseas but we want our clients to treat the staff here as good as people as well.
Derek:  Yeah, absolutely. Okay, where do you see this going? What are your ambitions for Atticus and do you see yourself kind of specializing in IT or are you going kind of broad or where is the niche for Atticus?
Lester:  Yeah, we actually see ourselves specializing in IT also in implementation projects. As mentioned we have a lot of NetSuite Talent in house as well. We are focusing on those talents. So, in the future, we want to open up an office in Australia or in Europe. Not just to have an operation there, but to have a business development office in those countries so that we can be closer to our customers.
Derek:  Right. This is one of the most unique industry in the world, outsourcing, because you guys are sitting over here and then the clients are everywhere else. Even like big multinationals like Coca-Cola, they always have retailers in the market that they are trading in, so how did you find reaching out to people and the engagement cycle? What are the some kind of takeaways there in how you engage people and I suppose their initial responses?
Lester:  You mean, how do we find clients?
Derek: Yeah. How do you reach out to them?
Lester:  Well, it's actually very very difficult. So, I think, bottom-line, it's a numbers game as well. So, we reach out to X number of clients via e-mail and then I reach to personal contacts as well. And yeah, at the start it was really a numbers game. The more clients we tried reaching out the more chances. First, it was a lot of rejections, a lot of people who are not sharing concerns. But I think for those that who are, it just so that we work with them and how I've mentioned it earlier. And then we get referrals from clients afterwards.
Derek:  Absolutely. Fantastic. Thank you so much. If people want to reach out or get to know more about Atticus, how can they do that?
Lester:  Yes, so they can visit our website www.atticus.ph and also, they can add me up on LinkedIn.
Derek:  Okay, that's amazing. Thank you so much Lester and thanks for joining us.
Lester:  Thank you Derek.
Derek:  Okay that was Lester Tay of Atticus Solutions. If you want to get in touch with Lester or know more about Atticus, then go to show our show notes which is at outsourceaccelerator.com/164. And as always, if you want to get in touch with us or ask us anything, then just e-mail us at [email protected]. See you next time.
Listen to more podcast episodes here: