Brett Russo – Inception of Outsource Workers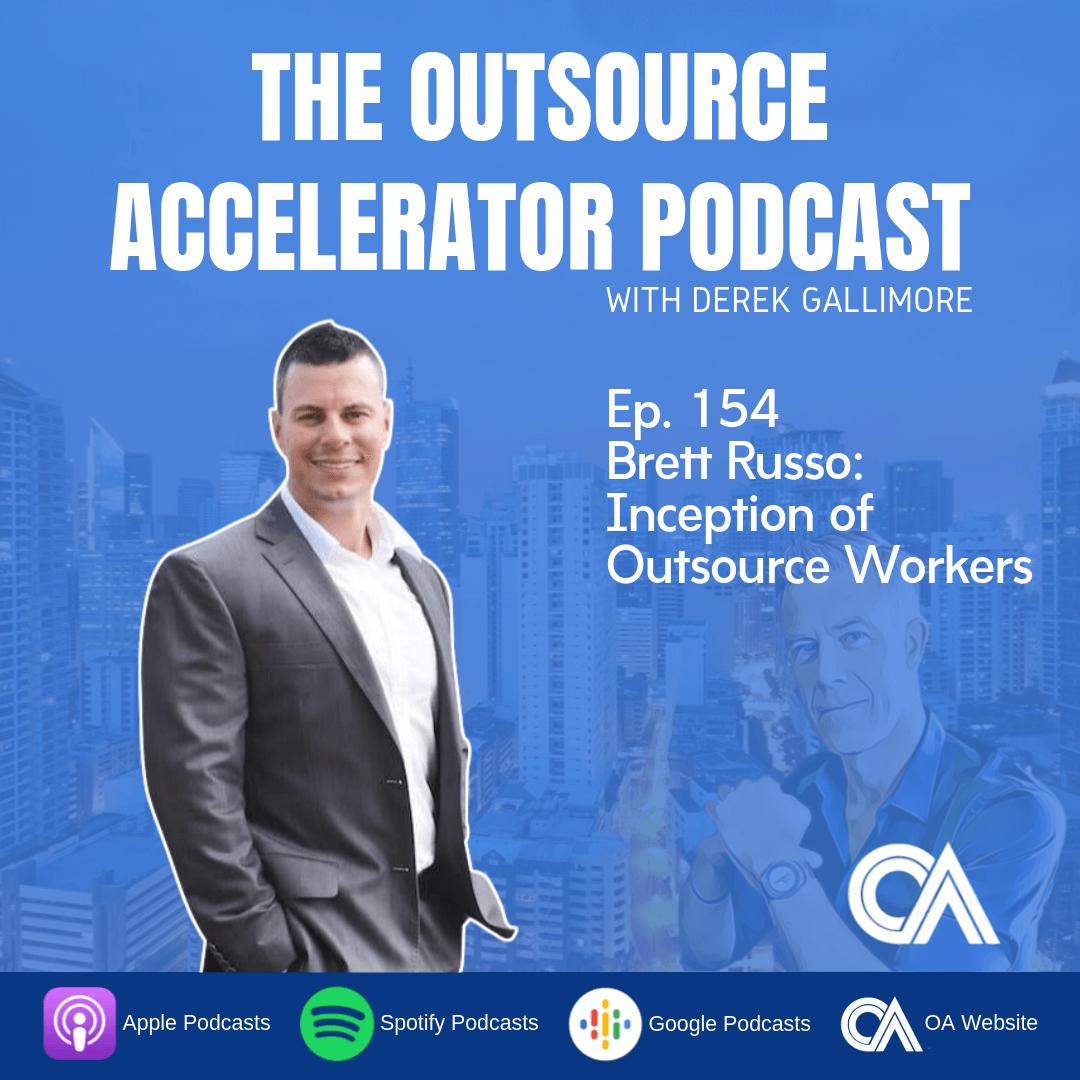 Ep 154 Brett Russo
In this episode, Derek is joined by Brett Russo of Outsource Workers. Join Derek as he deep dive into what Outsource workers do, their fee structure and their specialization.
Summary:
Brett is a

Real Estate Agent for about 15 years based in Australia.  6 years ago, he was introduced to his first Virtual Assistant.

Outsource Workers specializes in Real Estate virtual assistants.

They discuss the Outsource Workers fee structure, hiring process and client requirements.

Success of outsourcing is dependent on how much time the client can spend with their VA's to train and get them on board.
Key Points:
Outsource Workers is a company that specializes in helping specifically Real Estate agents outsource Virtual Assistant in the Philippines.

Clients need to invest time in training their VA's to have a successful output from them.
Resources:
outsourceaccelerator.com/154
Derek: Hi and welcome to another episode of the Outsource Accelerator Podcast. This is episode 154. My name is Derek Gallimore and today I'm joined by Brett Russo of Outsource Workers. He is a real estate agent by background and through scratch image setup outsource workers which is a specialized vertical in real estate virtual assistants. So we spoke to Brett earlier in episode 151 if you want to hear more about his personal journey and then in this episode we deep dive into Outsource Workers, what they do, their fee structure and also what they specialized in. So again these aren't infomercials, I'm not getting money for this. It's really just for your reference out there and so that you can deep dive into the founders of these things and how they are run, how they're built, and what they offer. So I hope it's valuable for you I certainly enjoyed this conversation with Brett. If you want to get in touch with Brett, know any more about Outsource Workers or anything we discuss then go to our show notes which is at outsourceaccelerator.com/154 so enjoy.
Derek: Welcome back everybody today I am joined by Brett Russo of Outsource Workers. Again, Hi brett how are you?
Brett: Good thank you, Derek.
Derek: I supposed we have spoken to you before and we have tracked a little bit of your journey and your own reasons for starting up Outsource Workers but can you just initially introduce yourself and kind of how you got to where you are?
Brett: I'm a Real Estate agent for about 15 years now in Australia and I've been outsourcing myself personally for about six years and I also got my original VA which is really cool. And then five years ago I started up Outsource Workers which is a company that specializes in helping specifically Real Estate agents outsourcing all their non-productive work in the Philippines.
Derek: Right and you know that's the best way in starting a business isn't it. Scratching your own itch initially and then you extend your services as people actually make request of you and it's quite a common journey that we see here in the Philippines that a lot of people come over and start outsourcing, a very entrepreneurial-minded people so it's not long before they actually catch the outsourcing bug and start doing it themselves. You've applied not just outsourcing and but in a specialized niche which is Real Estate. Can you outline but it's not only real estate you've been going about 5 years now and you've got about a hundred staff but real estate is probably your core service but what else do you do? Is it you kinda cover everything?
Brett: Yeah you're right we're only specializing in real estate virtual assistants because that's my background and I had really really good success with my virtual assistant operate with real estate related task. But also I know a lot of people in the real estate industry, so it was a natural progression to help real estate agents but definitely, we got a lot of clients that have nothing to do with real estate but got admin work, graphics design or bookkeeping or whatever it might that need assistance around those tasks. Yeah we can definitely help.
Derek: Can you give us a bit of insight into your sales or outreach, your sale cycle because to me outsourcing is an absolute no-brainer and we are effectively a promotional body and try to get word out there that outsourcing works and it's an incredible transform to resource but you know of course each argument has to made to each individual but do you find there's still a lot of resistance to outsourcing or still lack awareness. How do you find the market perception?
Brett: There's still a lot of people that don't know about outsourcing and we're very fortunate that we really just do with inbound leads which mainly comes through our organic traffic to our website so they inquire that we get people already know about outsourcing and maybe they wanna know a little bit more or in a lot of cases that have been referred to a company by other users, so we don't really have to sell to hard to get a client come onboard quite often what we do is we find what the clients pain points are and we analyze the tasks that they are currently doing and we try to come up with a gameplan where virtual assistant can take over as many as non dollar productive tasks as possible. So much we come up with a plan with the client we did go out trying to recruit and test the appropriate VA specifically to that skillset so that's thing works for us.
Derek: Is it typically one full time worker minimum or do you do kind of hourly partitions of people which is then effectively hiring of a function or a role?
Brett: Yeah we have found a couple of different business models Derek, we've got staff who work from home, we hire them out from 7 dollars per hour with the homebased staff we can offer them part time from as little as 10 hours a week right up to full time and office based are great as you noticed we've got some issues with internet, electricity, connections some of our clients require a higher level of service and we also got the option of recommending office based staff which we hire out for 12 dollars per hour. I should mention that 7 and 12 dollars options are Australian dollars which is a bit less than US dollar.
Derek: It's a bit of discount there isn't it and of course if people overlook the fact that there if you're comparing salaries in Australia there's often plus plus on top but there's also recruitment cost, office housing cost, there's a huge amount of cost that going to normal employee in Australia where this is a complete wrapped cost it's everything.
Brett: Yeah you are exactly right in Australia there's additional add-ons on the top of the hourly rate, you pay rental here. With us we just like to keep it simple when quoting an hour that's 7 dollars per hour that's the full rate, there's no setup cost, there's no recruitment cost and our clients can cancel it anytime. So we just like to keep things nice and simple.
Derek: Right, Do you find then that what are people normally start with this a couple hour a week to test the water or to them, or how many proportion progress to maybe a full time staff member?
Brett: We have a 10 hour per week minimum, so we do require clients to commit to 10 hours but I guess every clients needs a little bit different but that's what I try too as a time how much did it made the clients has. Some clients only need 10 hours per week and then we got other  clients that they're gonna need a full-time virtual assistant straight away. So we try assign on them a VA within their work depending on the workload. But clients do wrap things up we have a lot of clients to start with 1 VA and they keep adding more and more to their team and we got handful clients who have six and seven and ten VAs in their businesses now.
Derek: Right. And do they when you have those biggest scale operation and biggest scale clients, are they really all still using them as a VAs sort of function like kind of task to task or does it then mature I supposed into more structured basically they just have an office in the Philippines doing various operation aspect of the business.
Brett: Yeah I think the clients end up doing teams.  One of those clients will fly over to Clark where our office is based and they'll do in-house training with their team and then we've got other clients that have flown their VAs over to Australia, for training in Australia. One of the VAs have been the client's businesses the more complex task they must deal with.
Derek: With your contracts are there any minimum trials, minimum expectations?
Brett: With the client based staff we got a lot of flexibility we can offer them from 10 hours per week and you can cancel it anytime, with our office-based staff, unfortunately, we don't have as much flexibility and we can only offer them at this stage full time. There is a 30 days termination with our office-based staff. Our goal is a little bit different to where we have clients, we really want to put one VA in clients businesses alone too. Some of that clients that's been with us from the start that still have the same VA and five years later. So there are quite few things in place to promote loyalty from the start.
Derek: I find it with new clients the outsourcing journey is a little bit scary and uncertain and maybe sort of 50% commitment to it anyway. What are some of the make and breaks of outsourcing and how do you ensure I suppose your own interest but how potential clients ensure that they get early wins and that they actually see the efficiency of this early.
Brett: Really really good question there Derek. I think a lot potential clients think that they're virtual assistants can come in to their business and tell them what they need to do and really take charge, where it's not really like that, it's really about the clients having existing systems or systems that they create to get the virtual assistant and the better the systems the better the output that they'll get from their VA. But just like any employer whether you're hiring a Filipino remotely or whether you're hiring an in-house Australian person there's definitely training involved, and the client's that invest the most time into their virtual assistant they're clients that get the most results. Unfortunately a lot of our clients are real estate agents that are really really busy and a lot of them don't have the time to invest in their VAs and unfortunately, some their clients don't get the best results from their VAs or VAs capable of. So yeah I guess if there's any advice for that potential client is that just put some time aside investing in your virtual assistant and you'll reap the rewards.
Derek: Yeah I see this a lot if there's kind of failure within the relationship between an employee and employer then often the entire concept of outsourcing can be written off, and often the entire concept of Filipino staffing can be written off and really it can just be normal day to day operational aspect of business where some things don't always work out or particular contractors aren't suitable. It is the reality that most people and especially estate agents, or one or two-man businesses potentially that don't have that spare time themselves to train and to set up systems and so do you see that as a bit of the Achilles heel for your setups? And maybe that's where an Australian assistant might be slightly advantageous because they just naturally sort of slightly up to speed, a bit quick because they're in their environment?
Brett: I think the stronger the relationship that the client has or can build with his virtual assistant the better and one of the ways to build a great relationship with your VA is spend time with them using skype video. Skype video is great because you can hear each other and get to know one another and I also recommend using screen sharing when teaching processes so again it sort comes back to spending time with your virtual assistant, building relationship and the stronger the relationship the more complex tasks you will able to delegate and hopefully the VA will be with the client long term.
Derek: It is super important and people sort of see VAs as really just a few person on a computer but actually they got to realize that there's a real person behind there and especially if they work remotely then I think need effort to actually bond with these people otherwise you just don't get that buy-in and you don't get that kind of cultural alignment.
Brett: Yeah definitely. We have a couple clients last year that flew their VAs over just for their own staff Christmas parties. That was a pretty big experience for some VAs to fly down to Australia and spend time in a client's business as well as socialize with their work colleagues that they only met on Skype previously.
Derek: Can you give us an idea. I'm a massive proponent to outsourcing, I really promote it to everyone, I think that it can be applied to virtually any business and business sector in the world, but there is a failure rate and also you know business isn't easy so things don't work all the time and always takes a lot of iteration but with your clients do, what sort of success to failure rate is there? would you put that down to people just give up a little bit to quick or it's because they don't invest in training and time as you mentioned.
Brett: We're in the people business and from time to time you have issues with people,  regardless of what country they're from but we really have very few issues without VAs, we probably had more issues with their clients that we do and with their VAs and again it just comes down to the clients being really really busy and not investing the time that the VA needs to take the VAs skills to that next level.
Derek: Which again is a very universal issue whether you've got an assistant in Australia or the Philippines or whatever is it about. Fantastic and so if people wanna know more, if they wanna get in touch or use your services how can they do that?
Brett: Probably the best way is to visit our website which is outsourceworkers.com.au
Derek: Thank you so much, Brett
Brett: Thanks, Derek.
Derek: That was Brett Russo of outsourceworkers.com.au if you wanna get in touch with Brett then go to our show notes which is at outsourceaccelerator.com/154 and if you wanna ask us anything then of course just do so email at [email protected] see you next time.
Listen to more podcast episodes here: