Top 30 tech companies in Mississippi you should know in 2024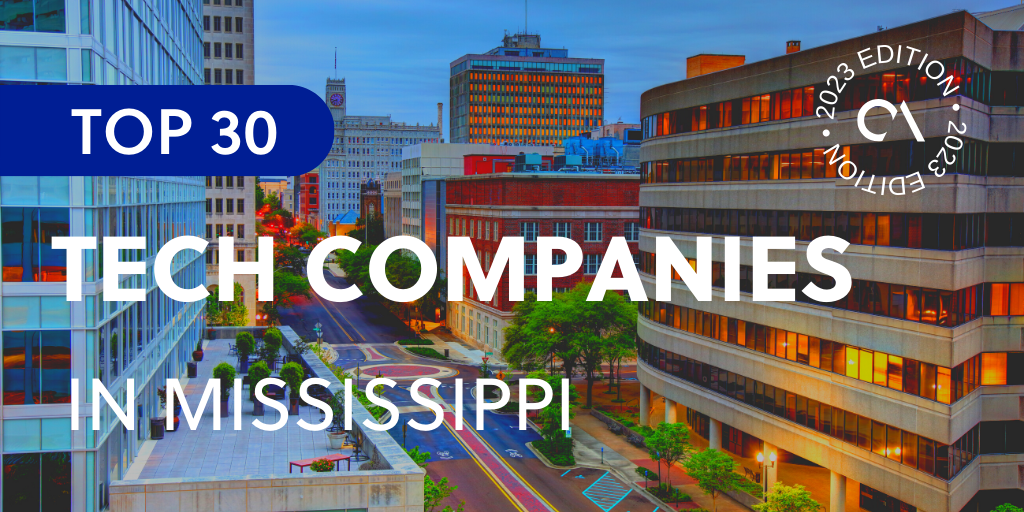 List of tech companies in Mississippi
Technology has significantly impacted the economy of Mississippi in full spectrum. Innovations and development from various sectors like manufacturing, healthcare, and finance are now working intelligently with technological advancement.
At the Accelerate 2021 Conference, keynote speakers and experts highlighted the role of technology in bringing future entrepreneurial growth to the state's critical industries.
Part of the conference is a collaborative discussion to educate entrepreneurs and startups to empower sales and marketing through technology, including outsourcing. It also emphasizes the role of universities in the tech ecosystem, improving traditional state sectors.
No wonder Mississippi puts so much value on education today. With top tech companies, universities, and research institutes, the state bridges the gap with the emerging tech requirement by molding fresh talents and attracting more investors worldwide.
Why Mississippi is a good place to expand tech business operations
There is no slackening in pace when it comes to technology-driven innovations. This has been one of the major platforms of Mississippi in efforts to become the next tech hub in the United States.
It can be reflected in the recent venture of the Microsoft TechSpark project to expand technology in the State. They saw its potential in expanding programs to rural areas, including towns in Mississippi.
These are made possible by delivering programs for residents anchoring to their education and career. They are present, starting from learning grid coordinates in elementary and computer courses in high school to a certificate program in college or university.
Because of this, businesses recognize Mississippi as an ideal place for expansion, given the collaborative effort of the state to strengthen its education. It aims to prepare future graduates for the increasingly tech-savvy world.

Top 30 tech companies in Mississippi
Here we have today's top tech companies in Mississippi you should know in 2024:
This AI-powered company assists many businesses in operation with its narrative intelligence capability. It provides data and narratives relating to global business, elections, and war, to name a few. 
EdgeTheory's technology processes and analyzes data through artificial intelligence, natural-language processors, and machine learning that detects keyword integration. 
It is reassembled into an improved dataset and shared with customers using these mediums:
Console for trained analysts 

Updated narrative briefs

Application programming interface (API)



WISPR Systems manufactures drones with a high-quality design and reliable features. It started in 2017 and centered on providing Unmanned Aircraft Systems (UAS) with a payload system for commercial use.
It supports various industries, including telecommunications, utilities, and public safety, making it one of the top tech companies in Mississippi. It is known for introducing unique and top-quality drones with one-stop-shop product services for the convenience of its customers.
Navagis is one of the top tech companies in Mississippi, specializing in geospatial visualization solutions. It comprises a well-trained and dedicated team that helps customers design and customize solutions for the company's growth.
The company uses data to acquire enhanced insights and help innovate business processes. Its custom mapping platform enables organizations to visualize data and insights easily, leading to more informed decisions.
CORE Technology, LLC has provided quality services to private and public sectors since 2009. It acts as a partner sharing technical consultation and support services to many organizations, including government agencies, non-profit organizations (NGOs), and corporate businesses.
This tech firm offers cost-efficient technology-based solutions customized to adapt to the requirements and needs of the business, ensuring a quality customer service experience.
This American company has conceptualized, designed, and manufactured musical and audio equipment since 1965. It is situated in Meridian, Mississippi, and now employs more than 2,400 employees.
Peavey Electronics offers various products that dominate and elevate the musical industry requirements of the State. It includes the following musical and audio equipment:
Amplifiers, speakers, and mixers

Microphones

Guitars and basses

Classic guitar and amplifiers

PVXp active speaker and XR-S powered mixer



American HealthTech is one of the longest-serving top tech companies in Mississippi on care management software. It introduced solutions customized for skilled nursing establishments and senior living facilities.
It is also known for providing Electronic Health Record (EHR) and centers on helping organizations innovate, enhance financial processes, and provide quality care across the State.
This private company based in Ridgeland, Mississippi, provides development solutions for various technology products. It unleashes a business's full potential and achieve growth by providing services like: 
Innovative golf positioning systems

Course mapping processes

Performance fitting programs

Swing analysis apps

Practice and play systems
Each offering is designed to adapt and help golfers play at their best and have more fun in the field. SkyGolf delivers business development and growth for course operators, golf professionals, and retailers.
Lobaki designs and conceptualizes training and educational VR experiences to elevate learning results and establish cost-effective platforms for enterprise applications. It provides faster and more scalable VR technologies for many educational organizations.
This company is led by experienced managers skilled in using technology to enhance organizational success and improve customer service.
VSS is among the top tech companies in Mississippi that has been operating since 1990. It revolutionized client businesses using people, processes, and the work of technology. 
The organization is composed of dedicated talents in providing exceptional technology solutions. Its services are focused on sustainable technologies that promote sound and better business results. 
VSS builds and strategizes the client's workforce to maximize and support technology integration into their business operations.
Next Gear Solutions, now CoreLogic Solutions, is known for its years of expertise in providing technology, consulting, and restoration services. It enables franchisees and contractors to collaborate in delivering Service-as-a-Software (SaaS) solutions for construction restoration. 
It is a dynamic company that maximizes the latest technology to craft an efficient online management system for restoration contractors and deliver proven consulting services globally.
Since 2006, Camgian has continuously introduced the next generation of intelligent machines backed by reliable data. The Camgian Microsystems Corporation designs and provides products to various sectors, including: 
Integrated circuits and wireless sensors

Microcontrollers and systems-on-a-chips

Application-specific integrated circuits (ASICs)

Integrated chip-scale micro-power systems
Camgians products are needed in smartcards, warfare digital receivers, tracking, and microcontrollers, to name a few. It also caters to industrial monitoring systems and physical security software applications.
Stark Aerospace Situated was established in 2006 in Columbus, Mississippi. It is a Nadcap and AS9100-certified company focusing on the following services: 
Electronic assembly

Repair and overhaul

Missile system integration

Manufacturing of aerostructure solutions
This firm continuously expanded operations and was able to support graduates of Mississippi University for Women and is one of the listed top tech companies in Mississippi to work for.
CSA is a service-centered company based in Tupelo, Mississippi that has operated for 75 years, making history. It strengthens many businesses by introducing unique customer service experience through its initiatives.
It provides single and multi-service utility systems for the following substance:
Electric, gas, and water

Wastewater and solid waste

Fiber and propane

Cable and telephone
CSA continues to soar in product innovation guided by the Technology Board, composed of engineers, IT professionals, and representatives from member utilities. 
This IT consulting and system integration firm is one of the top tech companies in Mississippi. Established in 2002, PILEUM transformed into a leading-edge technology innovator with industry expertise.
The company uses objectivity, creativity, and logical practices to address challenges that turn into new opportunities. 
PILEUM is present in the following industries:
Manufacturing and Healthcare

Law Enforcement and Government

Business/Professional Services

Educational/Academic

Financial Services and Insurance

News/Media and telecommunications 
Founded in 2001, TestFort is a well-established software testing firm knowledgeable in both manual and automated testing. It comprises quality assurance experts and industry professional engineers. TestFort delivers clear communication and accurate documentation towards exceptional results.
This tech firm has continuously progressed and recently announced the educational QA program in Cherkasy, Ukraine. The aim is to share knowledge with young tech-savvy professionals to qualify them for quality assurance engineers.
BFAC.com is a well-recognized and award-winning company that champions services on mobile marketing and communication solutions in the global market. It caters to various establishments, including schools, churches, and state and local governments.
It helps many clients reach growth and development through the work of proven strategy and cutting-edge technology solutions. BFAC.com provides clients with their account manager, ensuring excellent customer service experience.
Ideal Software Systems has been one of the top tech companies in Mississippi since its establishment in 1983. It specializes in software for rent-to-own (RTO) and entertainment businesses. 
This firm services hundreds of client partners in the United States and other countries. It focuses on two niche market offers, the IdealOne for family entertainment and the Versirent for rent-to-own industry services.
Fractional Networks introduced a self-hosted application platform to elevate the usual cloud-based software applications in the global market. It offers features allowing practical decentralization using self-hosting channels to various consumer audiences.
Powered by updated and cutting-edge artificial intelligence solutions, businesses can achieve goals. It creates custom AI software, GPTBuddy, and provides access to OpenAI's fundamental structures in a collaborative way and setting.
Cyient is an international engineering and technology company with over 300 customers, including Fortune 500 companies in various industries. It helps companies conceptualize, build, and operate business technology.
Its next-generation tools attract customers to rely on the company's manufacturing, engineering, and digital technology capabilities. It promotes quality services and improved performance using the capabilities of the following:
Engineering

Manufacturing

Digital

Semiconductor

Geospatial
The STG team is determined to help clients unleash their full potential with up-to-date technology, providing support and security to business brands. Its policies and innovative ways support many industry professionals and working parents through flexible working hours. 
This private company also partners with clients to help address challenges in IT operations, regulatory compliance, and business process solutions, covering the following areas:
IT services

Risk & vulnerability assessments

Strategic cyber consulting

Readiness assistance
BeCloud, LLC. is a top-rated customer service and IT solutions company servicing the Jackson metro area of Mississippi. It is a locally owned business that operates and works with clients through an intelligent and IT-enabled environment. 
Most of its IT services are customer friendly with the newest technology resources and proactive management that are affordable and adaptive to any business size. The company is composed of reliable industry leaders, including technicians, engineers, and managers.
TechSystems USA is listed as one of the top tech companies in Mississippi in the outsourcing IT industry. With professionally trained and licensed IT engineers, the company answers various tech-related problems for many businesses. 
It provides products and services using third-party partnerships to a wide range of product offers customized to cover all business requirements, including:
IT services and end-user support

Servers, computers, softwares 

Cloud services and web applications

QuickBooks hosted solutions

Email hosting and cloud collaboration 
Founded in 1993, BCI is a technology company composed of experienced engineers. It provides the latest innovations for security and technology products and services.
With over 1,000 clients, the company's collaborative efforts resulted in recognition as one of the top security companies in the United States. It assists customers in designing, deploying, and operating solutions in the following areas: 
Managed IT services

Managed print

Network security

Dark web scan and white paper

Managed connectivity



Burton Computer Resources, Inc. is listed as one of the top tech companies in Mississippi for bringing professional IT services to South Mississippi. It is focused on small and medium-sized businesses.
The company accelerates many business clients by helping them grow with the right technology services. It is composed of expert technicians who serve customers with value and integrity, resulting in long-term business relationships.
AGJ Systems and Networks centers on providing exceptional services, integrating IT solutions, and managing service solutions. This Mississippi-based leading IT consulting firm is a service-disabled veteran-owned business.
The company collaborates with industry leaders like Dell, IBM, Microsoft, and Cisco Systems. Recently, it received an award for Channel Future's MSP 502 for 2022. 
The hard work resulted from delivering exceptional:
Managed IT services

Backup & disaster recovery

IT/Network security

Hardware & software sales

IT consulting and projects

IT compliance assessment
Founded in 2009, In-Telecom has transformed from a consulting and telephone system solution provider to a full-service technology company. It offers various customizable solutions for the following:
Cloud telephone and voice-over IP

Managed IT services and video conferencing

Cyber security and data backup

Physical security and Internet services
In-Telecom is committed to delivering exceptional technical services. It ensures the highest level of customer experience to become a solid partner of clients in the technological requirements of their business processes.

Vitality South's mission is to share the best customer experience and business solutions for startups and small to medium-sized enterprises. It strives to be an outstanding marketing and business solutions company.
Vitality South is composed of a passionate workforce of designers, programmers, and marketers. It is part of the top tech companies in Mississippi that helps your brand unlock its potential to the next level using customizable and adaptive business solutions on the following services:
Marketing 

Software development 

Information technology branding
FORVIS, LLP is one of the top tech companies in Mississippi for professional services. It caters to over 50 states and across the globe, offering solutions for tax, advisory, wealth management, and assurance services.
Started by the collaboration of BKD, LLP and Dixon Hughes Goodman, LLP (DHG), FORVIS, LLP is now composed of more than 5,400 dedicated professionals. They are all committed to promoting forward vision and delivering exceptional customer experience.
Tyler envisions providing a healthy and future-ready digital infrastructure to the world. It works with industry associations and technology experts to ensure the best service solutions to help government and schools operate effectively through technology.
This company empowers the public sector to establish smarter, safer, and tech-savvy communities, integrating data and processes into its technology-based solutions.
Radiance Technologies is an employee-owned company focused on assisting client partners with innovative game solutions based on the requirements of the business.
The company's employee-owners are driven to empower growth and sustainability to the State's pressing technical challenges. Radiance invested in a well-trained and knowledgeable workforce to deliver services in the following areas: 
Cyber and Intelligence

Directed energy

Artificial intelligence

Machine learning and microelectronics

Hypersonic and space
Mississippi: A thriving hub for startup tech businesses
Today, Mississippi recorded several technology businesses and startups that can manage their operation successfully, making it a thriving hub for many tech businesses.
Most tech companies in the state have become more diverse. They cater to different industry sectors, which include healthcare, education, and government services, given that digital process automation is the current trend in workplace settings.
No wonder the government administration is in full support to harness the state's potential in terms of technology. Over the years, it has given a positive curve in its overall economic development. 
The presence of top tech companies in Mississippi also helps attract more well-established businesses to expand operations in the state and entrepreneurs starting new ventures.