Top 15 advertising agencies in Europe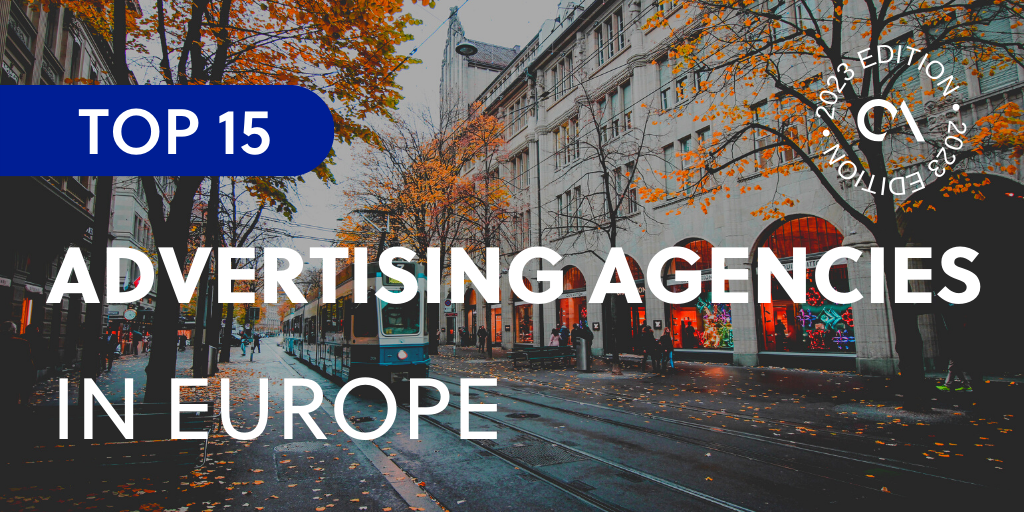 List of top advertising agencies in Europe
Europe's status as a hub for creative and innovative marketing campaigns can be attributed to a combination of factors.
One is the continent's rich cultural diversity. Europe is a tapestry of languages, traditions, and lifestyles, providing advertisers with a vast canvas to draw inspiration from.
This diversity allows agencies to create campaigns that are not only visually appealing but also culturally resonant—engaging audiences on a deeply emotional level.
Brands are encouraged to develop socially conscious campaigns that align with European consumers' values, further driving creativity and innovation in advertising.
One real-life example illustrating Europe's prowess in creative advertising is – The Breakaway: The first eCycling team for prisoners.
It allows inmates to participate in virtual cycling races, offering physical activity, skill development, and a sense of accomplishment.
The campaign was a massive success for the Decathlon brand and BBDO Brussels/Semetis Brussels agency, garnering 62.2 points. It also generated a widespread social media support for European inmates.
It demonstrated how advertising agencies in Europe could turn a simple concept into a globally recognized campaign through creativity, empathy, and innovation.
Overview of the European advertising market
Europe has a population of over 741 million. As per Trading Economics, Europe's GDP is expected to reach $16,775.00 by the end of 2023. It represents a colossal market for businesses looking to promote their products and services.
It's essential to grasp the broader context of the European advertising market to understand the role of advertising agencies in Europe.
How advertising agencies help the European market thrive
Advertising agencies are essential partners for businesses looking to thrive in the European market. Their contributions extend beyond creating eye-catching advertisements; they are pivotal in shaping the following business aspects:
Brand identity

Consumer behavior

Business growth

Customer and client retention
Advertising agencies in Europe start by conducting thorough market research and understanding consumer behavior.
This data-driven approach allows them to develop strategic advertising campaigns that resonate with the target audience.
With the growing importance of digital advertising, European advertising agencies have adapted by building expertise in areas such as:
Search engine optimization (SEO)

Search engine marketing (SEM)

Content marketing

Social media advertising
These data-driven approaches allow businesses to assess the effectiveness of their advertising spend and make informed decisions.
Types of advertising agencies in Europe
 Let's explore the four primary types of advertising agencies that operate in Europe:
Full-service advertising agencies
Full-service agencies handle every aspect of an advertising campaign, ensuring a seamless and integrated approach. This includes market research, concept development, content creation, media placement, and performance analysis.
Digital advertising agencies
Digital advertising agencies rely heavily on data analytics to inform their strategies. They track user behavior, analyze campaign performance, and make real-time adjustments to optimize results.
These agencies are at the forefront of advertising and marketing trends and technologies. They excel in SEO, SEM, social media advertising, email marketing, and content marketing.
Creative advertising agencies
Creative agencies are experts in brand storytelling. They craft narratives that resonate with audiences personally and emotionally, leaving a lasting impression.
These agencies are also masters of visual identity. They design logos, brand materials, and visually appealing advertisements that reflect the essence of a brand.
Niche advertising agencies
Niche agencies have an in-depth understanding of particular industries or markets. This specialized knowledge allows them to tailor strategies and campaigns to the unique needs of their clients.
They are also equipped to address their expertise's unique challenges and opportunities. This might include compliance issues, market dynamics, or industry-specific trends.
Top global outsourcing list
Outsource Accelerator is the world's leading outsourcing marketplace and advisory. We list over 3,000 BPO firms located across the globe in our global directory, and we provide detailed information, price guides, and reviews.
Whether you are a solopreneur, SME owner, or corporate executive, we can help you find the most suitable outsourcing provider for your business.
Explore our outsourcing directory now. You may also check out our Top advertising agencies lists per country here:
Top 15 advertising agencies in Europe
Here we have the list of top 15 ad agencies in Europe:
Wieden+Kennedy Amsterdam is one of the full-service advertising agencies in Europe that specializes in the following marketing solutions:
Creative campaigns

Company branding

Digital marketing

Experiential marketing
This advertising agency is known for its innovative approach to storytelling and advertising.
Wieden+Kennedy boasts a strong creative team that has won numerous awards. The company excels in creating emotionally resonant campaigns that connect with audiences on a deep level.
Its team has worked with global brands such as Nike, Coca-Cola, and Airbnb, producing memorable and impactful advertising.
House of Communication is one of the excellent advertising agencies in Europe that specializes in media planning and buying across various channels. This multichannel includes television, radio, print, and digital.
With a focus on data analytics and market research, it excels at understanding consumer behavior and tailoring campaigns to reach the right audience at the right time.
Moreover, the agency is part of Serviceplan Group, one of Europe's largest independent communication agency groups. This affiliation allows them to offer integrated marketing solutions to their clients.
BBH London is a creative agency that offers a wide range of services to startup and established e-commerce, including brand strategy, advertising, content creation, and digital marketing. This advertising agency is known for its strategic and creative thinking.
It has a rich history of producing iconic campaigns that resonate with audiences. BBH London excels in storytelling and crafting memorable brand narratives.
The agency has worked with global brands such as Audi, British Airways, and Johnnie Walker. Its advertising teams are known for their commitment to creativity and pushing the boundaries of traditional advertising.
The&Partnership is an integrated marketing agency that offers a wide range of services, including advertising, branding, and image development.
This is one of the advertising companies in Europe focusing on collaboration and integration to deliver seamless campaigns.
The&Partnership has a global presence and works with clients in various industries, including automotive, finance, and retail. It is also known for its innovative use of data and technology to drive marketing strategies.
Saatchi & Saatchi is a creative marketing agency known for its iconic and memorable campaigns. It is a global creative agency offering various services, including advertising, brand strategy, and social media marketing.
The agency has a rich history of producing groundbreaking advertising, including the famous "Nothing Is Impossible" campaign for Toyota.
Saatchi & Saatchi operates in over 60 countries, has a strong global network, and has worked with diverse clients, from local businesses to multinational corporations.
VMLY&R London is one of the best advertising agencies in Europe, known for its data-driven and customer-centric approach.
The agency leverages data and technology to create personalized and engaging customer experiences. VMLY&R London deeply understands the digital landscape, allowing them to collaborate with experts worldwide.
Mindshare is a global media agency specializing in media planning, buying, and optimization. It offers services in traditional media, digital, and performance marketing.
With a data-driven approach, Mindshare excels in understanding consumer behavior and media trends. This renowned advertising company uses cutting-edge technology to deliver effective media strategies.
Mindshare is part of GroupM, one of the world's largest media investment groups. This affiliation provides them with access to vast resources and market intelligence.
The Frameworks is one of the strategic advertising agencies in Europe that offers services in brand strategy, design, and marketing. 
This advertising agency is focused on creating strong brand identities and narratives. It also specializes in helping brands define their purpose and values. 
Further, The Frameworks excels in crafting brand stories that resonate with consumers emotionally.
Roast is a digital performance agency specializing in SEO, pay-per-click (PPC) advertising, and content marketing.
This advertising agency deeply understands digital marketing channels and algorithms. It also excels in optimizing online visibility and driving organic traffic.
Roast's expertise in e-commerce and digital performance has made it a preferred choice for brands looking to boost their online presence and sales.
Strike Digital's service portfolio caters to the rapidly evolving digital marketing landscape, encompassing various platforms and strategies crucial for modern brand promotion.
This advertising agency specializes in the following niches:
Social media marketing

Creative content production
What sets it apart from other ad agencies in EU is its exceptional expertise in crafting content that engages and resonates deeply with contemporary audiences on social media platforms. 
McCANN WORLDGROUP is one of the global advertising agencies in Europe that offers a wide range of services, including the following:
Creative advertising

Brand strategy

Digital marketing

Media planning
It specializes in creating compelling and emotionally resonant campaigns that connect with audiences.
McCANN WORLDGROUP has a rich history of creating iconic advertising campaigns that have left a lasting impact on consumers.
UAATEAM is another full-service marketing agency in Europe specializing in performance marketing, SEO, content marketing, and social media advertising. 
One of the standout features of UAATEAM is its commitment to transparency. This advertising agency provides clients with detailed performance reports and works closely with them to achieve their marketing goals.
Even better, UAATEAM stays updated with the latest digital marketing trends.
Salessource is a specialized B2B marketing agency focusing on lead generation, account-based marketing, and sales enablement. It provides end-to-end solutions for businesses looking to drive revenue growth.
Salessource's feature that sets them apart is their account-based marketing approach. Its team of excellent marketers collaborates closely with sales teams.
This is to identify high-value accounts and create personalized marketing campaigns to nurture them through the sales funnel.
Netrocket is not just an advertising agency; it's a creative powerhouse that has left an excellent mark in branding, graphic design, and video production. 
Its forte is crafting visually stunning and impactful creative work that resonates deeply with audiences.
With a team of exceptionally talented designers and video producers, Netrocket can breathe life into brands through captivating visuals.
Whether it's a brand's logo, a promotional video, or an entire advertising campaign, this European advertising agency makes every visual element tell a compelling story.
Our Own Brand commits to creating authentic brand identities through meticulous digital marketing planning and content creation.
This advertising agency offers a personalized approach that treats each client uniquely. It tailors its strategies to align perfectly with the client's brand values and goals.
Through Our Own Brand's carefully designed content, its team can forge emotional connections between brands and consumers, building lasting brand loyalty.