Top 30 advertising agencies in India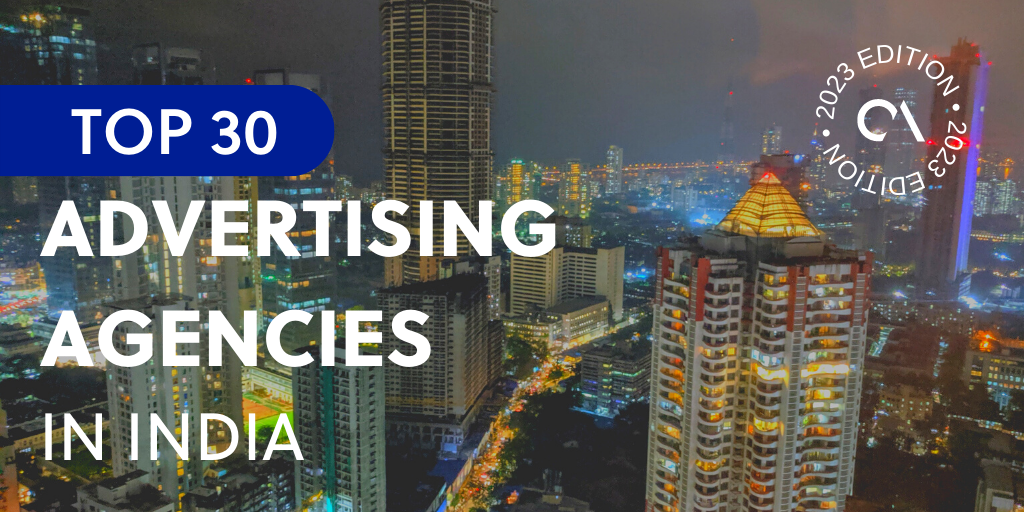 List of advertising agencies in India
To capture your market's attention and influence their purchasing decision, advertising plays a key role. Putting out ads creates brand familiarity and builds trust in your products and services.
This is why teaming up with the right advertising agencies is crucial.
Like most aspects of business process outsourcing, India is a hotspot for managed advertising services. Its massive market makes for high competition and low prices, making the subcontinent a global outsourcing hub.
This article will help you gain a basic understanding of how these service providers operate. Also, here are the top 30 advertising agencies in India to help you find your next partner.

Services offered by advertising agencies
Generally, advertising agencies take over your entire advertising process. They work by:
Understanding your brand and your market

Crafting advertising campaigns that suit you

Collecting feedback from the public to inform future plans
While some would argue that advertising is something anyone could do, the truth could not be more different. Depending on your budget and advertising strategy, you might be looking at services from the following professionals:
Ad experts
The term refers to someone who can craft effective advertising campaigns. However, larger firms often divide this role into account management, brand strategy, or creative direction —  each requiring a dedicated pro.
Production houses
In traditional media and digital spaces, production work is crucial for professional-looking video commercials. Note that it has directors, producers, set designers, camera operators, and more.
Graphic designers
Print ads and social media art cards are any ad campaign's mainstay. Graphic artists and designers work to communicate your brand through a careful selection of colors, typefaces, and other design considerations.
Copywriters
Slogans, captions, emails, and PR articles usually fall within the realm of copywriters. Depending on the scale of the campaign, you might be working with different specialists under the writing umbrella.
Web developers
In the digital age, your online presence is just as important. UI/ UX designers, for example, use web design basics to influence a visitor's impression of your brand and their purchasing decisions.

Many other specialized positions are needed to run an effective marketing campaign. 
By working with one of the top advertising agencies in India, you get to skip through the troublesome process of hiring these professionals individually. Most are one-stop shops that will deliver the lead-generating campaign you need.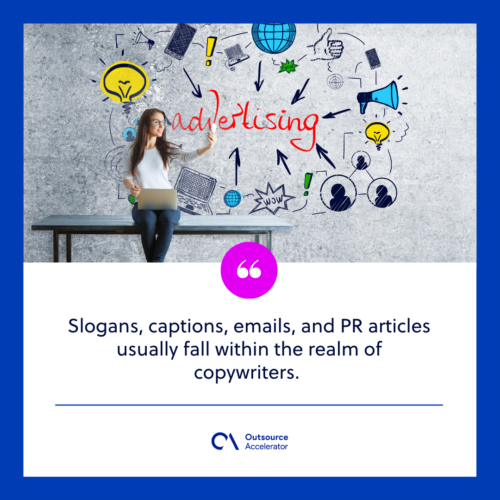 Outsource your business advertising needs in India
With hundreds of agencies available, it's easy to get lost in the business labyrinth that is looking for an outsourced service provider.
Thankfully, Outsource Accelerator is here to help you. As the world's top outsourcing marketplace and advisory platform, we have an inventory of over 3,000 outsourced service providers around the world. Find detailed information, price guides, and reviews on our database.
You can explore our outsourcing directory now. Also, you can check out our Top Advertising Agencies lists per country:

Top 30 advertising agencies in India
The following are some of the most prominent advertising agencies based in India. While most of them offer full-service solutions, some entries here provide specialized services. 
Either way, they can help put out your brand to the world through tailored ad campaigns.

With offices in Mumbai and Bangalore, Growth Hackers Digital continues to support startups and brands looking to expand into new spaces. Their strategies revolve around targeted traffic and extend to lead conversion and customer retention.
As an award-winning ad agency, Growth Hackers Digital has served local brands such as RBL Bank to international names such as Decathlon.
Madison World is a full-service communications agency. It has media, out-of-home, advertising, PR, and entertainment business units. Not only is it among the top advertising agencies in India, but boasts the largest market share among the world's independent agencies.
It's no surprise that Madison continues to enjoy the trust of major brands such as Viacom, Max Life Insurance, Asian Paints, and Domino's Pizzas.

MullenLowe Lintas Group is a part of the global MullenLowe Group and the Interpublic Group of Companies. It maintains a strong presence globally, particularly in India and the Asia Pacific (APAC) region.
MullenLowe Lintas Group, through its Mumbai headquarters, manages 300 brands spread across over 600 professionals.
Founded by four college friends, Brandemic thrives with a small team of over 25 professionals. They serve local and foreign clients from their Bangalore headquarters.
Tagging itself as a "design-thinking company," Brandemic manages over 300 brands across 35 cities across the world. It has served India's Vibin' Festival, luxury real estate platform Realtap, and the exclusive Cosmopolitan Club.
Located in Mumbai, McCann Worldgroup has been in the marketing and advertising space since 1985. This agency delivers some of the largest ad campaigns, sometimes in partnership with other McCann offices.
McCann Worldgroup has worked with MGM Records, the Afghanistan Ministry of Public Health, Coca-Cola, Vogue, and more
FoxyMoron operates from Lower Parel, Mumbai. It is a full-service creative agency under the Zoo Media Group, with Mammoth, The Rabbit Hole, and Doyen Oink. The Fox is the group's flagship agency that delivers tailored digital strategies and ad campaigns.
FoxyMoron has worked with a range of local and international brands. Arrow USA, Pond's, Wrangler, Ford, and Mahindra are some of their clients.
Also based in Mudra, the DDB Mudra Group is a massive communications entity not just in India but across the globe. Driven by its mantra, "Unexpected Works," the ad firm specializes in out-of-the-box concepts.
More than simple product marketing efforts, DDB Mudra Group works well in delivering unique stories that bring brands unexpected windfalls. 
From connecting McDonald's to feel-good moments to Royal Enfield stepping into the digital space, DDB is ideal for generating large-scale impact. 
Identifying as a media investment company, GroupM delivers full-service marketing, advertising, and sales solutions for companies of all sizes. More importantly, its products are guided by user experience and privacy considerations.
For full marketing campaigns, services may be shared among its subsidiary agencies. Companies under GroupM include Mindshare, Wavemaker, Motion Entertainment, and Choreograph.
Formerly known as Rediffusion Dentsu Young & Rubicam Private Ltd, Rediffusion is one of India's largest independent full-service agencies. It is capable of delivering from multi-channel creative content to analytics.
With five locations across India, Rediffusion has worked with brands such as Audi, Liebherr, Eveready, and Taj Hotels.
With over 300 professionals across four Indian cities, Social Beat has established itself as one of the top advertising agencies in India. As such, the firm and the brands it supports are responsible for about 3% of India's digital spending.
Among the 60+ brands that Social Beat manages are PUBG Mobile in India, Teachmint, Unacademy, and Tata Mutual Fund—all major brands in the Indian subcontinent.
A part of the global creative entity WPP, Ogilvy India is an advertising firm with a massive global network. It has six locations across India: Gurgaon, Kolkata, Mumbai, Hyderabad, Bangalore, and Chennai.
Its specialization extends beyond advertising, offering services in the customer experience, public relations, and consulting spaces.
The Indian arm of the international Dentsu International media company, Dentsu India, also closely works with international partners such as Isobar, Merkle, and Carat. This global network supports brands with the latest creative and technological approaches.
Operating from Mumbai, Dentsu India has worked with brands like YouTube, Under Armour, Spotify, Google, and Natural Diamond Council.
FCB Ulka has garnered a number of awards as one of the leading advertising agencies in India. It caters mostly to local brands and projects, such as the Amul dairy company, Kohinoor Basmati, and Indian Oil.
FCB Ulka has six locations across the subcontinent: Bangalore, Chennai, Delhi, Kochi, Kolkata, and Mumbai. Its strategic locations help maintain its strong presence across all industries.
Social Panga is an award-winning creative marketing and advertising agency with locations in the major Indian cities of Bangalore, Mumbai, and Delhi. Beyond delivering the ads needed from them, this firm focuses on establishing a strong digital presence for every brand that it works with.
From traditional media ads to full digital campaigns, Social Panga executes successful branding efforts one after the other. Some of the brands it worked with include Disney Junior, Zepto, Autodesk, and 3M. 
Another of the leading advertising agencies in India, Graphisads boasts over 50 years of experience in the out-of-home (OOH) advertising space. Additionally, it is one of the few select firms impanelled with the Multimedia category of the Indian Directorate of Advertising & Visual Publicity (DAVP).
As an OOH veteran, Graphisads owns over 1000 outdoor advertising units and retains over 100 creative, marketing, and media professionals.
Creation Infoways focuses more on the digital space, being an end-to-end digital marketing firm with content creation capabilities. If you're looking to achieve maximum impact on social media and streaming platforms, this is a good choice.
Catering mostly to Indian brands, Creation Infoways has worked in a variety of industries from its Mahindra Park, Delhi office.

Publicis Groupe India is a communications firm headquartered in Mumbai. Leveraging data and creativity, its workforce of over 200 employees serves almost any industry.
Part of the Publicis Worldwide communications group, Publicis Groupe India shares the same global network as other agencies such as Publicis Health, Leo Burnett, and Saatchi & Saatchi—each being a renowned advertiser in the Indian and international markets.
The Indian office of Leo Brunett is located in Mumbai, serving local clients across the subcontinent. It has established itself among the top advertising agencies in India by focusing on the Burnett Humankind philosophy.
Some of Leo Burnett's largest clients include McDonald, Whisper, and Suncorp, showing its great storytelling potential as well as the collaborative power of this global entity.
As stated on their website, The Crayons Network don't just create ad campaigns; they stir things up. Working with clients since 1986, this independent creative agency has been responsible for some of the most memorable campaigns ever to grace the Indian subcontinent.
Kerovit by Kajaria, Apollo Sugar Clinics, and Baba are some of the projects they've handled over the years, shifting from traditional TVCs to modern social media reels.
MASH Advertising is the official advertising arm of the Percept Group that covers communications, media, and entertainment. Serving both Indian and multinational brands, it offers a 360-degree ad strategy, often in tandem with other Percept brands.
One of its crowning achievements is its ad for PNB Housing Finance, which won "Best Commercial of the Year" at the FICCI BAF 2018 Awards in the International Category.
Granth doesn't just deliver ad materials, it tailors a unique advertising strategy for each of its clients. It lists textual content creation and experience design development among its services.
Serving mostly local brands, Granth has worked in a wide range of industries from tech, construction, and logistics to music and human resource solutions.

Headquartered in Mumbai, India, EQUUS is one of the leading ad agencies in the country. It has worked with a mix of established multinationals as well as a couple of startups in the subcontinent. Its portfolio includes Hazoorilal Jewellers, the DLF Mall of India, Epigamia, and Chandon, among others.
As an advertising firm, EQUUS also created a couple of television ads that aired on a national scale, including the VIO Flavoured Milk commercial.
Branding itself as part agency, part consultancy, and part technology company, this Delhi-based advertising firm has been around since 1938. It continues to help new brands reach the wider Indian market.
Among Wunderman Thompson's best campaigns include The Moving Canvas for Exide Industries and the Tata Gluco+ for Tata Consumer Products Ltd.
Part of the FCB India group, FCB Interface is among the fastest-growing advertising agencies in India, being one of the most awarded agencies at the 2020 D&AD event. It serves the entire subcontinent through its four offices in Chennai, Gurgaon, Kochi, and Mumbai.
Some of FCB Interface's most notable clients include Blue Star Air Conditioners, Club Mahindra, Cadbury Oreo, and Danone—exhibiting its versatility to work for different industries.
As one of the leading advertising agencies in the Kochi area, Jelitta has been serving ads and materials since 1985. In offering full branding and publicity solutions, it's also capable of media buying, PR, web design, and digital marketing on top of its advertising prowess.
Serving TVC, digital, and outdoor advertising needs, Jelitta remains a trusted partner for brands looking to expand their reach.
Purnima Advertising offers brand strategy and media buying on top of traditional advertising capabilities. 
It provides a personalized approach and maximum return on marketing investments (ROMI) to businesses of all kinds.  As such, it has secured clients both in the government and the private sectors.
Among its largest clients are Honeywell, Casio, Star Union Dai-Ichi Life Insurance, as well as the tourism departments for Himachal, Delhi, and Gujarat.
Built on five decades of Indian advertising experience, R K Swamy has mastered connecting to the local audience, as well as a good grasp on the global market. It is a part of the R K Swamy Hansa ad and marketing group.
Some of its long-term clients include Himalaya baby care products and Hawkins Stainless Steel.
Another entity under the massive Publicis Groupe, L&K Saatchi & Saatchi is an all-around creative house—consultancy, tech, creativity, content, and media all rolled into one.
Among its most notable clients include Head & Shoulders, Jockey, Siemens, Pampers, and more.
With over 30 years in the communications space, Sasi Advertising has been providing strategies and content for a select number of industries. Its expertise revolves around automotive, corporate, banking, education, and hospitality spaces.
As an advertiser, it covers all media possible: print, online, television, outdoor, and event management.
Grey's office is conveniently located next to the Mumbai JW Marriott Hotel. It unsurprisingly works with major global brands with an established presence in India. Pfizer, the United Nations, Volvo, and SUPGV are among the entries in their portfolio.
Grey is also a part of AKQA, an international ideas and innovation company made up of independent agencies.
Reach your target market with the right advertising firm
Advertising is a highly specialized business process. Finding the right service provider can ensure that you communicate what makes your brand unique and deliver it to the right audience. 
By teaming up with one of the top advertising agencies in India, you greatly increase the odds of achieving a successful ad campaign.
However, if you're an advertiser or a part of an agency that we haven't included in this list, don't hesitate to contact us via [email protected].