Top 20 HRIS systems to help you manage your staffing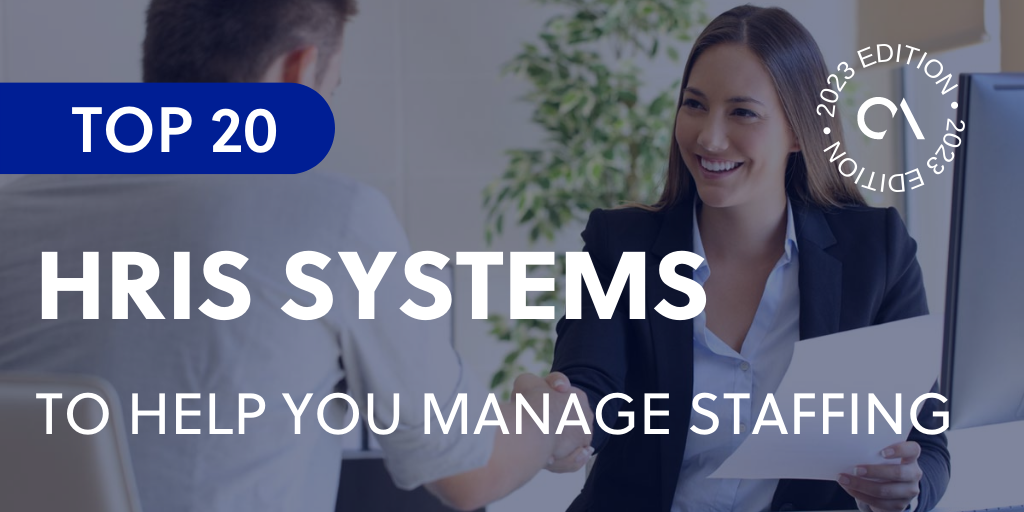 With the increasing need for digital transformation today, global organizations rush to make their processes digital and keep up with the tough competition, especially in workforce management.
More HR teams have relied on technology to manage their day-to-day operations for years now. During the onset of the pandemic, around 79% of HR professionals are reportedly prepared for their new work environment. However, many are still working to embrace digital transformation in their companies.
HRIS systems have boomed along with this transformation. Though not all of them are created the same, each platform could cater to specific needs of an organization, whether remote or outsourced.
For starters, we have listed the top 20 HRIS systems small and large firms can use to manage staffing.
What is an HRIS system, and who uses them
Human resources information system (HRIS) is a platform used to collect, store, and update vital information from an organization's workforce. It makes HR functions easier since it integrates tasks such as payroll, attendance tracking, and compliance management into a single system.
Before, HRIS platforms were typically expensive. This is why it is most recommended for medium and large enterprises handling volumes of employees. The rise of its cheaper alternatives in the market gave small businesses the opportunity to get them for their staffing.
These systems are usually implemented in a firm's HR team. They have the power to manage employee records and record trends and insights to the management. At the same time, employees can access the platform through a self-service feature so they can update their information directly.
For offshore teams, meanwhile, clients can have access to their employee data straight from their service provider.
Common features of HRIS systems
Different HRIS systems offer various features unique to their platform. Though, most platforms in the market have common ones, including the following.
Applicant tracking
An applicant tracking system (ATS) stores and consolidates applicant information, including their resume and contacts. This helps employers to match their candidates with suitable positions for them.
Onboarding
Through self-service, HR teams can generate onboarding checklists for new hires so they can keep up with their compliance requirements.
Attendance tracking
Usually, HRIS allows HR professionals to track attendances, leaves, and other attendance-related data. At the same time, employees can input and update their attendance through the system.
Payroll
Payroll is the most common feature for HRIS systems. It enables the automation of payment for employees. Usually, payroll is tied up to attendance tracking for better accuracy.
Learning management
In some cases, HRIS helps employers track the skills and certifications and arrange training for their employees. Learning management can either be a standalone feature or included in a particular platform.
Top 20 HRIS systems for your business
HRIS systems in the market may vary according to their price, features, integrations, and other aspects its users need. While most of these systems are expensive, there are cheaper alternatives that offer the same or even better features.
With that said, we have listed the top 20 HRIS systems you can use to manage staffing.
BambooHR is a flagship platform that offers integrated solutions for HR management. Targeted to small businesses and teams, it helps streamline the coworking experience between employers and their teams.
BambooHR promises to help employers free their time from tons of HR-related tasks and focus on managing their workforce. Pricing is customized according to the number of employees to be managed by a company.
ADP Workforce Now provides an all-in-one, cloud-based solution to help employers manage their workforce better. It features a range of services for talent management, payroll and benefits processing, learning management, and return-to-office capabilities.
Focusing on medium and large enterprises, ADP Workforce Now adapts to the way businesses work.
Trusted by thousands of small and medium companies, Zenefits provides integrated cloud-based solutions at an affordable rate. Their services manage to empower employers and help them stay compliant.
Zenefits' People Platform offers the most integrated HR solutions ranging from streamlined onboarding to attendance tracking and performance reports.
Paycor is an HRIS platform for "leaders and frontliners" in various industries such as healthcare and hospitality. They help employers manage their workforce more efficiently so they can focus on talent development and building a competitive advantage.
Paycor lets their team take care of entire HR functions in one system, from recruitment to onboarding and employee experience. The platform guarantees to build successful organizations with a great work environment. 
Greatday is one of the simple HRIS platforms in the market, providing a streamlined, automated solution for HR management. It helps small and medium-sized businesses have in-depth management of their HR tasks, from recruitment to performance review.
Greatday takes pride in being remote- and mobile-friendly. Using a mobile app, employers can track their teams' attendance and performance wherever they are.
Rippling takes pride in bringing automation to numerous HR processes, including onboarding and payroll/benefits. It helps employees avoid time-consuming tasks so they can focus on value-adding activities.
Rippling also makes third-party integrations seamless to keep employee data up-to-date. Through the platform, onboarding and setting up employee data only takes up to 90 seconds.
More of an employee monitoring solution, Monitask helps HR professionals improve productivity, efficiency, and accountability towards teams.
Monitask provides integrated solutions to help track employee activity and performance in real-time. This includes employee screenshots, keyboard activity, online timesheet, and online app usage.
Established in 2018, Grove HR was intended to keep up with the HR digital transformation. Focusing on agile operations, the platform automates HR tasks, including communications and employee data updates.
Grove HR helps employers thrive to keep up with the Future of Work, especially with the new normal approaching.
Gusto is a modern platform helping small businesses take care of their HR tasks. The system provides various tools and services to help them with all-around processes from onboarding to payroll and benefits.
One thing that users prefer in Gusto is its options for benefits. It helps employers find the best health insurance available according to their business size.
HiBob is an integrated HRIS platform designed to help emerging brands and established companies manage their employees. It simplifies workforce management and modernizes employee experience in terms of engagement, company culture, and productivity.
HiBob helps companies streamline their HR processes through automation. Through the platform, businesses can bring out the best in their employees.
Being one of the most user-friendly HRIS systems in the market, monday.com makes employee management, recruitment, and onboarding smoother with its interface.
monday.com is lauded for its simplicity and flexibility in handling HR data. At the same time, it features a more visual approach to the job recruitment process so recruiters can easily track each candidate that comes their way.
UKG Pro is a powerful HRIS solution that supports a global workforce through its mindful HR technology. It promises to help drive people-focused results in the organization.
UKG Pro handles everything a business can handle, from payroll to service development. At the same time, it makes work a connected experience for everyone, regardless of their location or size.
Calamari is a more specialized HRIS solution that helps employers track the time-off and attendance of each employee.
Calamari provides two "modules" for tracking employee activity: clock in/out and leave management. Available in more than 100 countries, it is best for global teams with operations from different locations where their labor legislation is supported by the platform.
Sprout is a powerful cloud-based HRIS system that combines HR management and API in forming analytics and data-backed decision-making.
With more than thousands of clients in various industries, Sprout is most compatible with the BPO industry in the Philippines with their in-depth focus and understanding of the sector.
Workable is a specialized HRIS platform focusing on recruitment and hiring employees. It stores a database of over 70 million applicants and has helped over 1.2 million hires worldwide.
Being an applicant tracking system, Workable allows integration to over 40 third-party tools as a part of its hiring toolkit. The platform is trusted by over 20,000 companies in looking for and screening the best hires for their operations.
With more than 7 million users worldwide, Odoo HR is an integrated HRIS platform that makes HR management easier and more cost-effective. It came from a suite of programs that provide round-the-clock operations, including accounting and inventory management.
Odoo HR allows users to integrate employee data into one system and get crucial information at a glance. At the same time, it assists in recruitments, appraisals, and performance monitoring.
More focusing on growing businesses, Freshteam is a smart HR software that helps professionals manage employee information, from recruitment to onboarding to attendance tracking.
Freshteam also helps in document management and organizational chart preparation so companies can easily implement their culture. 
Specializing in payroll solutions, OnPay is designed to automate payroll and HR solutions to save people's time and efforts.
OnPay also allows teams to view their information through a self-service portal, giving them access to their tax forms, pay stubs, and attendance. It also enables integration with accounting tools such as Xero and Quickbooks for payroll calculation.
Sage HR is an award-winning HR solutions platform for businesses of all sizes. It simplifies HR in a way to free employers' time and help them focus on turning their talent into an asset.
The platform also encourages collaboration between employees and management. They get to access their tasks, goals, and feedback in one system as a way to streamline processes.
Darwinbox is a new-age mobile-first cloud HR platform designed for large enterprises to recruit and develop talent.
Darwinbox uses an agile format for its platform. This helps teams create organizational charts, calendars, and charts for better organization and streamlining of their processes.
Which HRIS system is right for you?
The best HRIS system for your company still depends on your business size and the features you need for your operations. Given that there's no "one size fits all" in HR management, most of these platforms offer customized services based on your needs.
For instance, a lot of HRIS platforms in the market specialize in a single feature, such as application tracking and payroll. Meanwhile, various platforms offer integrated solutions when you want to consolidate all of your processes in one place.
With the abundance of HR solutions online, you have a variety of options and selections out there that would fit your needs.