Top 15 tech companies in Ohio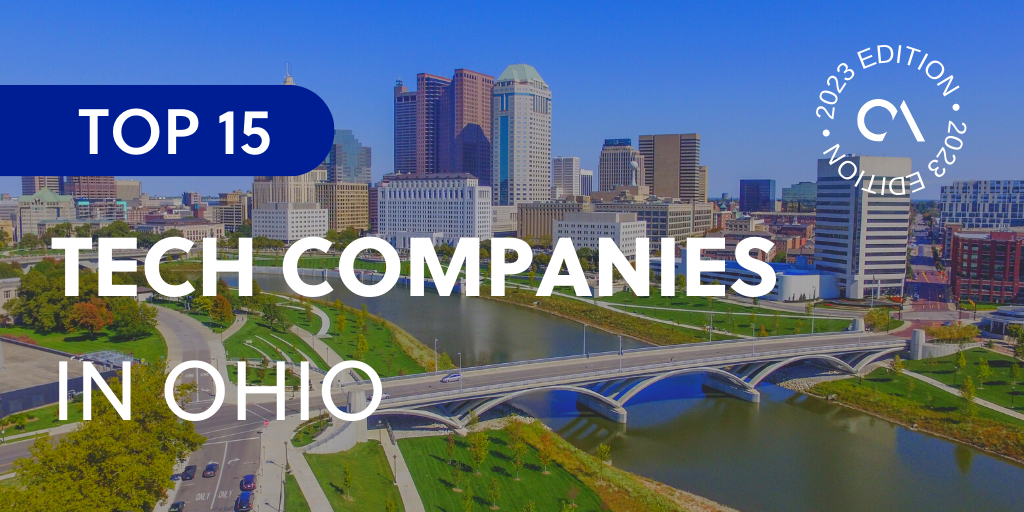 List of tech companies in Ohio
Tech companies are vital in shaping the modern world, driving innovation, and providing various products and services that impact our daily lives.
Ohio, as a burgeoning tech hub, has seen the emergence of numerous firms dedicated to advancing technology and addressing various needs in today's digital landscape.
The tech companies in Ohio aim to develop innovative solutions, improve efficiency, and enhance the quality of life for individuals and businesses alike. 
These firms provide an extensive portfolio of products and services that cater to diverse consumer and industrial demands.
You can find companies specializing in software development, cloud computing, cybersecurity, and data analytics. They create software applications, platforms, and tools that streamline processes, boost productivity, and solve complex challenges.
Additionally, many Ohio-based tech companies offer consulting and support services to help clients navigate the digital realm effectively.
In this guide, we've listed 15 of the leading tech companies in Ohio that businesses from across the globe can partner with.
Significance of a tech company
A tech company is essential in today's global landscape, shaping how we live, work, and interact with the world. It is instrumental in driving innovation, creating products, and delivering services that have become integral to modern life.
The purpose of tech companies is to harness the power of technology to address a wide array of human needs and challenges. 
At the core of their significance is their ability to develop and provide solutions that range from hardware and software to digital platforms and services.
These offerings span diverse sectors, including communication, entertainment, healthcare, finance, and transportation. Tech companies continually push the boundaries of what's possible, constantly evolving to meet the ever-changing demands of an increasingly interconnected world.
Any tech company is a critical driver of economic growth, fostering job creation and contributing to the expansion of global markets. It catalyzes entrepreneurship, often as an incubator for smaller startups, further propelling innovation.
Tech companies wield immense influence over our daily lives, and their innovations can transform Ohio's industries and societies. 
Understanding their significance is essential to navigating the complexities of our increasingly technology-driven world.
What tech companies in Ohio have to offer
Premier tech companies in Ohio are not just about products; they are about solutions. Their tech-driven initiatives are bridging gaps in education, healthcare, and infrastructure. 
Whether it is a startup with a vision to revolutionize logistics or a well-established player streamlining supply chains, they all share one goal. They make Ohio a hub for technological progress.
Tech companies in Ohio may not grab headlines like their West Coast counterparts, but they are quietly making significant strides in reshaping industries and improving society. 
As they continue to push boundaries and drive progress, their impact will only become more pronounced in the future.
Top global outsourcing list
Outsource Accelerator is the world's leading outsourcing marketplace and advisory. We list over 3,000 BPO firms located across the globe in our global directory, and we provide detailed information, price guides, and reviews.
Whether a solopreneur, SME owner, or corporate executive, we can help you find the most suitable outsourcing provider for your business.
Explore our outsourcing directory now. You may also check out our Top IT software/companies lists here:
Top 15 tech companies in Ohio
Tech companies in Ohio are dynamic players in the tech industry, contributing to economic growth and innovation in the state. 
Here are the top 15 most popular and well-established tech companies in Ohio:
Paycor operates in the HR and payroll technology sector. It aims to streamline HR tasks, enhance workforce management, and aid compliance. 
Its product lineup includes HR software, payroll solutions, time and attendance tracking, and benefits administration tools.
Paycor's services extend beyond technology, with expert support and resources to help clients navigate HR challenges.

Sogeti operates to deliver innovative IT solutions and consulting services aimed at helping businesses optimize their technology infrastructure and processes. It arranges software development, quality assurance, and cloud computing solutions.
It builds up the businesses' digital capabilities by improving efficiency and achieving their strategic objectives.
Hyland's primary products include OnBase, a robust content management platform, and Perceptive, which offers intelligent data capture and automation capabilities.
It specializes in document management, workflow automation, and information management services. These solutions cater to the needs of businesses to enhance efficiency, productivity, and compliance. 
Focusing on tailored hardware, AvaDirect Custom Computers excels in creating high-performance desktops, workstations, and servers to meet individual needs. 
Its product range spans gaming rigs, content creation workstations, and robust server configurations.
The company's dedication to customization extends beyond hardware; they offer expert consultation to ensure clients get what they require. 
Mission Essential's core products encompass language translation, interpretation, and cultural training programs, bolstering the effectiveness of military and intelligence operations worldwide. 
Its services extend to intelligence analysis, operational support, and mission-critical technology solutions, facilitating informed decision-making and successful mission outcomes.

Stratacache organizes the digital customer experience to enhance consumer engagement through innovative solutions. It puts importance on digital signage, content delivery, and marketing technologies.
Its product portfolio includes digital displays, interactive kiosks, and content management software. Beyond hardware and software, Stratacache offers comprehensive services like content strategy and deployment support. 
Cincom Systems is committed to empowering businesses and optimizing operational efficiency through advanced enterprise software and application development tools.
A solid customer-centric approach from the company assists organizations in developing processes, improving customer interactions, and achieving growth. 
TeamDynamix simplifies complex IT challenges for organizations. It puts forward  IT service desk, project portfolio management, and asset management tools to streamline operations, enhance collaboration, and optimize resource allocation.
Its services extend beyond software, encompassing comprehensive training and support.

Popcom specializes in developing intelligent vending machines and automated retail solutions, offering a seamless shopping experience while collecting valuable consumer insights.
These high-tech vending machines equipped with AI and facial recognition technology enable businesses to optimize inventory management and personalize marketing strategies. 
Its services extend beyond hardware, encompassing data analytics and software solutions.
AWH extends products and services, including custom software development, mobile app creation, and web application design. It excels in crafting tailored solutions that meet unique client needs, prioritizing functionality, user experience, and scalability.
Its strong focus on quality consistently delivers robust software applications that drive efficiency and competitiveness. 
VNDLY offers a comprehensive suite of solutions, including Vendor Management System (VMS) and Contingent Workforce Management (CWM) tools.
These services empower organizations to efficiently manage their contingent workforce, optimize procurement, and enhance compliance. 
Focused on enhancing efficiency and profitability for property owners and managers, MRI Software provides a suite of software products and services tailored to the real estate industry. 
It centers on simplifying complex real estate operations and decision-making through innovative technology.
MRI Software's comprehensive offerings include property management software, financial accounting, and analytics tools. 
TransDigm Group is a leading player in the aerospace and defense industry. Its core mission revolves around delivering high-quality, critical components and systems that ensure the safety and reliability of aircraft and military equipment.
Its product line includes power systems, sensors, and control systems. These components are vital in enhancing the performance and efficiency of various aerospace and defense platforms. 
Silfex prioritizes precision manufacturing in the semiconductor and silicon industries. It specializes in producing critical components like silicon wafers, microelectromechanical systems (MEMS), and photonic devices.
It supports the electronics and photonics sectors, helping clients meet demanding performance standards. 
7SIGNAL improves network performance and user experience. It activates seamless connectivity for businesses and organizations. Its solutions help identify and resolve connectivity issues, ensuring reliable Wi-Fi for clients and customers.
It contributes to businesses to deliver uninterrupted online services by providing proactive network management tools. 
Network reliability and performance set 7SIGNAL apart in the tech industry, a valuable partner for companies seeking to enhance their digital infrastructure and user satisfaction.