Top 15 tech companies in Idaho for your next tech projects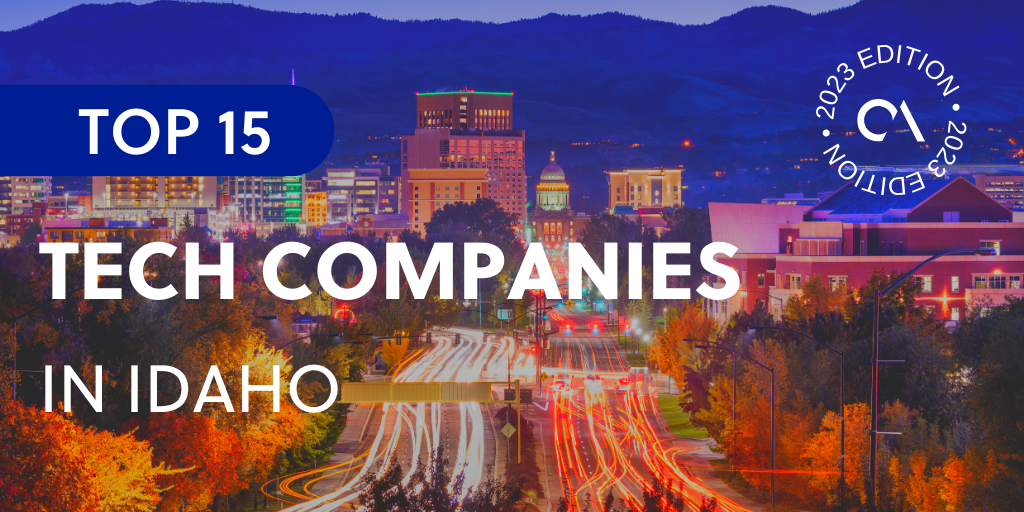 List of tech companies in Idaho
Idaho's tech sector is rapidly growing and gaining recognition as an emerging hub.
Per the latest State of the Tech Workforce, the state ranked 8th in having top-growing tech occupations in the US, with an average of 22% by 2033. It also boasts around 39,000 tech workers, with 33% of its workforce in the tech sector.
Apart from Silicon Valley, Idaho offers many opportunities for tech workers and businesses looking to grow in the tech industry.
Given its flourishing sector, it is only reasonable for tech companies to tap the state for software engineering, software development, and other related projects.
If you are interested in tapping into the market for your next projects, consider the following top tech companies in Idaho.
The next Silicon Valley: Idaho's emerging tech sector
While Silicon Valley has long been synonymous with tech innovation, Idaho is quickly emerging as a promising tech hub.
The technology industry accounts for US$4.1 billion of Idaho's GDP, with a 2% projected growth within ten years.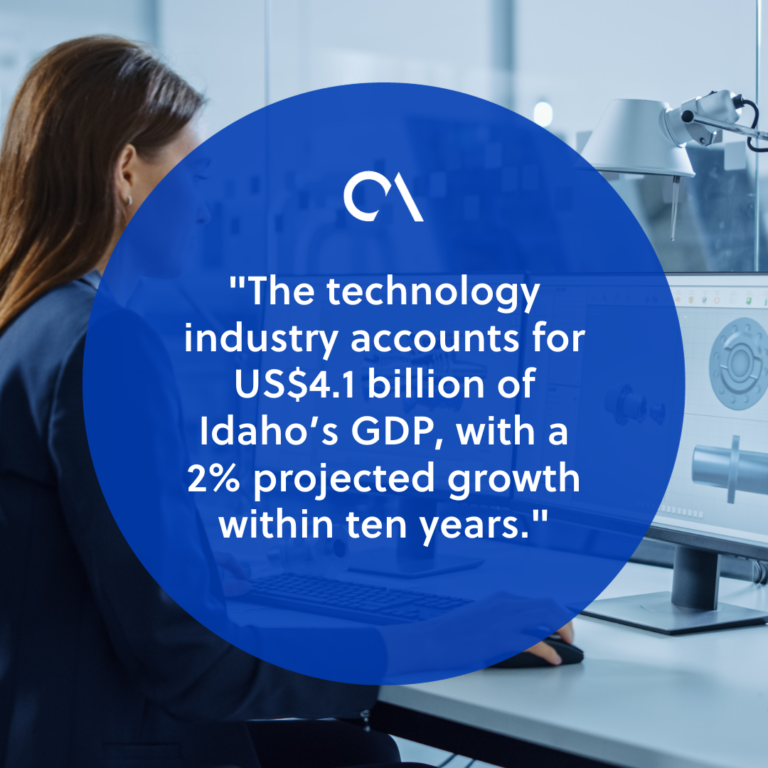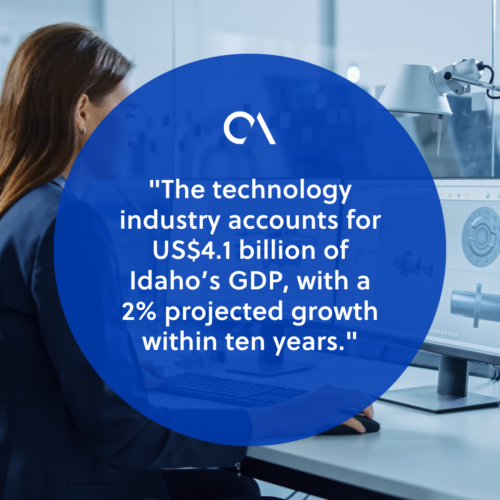 Ever since, the state has credited technology and innovation as the strong drivers of their economy. It has housed known innovators and tech leaders for decades, from memory chip makers to the first nuclear reactor.
The economic drive by the sector is also seen as the reason high-tech companies in Idaho grew 61% over the decade.
Furthermore, the state has seen increased coworking spaces, incubators, and accelerators that nurture startups and foster collaboration. This infrastructure encourages innovation and attracts entrepreneurs.
Why tap Idaho for your tech needs
Various factors arise as to why you should consider the state for your next tech projects. Here are five key reasons:
Robust talent pool
Idaho's flourishing tech job market is one of the factors for its rise as an emerging hub. As the local labor force aligns with the sector's demands, universities and colleges produce a steady stream of skilled tech professionals. 
Boise State University, for instance, has seen a remarkable increase in graduates of computer science and technology-related fields. From around 20-25 yearly, the institution now boasts more than 100 graduates.
85% of them even remain employed in tech companies in the state five years after graduation.
This abundance of talent ensures that companies can access the best and brightest minds to help them with innovation.

Favorable business environment
Idaho offers a business-friendly environment with low taxes, minimal regulations, and a low cost of living.
In North Idaho, companies deciding to build their businesses can receive tax credits and incentives, such as the following:
Reimbursement of up to $3,000 for training new hires or retaining staff facing permanent layoff

Skills training programs offered by the state

On-site consultations from experts

Tax caps for large businesses

0% tax credit on qualified research expenses
These factors make it an attractive location for tech companies looking to establish a presence or expand operations.
They can maximize their budget while enjoying the benefits of a supportive business climate.
Growing tech ecosystem
Idaho's tech ecosystem is thriving, with various resources available to support tech companies. 
Co-working spaces, incubators, and accelerators provide a network of support, mentorship, and funding opportunities for startups. This ecosystem fosters innovation and collaboration, enabling companies to thrive and grow.
Quality of life
Idaho boasts a high quality of life, making it an appealing destination for tech professionals. The state's natural beauty, outdoor recreational opportunities, and affordable housing contribute to a balanced lifestyle.
Idaho offers an attractive package for companies seeking to attract and retain top talent.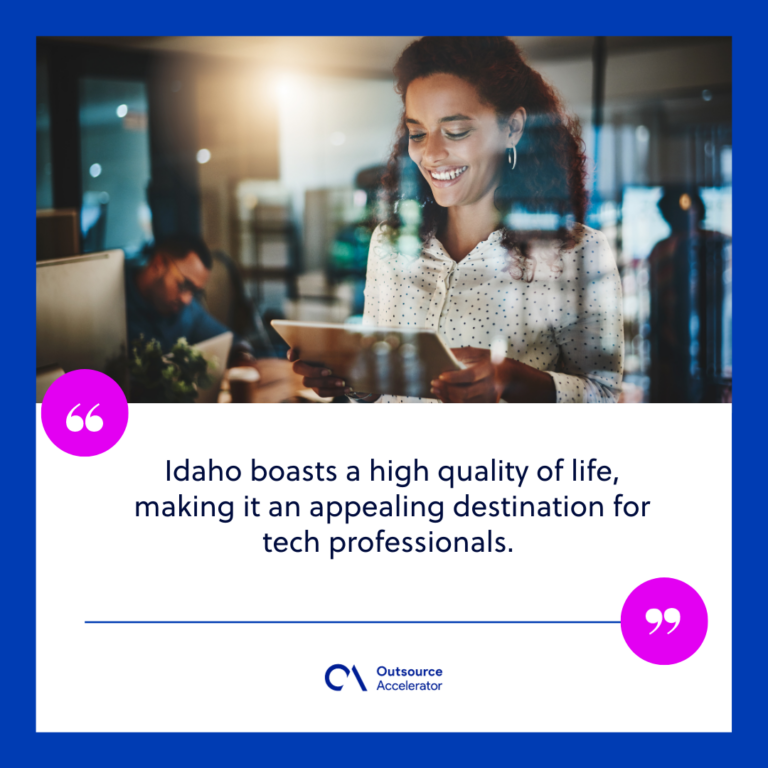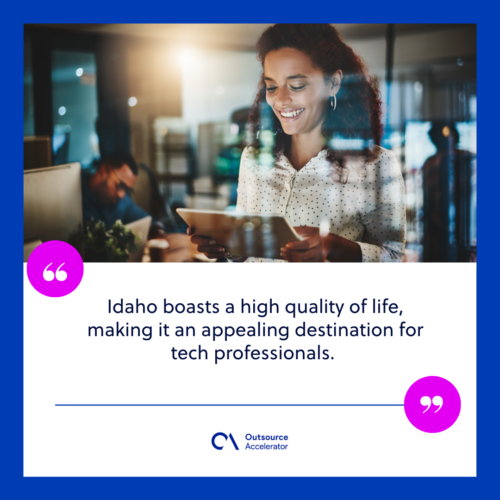 Cost-effectiveness
Idaho's lower cost of living and business expenses than tech hubs like Silicon Valley or Seattle can save company costs.
It allows businesses to allocate resources effectively and invest in key areas like research and development, talent acquisition, and infrastructure.
Top global outsourcing lists
Outsource Accelerator is the world's leading outsourcing marketplace and advisory. We list over 3,000 BPO firms located across the globe in our global directory, and we provide detailed information, price guides, and reviews.
Whether you're a solopreneur, SME owner, or a corporate executive, we can help you find the most suitable outsourcing provider for your business.
Explore our outsourcing directory now. You may also check out our other Top outsourcing companies lists per here:
Top 15 tech companies in Idaho 
In addition to the overall benefits of tapping into Idaho's tech sector, here are the top 15 tech companies in the state that you should consider for your next tech projects:
Micron Technology is a global leader in semiconductor solutions. It is located in Boise, Idaho with offices worldwide. 
Micron Technology is primarily credited as the home to the only US-manufactured memory chip.
Focusing on memory and storage technologies, the enterprise provides advanced solutions for data centers, automotive, and consumer electronics. 
It has since expanded its offers to cater clients implementing smart manufacturing and generative AI.
Clearwater Analytics offers cloud-based investment management solutions. Its technology provides transparency and accurate data analytics for asset managers, insurers, and financial institutions.
Apart from investment management, the firm also offers data warehousing to help clients with their holdings, financial performance, and risks anytime.
Agilent Technologies is a leading bio-analytical and electronic measurement solutions provider. Its innovative technologies enable advancements in life sciences, diagnostics, and applied chemical markets.
From its beginnings in Boise, Idaho, the organization has expanded to support scientists in more than 100 countries. 
Agilent Technologies plays a role in advancing important research and testing by building some of the world's most leading-edge technology to help clients maximize productivity.
Tokyo Electron is a semiconductor equipment company specializing in manufacturing equipment for the fabrication of integrated circuits. It offers cutting-edge solutions for the global semiconductor industry.
As a leading Idaho-based tech company, Tokyo Electron leverages its staff's expertise and wide-ranging management resources to provide high value-added technologies "no one else has seen or produced."
HDR is an architecture, engineering, and consulting firm that leverages technology to deliver innovative solutions. Its multidisciplinary approach combines expertise in various sectors, including transportation, healthcare, and water resources.
Applied Materials is a global leader in materials engineering solutions.
Its expertise in precision materials engineering enables customers to produce high-performance microchips and advanced display technologies, driving innovation in industries worldwide.
Scientech is a technology-based company specializing in scientific and engineering products.
This tech firm offers a wide range of hardware solutions to advance innovation across various organizations. Some of the tools it provides include scientific instruments, lab equipment, and measurement tools, catering to a diverse range of industries and needs.
Beside quality equipment, the firm's development and research services help transform its client's ideas into successful real-world designs through its team's expertise and ecosystem partnerships.
Cradlepoint provides cloud-delivered network solutions for connecting people, places, and things. Its cutting-edge technologies empower businesses to build secure, reliable, and flexible networks, enabling seamless connectivity and digital transformation.
Tamarack Aerospace Group is a pioneer in disruptive aerospace technologies. 
Its innovative winglet systems enhance aircraft performance and fuel efficiency, offering cost-effective solutions for aircraft operators and a greener future for aviation.
Formerly AMI Semiconductor, Onsemi is a leading provider of semiconductor solutions for local and international technology firms.
Its comprehensive portfolio of energy-efficient, performance-driven products enables customers to design and deliver innovative electronics. These products positively impact the automotive, industrial, and trade sectors.
Forsta specializes in market research and voice of customer solutions.
It is founded through the merger of three companies – Confirmit, FocusVision and Dapresy – with a single aim to provide world-leading experience and research technology.
Forsta's comprehensive platform helps businesses gather valuable insights, analyze data, and make informed decisions to drive customer satisfaction, loyalty, and business growth.
STRATA is a leading provider of geotechnical engineering and construction materials testing services. Their expertise in site characterization, soil testing, and foundation design supports infrastructure projects, ensuring safety, reliability, and efficiency.
IBM is a renowned global technology company that offers a wide range of products and services.
From cloud computing and AI solutions to blockchain and cybersecurity, IBM leverages its expertise to help businesses embrace digital transformation and drive innovation.
Keynetics is a technology company specializing in e-commerce solutions. Its flagship product, ClickBank, provides a global platform for connecting digital product owners and affiliates.
Keynetics' strategic solutions and tools enable businesses to monetize their digital content and reach a broader audience.
Lam Research is a leading supplier of semiconductor manufacturing equipment.
The firm prides itself as a trusted partner to the world's leading semiconductor companies, with a clientele including its neighboring firms in Idaho.
Its technologies and solutions facilitate the creation of advanced microchips, enabling the production of devices that power our modern digital world.